Black Diamond Jazz Band Shone Brightly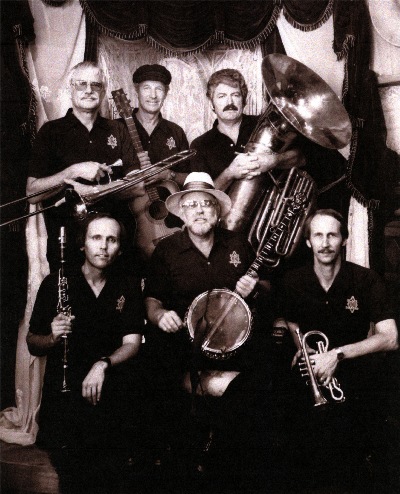 From 1983 to 1991, Black Diamond Jazz Band was a rollicking Classic Jazz band with a strong tuba and banjo rhythm signature, plus the Ragtime and early Jazz stylings of Marty Eggers.

They appeared at Traditional Jazz events, festivals, concerts, jazz society showcases, dances and casuals. George Knoblauch defined the sound on their first commercial release, heard below.

The band was always committed to ensemble-style Classic Jazz from the late 1920s, each musician performing in a style appropriate to the era of stomp-time two-beat music.

Based in the Central Valley of California, their name referenced nearby Mount Diablo, a major Northern California geographical landmark where coal was mined by the Black Diamond Mines company (c. 1860-1974). Similarly, the moniker of closely related Devil Mountain Jazz Band (still-extant) also signifies its adjacency to that noteworthy regional feature.

George Knoblauch, banjo and leader

Bandleader Knoblauch was a first-rate banjo player and singer. His rhythm section delivered swinging, rock-steady time, as if a precise, unified musical instrument. After 1991 it appeared as a quintet, the scorching Black Diamond Blue Five favoring the music and style of Clarence Williams' Washboard bands.

And as many know, knoblauch is the German word for garlic. It was the actual last name of Casa Loma Orchestra bandleader Glen Gray.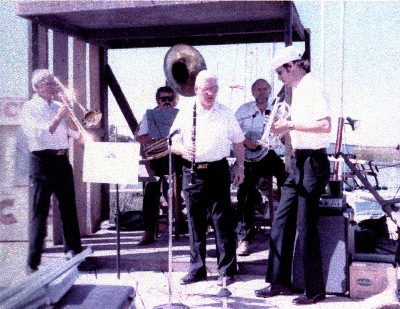 First band gig at the Rusty Porthole, Bethel Island, CA, 1983

L to R: Jeffries, Downs, clarinet player Leonard Dixon, Knoblauch, Spitzer.

Bill Gunter, washboard

Bill was a sparkling percussionist, wonderful vocalist and charming musicianer who generated lilting rhythm patterns on his washboard which was expanded with wood block, cow-bell and a free-standing cymbal or snare drum. These skills, plus his fluency with banjo, guitar and drums put him in demand with several bands.

Among his crowd-pleasing specialties was "Washboard Wiggles," the well-known Concerto for Washboard and Jazz Band by maestro Tiny Parham. In 1988-89 Gunter served as president of the Sacramento Traditional Jazz Society which hosted the big annual Sacto Dixieland Jubilee.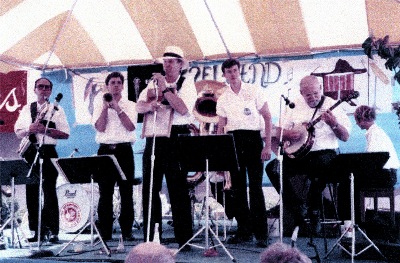 Black Diamond band sometime prior to 1987

John Howard (alto sax), Franco Finstad (cornet), Bill Gunter (washboard) and George Knoblauch.


Fred Spitzer, cornet and co-leader

A Central Valley native, the cornetist supplied a straight-ahead jazz horn leaning toward the Bixian and sang amiable vocals in period style. He was followed in the band by horn players Howard Simpson, Mike Slack and others.

John Howard, clarinet

A founding member, Howard played clarinet in Black Diamond intermittently, 1982-85 and 1987-89. He also performed with San Francisco Starlight Orchestra and the Southtown Strutters.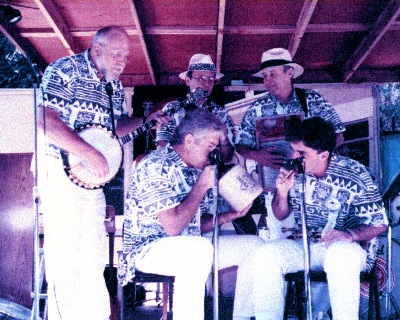 The band liked to break down into a jug band unit with authentic bass and kazoo, as heard on "Oriental Man," below.


Marty Eggers, piano

For the life of the band Marty played the keyboard and was featured on Ragtime specialties or tunes by Jelly Roll Morton. An accomplished Classic Jazz and Ragtime pianist, he's appeared at Jazz and Ragtime festivals worldwide. Heard on dozens of albums, Eggers is a fine string bass player and was pianist in the subsequent Black Diamond Blue Five after 1991.

Tom Downs, tuba

Downs played excellent brass bass for the duration of the full band. Ably supporting the front line, he blended beautifully with the other rhythm instruments keeping the dancers happy. He also performed with the Lodi, California-based Cell Block Seven.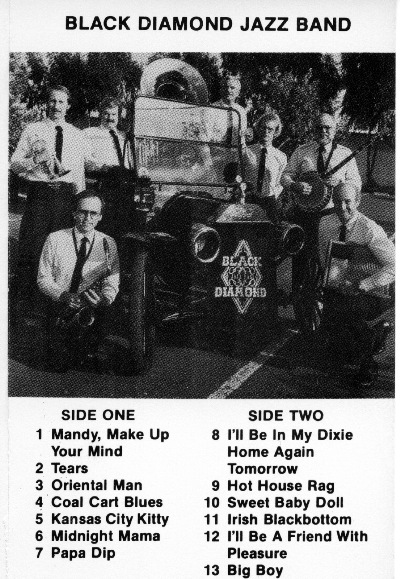 Black Diamond Jazz Band 1984

The first Black Diamond commercial release defined its 1920s Classic Jazz style. Gunter sang knowing renditions of clever ditties like "Kansas City Kitty." Wunderkind Eggers, aged 18 years at the time, excelled in a superlative rendition of "Hot House Rag."

Knoblauch mined fresh sincerity from the frivolous lyric of "Irish Black Bottom." The ensemble took care to underscore the rich, organ-tone harmonies of "Tears" written by Lil Hardin for King Oliver's Creole Jazz Band. They concluded with the jaunty Classic Jazz charm of "Big Boy," waxed by Bix Beiderbecke in 1924 with the Wolverine Orchestra.


Black Diamond Cassette BDP-101 1984

George Knoblauch (banjo, vocals, leader)
Fred Spitzer (cornet, vocals, kazoo, co-leader)
Bill Jeffries (trombone)
John Howard (clarinet, alto sax)
Marty Eggers (piano)
Tom Downs (tuba, jug)
Bill Gunter (washboard, vocals)

Side A - excerpts
Mandy, Make Up Your Mind (Fred Spitzer, vocal)
Tears
Oriental Man (jug band)
Kansas City Kitty (Bill Gunter, vocal)
Midnight Mama (George Knoblauch, vocal)

Side B - excerpts
Hot House Rag
Sweet Baby Doll
Irish Black Bottom (George Knoblauch, vocal)
I'll Be a Friend with Pleasure (Fred Spitzer, vocal)
Big Boy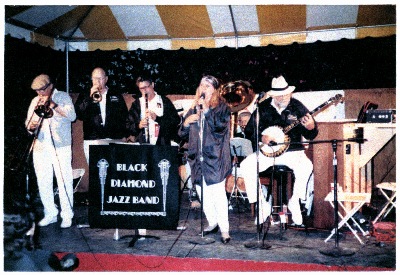 Black Diamond sometime after 1987

Bill Bardin, Howard Simpson, Earl Scheelar, Barbara Dane and George Knoblauch are seen in the front line.

Revised Roster, 1987

The band lineup was shifting in the mid-1980s and was reorganized in 1987. The new roster featured cornet player Howard Simpson followed by Franco Finstad and Mike Slack.

Trombonist Bill Bardin had been a professional musician for nearly fifty years by then. His thoughtful trombone parts, breaks and solos were fitting for the Classic Jazz canon. It's notable that Bardin and multi-instrumentalist Earl Scheelar had been partners in both P.T. Stanton's Stone Age Jazz Band and ALL of Scheelar's bands dating back to 1966.

Barbara Dane sang with Black Diamond in the late 1980s. Brent Bergman is an Oakland native who played trombone in Black Diamond (1988-91) and in Royal Society Jazz Orchestra, Churchill Street Jazz Band and The Spirit of '29.

Phil Steirs played reeds during 1984-85 and in Devil Mountain, River City and Emerald City Jazz Bands and co-led the Gold Coast Jazz Band with his wife, piano player Jan Steirs.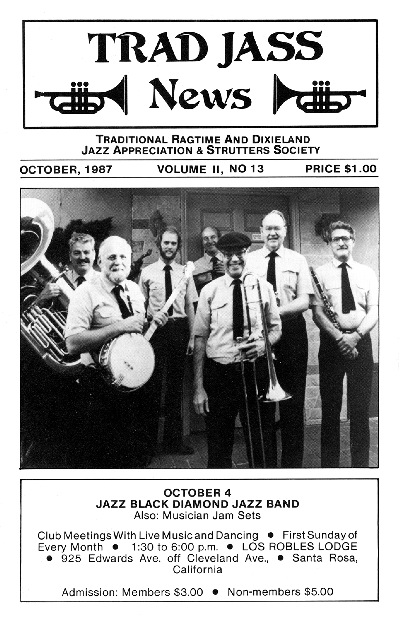 Black Diamond in October 1987 with Downs, Knoblauch, Eggers, Gunter, Bardin, Simpson and Scheelar.

Alvarado Inn Session, 1987

This live performance suffers the typical shortcomings of enthusiast recordings: off-mic vocals and a too-distant perspective. Unfortunately, poor pickup of Scheelar's clarinet shortchanges his zesty tone and passionate reed parts.

Earl Scheelar switched mid-career from cornet to clarinet as his main instrument and it remains debatable whether the Bay Area lost a great horn player or gained a brilliant Classic Jazz clarinetist.

The band renders a colorful "Borneo Bay" despite the dreadful 'south sea islands' lyrical motif. Knoblauch sings very well on both the rarely heard "(Here Comes the) Hot Tamale Man" and "Melancholy," good examples of relaxed tunes where the band settles into an easy groove.

Marty Eggers sensibly chose to parse his Ragtime piano specialties in a brisk, upbeat Wally Rose mode. The session concluded with George presenting a plaque to Marty on his 21st birthday acknowledging his yeoman services to the band which he had joined at age 17.

This session was excerpted from three hours of cassettes recorded at an event hosted most likely by NOJCNC, not the one seen above. It's unknown who originally recorded the audio, but they are thanked nonetheless.


Alvarado Inn, 10.11.87
Ignacio, California

George Knoblauch (banjo, vocals, leader)
Howard Simpson (cornet, vocal)
Earl Scheelar (clarinet)
Bill Bardin (trombone)
Marty Eggers (piano)
Tom Downs (tuba)
Bill Gunter (washboard, percussion, vocals)

Set A Black_Diamond_JB_Alvarado Inn_10.11.87_Set_A.mp3

All the Girls Go Crazy
Come Back Sweet Papa
Yellow Dog Blues
Pineapple Rag (piano feature)
Georgia Bo-Bo
Minstrels of Annie Street
Weary Blues

Set B Black_Diamond_JB_Alvarado Inn_10.11.87_Set_B.mp3

Papa Dip
Someday You'll Be Sorry
Sobbin' Blues
(Here Comes the) Hot Tamale Man
Snake Rag

Set C Black_Diamond_JB_Alvarado Inn_10.11.87_Set_C.mp3

Coal Cart Blues
Borneo
Melancholy (George Knoblauch, vocal)
New Orleans Joys (piano feature)

Set D Black_Diamond_JB_Alvarado Inn_10.11.87_Set_D.mp3

South (George Knoblauch, vocal)
Maple Leaf Rag (piano feature)
I Can't Say
Camp Meeting Blues
Cakewalkin' Babies from Home
Marty plaque presentation


Appendix: Black Diamond Blue Five

After 1991 the band became a quintet with Knoblauch, Eggers and Robert Young (reeds). Clint Baker or Leon Oakley played cornet. The superb Black Diamond Blue Five continued to specialize in the music of Clarence Williams' small bands.

In fact, two thirds of the tunes selected were penned by Williams on their rather short commercial cassette issued in 1995 offered here complete.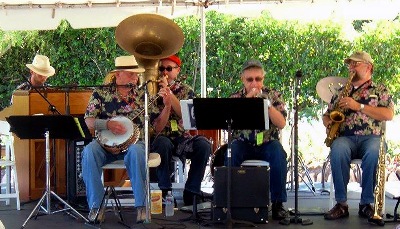 The Black Diamond Blue Five

Marty Eggers, George Knoblauch, Clint Baker, Leon Oakley and Robert Young, probably sometime after 2000.


Black Diamond Blue Five
Commercial Cassette, 1995

This fine studio session has Leon Oakley (cornet), Robert Young (alto and bass saxophone) and Marty Eggers (piano) are featured, though the rest are unknown including the vocalist.

Side A http://jazzhotbigstep.com/BDJB/Black_Diamond_Blue_Five_Cassette_1996_A.mp3

Cushion Foot Stomp
You Can't Shush Katie
Black Diamond Stomp

Side B http://jazzhotbigstep.com/BDJB/Black_Diamond_Blue_Five_Cassette_1996_B.mp3

Baltimore
Organ Grinder's Blues (piano feature with vocal)
I've Got Horses and I've Got Numbers on my Mind



Thanks to Tom Downs for photos and background data, and to Hal Smith for assistance. The live Alvarado Inn audio is from the collection of Earl Scheelar remastered by Dave Radlauer.



LINKS:

Bill Bardin

Earl Scheelar

Barbara Dane

Clarence Williams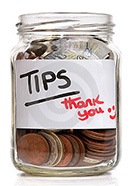 Tip Jar
This site is free. But you can help sustain it, and encourage me with donation to the tip jar. Secure payment through PayPal is anonymous, except that I will see your e-mail address.

Donations are paid securely through PayPal.

Donation $5.00
Donation $10.00
Donation $20.00
Donation $35.00
Donation $50.00
Donation: You decide