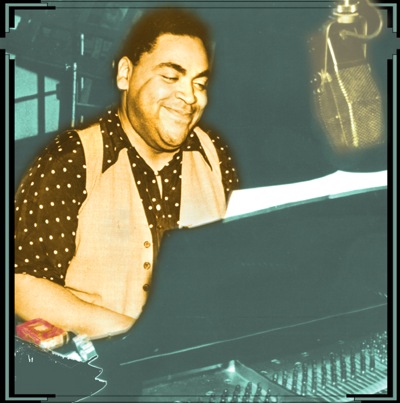 FATS WALLER

This five-part series explores Waller as a composer, classical musician, Stride piano master, protege and friend of James P. Johnson, and cultural icon.

Special guests are stride pianist, Mike Lipskin and James P. Johnson researcher, Mark Borowsky.




FATS WALLER: Five Part Series

Pt. 1A - Fats Waller Classical Musician
HONEYSUCKLE ROSE (ala Bach, Beethoven, Brahms) -- Fats Waller, piano solo, 1941
HONEYSUCKLE ROSE -- Dick Hyman, piano, 1990
STRANGE AS IT SEEMS -- Marty Grosz & Keith Ingham & their Paswonky Serenaders, 1990
LONESOME ROAD -- Fats Waller, theater organ solo, London, 1938
RUSSIAN FANTASY -- Waller, piano solo, 1935
(WHAT DID I DO TO BE SO) BLACK AND BLUE -- Dick Hyman, organ, 1987
VIPERS DRAG -- Fats Waller, piano, 1934
HALLELUJAH -- Fats Waller, piano solo, 1935

Pt. 1B - Fats Waller Classical Musician
LOUNGING AT THE WALDORF -- The Canadian Brass, 1979
BOND STREET -- Fats Waller and his Rhythm, 1939
(LONDON SUITE:)
PICADILLY -- Fats Waller, piano solo, London, 1939
CHELSEA -- Fats Waller, piano solo, London, 1939
SOHO -- Fats Waller, piano, London, 1939
BOND STREET -- Dick Hyman, theater organ, 1988
WHITECHAPEL -- Keith Nichols, solo piano, 1988
LIMEHOUSE -- Kieth Nichols, solo piano, 1988
SEXTET: LUCIA DI LAMMERMOOR (DONIZETTI) -- Fats Waller, solo piano, 1939
JITTERBUG WALTZ -- Fats Waller and his Rhythm, Waller electric organ, 1942



Pt. 2A - Fats Waller: Composer
YACHT CLUB SWING -- Fats Waller & his Rhythm, 1936
(WHEN YOU) SQUEEZE ME -- Fats Waller & his Rhythm, 1939
HOW CAN YOU FACE ME -- The Australian All-Stars, 2004
I'M CRAZY 'BOUT MY BABY -- Fats Waller & his Rhythm, 1936
FATS WALLER STOMP -- Tom Morris' Hot Babies, 1927
THAT RHYTHM MAN -- Paswonky Serenaders
GEORGIA BO-BO -- Tomas Ornberg's Blue Five
LONG DEEP AND WIDE -- Keith Nichols Kazz Kings, 1990

Pt. 2B - Fats Waller: Composer
DREAM MAN -- Waller & his Rhythm, 1934
MIDNIGHT STOMP -- Paswonky Serenaders, 1990
BLUES FOR THOMAS WALLER -- Teddy Wilson solo piano, 1974
ZONKY -- Hot Antic Jazz Band, 1999
THE JOINT IS JUMPIN' -- Fats Waller and his Rhythm, 1937
NOBODY BUT MY BABY IS GETTING MY LOVE -- Waller piano roll transcribed for Organ, 1981



Pt. 3A - Stride Piano with guest Mike Lipskin
(*studio performances for JAZZ RHYTHM)

SPREADIN' RHYTHM AROUND -- Mike Lipskin
AFRICAN RIPPLES (excerpt) -- Fats Waller, 1929
BIRMINGHAM BLUES (excerpt)* -- Mike Lipskin
BIRMINGHAM BLUES -- Fats Waller, solo piano, 1922
NUMB FUMBLIN'* -- Mike Lipskin
HANDFUL OF KEYS -- Fats Waller, solo piano, 1929
HANDFUL OF KEYS* -- Mike Lipskin
SMASHING THIRDS -- Fats Waller, 1929

Pt. 3B - Stride Piano with guest Mike Lipskin
SMASHING THIRDS -- Mike Lipskin
E-FLAT BLUES (excerpt) -- Fats Waller, solo 1935
E-FLAT BLUES* -- Mike Lipskin
SWEET SAVANNAH SUE -- Mike Lipskin
GLADYS* -- Mike Lipskin
AFRICAN RIPPLES -- Mike Lipskin
TEA FOR TWO -- Fats Waller, 1939
HONEYSUCKLE ROSE* -- Mike Lipskin
VIPER'S DRAG -- Fats Waller, piano solo 1934



Pt. 4A - Good Buddies: Fats Waller and James P. Johnson
GOIN' ABOUT -- Fats Waller, piano solo, 1929
MUSCLE SHOALS (excerpt) -- Fats Waller, piano solo, 1922
TODDLIN' (excerpt) -- James P. Johnson, piano solo, 1923
ORIGINAL BUGLE BLUES -- Dunn's Original Jazz Hounds, 1928
CHICAGO BLUES -- Jimmy Johnson and his Orchestra, c. 1928
WILLOW TREE -- Louisiana Sugar Babes, 1928
THOU SWELL (excerpt) -- Louisiana Sugar Babes, 1928
VALENTINE STOMP (excerpt) -- Fats Waller, piano solo, 1929
IF I COULD BE WITH YOU ONE HOUR TONIGHT -- Waller piano roll transcribed for Organ, 1981
CAROLINA SHOUT -- Fats Waller, 1941

Pt. 4B - Good Buddies: Fats Waller and James P. Johnson
HAVIN' A BALL -- Fats Waller & Rhythm 1936
BLUES FOR FATS, James P. Johnson, 1943
MY FATE IS IN YOUR HANDS -- James P. Johnson, solo piano, 1944
KEEPIN' OUT OF MISCHIEF NOW -- James P. Johnson, solo piano, 1944
WILDCAT BLUES -- James P. Johnson, Sidney Bechet, et al, 1947
CANDY SWEETS -- James P. Johnson solo, Condon Town Hall, 1944
I'M CRAZY 'BOUT MY BABY -- James P. Johnson, solo piano, 1944
BLUE TURNING GREY OVER YOU -- Johnson, Bechet, et al, Blesh 1947



Pt. 5A - Fats Waller: Favorites and Obscurities
WHAT'S THE REASON I'M NOT PLEASIN' YOU -- Fats Waller & his Rhythm , 1935
I BELIEVE IN MIRACLES -- Fats Waller & his Rhythm, 1935
I'M GONNA SIT RIGHT DOWN AND WRITE MYSELF A LETTER -- Fats Waller & his Rhythm
TRUCKIN' -- Fats Waller & his Rhythm, 1935
HENDERSON STOMP -- Fletcher Henderson Orchestra, 1926
GOT A BRAN NEW SUIT -- Fats Waller & his Rhythm, 1935
LULU'S BACK IN TOWN -- Fats Waller & his Rhythm, 1935
HOLD MY HAND -- Fats Waller & his Rhythm, Live NYC Yacht Club, 1938
HOLD MY HAND -- Paris Washboard, 1994

Pt. 5B - Fats Waller: Favorites and Obscurities
(WHAT DID I DO TO BE SO) BLACK & BLUE -- Louis Armstrong & his Orchestra, 1929
ASBESTOS -- The Paswonky Serenaders, 1990
SWEET AND SLOW -- Fats Waller & his Rhythm, 1935
I CAN'T GIVE YOU ANYTHING BUT LOVE -- Fats Waller & his Rhythm w/ Una Mae Carlilse, 1939
SWING-A-DILLA STREET -- Fats Waller and his Rhythm, 1940
AIN'T MISBEHAVIN' -- Fats Waller & his Rhythm, 1943
HONEYSUCKLE ROSE -- Fats Waller & his Rhythm, Live NYC, Yacht Club, 1938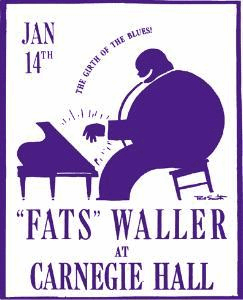 FATS WALLER
by Michael Lipskin

(Adapted from his foreword to Fats Waller, Maurice Waller & Anthony Calabrese, Schirmer/Macmillan, 1977)

An Under-Appreciated Overachiever

Fats Waller excelled in many ways. He was a jazz piano stylist with a touch that influenced the course of the pop and jazz keyboard, a composer of hit songs and Broadway musicals, and an energetic performer capable of bringing happiness to thousands during the mid Depression and early World War II years as they listened to his hundreds of recordings, heard him on network radio, or had the special pleasure of seeing him live as "Fats Waller and his Rhythm."

For example, in 1937 his "I'm Going to Sit Right Down and Write Myself a Letter" would be playing on countless phonographs in both black and white neighborhoods, while Fletcher Henderson, Benny Goodman, and Louis Armstrong might be playing his "Ain't Misbehavin'" or "Black and Blue." Several publishers would be submitting his latest material to big bands on the road, to record companies, and for remote radio pickups.

Fats Waller's story is unique in that he was able to function both as a popular entertainer and, more privately, as a superb pianist and keyboard composer. He wrote hit songs and complicated piano pieces, and simultaneously capture an ever-increasing share of public adulation and attention.

Until recently, Fats Waller's piano playing was largely overshadowed by the tools of his success: his singing and writing pop hits. He was always considered to be a fine jazz man, but was dismissed by many critics with a few short paragraphs that often cited his obvious contributions as a sort of historical footnote. And some jazz historians traditionally have been biased against artists who have "made it" commercially.

There is now the necessary breathing room to appreciate Fats Waller and his very sophisticated approach to music; music that employs the kind of full voicing and harmonics that few others could approach in richness. His ability to combine tremendous energy with contrasting delicacy and total control was a Waller trademark that his many imitators, both white and black, were unable to duplicate.

This individual creativity is all the more impressive considering its early placement in the history of jazz. Further, Fats and his genius teacher, James P. Johnson, were operating within a more structured musical framework. Today the performer has only to state the simple melody, or "head," and thereafter may improvise with harmonic and rhythmic abandon. In the '20s and '30s, however, the variations and improvisations had to take both the specific chord progressions and the melodic line into account.

In spite of Fats' clowning, heavy drinking, and public image as a happy-go-lucky entertainer, he was capable of an intellectual understanding of the importance of music, and his role as a black musician. In all his work there was an underlying seriousness and self respect for what he was doing. If a song he had recorded was banal, he would work out an ingenious parody of the syrupy lyrics, always having the last word at the end. He also parodied the stereotyped Negro of the 1930s. In his Hollywood film appearances he ad-libbed script changes so as minimize an ethnically degrading role.)

As soon as he could command it, Fats had written into his contracts that he would not have to perform if the promoter did not furnish a tuned Steinway grand piano; and that he would not be required to play boogie woogie, the aborted version of Midwest piano often requested by swing-era fans.

The Fats Waller story is not just one of contrast between public entertainer and serious pianist-composer, but also that of a prodigy. Fats started playing piano as soon as he discovered what it was, when he was six years old, in a neighbor's apartment. He quit high school to work as a movie-theatre organist accompanying silent film, and recorded his first piano solos for Okeh Records when he was eighteen. His first work was published when he was nineteen, and by twenty-five he had highly original piano solos on discs and was in demand as an accompanist for blues singers.

Listening to this eighteen-year-old accompany Sara Martin, the singer on Okeh, one is amazed at his ability to play newly learned material behind the singer, never getting in the way, always perfectly synchronized with her voice. Even then he demonstrated hints of that clean touch and inventiveness along specific musical guidelines as he subtly bent rules of composition. In no small way was this ability due to the influence of Harlem stride piano and James P. Johnson, the man who brought the style to its creative peak.

Harlem and the Emergence of Stride Piano

"Stride" is a word coined in the early 1950s to describe the extremely full jazz piano idiom in which the left hand often alternates between single notes, or tenth intervals in the lower portion of the instrument, and chords toward middle C. The left-hand movement takes on a striding appearance, playing both the rhythmic and harmonic structure at the same time. The right hand is thus free to work out melodic improvisations. This musical language developed and was identified with the maturation of Harlem as a cultural center for black America before World War II.

Social life in Harlem in the early 1920s fostered not only stride piano, but some of the pioneer big-band jazz units that eventually led to the swing era, and finally bebop. In earlier decades Harlem had developed a middle-class Negro society, and proper music followed. By 1910 there were enough musicians uptown to form the Clef Club, a booking agency that provided the pre-jazz orchestras for high society, the show functions of the Castles, and the Ziegfeld Follies. The piano was then the main source of home and saloon entertainment in the United States, and every bar had one.

Correspondingly, there appeared a growing number of keyboard "professors," ragtime kids or "ticklers" as they were called, traveling from city to city and bar to bar. Often they were accompanied by a retinue of "ladies of the evening" who supplemented the musicians' limited income.

All along the Atlantic seaboard one could hear such colorful characters as Willie "Egghead" Sewell, "One Leg" Willie Joseph, Walter Gould, Jack "The Bear" Wilson, Richard "Abba Labba" McLean, Freddy ''Harmony King" Bryant, William Turk, Fats Harris, and Jess "Old Man" Pickett. As Harlem grew, these pre- World War I musicians slowly migrated to New York, playing a version of ragtime that differed from the slower Midwest sound of Scott Joplin and Tom Turpin. Their music reflected a cosmopolitan exposure, and rather than play specific pieces they used a variety of material that included popular songs of the day and classical themes. Theirs was a faster ragtime that also combined the rhythms of the Southern Baptist church dance known as the ring shout (referred to in James P. Johnson's "Carolina Shout").

A Second Generation of Piano Professors

When they reached the Northeast, a group of younger pianists that included Eubie Blake, Luckey Roberts, Stephen "Beetle" Henderson, Leroy Tibbs, Willie "The Lion" Smith, and James P. Johnson followed the "professors" around. At the same time, an influx of Southerners and West Indians into Harlem slowly changed the atmosphere of the area from staid middle class to a vibrancy exploding within a set of city blocks featuring a variety of cabarets and nightclubs.

This then became the center of performance and music development where the younger men could expand their ideas and professionalism. Unlike the older pianists, they worked more steadily at jobs that gradually demanded reading sheet music and the ability to transpose songs on sight to accompany singers.

After hours the young men would meet, and try to outplay each other. These "cutting contests," in which musicians tried to prove technical superiority over one another, happened throughout jazz history. Sometimes whole bands battled all night. With stride, though, the sound literally went non-stop for hours as one pianist took over from another. Beetle, for instance, would begin a pop tune and play as long as his creative juices would flow. Luckey Roberts, standing by, would then slide in alongside him and, at the end of a chorus, relieve Beetle's hands, one at a time. Luckey would play for as long as he cared, and then Willie "The Lion" would replace him in the same fashion. Finally the dean, James P. Johnson, would sit in, and in this manner a single tune would last for perhaps a hundred choruses, with seemingly infinite variations.

During the 1920s Cliff Jackson, Donald Lambert, Duke Ellington, Willie Gant, and other younger pianists like Fats Waller entered the cutting contests. As testimony to James P.'s superiority, they often used his compositions as the basis of a contest, each performer trying to equal the master on "Harlem Strut" or "Carolina Shout." The nightclub job requirements, and the fine honing of cutting contests, helped evolve Harlem stride into an anachronistically mature idiom unequaled in either variety or subtlety of technique until decades later.

James P. Johnson: Mentor to Fats Waller

By 1919 it was evident that James P. Johnson was the master and leader of the uptown piano. He could play faster than the others, transpose with a singular facility, and improvise with an inventiveness that didn't stop. James P. played piano day and night as a child. First learning by ear, he sharpened his technique by "wood shedding" (playing in all keys) the rags of the older men. Later he taught himself Bach and Chopin. By the time he was twenty-five he had commercial player-piano rolls on the market and his "Caprice Rag," "Caroline Shout," "Harlem Strut," and "Mama and Papa Blues" were a part of the repertoire of many other pianists.

James P. remained a musician's musician even though he had popular success on Broadway, recorded beautiful sides with Bessie Smith, and wrote the hit theme of the 1920s, "Charleston." During the Depression he spent most of his time at home in St. Albans, New York, writing serious symphonic works, some of which were performed at the Brooklyn Academy and Carnegie Hall.

Over a half century since Johnson's death in 1955 we are just beginning to properly evaluate this man's immense influence or everyone from George Gershwin and Fats Waller to Duke Ellington (many early Ellington band pieces were orchestrated by James P. Johnson) and Thelonius Monk.

The story of Fats and James P. would make a book in itself. No student and teacher in jazz were ever closer. Shortly after the death of Fats' mother, James P. took Fats under his wing and painstakingly taught him basic technique, the concept of composition and improvisation and, of course, the language of stride.

Fats in the Early Recording Era

While James P. was teaching Fats, Harlem was witnessing the birth of so-called "race" records: discs recorded by black talent for the black audience. Although the first supposed jazz record, "Livery Stable Blues" by the Original Dixieland Jass Band, had been released by the Victor Talking Machine Company in 1917, it was a white version of the poetic New Orleans music that was being created in the ghettos throughout the South and Midwest.

Before the early '20s there were almost no records made by blacks for sale to blacks, and the only significant ethnic outlet then was through piano player rolls. Eubie Blake, Luckey Roberts, and James P. had all cut rolls by 1916, but the final sound was mechanical, not able to displaying the subtle rhythmic and technical differences. Young Ellington and Waller studied their masters' styles and techniques by slowing the rolls down and placing their fingers in the depressed keys as the piano played, and also listening daily to their mentors.

In any case, Harlem was host to an ever-increasing number of blues singers, dancers, and instrumentalists, all making the new "hot" music in the uptown night spots. In 1920 an Okeh recording session was arranged, with Willie The Lion conducting the house band from the Club Orient. They cut "That Thing Called Love," "You Can't Keep a Good Man Down," "Crazy Blues" and "It's Right Here for You," all with Mamie Smith as featured vocalist. Okeh released the first two sides without much reaction, but when they issued "Crazy Blues" someone had the idea of making sure the Harlem record stores would play the disc.

As uptown people went to work one morning they were astounded to hear, coming out of stores, the sound of one of their own, singing the blues with a band that was definitely from the neighborhood. The response was fantastic, and Okeh, happily surprised, sold hundreds of thousands of this first blues record in black areas throughout the United States.

This episode was important because it proved to the music businessmen that there was money to be made in black music. Subsequently Okeh, Columbia, Vocalion, and other record labels firms of the 1920s turned out thousands of blues and jazz discs made by the talent of Harlem. Eubie Blake, James P. Johnson, Waller and others were sought out to accompany blues singers and even cut their own featured solos.

Waller was a commercial success in the late '20s with hit Broadway shows (Hot Chocolates and Keep Shufflin'). In the early '30s he added his excellent jazz vocalizing to his performance, and by 1934 as a result in 1934 was signed by RCA Victor to an exclusive contract, furthering his recording activity from then on.

Since much of the material was written around the time of the recording session, and because he and the band were on the road for months at a time, they often had to learn selections in the studio. The session director or the artist and repertoire (A&R) man would give Fats ten to twenty song sheets. He would quickly read the notes and decide which songs he felt had possibilities.

Often, these directors' interest in certain material was as financial as it was musical. Publishers would heavily promote the songs they owned, by tie-ins with movies, on radio, and at live engagements, and so the A& R man had a better chance at a hit with their help. And the A&R man would not infrequently be rewarded with a portion of the publishing income for himself.

After the songs had been decided, Fats would announce to the band which order the solos would be in, and they would learn the material by ear. Occasionally a comic routine would be created. Working diligently, they would complete as many as twelve sides in one day. (Nowadays, pop artists take many weeks, months sometimes years, to complete albums.) Spontaneity was omnipresent, as was Fats' effervescent humor -- which, to the chagrin of the RCA executives, often made use of double entendre. Parody was the Waller reaction to the banal material he was asked to record. Before the bridge of his 1937 "Spring Cleaning (Getting Ready for Love)," the pianist yells "No, lady, we can't haul your ashes for fifty cents. That's bad business." And on one of his best-sellers from the same year, "It's a Sin to Tell a Lie," he warns, "If you break my heart I'll break your jaw and then I'll die."

Wallers Songwriting and Writing Partners

An offshoot of Harlem stride was songwriting. Luckey Roberts, Willie The Lion Smith, James P. Johnson, and Fats Waller all saw Tin Pan Alley as both a means for easy cash and a vehicle for further success. Fats' "Wildcat Blues" was published in 1923, and he continued writing prolifically until his death penning such classics as "Honey Suckle Rose," "Ain't Misbehavin'," "Stealin' Apples," and "Blue Turning Grey Over You."

Because there were so many melodies in his head, Fats often would give away much of what he created to down-and-out friends with hard-luck stories. He even set up his sidekick Buddy Allen in a publishing company, handing him a pile of manuscripts. And he would sell a potential hit, outright, for quick cash, and then watch it become a best-seller, with another credited as writer.

During the twenties Fats and his legendary lyricist, Andy Razaf, would work on tunes whenever they needed money. Razaf was so facile that Eubie Blake claimed all he had to do was play a new melody twice and "Andy would hand me the completed words." This may be an overstatement, but the fluid prose of Razaf's hundreds of hits with different melodists attests to his ability.

After the writing was done, the duo would ride the subway down to the Brill Building at Forty-ninth Street and Broadway, where most of the publishers maintained offices. Always looking for new songs, the publishers would furnish a piano, some booze, and rapt attention. Fats and Andy often would meet George Gershwin, Vincent Youmans, or Irving Berlin in the piano rooms of such firms as Santly-Joy, Shapiro-Bernstein, Leo Feist, Mills Music, and Joe Davis. During the Depression both Fats and James P. were on steady retainer to write.

For years, publishers would give false royalty statements to songwriters especially Harlemites. Record companies often paid no royalties to unsuspecting artists; and one large firm actually made new acts sign an agreement waiving the total writer's share of income due them on a record of their own composition. Fats and Andy Razaf were forced to live by their wits as well as their writing ability. Maybe because of knowing this, Waller and his contemporaries would sell variations of the same song to a number of publishers in the Brill Building, on the assumption that the small advances given would be the only money they ever saw.

A Private Sadness

Like most artists, Fats possessed a very complicated personality. On the surface there was the sense of humor that pervaded any situation, be it a private party, hotel room, or concert hall. His humor always managed to get a laugh. But, on another level, it subtly pointed out the basic contradictions and deceits that he saw around him every day.

There was the rampant sensualist, with tall tales of how many steaks, hamburgers, and pies he could eat at one sitting. And there were the women who wanted Fats, whom Fats had trouble resisting. Above all, there was the tremendous drinking that the man did for too many years. His gargantuan capacity for life was in many ways responsible for his premature death.

Occasionally, when the party stopped, there appeared a sadness, increasingly apparent on the later slow-tempo compositions cut at private sessions, on his London Suite, and in his last Associated Program Service transcriptions. Conjecture as to specific reasons for this disparity is pointless, but conflicts in his upbringing appeared early. Fats' father, a Baptist deacon, rejected the young Waller's music. Fats' moral support came from his mother whose death, in Fats' fifteenth year, was a tremendous blow to him. In those times, before mass black consciousness, Negro families frowned upon jazz, and certainly did not like their children playing a music that they felt demonstrated the worst aspects of their society.

Although he took pride in what he did, and had a healthy attitude toward his music, in some small way Fats never got over the feeling that what he was contributing was not an end in itself; that his real artistic success would lie in the creation of "serious" or "classical" music. Like James P. and the highly individual Willie The Lion, Fats admired the "serious" tradition. The Lion's own wonderful compositions often referred to impressionists of the late nineteenth century, and this influence rubbed off on Fats. Consequently, Fats never quite appreciated the fact that his own contributions were different but equal in value. But it is the rare artist who has a proper perspective on his place in history.

What Fats and those around him did was create a beautiful and whole music, on both an extended intellectual and sensual level, many years before there was anything approaching equal opportunity for formal education. He would be proud at how much respect he commands with an increasing number of pianists and jazz students. Luckily for us, his hundreds of unique and energetic recordings, some of the best of jazz, remain as an exciting legacy that gives joy to today's listeners and those for generations to come.

(Thanks to Mike Lipskin for permission to adapt and publish this material.)


FATS WALLER: COMPOSER (mp3)

WALLER's CLASSICAL INTERESTS & AT RADIO WLW (mp3)

MIKE LIPSKIN INTERPRETS WALLER's "TEA FOR TWO" (mp3)

WALLER CONCLUSION (mp3)



I can recommend these books about Fats:

Fats Waller, by Maurice Waller and Anthony Calabrese,
foreword by Mike Likpskin,
1977, Schirmer Books/Macmillan, NY

Ain't Misbehavin: The Story of Fats Waller, by Ed Kirkeby,
1966, Dodd, Mead & Company, NY

(and the excellent chapter on Fats Waller & James P. Johnson in:)

Jazz Masters of the Twenties, by Richard Hadlock,
1965, Collier Books/Macmillan, NY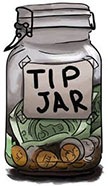 Tip Jar

This site is free.

But you can help sustain it, and encourage me with donation to the tip jar.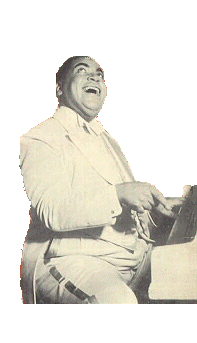 FATS WALLER LINKS:

Fats Waller at Red Hot Jazz Archive

FatsWaller.org

Fats Waller on shellac

Fats Waller on NPR's Morning Edition

Fats Waller on NPR All Songs Considered

Fats Waller: Ken Burns JAZZ

Fats Waller: midi files and more

Billy Taylor on Fats Waller

Fats Waller books and films

More on the life and times of Fats Waller

Website of Mike Lipskin