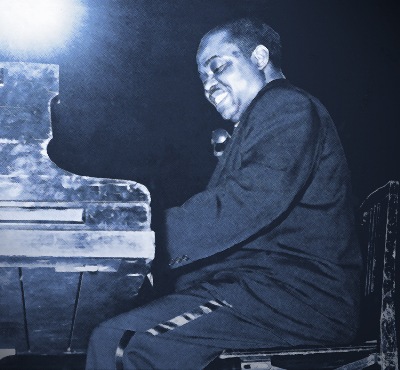 SAMMY PRICE
1908-1992




Price has been largely overlooked, despite his key role arranging, accompanying, and directing sessions during the 1930s and '40s for Decca's extensive Blues catalog.

Even less well-known are his achievements outside of music in the 1950s and '60s as a progressive political activist campaigning for Democrats Adam Clayton Powell, President LBJ and Bobby Kennedy . . . not to mention his success as a businessman and entrepreneur.


Life and Times of Sammy Price

SAMMY PRICE Pt. 1.mp3
HONEY GROVE BLUES -- Sammy Price, 1969
JUMPIN' THE BOOGIE -- Sammy Price and his Texas Blusicians, 1940
SWING OUT IN THE GROOVE -- Sammy Price and his Texas Blusicians, 1940
FETCH IT TO ME -- Sammy Price and his Texas Blusicians, 1940
BACK BAY BOUNCE -- Sammy Price, 1983
DOC AND SAM'S BLUES -- Doc Cheatham & Sammy Price, 1976
I KNOW HOW TO DO IT -- Sammy Price and his Texas Blusicians, 1941
PLUCKIN' THAT THING -- Sammy Price and his Blusicians, 1944

SAMMY PRICE Pt. 2.mp3
JUST JIVIN' AROUND -- Sammy Price and his Texas Blusicians (+ Lester Young), 1941
THE GOON DRAG -- Sammy Price and his Texas Blusicians, 1941
BOX CAR SHORTY AND PETER BLUE -- Pleasant Joe & Sammy Price, 1947
BOX CAR SHORTY'S RETURN -- Sammy Price, 1983
SADIE BROWN -- Pleasant Joe & Sammy Price, 1947
OH RED! -- Sammy Price and his Texas Blusicians, 1940
THE DIRTY DOZENS -- Sammy Price and his Texas Blusicians, 1940
RIFFIN' BOOGIE -- Sammy Price, 1975
SWEEPIN' THE BLUES AWAY -- Sammy Price and his Texas Blusicians, 1940

SAMMY PRICE Pt. 3.mp3
WEST END BOOGIE -- Sammy Price, 1975
CANNON BALL -- Nora Lee King featured with Pee Brown and his Band, 1942
ME AND MY CHAUFFEUR -- Sammy Price & Texas Blusicians, vocal Mabel Robinson, 1942
HE CAUGHT THE B & O -- Blue Lu Barker accompanied by Danny Barker's Fly Cats, 1938
COW COW BLUES -- Sammy Price and his Texas Blusicians, 1940
MR. FREDDIE BLUES -- Wee Bea Booze, 1942
ROOM 509 -- Sammy Price, 1983
SALUTE TO BASIE -- Sammy Price, 1975

SAMMY PRICE Pt. 4.mp3
SHAKIN' LOOSE -- Sammy Price, 1945
DO YOU DIG MY JIVE -- Sammy Price Texas Blusicians, 1941 vocal Sammy
I FINALLY GOTCHA -- Sammy Price, 1945
BLOOD ON THE MOON -- Mezzrow-Bechet Septet, voc Hot Lips Page, 1945
NEVER WILL FORGET THE BLUES -- Bechet-Mezzrow Quintet, 1947
MY LONESOME HEART -- Sammy Price, 1979
BIG JOE -- Sammy Price and his Bluesicians, 1944


EARLY YEARS

Born in Texas Sammy first started on alto horn in a local boys band before age 10. Switching to piano when his family moved to Dallas, Price was instructed by the daughter of Booker T. Washington, and later by boogie pianist Tiny Crump among others.

At age 15 he won a state-wide Charleston dance contest, which got him booked on the T.O.B.A. circuit and then featured performing on tour with the Alphonso Trent Orchestra. He gradually emerged as a noted piano player and bandleader in Texas and Oklahoma during the late 1920s. By his 20th birthday Sammy Price was working professionally with his own local big band; broadcasting in Oklahoma City; and was soon playing residencies in Kansas City, before moving north.

Price was in Kansas City during its heyday absorbing key elements of KC's vibrant music scene: the Blues and Boogie piano of Pete Johnson and the riff-based head-arrangements of bands playing the Midwestern circuit. He also learned the flexibility needed to play in ANY setting, as a soloist, with band sections or accompanying singers, like Big Joe Turner with whom he worked often.

Moving north Sammy ended up in New York city where in 1937 he began working as house pianist at Decca Records for 15 years heard on some 300 sides. During his decade-and-half at Decca Price acted as a talent scout, arranger and composer, and musical director for hundreds of Blues, Rhythm & Blues, and Gospel records while also accompanying a large number of stellar artists like: Trixie Smith, Helen Humes, Big Joe Turner, and Jimmy Rushing. While at Decca he recorded frequently with his own "Texas Bluesicians" band that included the likes of: trumpeters Buck Clayton and Jonah Jones; and saxists Don Stovall and Lester Young.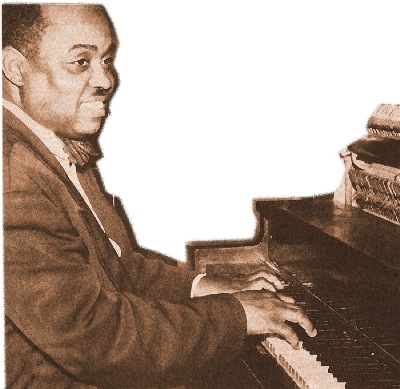 JAZZ RHYTHM podcast exclusive:

Sammy Price, Stan McDonald & Jack Pagnotti, 1984

St. Louis Blues -- McDonald & Sammy Price.mp3
Sweet Georgia Brown -- McDonald & Sammy Price.mp3


AFTER 1940

During the late '40s Sammy Price became associated with clarinettist Mezz Mezzrow, partly as a the result of their tour of France and joint appearance at the Nice jazz festival. Mezz was the most public and flamboyant of the three partners who launched the King Jazz record label which was intended to recapture some of the original roots music of Jazz and Blues.

In practice though most of its catalog was built around what turned out to be excellent small band sessions of Mezzrow with Sidney Bechet many of which included Sammy on piano. The King catalogue was leavened with a few obscure blues singers and some fine blues piano by Sammy. In fact the very first King Jazz session in 1945 was a dozen Sammy Price blues and boogie-woogie solos.

Another little known episode is Sammy's association with an obscure blues singer from New Orleans named Pleasant Joe (aka Cousin Joe, Smilin' Joe and Brother Joshua). Together they wrote and recorded a now long-forgotten song that became a minor hit: "Boxcar Shorty and Peter Blue," a tale of two hobos and their tragic falling out. It was enough of a hit that both Sammy and Joe kept it in their repertories for decades. Price even wrote and recorded a sequel "Boxcar Shorty's Return" some 35 years later.

During the Sixties he was active in the law, politics, and civil rights advocating for the homeless. In Harlem he was organizing street-level campaigns for Congressman Adam Clayton Powell, President Lyndon Johnson and Senator Bobby Kennedy.

Sammy must have been a very bright and personable man: besides his accomplishments in music and social activism he was a successful businessman. For a while in the early 1950s when he returned to Texas for a while he opened two night-clubs, started an undertaking business and launched a thriving meat products company . . . I'm guessing stuff like links, barbeque sauce, that sort of thing.

I don't think Sammy has received the recognition he deserves, but I hope my radio programs and this web page might provide a deeper appreciation of this superb all-around musician, energetic man and enterprising organizer: in music, business and politics. Though largely forgotten today, Sammy Price was a superbly adaptable accompanist, one of the finest Blues pianists of his generation, and a skilled arranger and composer who entertained audiences for nearly seven decades.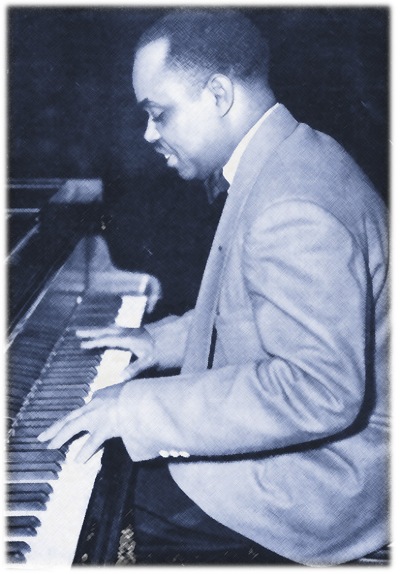 LINKS:

Sammy Price with Stan McDonald here (Stan Joins the Masters, Pt 3B)

You won't find much about Sam Price on the Internet, but his music is widely available on CD and his autobiography, What do They Want, is in print and available through Amazon.com.

SAMMY PRICE @ Wikipedia
SAMMY PRICE @ AllMusic.com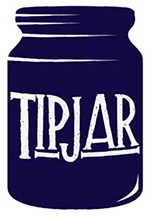 Tip Jar

This site is free. But you can help sustain it, and encourage me with donation to the tip jar. Secure payment through PayPal is anonymous, except that I will see your e-mail address.

Donation $5.00
Donation $10.00
Donation $20.00
Donation $35.00
Donation $50.00
Donation: You decide