The Real BILLIE HOLIDAY

Holiday was a great jazz singer, possibly the greatest of all time. She had a pure jazz style and improvised brilliantly with other musicians.

A distinctive and lasting voice in popular music her music stands unsurpassed at the apex of jazz singing.

This profile is presented in three chapters covering the 1930s, 1940s and 1950s respectively. She's quoted from interviews and her famed memoir, Lady Sings the Blues.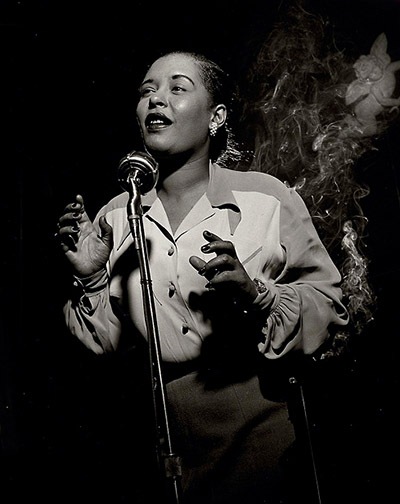 Singing Style

I don't think it's an exaggeration to call Billie Holiday the best of all jazz singers. Using her voice as an expressive musical instrument she bent and glissed notes like a horn player, and blew along with the horns. She revised a song melody or rhythm to her interpretation, intuitively building one of the most distinctive personal voices of jazz and blues.

Holiday had the power to evoke emotions rarely equaled by other singers. She revolutionized jazz and popular singing, influencing Frank Sinatra, Carmen McCrae, Etta Jones, Dinah Washington, Sarah Vaughn, Anita O'Day and countless others.

The most famous songs in her repertoire were forever reshaped by their encounter with Billie. In her memoir, Lady Sings the Blues quoted at length here, she explained: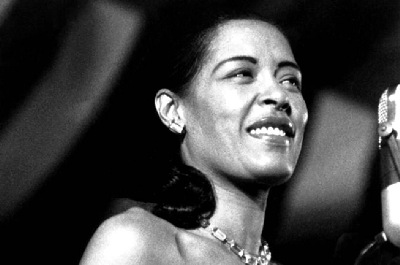 "I don't think I'm singing. I feel like I'm playing a horn. I try to improvise like Lester Young, like Louis Armstrong, or someone else I admire. What comes out is what I feel. I hate straight singing. I have to change a tune to my own way of doing it. That's all I know."


Explore her story in further depth in a series published in Dagogo:

Billie Holiday in the 1930s

Billie Holiday in the 1940s

Billie Hoiiday in the 1950s


Personal Quirks

By the mid-1930s most everyone called her Lady Day. But Basie and a couple other musicians from his band made it joke, calling her "William" instead. Holiday once said she had named herself after actress Billie Dove; but then said there was more to it: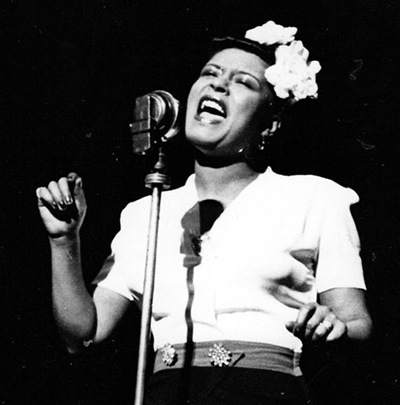 "My father had started calling me Bill because I was such a young tomboy. I didn't mind that, but I wanted to be pretty too, and have a pretty name. So I decided Billie was it and I made it stick."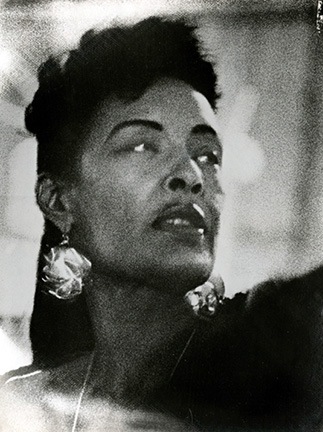 Billie Holiday is one of the most photographed of jazz musicians. But oddly, I've noticed that she never looks exactly the same in pictures, not even the same person, as you'll see in the pictures on this page.



Billie Holiday in the 1930s


THE THIRTIES

Early Recordings
In the mid-Thirties Billie made her first records in sessions with Benny Goodman. They sold well, a critical and popular success. She gave a special lilt to songs that might otherwise have been forgettable: "What a Little Moonlight Can Do," "Them There Eyes."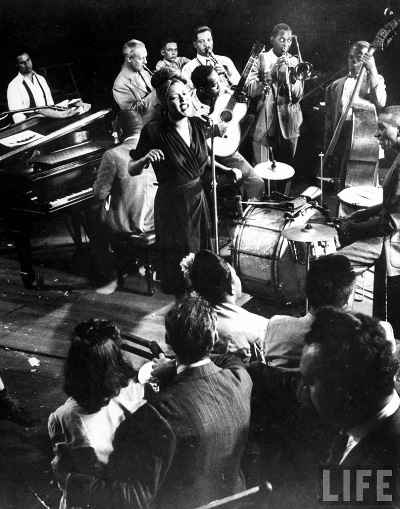 During the Thirties Holiday recorded mainly popular and Tin Pan Alley songs. Her song improvisations were equivalent to Louis Armstrong's. She revised improved and streamlined a melodic line, infusing a more freely swinging rhythm than singers who preceded her. "No Regrets" and "That's Life I Guess" typify the way Billie swung the band, with brilliant musicians who rose to the occasion like clarinetist Artie Shaw and trumpet player Bunny Berigan.

Holiday was composer (or co-author) of a dozen and a half songs, including "God Bless the Child," "Billie's Blues," "Lady Sings the Blues," "Don't Explain," "Fine and Mellow," the latter her long time signature theme.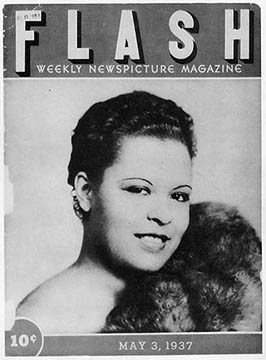 Billie Holiday in the 1930s:

BILLIE_1A.mp3
BLUES (BIG CITY BLUES) -- Duke Ellington and his Orch, Paramount Film, 1934
YOUR MOTHER'S SON IN LAW -- Benny Goodman and his Orch, 1933
THAT'S LIFE I GUESS -- Teddy Wilson and his Orch, 1936
NO REGRETS -- Billie Holiday and her Orch, 1936
MOANIN' LOW -- Teddy Wilson and his Orch, 1937
MEAN TO ME -- Teddy Wilson and his Orch, 1937
SWING! BROTHER SWING -- Count Basie and his Orch, Aircheck, 1937
HE'S FUNNY THAT WAY -- Teddy Wilson and his Orch, 1937
I'LL NEVER BE SAME -- Teddy Wilson and his Orch, 1937
WITHOUT YOUR LOVE -- Billie Holiday and her Orch, 1938
THE VERY THOUGHT OF YOU (excerpt) -- Billie Holiday and her Orch, 1938
NIGHT AND DAY (excerpt) -- Billie Holiday and her Och, 1939
I CAN'T GET STARTED -- Billie Holiday and her Orch, 1938

Photo: First ever published photo of Billie Holiday, Flash Magazine, May, 1937



Special thanks to voice actors for dramatic readings:
Kitt Weagant (Billie), Peter Coyote and Joe Hughes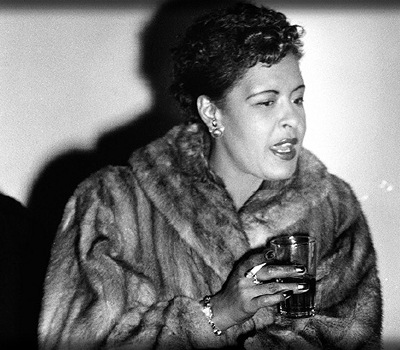 BILLIE_1B.mp3
BACK IN YOUR OWN BACK YARD -- Billie Holiday and her Orch, 1938
THEM THERE EYES (excerpt) -- Billie Holiday and her Och, 1939
THE VERY THOUGHT OF YOU -- Billie Holiday and her Orch, 1938
ALL OF ME -- Billie Holiday and her Orch, 1941
FINE AND MELLOW -- Billie Holiday and her Orchestra, 1939


Lester Young

There's been much comment about the remarkable musical synergy between Holiday, Lester Young, and I would add, Buck Clayton. The three became close buddies. During her short time touring with the Count Basie Orchestra, Lady Day became very tight with Buck Clayton and Lester Young. She called him 'The President: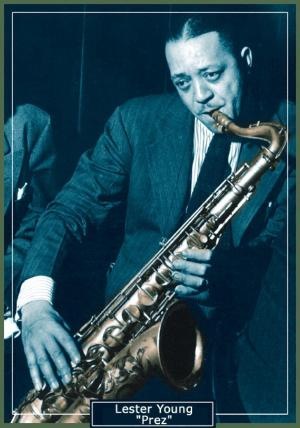 "When it came to a name for Lester Young, I always felt he was the greatest. The greatest man around then was Franklin D. Roosevelt and he was the President. So I started calling Lester the President. It got shortened to "Prez," but it still means what it was meant to mean -- the top man in this country."


Basie

Holiday loved working the Count Basie Orchestra. But it was still hard-scrabbling early days for the band and they parted ways amicably: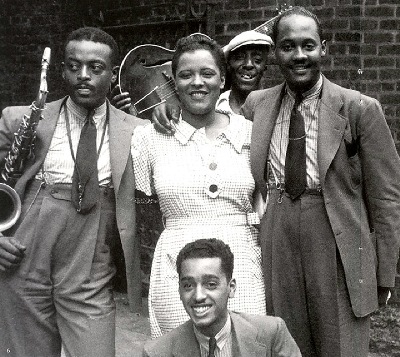 "Basie did a wonderful job with the band, but he just wasn't his own boss. A big booking agency was backing him and trying to sell the band. We'd play a whole string of riffraff joints, rough Negro dance halls in the South where people were sneaking in corn whiskey from across the tracks, and then boom in the middle of this grind we would be booked into some white hotel.

We didn't have the right uniforms, clothes, equipment -- the cats in the band didn't even have the right horns they needed -- we'd all be beat from traveling thousands of miles with no sleep, no rehearsal, and no preparation -- and yet we'd be expected to be real great. After each crisis on the road we'd end up back in New York."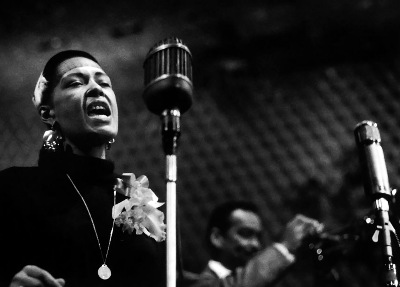 Billie and "Cat Eyes" Buck Clayton

Billie and Buck Clayton were close friends, possibly more; they may once have been lovers. She and Clayton certainly had a musical love affair. His impeccable accompaniment in her best sessions is sensitive and intimate. Buck and Prez remained her preferred studio accompanists and most compatible musical comrades for decades.

Photo: Billie and Buck in the studio.

The Man I Love.mp3
This Year's Kisses.mp3
Mean to Me.mp3
I Must Have That Man.mp3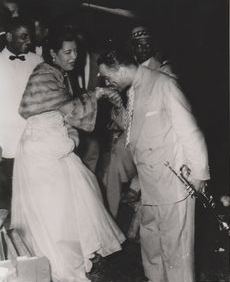 Clayton shared fond recollections and described working with her in his memoir,
Buck Clayton's Jazz World:

"Such pleasure I had backing up Billie's songs to her vocals. When she would record I would watch her mouth and when I saw she was going to take a breath or something I knew it was time for me to play between her expressions. It's what we call "filling up the windows."




By the end of the 1930s Billie Holiday was ready for a transformation. Her repertoire was shifting from popular song to blues, dark ballads, and her own striking originals. She had become a smoldering expressive Diva, prepared to step into the spotlight.



Billie Holiday in the 1940s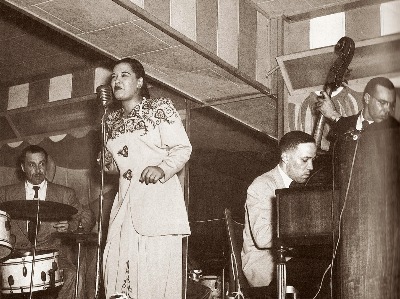 THE FORTIES

In the 1940s Holiday emerged fully as a singer, her voice at its richest and most expressive. She imparted emotional eloquence to ballads, blues, torch songs and profound originals like "God Bless The Child" and "Strange Fruit."


Photo:
Club Bali, Washington, D.C., 1948


Holiday made a full transition from popular 'moon-june-spoon' ballads and Tin Pan Alley, to artistic songs addressing deeper emotions and larger topics:
"Gloomy Sunday" = suicide
"Don't Explain" = infidelity
Strange Fruit = lynching.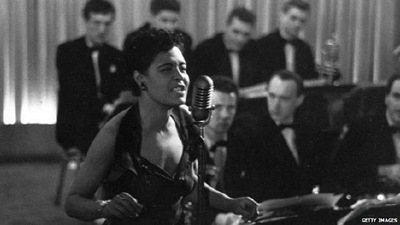 Billie Holiday in the 1940s:

BILLIE_2A.mp3
TRAVELIN' LIGHT -- Billie Holiday, 1942
GOD BLESS THE CHILD -- Billie Holiday, 1941
STRANGE FRUIT (excerpt) -- Sidney Bechet, 1941
STRANGE FRUIT -- Billie Holiday, 1939
GOOD MORNING HEARTACHE -- Billie Holiday, 1946
GIMMIE A PIGFOOT -- Billie Holiday, 1950
YOU CAN'T LOSE A BROKEN HEART -- Billie with Louis Armstrong, 1949
MY SWEET HUNK 'O TRASH -- Billie with Louis Armstrong, 1949
NOW OR NEVER -- Billie Holiday, 1950
NOW OR NEVER -- Lavay Smith and her Red Hot Skillet Lickers, 2000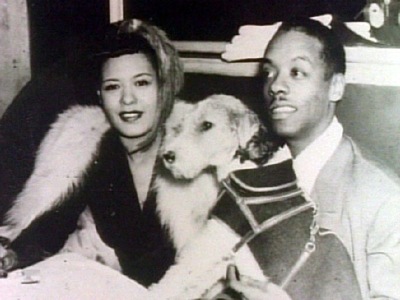 Billie with husband, Jimmie Monroe



BILLIE_2B.mp3
SUNNY SIDE OF THE STREET -- Billie Holiday, 1944
ALL OF ME -- Billie Holiday, Live, 1949
GLOOMY SUNDAY -- Billie Holiday, 1942
THE MAN I LOVE -- Billie Holiday, 1947
I COVER THE WATERFRONT -- Billie Holiday, Live Condon Show, 1949 - NBC
KEEPS ON RAININ' -- Billie Holiday, Live Condon Show - NBC, 1949
BILLIE'S BLUES -- Billie Holiday, Live Condon Show - NBC, 1949
DON'T EXPLAIN -- Billie Holiday, 1947
TENDERLY -- Billie Holiday Live, Apollo Theater, 1952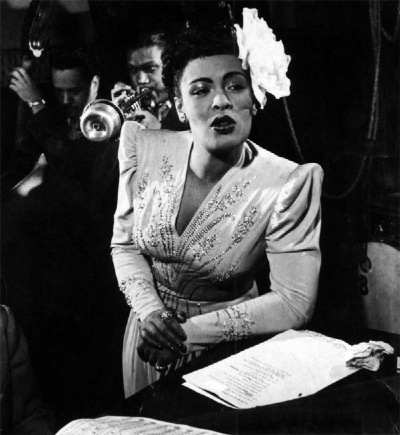 Precarious Career

By the late 1940s Billie's drug addiction – opium in the early days, then heroine and pills -- got her into serious trouble with the law. She had more than one highly publicized arrest, and a year in prison during 1947-48. The felony drug conviction resulted in revocation of her required New York City Cabaret card; a legal permit necessary for performing in nightclubs. It was a serious setback.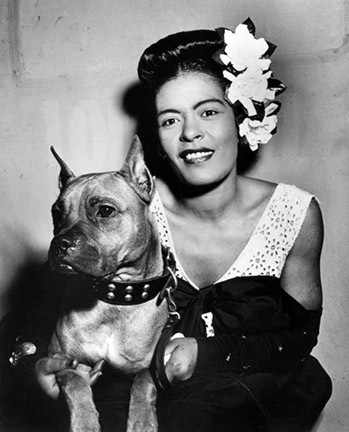 "I'm still working in clubs and concerts -- although if you live in New York you'd never know it. Because as I write I still have no New York police card (Cabaret Permit), and this keeps me from singing in clubs in New York.

During my years of exile from New York clubs, when I played practically no place except the Apollo or Carnegie Hall, I've been very lucky. I've played towns like Philadelphia and Chicago up to six times a year, in two or three different clubs. And it isn't because managers or club owners love me. They can fill their clubs with my friends. And I've always been grateful for that."


She also suffered from choosing poor male companions. This is well known, covered in biographies and articles, and frankly addressed in Lady Sings The Blues. Undoubtedly, this is one source of the pain in her saddest ballads.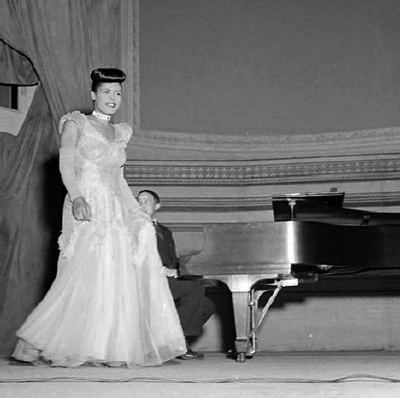 The Forties were not all doom and gloom.

Billie achieved international stardom and concertized at Carnegie Hall.

Photo: Billie at Carnegie, 1949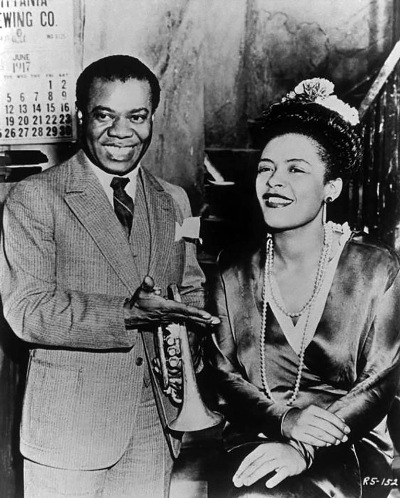 Holiday appeared with Louis Armstrong in the 1947 film "New Orleans."

They made some records together and seemed to have fun.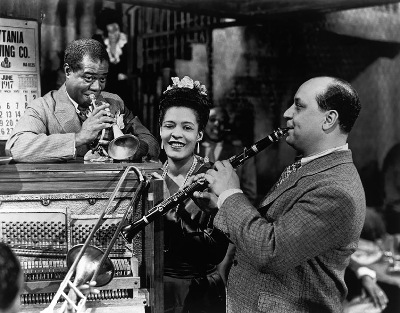 Filming "New Orleans," 1946.

L to R:
Louis, Billie, Barney Bigard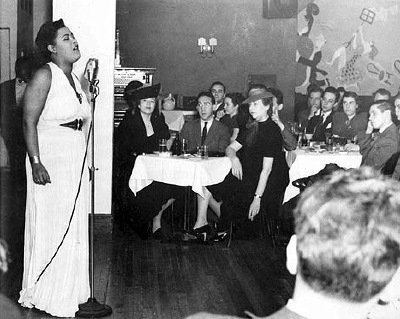 Strange Fruit

In the early 1940s Billie's deeply moving material became controversial. "Strange Fruit" forthrightly opposed lynching in the southern United States. It became her signature song and a cause celebre. She identified deeply with its bitter cry against the racism, exploitation and violence she fought all her life.

Much has been said and written about the song, most definitively in David Margolick's book, Strange Fruit, The Biography Of A Song (Ecco Press, 2001). The song was NOT written by Billie as she claimed, but by political activist and closet communist, Abel Meeropol.

Meeropole was a Jewish, New York City schoolteacher who wrote hundreds of poems, plays and songs under the pseudonym, Lewis Allen. George Gershwin and Kurt Weill admired him, but his other work was unsuccessful. While Billie made the song memorable and famous, Abel Meeropol is largely forgotten. He said, "I wrote 'Strange Fruit' because I hate lynching and I hate injustice and I hate the people who perpetuate it."

With force and deep emotion the lyrics confronted northern white audiences with the shocking brutality of southern lynching. Strange Fruit is certainly one of the earliest and most genuinely political protest songs of jazz. It still ranks among the most powerful artistic salvos in the black civil rights movement.

The song became a cause celebre: Columbia Records refused to let Holiday record it. She had to sign with Commodore in order to put it out. It became one of her best selling records.

Singing at Cafe Society in NYC 1939, Strange Fruit was her heart-rending nightly ritual and signature. Billie usually shed tears while singing a song that could be seen as a metaphor for her own drama: barely clinging to the limbs of life herself.

This and other dark songs signal her dramatic transformation to performing songs explicitly about pain and loneliness. A watershed for Holiday, "Strange Fruit" marked her emergence as an artiste with a powerful gift for expressing deep emotion.



STRANGE FRUIT

Southern trees bear a strange fruit
Blood on the leaves and blood at the root
Black body swinging in the southern breeze
Strange fruit hanging from the poplar trees
Pastoral scene of the gallant south
The bulging eyes and the twisted mouth
Scent of magnolia sweet and fresh
And the sudden smell of burning flesh!
Here is a fruit for the crows to pluck
For the rain to gather, for the wind to suck
For the sun to rot, for a tree to drop
Here is a strange and bitter crop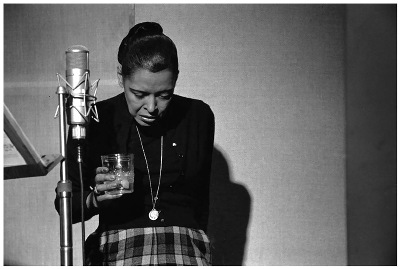 Tragic Decline

By the late 1940s Billie Holiday's life began to take on tragic dimensions and a downward spiral. Besides the felony narcotics conviction and a year in prison, the death of her mother was another serious blow.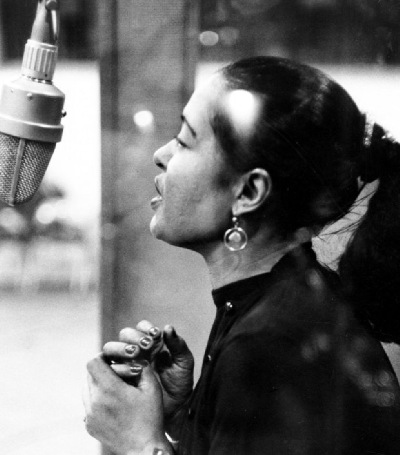 By the late 1940s Billie Holiday's career was seriously jeopardized by her chaotic personal life, tumultuous relationships and drug arrests. Late in the decade her voice began to deteriorate audibly. Her physical decline was easily detected in her singing, particularly in live and broadcast performances.

Nonetheless demand for her singing continued. She was recording frequently, appearing on television, and touring. Despite all her troubles she was a survivor, a living legend, a celebrated Diva of song, and still the best damn jazz singer around.


Billie Holiday in the 1950s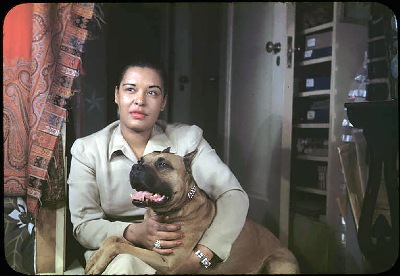 THE FIFTIES

During the 1950s a steady roster of recording sessions, concerts, radio, television and the publication of her sensational autobiographical memoir, Lady Sings the Blues, kept her in the public eye. In 1954 she performed in London. Billie returned to popular ballads and lighter material, even some rhythm and blues.

Photo: Billie with her beloved dog, Mister.

In jam sessions and concerts on TV and radio she was occasionally reunited with her former comrades: Buck Clayton, Coleman Hawkins and Lester Young. But Holiday's voice had become audibly thin and stressed, its range limited. Her breath was shallow, her fragility undeniable.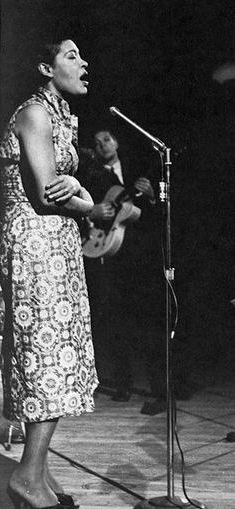 In the words of Buck Clayton:

"Gradually she became very thin, gone was
the plump girlish Billie that I first met.
During the latter part of the 1950s we played the Art Ford Jazz Show, a television show,
and I noticed that Billie was more and more in a bad way.

She was very thin, her skin was sallow, and her voice cracked -- which was something I never thought I'd hear."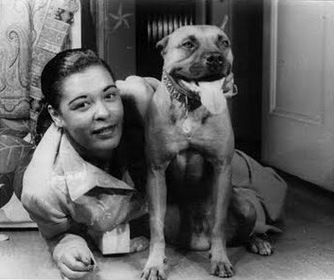 Billie Holiday in the 1950s:

BILLIE_3A.mp3
STORMY BLUES -- 1954
I'VE GOT MY LOVE TO KEEP ME WARM -- 1955
ROCKY MOUNTAIN BLUES -- 1951
YESTERDAYS -- 1952
COME RAIN OR COME SHINE -- 1955
WHAT A LITTLE MOONLIGHT CAN DO -- 1954
WHAT A LITTLE MOONLIGHT -- Live, 1956
FOOLING MYSELF -- Live, 1956
NICE WORK IF YOU CAN GET IT -- 1955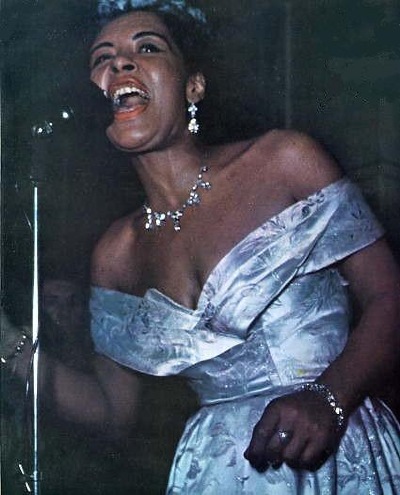 Holiday at Albert Hall, London, 1954


BILLIE_3B.mp3
FINE AND MELLOW -- 1957
LADY SINGS THE BLUES -- Live, Stratford Shakespeare Festival, Canada 1957
LOVER COME BACK TO ME -- Live, Stratford Festival, Canada 1957
MY MAN -- Live, Carnegie Hall, 1957
ALL THE WAY -- acc. by Ray Ellis Orchestra, 1959
AIN'T NOBODY'S BUSINESS -- Live, Carnegie Hall, 1957
BILLIE'S BLUES -- Live, Stratford Shakespeare Festival, Canada 1957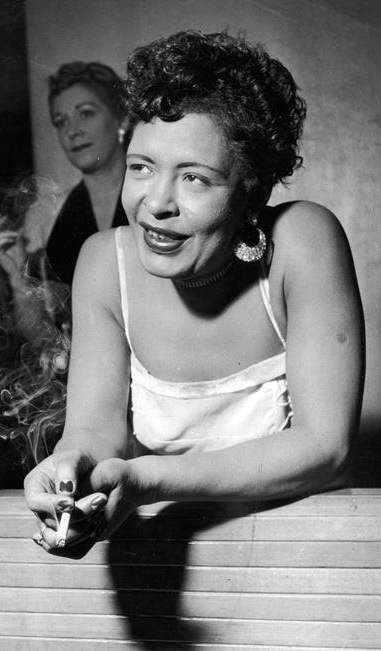 Continuing Decline

Billie was among several high profile heroine addicts – writers, artists and jazz musicians – whose drug use was well known. The ups and downs, arrests and overdoses of Billie, Charlie Parker, English artist Francis Bacon and comedian Lenny Bruce were widely observed and commented upon. William S. Burroughs' scandalous 'junkie novel' Naked Lunch was the most popular celebration of this addict chic.

In 1956 came another arrest and more scandal, Billie insisting that the cops framed her. But she was a junkie: drugs, heroin, cocaine, opium and alcohol had ravaged her body. Her voice, had lost its flexibility and harmonic richness; it was thinner, harsher and stressed. Often, her voice was a mere shadow of what it had been.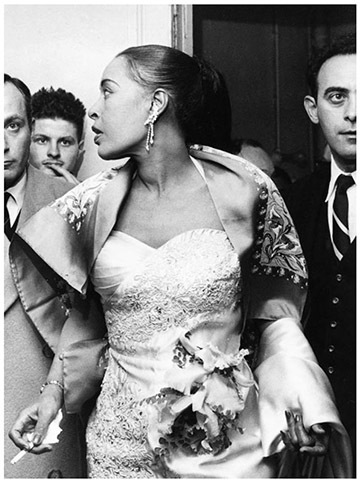 Norman Granz

During the 1950s Norman Granz was a major assistance to Billie. He presented her in his Jazz at the Philharmonic events, made very good recordings of her for his record labels, Clef and Verve, and helped sponsor her first overseas tour of Britain and Germany. On the tour she was in excellent form, dazzling Londoners and charming her hosts. At prestigious Albert Hall she sang 15 songs to an audience of 6,000.

Recording for Granz's Clef label in 1955 "Come Rain or Come Shine" was among her best collaborations with: trumpeter Sweets Edison, Benny Carter (alto sax), and a favorite piano player, Jimmy Rowles. "Comes Love" from 1957 also featured Rowles and Sweets, plus Ben Webster (tenor sax).


Photo: Olympia, London, Nov. 1958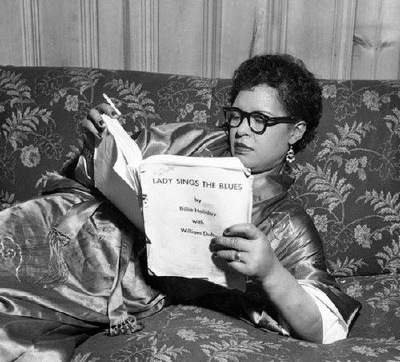 Lady reads the Blues


Lady Sings The Blues: Memoir (1956) and Movie (1972)

Lady Sings the Blues was a distorted memoir, and a bad movie. It was written with a ghostwriter keen to emphasize the lurid and sensational. The 1972 movie starring Diana Ross made a complete hash of it. Nevertheless it provides a revealing view into her vulnerability, toughness and perspective.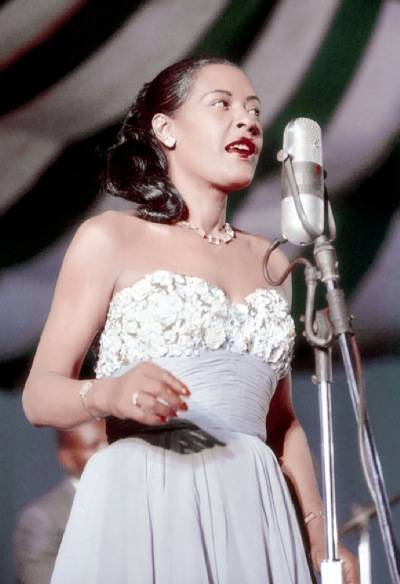 "A singer is not like a saxophone. If you don't sound right you can't go out and get some new reeds. A singer is only a voice, and a voice is completely dependent on the body God gave you. When you walk out there and open hour mouth, you never know what's going to happen.

I'm not supposed to get a toothache, I'm not supposed to get nervous; I can't get sick to my stomach; I'm not supposed to get the flu or have a sore throat. I'm supposed to go out there and look pretty and sing good and smile . . . and I'd just better.

Why? Because I'm Billie Holiday and I've been in trouble."



Photos above and below: Holiday at Newport Jazz, 1950s.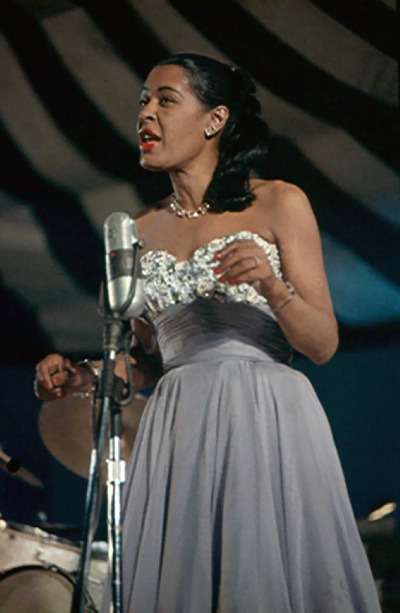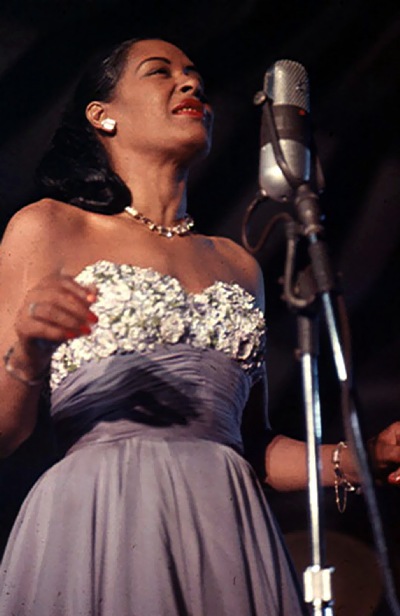 In her memoir Billie revealed early sexual abuse and spoke at length about her arrests, and was eager to set the record straight about at least one bust that she bitterly insisted had been a frame-up. Holiday complained bitterly about racism and the way the music industry ripped off musicians.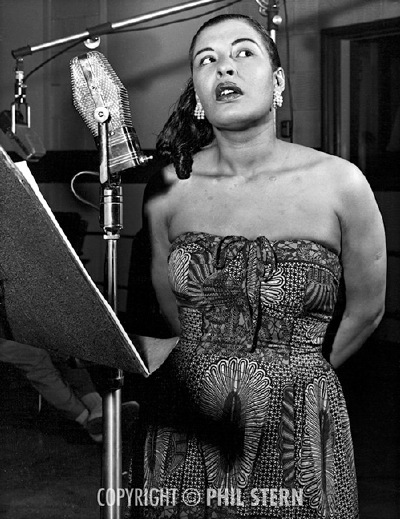 "I made over 200 sides between 1933 and 1944, but I don't get a cent of royalties on any of them. They paid me $25, $50, or a top of $75 bucks a side, and I was glad to get it. But the only royalties I get are on my records made after 1945."


Billie Holiday on Art Ford's Jazz Party
(youtube)


One of Billie's most infamous concerts was Carnegie Hall in 1956. She was in bad shape, stoned, and pretty out of it flaunting her high wire act of self-pity and pending self-destruction. The presentation included a narrator reading from her newly released autobiography. Carnegie Hall, 1957:
"My Man"
"Lady Sings the Blues"
"Fine and Mellow"
Reading #3 from Lady Sings the Blues (read by Gilbert Milstein)
Reading #4 from Lady Sings the Blues (read by Gilbert Milstein)

The performance and her self portrayal in the book cemented the popular image of Lady Day as a victim of racism, sexual abuse and poverty; a person who felt persecuted for her race, celebrity and drug addiction, and a woman surrounded by exploitative men in her personal and business relationships. There's a wistful tone in the bittersweet final words of Lady Sings the Blues: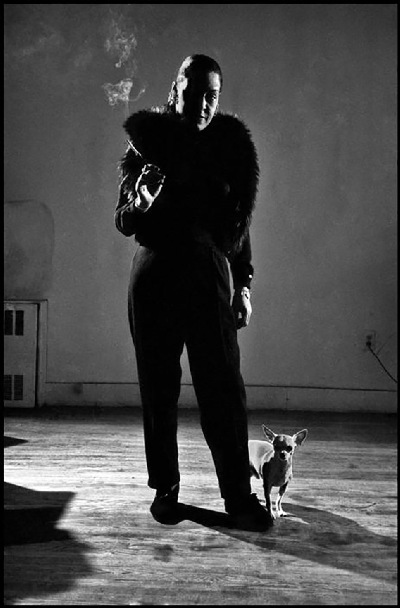 "With any kind of luck, I should be able to stay straight for a couple years. If you expect nothing but trouble, maybe a few happy days will turn up. If you expect happy days, look out.

Who can tell what detours are ahead? Another trial? Sure. Another jail? Maybe. But if you've beat the habit again and kicked TV, no jail on earth can worry you too much.

Tired? You bet. But all that I'll soon forget with my man."


Photograph by Dennis Stock, 1958


Nonetheless Billie could sing just as well as ever. Despite her arrests, disordered life, addiction and reduced physical (and mental) strength, recordings reveal that her extraordinary gifts as a singer continued. Despite it all, she still "had it" in the Fifties and remained among the best jazz singers of all time.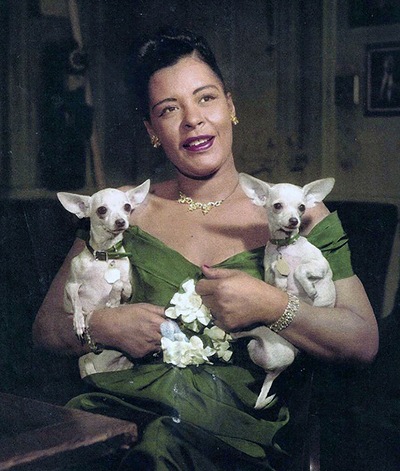 Her Tragic End

Holdiay's last recording session in March 1959 was unusual for its lush horns, strings and rhythm section arranged by Ray Ellis. It was released and is still sold as Lady in Satin. Though she continued performing, by late Spring 1959 Billie was in bad shape; frail and emaciated, down to 95 pounds. Not long before the session she was so broke she hocked her beloved mink stoles to buy groceries, dog food and gin.

"All the Way" 1959, Ray Ellis Orchestra


Photo: Billie in the 1950s

Collapsing on May 30th Billie Holiday was hospitalized. Ten days later heroine was found in her hospital room. She was arrested and fingerprinted, her magazines and records confiscated. She was sequestered and threatened with jail regardless of her precarious condition. Complex legal and financial machinations of lawyers, prosecutors, promoters and police swirled around her for over a month before her liver and heart gave out.

She died on July 10th 1959, age 44 and penniless.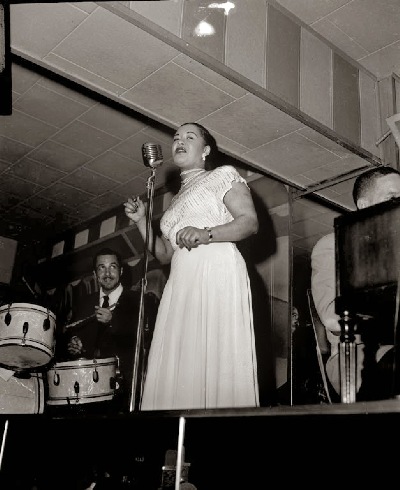 Her old friend,
Buck Clayton:

"Even though Billie is gone now, every time I play or hear a Billie Holiday record it brings back many memories of the wonderful, kind, tough, and sympathetic person that I am very proud to have known."




Photos:
Billie at The Bali Club in Washington, DC, 1948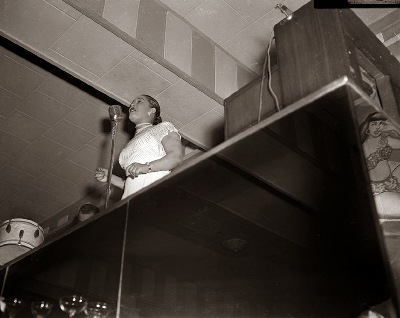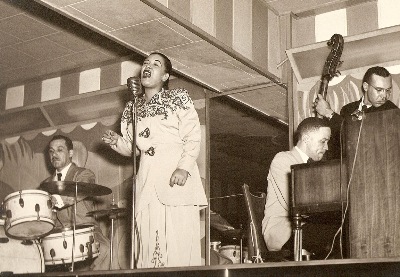 Lady Day directly or indirectly influenced most jazz and popular singers of the mid-Twentieth century and all to follow. Among the singers who acknowledging her influence were Carmen McRae, Dinah Washington, Anita O'Day, Sarah Vaughn, Etta Jones, Pearl Bailey, Tony Bennett, Peggy Lee and Frank Sinatra.

Billie Holiday was a great jazz singer, possibly the greatest of all time. She had a pure jazz style and improvised brilliantly with other musicians. A distinctive and lasting voice in popular music her music stands unsurpassed at the apex of jazz singing.

"Billies Blues" Stratford Festival, 1957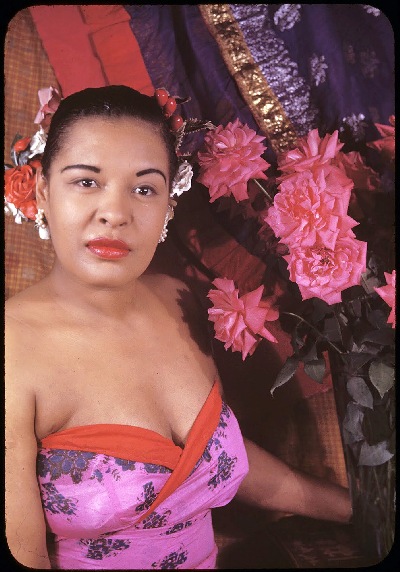 Portrait of Billie by Carl Van Vechten, 1949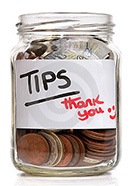 Tip Jar

This site is free.

But you can help sustain it, and encourage me with donation to the tip jar.


LINKS:

Billie Holiday in the 1950s

Billie Holiday in the 1930s

The Official Billie Holiday website

The Unofficial Billie Holiday website

Lady Day.netBillie Holiday Songs (list of songs & lyrics, discography, detailed session info)

A BLOG about Billie Holiday

Billie Holiday on PBS

Billie on Wikipedia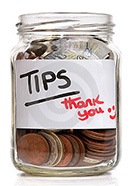 TIP JAR

This site is free. But you can help sustain it, and encourage me with donation to the tip jar. Secure payment through PayPal is anonymous, except that I will see your e-mail address.

Donation $5.00
Donation $10.00
Donation $20.00
Donation $35.00
Donation $50.00
Donation: You decide