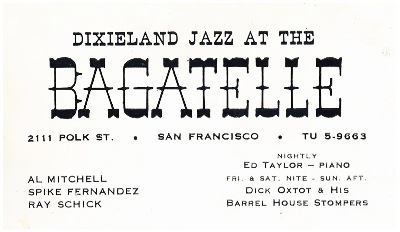 The Bagatelle

San Francisco jazz club and bar on Russian Hill.

The bistro and bar offered music, ragtime piano and hard liquor.
Oxtot's bands played several nights per week. The Sunday afternoon sessions featured Louisiana-born clarinet players Clem Raymond or Frank Big Boy Goudie.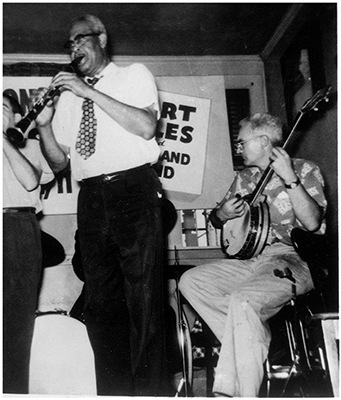 ARCHIVE MUSIC

Dick Oxtot's Stompers
at The Bagatelle

Ted Butterman (trumpet)
Frank Goudie (clarinet)
Bill Bardin (trombone)
Pete Allen (string bass)
Dick Oxtot (banjo)

Say Si, Si.mp3
St. Louis Blues.mp3
Should I?.mp3 (dropouts)
Take Your Tomorrows.mp3
vocal, Oxtot
Bugle Call Rag.mp3

Acetate tape dups from
the Oxtot collection

Photo: Goudie and Oxtot
broadcast from Pier 23, 1959

Oxtot collection



Most of the photos on this page are NOT from The Bagatelle, but show musicians who played there.




Sundays in The City

Oxtot was generally the leader of the fine sessions heard Sunday afternoons and a couple of weeknights at The Bagatelle.

The crew at times included trumpet players Ted Butterman or P.T. Stanton, clarinet players Frank Goudie, Clem Raymond or Bunky Coleman, trombonists Bill Bardin, Bob Mielke or Jim Leigh, Peter Allen on bass, and singer Carol Leigh.

Nightly piano player Ed Taylor noted on the business card (above) was a ragtime music exponent, composer, and student of Dink Johnson. He also worked at Burp Hollow, Pier 23, and with Jack Schafer, Robin Hodes and Wingie Manone.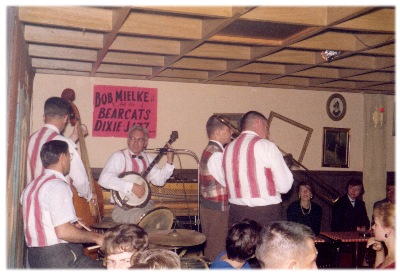 ARCHIVE MUSIC

Dick Oxtot band
Bagatelle,
San Francisco, June 1959

Personnel likely:
[trumpet unknown]
Frank Goudie (clarinet)
Bob Mielke (trombone)
Dick Oxtot (banjo)
Pete Allen (bass)
Don Marchant (drums)
Carol Leigh (vocals)

Pennies from Heaven.mp3 (3:18)
Should I?.mp3 (5:40)

Oxtot collection



In his typewritten 1978 monograph, Bay Area Jazz Clubs of the Fifties,
Brett Runkle recalled the club:

"The Bagatelle on Polk Street had an Oxtot band with Frank Goudie and other good people on Sundays. It was a good sized bar with a generous bandstand and (I think) a dance floor. It was famous for a phantom flugelhorn player.

The guy had been told he wasn't good enough to sit in. He managed to conceal himself and appear in every set like a stigmata. Dave Greer and I used to sit in the Bagatelle and try to think of some useful purpose for flugelhorns. They'd make an ideal rain gauge for arid regions. The other applications were pretty frivolous."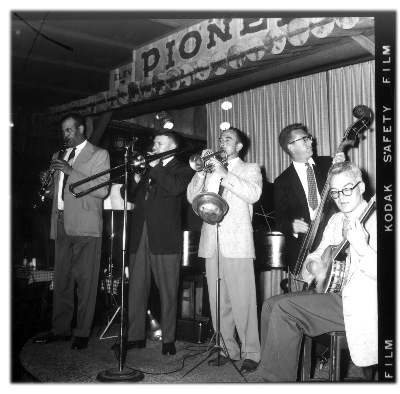 Goudie, Mielke,
P.T. Stanton,
Allen, Oxtot

Pioneer Village,
East Bay, c. 1958.

Bob Mielke collection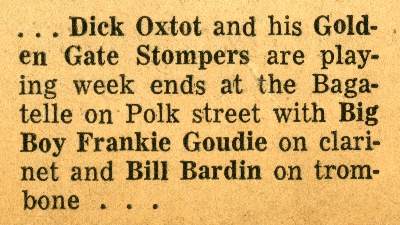 In his Jazz Scrapbook, Dick Oxtot recalled The Bagaelle:

"The Bagetelle, a comfortable-sized bistro in the Polk Street district of San Francisco, hired us to begin a series of jazz sessions on Sunday afternoons, featuring Frank "Big Boy" Goudie, who had spent most of his clarinet playing career [sic] in Paris, and had a style comparable to that of Omer Simeon, of Jelly Roll Morton fame.

The trumpet player, Ted Butterman, was on an extended visit from Chicago. He was an exceptionally hot player . . . Jim Leigh and Bill Bardin shared the trombone duties.

We opened the Bagatelle in 1957, and one Sunday afternoon in 1958, we recorded there with Clem Raymond, a clarinetist from New Orleans, who had moved to California in 1916, and played with King Oliver's band. Besides Raymond, the players were P.T. Stanton, Bill Bardin, Pete Allen, Bill Young, and me. The recording . . . was issued on an attractive CD by Delmark, in 1994."



Find more at Syncopated Times:

The Infamous Burp Hollow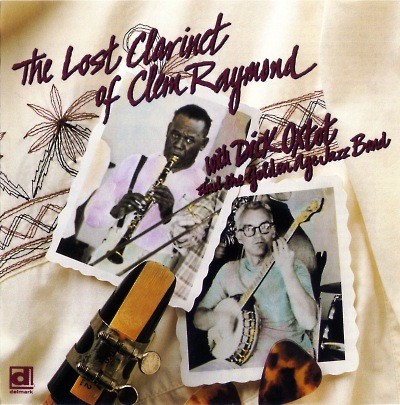 ARCHIVE MUSIC

From:
The Lost Clarinet of Clem Raymond, Delmark Records, 1993

Recorded 1958 at The Bagatelle and the Oxtot home in Berkeley

(full band:)
P.T. Stanton (cornet)
Bob Mielke (trombone)

(or quintet:)
Clem Raymond
(Albert -system clarinet and vocals)
Bill Bardin (trombone)
Dick Oxtot (banjo)
Peter Allen (bass)
Bill Young (drums)

Bogalusa Strut_A.mp3
Bogalusa Strut_B.mp3
When You Wore a Tulip.mp3
Pontchartrain Blues.mp3

(quintet with Bardin:)
Tell Me Your Dreams.mp3
Clem's Blues.mp3 vocal by Clem Raymond
Haunted Blues.mp3 vocal by Clem Raymond
Piedmont Blues.mp3
B-Flat_Blues.mp3 (Raymond featured, Bardin out)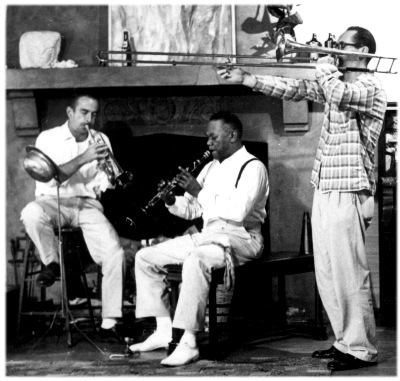 P.T. Stanton,
Clem Raymond,
Bill Bardin, 1958.


An Oxtot ensemble recorded with Raymond at both The Bagatelle and Oxtot's Berkeley home.

Very little is known of this New Orleans native active briefly in the Bay Area.

The photo is from a rehearsal at a private home in the Berkeley hills.

Oxtot collection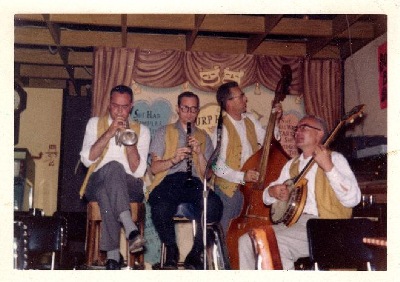 ARCHIVE MUSIC

Though this session was recorded over at Burp Hollow, its typical of Oxtot's stomping little quartet, with Ted Butterman and Bunky Coleman 'trading fours.'

Ted Butterman (cornet)
Bunky Coleman (clarinet)
Dick Oxtot (banjo)
Peter Allen (string bass) seen, right

Make Me a Pallet.mp3 (6:32)
Bully of the Town.mp3 (4:44, vocal Oxtot)
China Boy.mp3 (5:33)
Since My Best Gal Turned me Down.mp3
Should I?.mp3 (8:33)

Photo and audio: Oxtot collection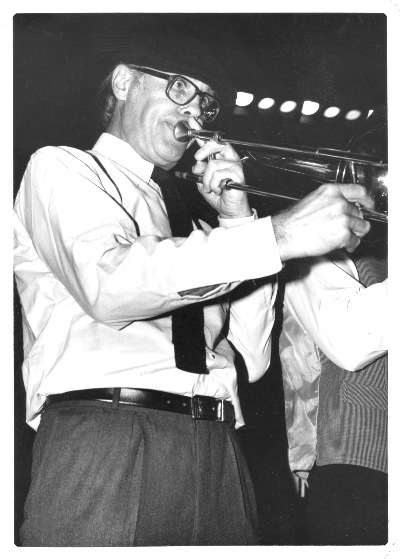 In his jazz memoir, Heaven on the Side, Jim Leigh remembered the club:

"On Dick Oxtot's gig at the Bagatelle, a beer joint on Polk north of Broadway . . . [Bardin, right] blew me away entirely. That band included, besides P.T. Stanton and Peter Allen, another new face to me: Frank (Big Boy) Goudie, whose name I knew from the records he had made in Europe during the 30s, with the likes of Django Reinhardt and Bill Coleman . . . but for the moment I was riveted on Bardin, which is to say on how the band was swinging.

Joe Dodge, who had been one of Dave Brubeck's first drummers, was wailing away to good effect; Oxtot and Allen were in solid with him; Stanton, Goudie and Bardin blazed away in the front line: it was the most ordinary little gig in the world, and probably paid $10 a man — if they were lucky . . .

But the following Sunday I got to sit in at the Bagatelle. So did one of my very favorite San Francisco musicians, the beautiful trumpeter Jack Minger. I had my nerve, to presume to stand in for Bardin, and next to Minger. But within a year I would be in a great deal further over my head, and loving it."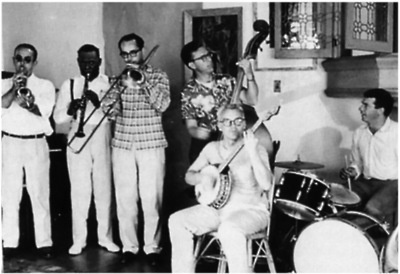 L to R:
Stanton, Raymond,
Bardin, Allen,
Oxtot, Young




Forthcoming: The best and rarest of the archival jazz recordings heard on these pages will soon be available for purchase on CD or downloads (Amazon, i-tunes, etc) from Frisco Jazz Archival Rarities, a partnership between Dave Radlauer and Grammercy Records.


Frisco Jazz Archival Rarities offers unissued historic recordings from live performances, jam sessions and private tapes. Recorded mostly in the Bay Area 1940-75, this is lost sound from a boisterous musical culture that created an independent jazz style of its own.




LINKS:

The Infamous Burp Hollow

Dick Oxtot

Bill Bardin

Ted Butterman

Bob Mielke

PT Stanton

Burp Hollow tapes

Pier 23 tapes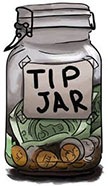 This site is free.

But you can help sustain it, and encourage me with donation to the tip jar.

Secure payment through PayPal is anonymous, except that I will see your e-mail address.

Donations are paid securely through PayPal.

Donation $5.00
Donation $10.00
Donation $20.00
Donation $35.00
Donation $50.00
Donation: You decide