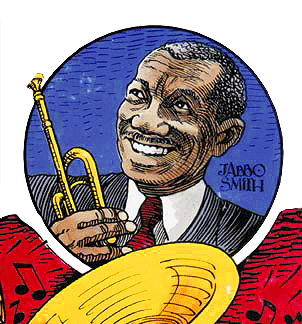 REDISCOVERING JABBO SMITH:
An Overlooked Jazz Pioneer



Jabbo Smith was an electrifying trumpeter and competitor to Louis Armstrong in the late 1920s, who fell on hard times. Late in life he was rediscovered as a remarkable pioneer, composer, singer and theatrical performer.

Jabbo's delightful Rhythm Aces from 1929 and his live concerts in the 1980s with the Hot Antic Jazz Band of France are featured.

JABBO SMITH 1A.mp3
JABBO SMITH 1B.mp3

JABBO SMITH 2A.mp3
JABBO SMTIH 2B.mp3



Trumpeter JABBO SMITH is an overlooked jazz pioneer who deserved better than he got. He could play very hot, or very bluesy. Rescued from obscurity in the 1970s and 80s, the joyous rediscovery of his music secured his place among the giants of Jazz.

JABBO deserves rediscovery for his searing trumpet technique. He was one of the few horn players who could really come close to the excitement and power of SATCHMO in the 1920s. Sadly JABBO has been unfairly dismissed as a 'second-rate Louis Armstrong,' but I think JABBO should be ranked higher for his early contributions to Jazz.

His best recordings by far are from a series of records made in 1929 mostly released as JABBO SMITH & HIS RHYTHM ACES. And he was a pretty fair composer, often literally making tunes up in the studio during those 1929 sessions made with 'Banjo Ikey" Robinson.

Jazz writer Whitney Balliet interviewed and wrote about Smith in 1979. In an article called "Starting at the Top" (available in a couple of anthologies) Balliet offers two telling insights about JABBO:

1) He may have had too much success thrust upon him at too young an age: working in "Shuffle Along" with Fats Waller and James P. Johnson; offered a job by Duke Ellington and refusing, thinking the pay was too low; and being favorably compared with Louis Armstrong, all in his late teens.

2) He had two distinct and separate styles. His "New York sound," sinuous and bluesy is heard in "Tanquay Blues" -- versus his "Chicago sound," showy and bravura like SATCHMO. JABBO's introduction to his own "Crooning the Blues" even imitates Louis' landmark trumpet cadenza opening "West End Blues."

Its not widely enough appreciated that JABBO also composed, played piano, trombone, and all the brass instruments. His singing has also been underrated -- JABBO had a distinctive vocal sound heard on "Lets Get Together" -- and a sort of moaning scat all his own, heard in "Sleepy Time Blues."


The Rediscovery

In 1979 he was featured in the vaudeville-jazz musical show called "ONE MO' TIME" singing and blowing his own new and original songs. The show ran two years in New York, Philadelphia, San Francisco, Houston and Washington D.C. One review declared, "The real star of the show is . . . JABBO Smith. The moment he takes stage -- and take it he does -- we feel something of the elegance, sexiness, good humor, and authority which were the hallmarks of the black vaudeville entertainers of those years."

Today JABBO's original tunes are still being recorded by Traditional Jazz bands the world over who appreciate the lilting originality of his music. The best recreations of his music were made by the French, HOT ANTIC JAZZ BAND who best capture the excitement and crackling electricity of JABBO at his best. Sadly Hot Antic's Stomp Off LPs featuring JABBO's music, "Jazz Battle," "We Love You JABBO," and "I Got the Stinger (J'ai de la Fievre)" are out of print.

But JABBO SMITH'S RHYTHM ACES recordings, widely available in CD reissues, make it abundantly clear that he was the only serious competitor to Armstrong in the late 1920s. And before he died in 1991 I think JABBO felt that he had been recognized for his distinctive talent and contributions.

Jabbo Smith's papers and musical effects are now collected at the University of South Carolina. Among those papers is a letter in which he wrote: "The greatest original contribution to this country any ethnic group has ever made is black jazz."

My sentiments exactly.


JABBO Intro (mp3)
JABBO Documedley (mp3)
JABBO TakeMe To the River & Lina Blues (mp3)
JABBO Conclusion (mp3)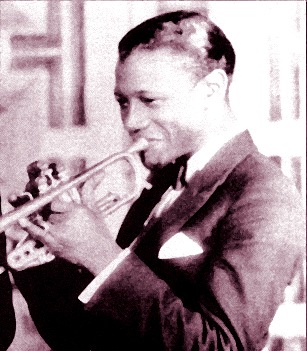 Jabbo Smith
CHRONOLOGY

December 24, 1904 -- Born in Pembroke, Georgia and named CLADYS after a cousin, Gladys.

c. 1912-25 -- Nicknamed "Jabbo" after an ugly Indian in a silent western and learns to play trumpet and all the brass instruments at Jenkins Orphanage in Charleston, South Carolina.

1925-28 -- Highest paid member of Charlie Johnson's Paradise Orchestra then playing in Atlantic City and at Ed Small's Paradise in Harlem, NYC. Records "Black and Tan Fantasy" with Duke Ellington, but refuses offer to join his band at the Cotton Club.

1928 -- In orchestra of KEEP SHUFFLIN' in NYC and records with James P. Johnson and Fats Waller in the Louisiana Sugar Babes. When the show breaks up on the road Jabbo stays in Chicago.

1928-30 -- After Louis Armstrong leaves Chicago to tour, Jabbo is in demand with the top bands of Earl Hines, Tiny Parham and Erskine Tate. Records his legendary RHYTHM ACES discs for Brunswick with Banjo Ikey Robinson.

1930-31 -- Forms a band with pianist Cassino Simpson who runs it after Jabbo "goofs," (in the words of Milt Hinton). The band never records and Jabbo moves to Milwaukee, Wisconsin.

1931-36 -- Works in various bands in and around Milwaukee and Chicago.

1936-38 -- Tours with Claude Hopkins and forms a band for a record date.

1940s -- Plays in his own groups mostly in Milwaukee.

1950s -- No longer playing professionally, Jabbo takes a full time job with AVIS, the car rental company. Starts a family, writes music, and seems to hope for a comeback.

1961 -- Two privately recorded sessions in Chicago, eventually issued on LP & CD.

Mid-1960s -- Record collectors seek out Jabbo to reissue RHYTHM ACES.

1968 -- Gunther Shuller writes glowingly of Jabbo in his landmark book, EARLY JAZZ.

Early 1970s -- Articles, interviews, reviews and discographies appear in a dozen prestigious publications including DOWNBEAT, THE NEW YORK TIMES, CADENCE & THE NEW YORKER MAGAZINE.

Late 1970s -- Resumes professional performing, moves to New Orleans to play briefly at PRESERVATION HALL.

Stars and tours for two years in the show, "ONE MO' TIME" in New York, Philadelphia, San Francisco and Washington, D.C.

1980s -- Tours jazz festivals in Europe, France and America. Jabbo's music discovered by traditional jazz bands who record his tunes; especially HOT ANTIC JAZZ BAND in France who befriend Jabbo, championing his music and recording a dozen and a half of his tunes.

1991 -- Upon his death Jabbo's papers and musical effects donated to University of South Carolina.



LINKS:

The JABBO SMITH PAPERS at University of South Carolina
More on JABBO including audio at THE RED HOT JAZZ ARCHIVE