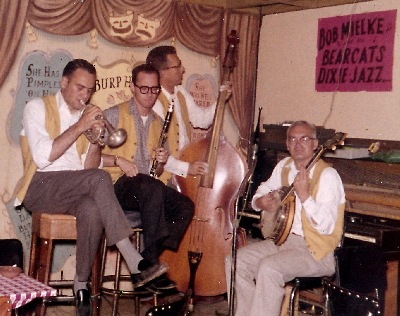 Burp Hollow
1956-66

This San Francisco nightspot featured major talents of the San Francisco jazz revival. Among the bands heard several nights a week were the Yerba Buena-styled Original Inferior Jazz Band, Bob Mielke's Bearcats and various Dick Oxtot combos.



"A seamy hole in the wall on Broadway -- the booming entertainment strip
of North Beach -- this joint was near the bottom of the long list of jazz rooms flourishing in San Francisco around 1960." -- Clarinetist Bill Carter, 2014



Further explore The Infamous Burp Hollow at Dagogo.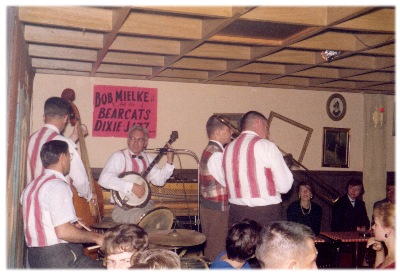 Burp Hollow might have passed quietly into Frisco legend if not for discovery of audiotapes capturing lively performances by major talents of the jazz revival. Fortunately the recovered music represents divergent band styles falling on opposite ends of the 'two beat' vs. 'four beat' spectrum, as heard below.

Above: A a similar six-piece Oxtot ensemble to the Oxtot Stompers sextet.
Oxtot collection.

Colorful Venue and A Low Dive
For a decade beginning in 1956, jazz hounds and tourists alike were drawn to Burp Hollow by the lively sounds of Frisco jazz. Musician who worked there cringe at its name, recalling the bad pay, rank booze and unsavory wheel chair-bound former Mafioso owner, Millio Militti. The storied club is ruefully remembered by its former denizens for its weak drinks, ridiculous 4' x 6' dance floor, and confusing "Bob Mielke Bearcats Dixie Jazz" sign on the wall regardless of who was playing. Management required musicians to wear matching vests or blazers, which they hated.

In a self-published monograph "Bay Area Jazz Clubs of the Fifties" (Berkeley, 1978), Bret Runkle rated "The Burp" three stars (only Hambone Kelly's merited five.) He put it in the category 'beer-and-peanuts joints.' Complimentary peanuts encouraged beverage consumption, band pay was only a few bucks (or 'peanuts'), and free beer for musicians was a significant component of the compensation. He reports that these clubs were "pitched to college kids or singles in their early twenties" and usually had "sawdust on the floors and Greek letters on the walls."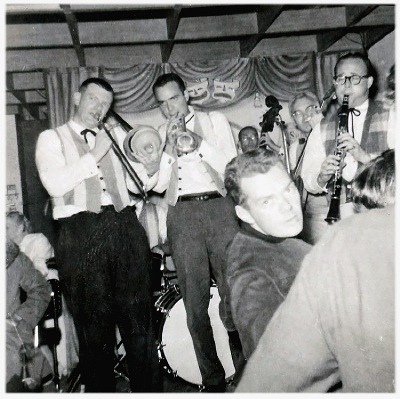 New 5.2018

Interactive article recently published by Dagogo:

The Infamous Burp Hollow:
San Francisco Nightclub, 1956-66

"Hosted by a shady operator the best of Frisco Jazz was served up with a dubious cocktail at a crowded little gingham-topped table at the infamous Burp Hollow."

L to R:
Bob Mielke, Ted Butterman, Pete Allen (in back), Bill Erickson (foreground), Dick Oxtot, Bill Napier

Courtesy Ted Butterman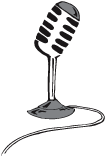 Ev Farey Interview 2015

Ev Farey recalled the attractive mannikin:

"She was actually pretty, a lifelike manikin. She was sitting at the first barstool as you came in the door, her legs were crossed and she's sitting reading the paper. She was wearing a cap, a hat. It was pointed I seem to remember. She was pretty funny." And she fooled a lot of people. You stand on the stage and you can see her. Guys would come in, turn and start to say something and then realized . . . "

North Beach & Broadway Entertainment district:

"I counted one time there were a dozen within a mile radius of Broadway. Scobey had a club. There was an Italian restaurant right on the corner of Broadway and Kearny, and then it turned into a jazz club. I remember Ernie Figueroa and a bunch playing there. There was the Sail 'N down the street."

And Milio Militti:

Farey: "Milio was really a character. He had rules for the band. The first rule was they didn't get paid very much and everybody had to wear matching vests or blazers.

One time I got a phone call from him, said he was forming a band, putting a band together himself and wanted to know if I wanted to play. So I said, yeah I'll come down and try it and see what happens. So I went down and played in this pickup group that he had, I don't remember who they were or anything.

Afterwards I was packing up my horn and he came rolling up behind the bar and says in a husky growl, "Hey kid. I like the way you play."

I said, "Well thanks."

He said, "Yeah, you sound pretty good. You want the gig?"

And I said, "What does it pay?" And I think it was like $10 or $15.00.

I said, "Jeez, I can't take that."

So he said, "I like the way you play kid. I'll see you around." And that was it.

DR: He had a gravelly voice

Farey: Yeah, very.

DR: There was a legend about he had a firearm.

Farey: He had an encounter in a parking space dispute is one story. I don't know that anybody ever knew the real story.

DR: But he was always in a wheelchair.

Farey: He couldn't walk. Had to have a chair. He tended bar. Probably did have it raised up back there somewhat."

Unbeknownst to us all, Militti had good taste in horn players!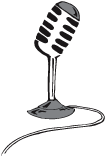 Earl Scheelar comments on Burp Hollow's origins:

Earl Scheelar is my best living informant on Burp Hollow, having played superior clarinet there in the the Original Inferior Jazz Band of Frank Goulette. Earl is quite insistent that Goulette's band was the first at Burp, and very clear that it preceded the bands of Oxtot, Mielke or others, getting the ball rolling sometime in 1956.
"Millio Militti came to the Honeybucket, talked to Frank Goulette
about playing on weekends at Burp Hollow. And so we played
Friday and Saturday night, we opened Burp Hollow with Frank Goulette's band.
And then after that everybody played at Burp Hollow.
It was a weird place. The guy [Militti] was a mafia character."

Earl also notes that over the years quite a few banjo players gigged with Original (in its two-banjo rhythm section) or at the Burp. Besides those cited elsewhere, Scheelar recalls Bob Twiss, Frank Tateosian, Don Kidder, or brothers Bob and Ron Hanscom.

Earl Scheelar recalls the orgins of Burp Hollow.mp3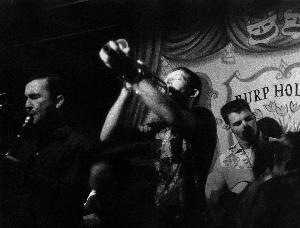 New 11.2015

Original Inferior Jazz Band,
probably Burp Hollow, c. 1958-59

Here's a contemporaneous recording of Goulette's Original Inferior Jazz Band, probably from the mid-Fifties, representative of the Traditional Bands in the Lu Watters' mold popular at these clubs. Though recovered from an audiotape compiled by Bob Orrfelt containing Bearcats recordings from the Lark's Club, it was almost certainly taped at Burp Hollow in San Francisco where all these bands played.

Photo: Earl at The Burp with Original Inferior
Courtesy Earl Scheelar

After listening Earl Scheelar commented:
"It's me [clarinet]. It's not Bardin, so it probably is Fred Bjork [trombone].
Piano is probably Art Nortier. My guess is it was recorded between
1956 and 1959. Orrfelt was a friend I knew in Seattle, who moved here
shortly after I did."

Frank Goulette (cornet)
Earl Scheelar (clarinet)
Fred Bjork (trombone)
Art Nortier (piano)
others unidentified

Georgia Camp Meeting.mp3
Sweet Georgia Brown.mp3 (fragment)



The lowest of dives, Burp Hollow had a singular appeal: the music. Yet it possessed a memorable slice-of-life zest suggests Bret Runkle:

"A gorgeous manikin sat at a bar stool as a come-on for male tourists. A hard-bitten jazz hound once bought it a drink. (Very embarrassing!) The Burp could stretch one bottle of booze over about 200 drinks so it was smart to order beer. They hired The Bearcats, various Oxtot combinations and also Le Sharpton's group. Almost everybody worked or sat in there in the next eight or ten years."


L to R below: Bob Mielke, Bill Erickson, bassist Pete Allen (barely visible), Dick Oxtot, Bill Napier, Burp Hollow, San Francisco, late 1950s. Oxtot collection.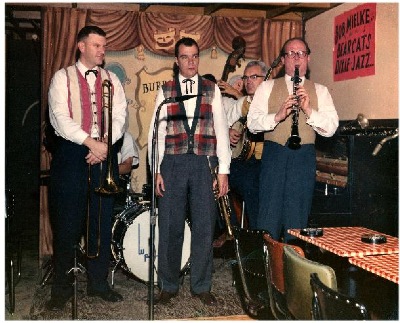 DICK OXTOT STOMPERS sextet

This Oxtot group was very close in makeup to the Bearcats but had a clear identity of its own. To simply call it the Bearcats under Oxtot's leadership would be incorrect, despite Miletti's intentional misuse of Mielke's name.

Similar personnel worked together in various combinations under several monikkers including radio broadcasts from Pier 23. Erickson was lead on the Pier 23 broadcasts when they were billed as Waterfront Jazz Society or Estuary jazz group.

Featured are Bill Erickson (trumpet), Bill Napier (clarinet) and Bob Mielke, who plays a supporting role. Oxtot and Peter Allen supply the classic Bearcat rhythm. Drummer on this gig, Max Leavitt, wasn't part of the East Bay crowd, but he was soon associated with Erickson at Pier 23.

Oxtot was a fine singer and popular personality; it's a pity the vocals are off-mic. Arrangements are simple: basically a series of solos with some riffing, and nice New Orleans ensemble ride-out choruses. This loosely structured band was, in a sense, co-led musically by Erickson and his horn lead. Napier got the most solo time.

Bill Napier and Bill Erickson
If there's a star in this ensemble it's clarinetist Bill Napier. He gets a clear shot at generous solos on almost every tune: eloquent statements in a wide range of rich tones. Napier's daring offerings are surprisingly delicate, his risky improvisations teeter on the precipice of disaster yet never fail.

In the 1950s, Bill Erickson developed a clear personal voice on trumpet. The rousing Bugle Boy March illustrates his clean technique, declarative execution, and surprisingly difficult to categorize style. Neither selfish nor shy, Bill didn't show off, paired up for riffs behind soloists, liked to 'trade fours,' supported the ensemble, and offered clear direction. This is the first publication of Erickson playing trumpet since the early 1950s.


ARCHIVE MUSIC

Dick Oxtot Stompers sextet
This rare tape from Burp Hollow, c. 1959 is a remarkable manifestation of East Bay revival-jazz. Napier sounds terrific and gets the most solo time.

Bill Erickson (trumpet)
Bill Napier (clarinet)
Bob Mielke (trombone)
Dick Oxtot (banjo, vocals)
Peter Allen (string bass)
Max Leavitt (drums)

Thanks to recordist Dave Greer.

Mamies Blues.mp3 (6:17, blues)
Back in Your Own Back Yard.mp3 (5:17)
Way Down Yonder in New Orleans.mp3 (5:52, Napier bass clarinet solo)
Beale St. Blues.mp3 (5:36)
You Can't Shush Katie.mp3 (4:08)
Darktown Strutter's Ball.mp3 (3:30)
Don't You Leave Me Here.mp3 (4:12, vocal unknown, good blues trumpet)
L-O-U-I-S-I-A-N-I-A.mp3 (3:46, Oxtot, vocal)
Yes, Yes in your Eyes.mp3 (5:20, Oxtot vocal)
Buddy Bolden Blues.mp3 (5:27)
Love Nest.mp3 (5:21)
Original Dixieland One-Step.mp3 (5:42)
Wabash Blues.mp3 (4:19, featuring Dick Oxtot, banjo)
Tiger Rag.mp3 (6:58, incomplete at end)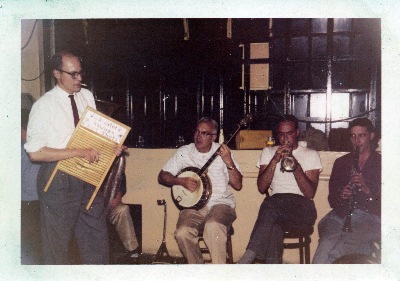 Known denizens
of The Burp, photographed at
Nod's in Berkeley:

L to R:
BRET RUNKLE
Dick Oxtot
Ted Butterman
Earl Scheelar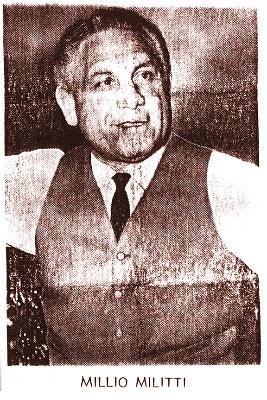 Millio Militti, Baby
In June of 1965 a newspaper interview of Burp Hollow's owner-operator Millio Militti appeared under the byline of Monique Benoit. Responding to her queries in a "husky, hoarse voice," between his "hi, baby," "darling" and "say, honey," very few facts emerged.

The Sicilian-American claimed to have been a contender for welterweight boxing title in the 1930s. His story that he re-settled in his hometown of Omaha and "was hit by a bullet in an accident that left him paralyzed" doesn't quite add up. "Baby, there's a bad page in everyone's life, and that was mine."

Legend has it the shooting was related to his former mafia activities. Fleeing to Frisco he'd managed with the help of family to put together and run Burp Hollow. Rumor was that tucked under the blanket always on his lap he kept a firearm.

Miletti explained the manikin: sure, she was a draw for single male convention-goers. But he used it as a conversation starter to make friends. When the reporter referred to his tending bar in a wheelchair, he commented, "That's right, baby, and I can move pretty fast. That place is my life, and people are beautiful."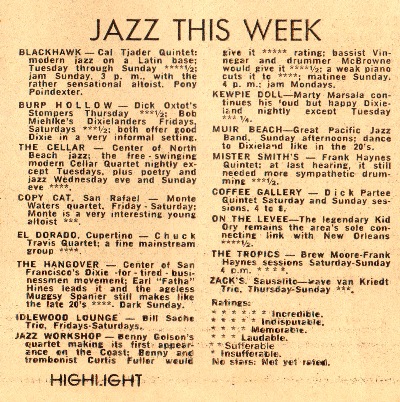 A Music Eco System
During the Burp Hollow years, 1956-66, a second wave of jazz revival musicians in and around San Francisco was intensively engaged in preserving, performing and reinventing America's most original art form. These tapes are recovered audio artifacts from an era when jazz could be heard every night of the week in San Francisco.

According to Highlight Magazine's six star jazz club rating system, Burp Hollow was somewhere between 'Laudable' and 'Memorable.'

For instance, in 1959 a dozen famed clubs were within walking distance: Club Hangover, Hungry I, Basin Street West, Earthquake McGoon's and On the Levee. Just across the street was Barbara Dane's Sugar Hill folk and blues club. Jazz bands, players and audiences flourished in an ecosystem supplied by joints like The Burp, offering mainstream, modern, vocal or dixieland jazz several nights of the week.

This was only one of Oxtot's many Frisco venues. 'Uncle Dick' was heard all over town: hosting, guesting, gigging; anywhere the Bearcats deployed. He was running sessions over at The Bagatelle, combos featuring Ted Butterman, Bill Bardin, and Louisiana-born African American clarinetists Clem Raymond or Frank "Big Boy" Goudie. And 'The Silver Fox' could be found sitting-in at Pier 23, on the nearby waterfront.



Thanks to a handful of surviving audiotapes we can revisit a pure slice of old North Beach.

Hosted by a shady operator, the best of Frisco Jazz was served up with a dubious cocktail at a crowded little gingham-topped table, presided over by a comely manikin at the infamous Burp Hollow.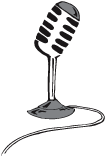 ARCHIVE INTERVIEWS

Earl Scheelar recalls the orgins of Burp Hollow.mp3

Dave_Greer_on_Burp_Hollow.mp3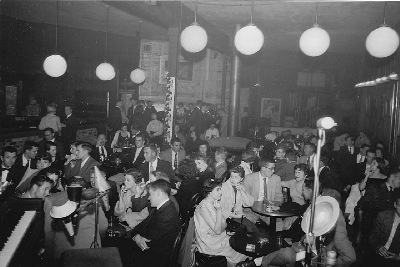 View from the bandstand of the
Tin Angel (a large club on the nearby Embarcadero).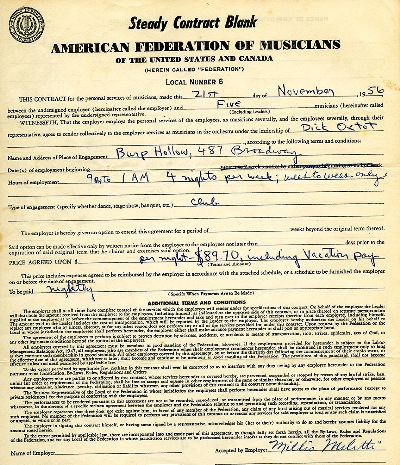 Oxtot and Militti's November 1956 Union contract specified a band of five instruments play 9:00 pm to 1:00 am four nights per week -- though in practice it was certainly fewer nights when business was slow -- a week to week agreement, the band to be paid nightly.

Reedman Richard Hadlock related to me playing a New Years eve gig there on promise of a generous bonus, that in the end went unpaid by Militti.

Oxtot collection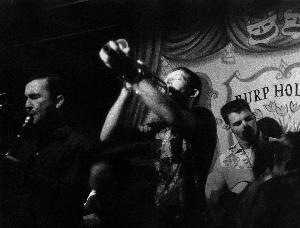 ORIGINAL INFERIOR JAZZ BAND
This band grew out of Frank Goulette's sessions at the Honeybucket in the mid-1950s that put in motion the second wave of Watters style music in the Bay Area. Loud, brash and salty, Original Inferior played Burp Hollow from 1956 into the '60s.

Photo: Original Inferior Jazz Band at Burp Hollow
L to R: Charlie Clark, Earl Scheelar, unknown
Courtesy Earl Scheelar

It had excellent soloists, good ensemble spirit, powerful dynamics, and was well steeped in jazz sounds of the 1920s interpreted Lu Watters Yerba Buena Jazz Band style. The band name may have been a self-effacing reference to a noted early New Orleans jazz ensemble, Original Superior Jazz Band, with a possible secondary reference to one of Bunk Johnson's recording groups of the 1940s.

Light Sound and a Tight Squeeze
Personnel of Original Inferior band (and its sibling Original Superior) varied considerably. On this session Ev Farey was substituting for leader Goulette. Though this was not a two-cornet band, Ernie Carson dropped in to play a few tunes on second cornet. Regulars included John Boland (clarinet), Tony Lanphier (piano), and trombone player Bill Bardin: "Someday Sweetheart," and "Muskrat Ramble" demonstrate why his contemporaries held him in awe.

This band had a "lighter" sound that Yerba Buena which may be attributable to Ev Farey's nimble cornet, no drums, and the swinging tuba of Ed Dickerman driving the rhythm section. The two banjo players were regulars: Ron Hanscom and the late jazz and ragtime collector Ed Sprankle, who was the original source of this tape.

While Burp Hollow was a medium sized club (according to Bret Runkle) it had a tiny stage. This seven or eight piece lineup must have been a tight squeeze, and loud. Unfortunately these archaeological artifacts simply cannot transmit the big crescendos or tuttis, the sheer physical force generated by an ensemble of this size and commitment. This band made no records and no photos have yet been located. The first commercial publication of additional music by this band is forthcoming from Frisco Jazz Archival Rarities.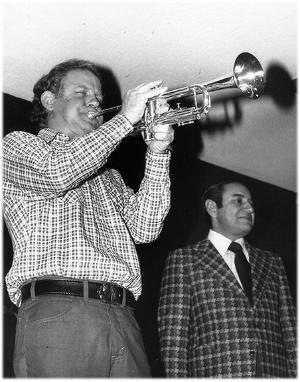 Ev Farey, 1976
(with Peanuts Hucko, right)

Photo by Ed Lawless
Courtesy Ev Farey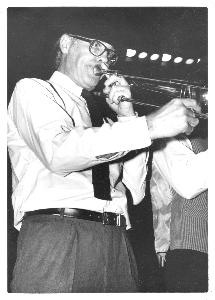 New 2.2015

ARCHIVE MUSIC

Original Inferior Jazz Band
Burp Hollow, San Francisco
Sept. 1962

Ev Farey (cornet and leader subbing for Frank Goulette)
Ernie Carson (guest 2nd cornet, selected tracks)
John Boland (clarinet)
Bill Bardin (trombone, seen right)
Tony Landphere (piano)
Ron Hanscom and Ed Sprankle (banjo)
Ed Dickerman (tuba)

Bill_Bailey.mp3
Auntie_Skinners_Chicken_Dinners.mp3
Beale_St_Blues.mp3
Do_What_Ory_Say.mp3
Exactly_Like_You.mp3
Kansas_City_Man_Blues.mp3
Muskrat_Ramble_Original.mp3
Some_of_These_Days.mp3
Someday_Sweetheart.mp3

(2 cornets:)
Cakewalkin'_Babies.mp3
1919_March.mp3
Come_Back_Sweet_Papa.mp3

Coutesy Ev Farey
Thanks to Hal Smith for technical assistance
Original recording by Ed Sprankle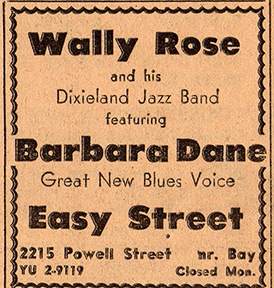 Bill Carter recalls Burp Hollow:
The Frisco Cricket, SFTJF, Spring 2014

Across the street was Barbara Dane's folk music haven, Sugar Hill. Some blocks down, Turk Murphy's first Earthquake McGoon's had opened. Nearby, on Embarcadero, were Kid Ory's On the Levee (formerly the Tin Angel) and Pier 23. Farther away were the Hangover Club (trad jazz) and The Blackhawk and Fillmore joints (modern).

I think the Burp Hollow gig was Fridays. I worked it regularly for a string of months. Walt Yost was on tuba, Oxtot doubled on banjo and cornet, Erickson doubled on piano and trumpet. One or two others came and went -- most all of us living, like me, in Berkeley.
Erickson didn't drive, so I often drove him across the bridge to the gig.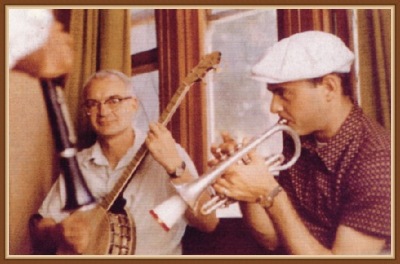 New 10.14


ARCHIVE MUSIC

DICK OXTOT STOMPERS quartet

Burp Hollow, c. 1959

This is typical of Oxtot's hot little quartet with Ted Butterman and Bunky Coleman. It's an excellent examples of a conversation in jazz between two and three instrumental voices 'trading fours' (splitting solos between four bars of music), or in this case, 'trading twos' or even 'ones.'

Photo: Oxtot and Butterman

Ted Butterman (trumpet)
Bunky Coleman (clarinet)
Dick Oxtot (banjo)
Peter Allen (string bass)

Make Me a Pallet.mp3 (6:32)
Bully of the Town.mp3 (4:44, vocal Oxtot)
China Boy.mp3 (5:33)
Since My Best Gal Turned me Down.mp3 (3:30)
Oh! Baby.mp3 (5:04)
Should I?.mp3 (8:33)

Photo and audio Oxtot collection





In 1959 jazz was booming in Frisco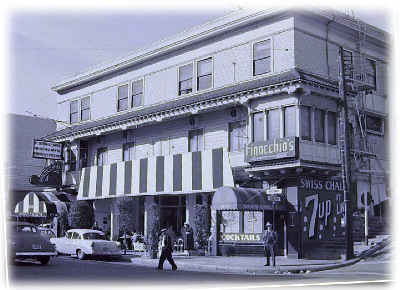 North Beach Babylon

By the 1950s or early '60s North Beach was a thriving world-class entertainment destination and a magnet for the jet-set, tourists, hipsters and hustlers.

Lenny Bruce and Mort Sahl were injecting sharp social commentary into comedy and the biggest names in jazz appeared at the headliner clubs.

Across the street from Burp Hollow Carol Doda's Condor Club was introducing Topless dancing and Finocchios featured female impersonators.

Broadway boasted a Copacabana Club and many top Frisco clubs became world renown: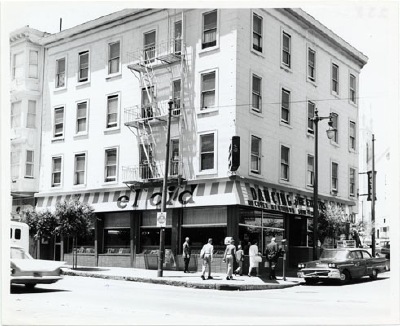 Basin Street West: Thelonious Monk, Hampton Hawes, Duke Ellington, Woody Herman, Anita O'Day; rock acts Ike Turner, The Temptations

El Matador: At piano: Vince Guaraldi, George Shearing, Andre Previn, Art Tatum, Duke Ellington; also Joao Gilberto, Cal Tjader, Vernon Alley

Hungry I: Besides comedy: Lambert, Hendricks and Ross, Mel Torme

Macumba: Stan Kenton, Cal Tjader, Pepper Adams

Jazz Workshop: Sonny Rollins, Red Garland, John Coltrane, Eric Dolphy, Stan Getz, Gary Burton, Miles Davis

Kewpie Doll: Vince Cattolica, Cuz Cousineau played this strip club for years

Sugar Hill: Joe Williams, Shirley Horn, Carmen McRae

The action spilled out into adjacent Downtown, Fillmore and Tenderloin districts where another dozen famous clubs plied their wares.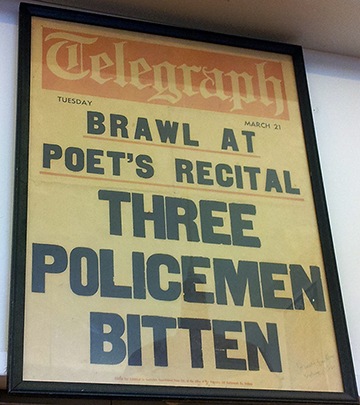 This local headline, on display to this day in City Lights Books, is a reminder that besides jazz, North Beach was also a focal point for literature and the arts, traditional Italian culture, and the Bohemian lifestyle.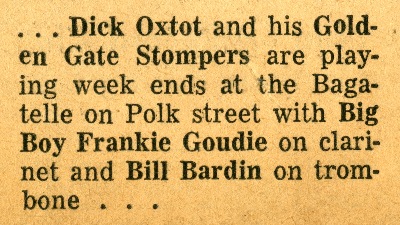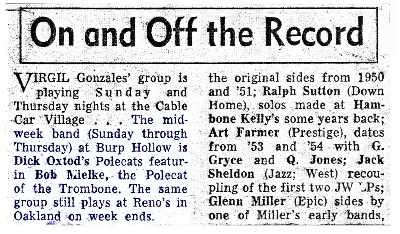 LINKS:

The Monkey Inn Gang I

The Bagatelle jazz bar

Bill Erickson

Bill Napier

Ted Butterman

Frank Goudie

The Lark's club tapes

Pier 23 tapes

Nods Taproom (Byron Berry, trumpet)