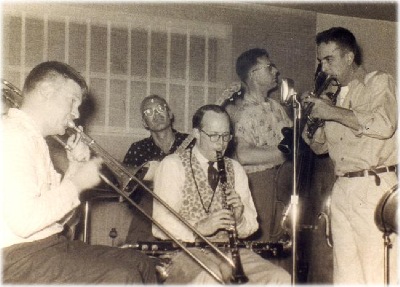 BILL NAPIER


One of the best jazz revival clarinet players on the West Coast.

The Bearcats, 1955
Lark's Club, Berkeley

L to R: Mielke, Dick Oxtot, Bill Napier, Pete Allen, P.T. Stanton
PHOTO: Courtesy SFTJF Archive

BILL NAPIER
b. Asheville, NC 1926 - 2003 Hayward, CA

Jazz clarinet player Bill Napier was equal to any of his reed playing contemporaries, c. 1950-2000. He swung like a Benny Goodman but could deliver the woody warmth of New Orleans Creoles.

Careful audition of Napier's body of work (which will eventually be documented here in full detail) justifies ranking him among the top tier of jazz-revival reed players on the West Coast. For skill, originality and style he's certainly up there with Bob Helm, Frank Goudie, Vince Cattolica, Darnell Howard, George Probert or Earl Scheelar.

Napier spent much of his early career with the East Bay revival-jazz contingent at gigs, jams and parties with Bob Mielke, Bill Erickson or Dick Oxtot. He also worked and recorded in a very early Turk Murphy band, that included residencies in Hollywood, San Diego and Las Vegas.

Over the years Napier was heard playing in San Francisco at Burp Hollow, or at Pier 23, where he alternated with Frank Goudie in Bill Erickson's trio anchoring the famous jam sessions there. He even fronted the sessions at the Pier for a while in the late Sixties.

He was part of the East Bay jazz crowd and Bob Mielke's Bearcats and heard at some of their venues like the Lark's Club.

Napier performed, recorded with, or worked in the bands of Bob Scobey, Kid Ory, Burt Bales, Jack Sheedy, Ev Farey, Bob Schulz, Joe Sullivan, Wingie Manone, Don Ewell, Jack Buck, Robin Hodes and many others.

The noted San Francisco columnist Herb Caen called Napier "San Francisco's saltiest clarinet." Jazz enthusiast Dave Greer who observed him close up for decades commented, "he never had a bad night." To which I would add, nor a bad recording date.


This page is under construction. Please check back for audio and images yet to be posted.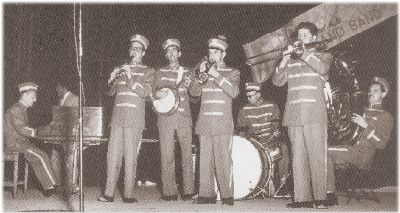 Napier with Turk Murphy, 1950
Live at Cinegrill, Hollywood-Roosevelt Hotel, 1950

In LA the band was booked as "Turk Murphy and the Circus Jazz Band" to compete with the popular Firehouse Five. They broadcast for a while on KABC, the original source of this audio. As you can hear the band was in top form and Murphy tore into rare song verses with gusto.

Subsequent travels took the band on to jobs at the Aragon Ballroom in San Diego, and Las Vegas.

Turk Murphy (trombone)
Don Kinch (trumpet)
Bill Napier (clarinet)
Skippy Anderson (piano)
Pat Patton (banjo)
Geroge Bruns (tuba)
Stan Ward (drums)

Melancholy.mp3
Muskrat Ramble.mp3
Trouble In Mind.mp3
Come_Back_Sweet_Papa.mp3

From Turk Murphy Jazz Band in Hollywood, SFTJF CD 102
Find more of this, here.



Napier with Bob Mielke's Jazz Band, 1951
Bill Erickson (trumpet)
Bob Mielke (trombone)
Bill Napier (clarinet)
Jerry Stanton (piano)
Bob Mussiter (guitar)
John Schuler (string bass)
Jack Lowe (drums)

Crazy Chords.mp3
Riverboat Shuffle introduced by Bob.mp3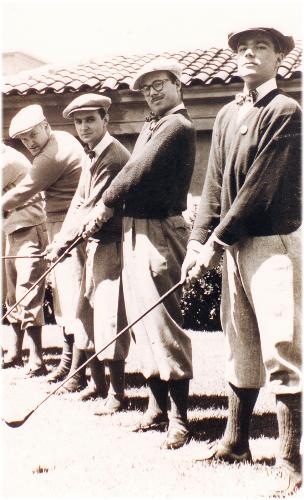 From a golf-themed promotion Mielke tried in 1951, The Fairway Rhythm Kings.


L to R: Bob Mielke (looking rather like a young James Cagney), unknown musician, Bill Napier (looking rather natty) and Bill Erickson


From the archives of SFTJF.


ARCHIVE MUSIC

Bob Mielke's Fairway Rhythm Kings, 1951
personnel same as above

Charleston.mp3
Oh! Didn't He Ramble.mp3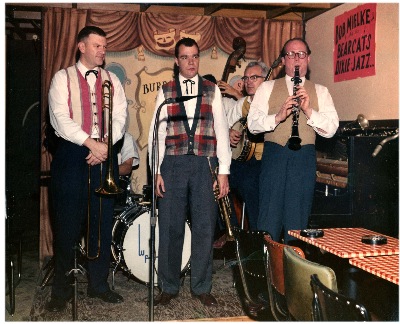 Burp Hollow

Burp Hollow was a popular jazz bar at 487 Broadway in San Francisco in the early '60s. Dick Oxtot fronted bands there with various line-ups often including Napier, Bill Carter, Erickson, Mielke, Yost or others.

It's rare to find a positive comment about Burp Hollow, the rank booze sold there, or its owner: a thoroughly unpleasant former Chicago mobster. It closed in 1966.
L to R: Bob Mielke, Bill Erickson, Pete Allen, Dick Oxtot, Bill Napier
(Photo: Courtesy Oxtot collection.)


ARCHIVE MUSIC

This rare tape from Burp Hollow, 1959 is a remarkable manifestation of East Bay revival-jazz players. Napier sounds terrific and gets the most solo time. Drummer Max Leavitt was not part of this coterie.

Bill Erickson (trumpet)
Bill Napier (clarinet)
Bob Mielke (trombone)
Dick Oxtot (banjo, vocals)
Peter Allen (string bass)
Max Leavitt (drums)

Back in Your Own Back Yard.mp3 (5:17)
Way Down Yonder in New Orleans.mp3 (5:52, Napier bass clarinet solo)
Beale St. Blues.mp3 (5:36)
Song of the Islands.mp3 (4:10)
Darktown Strutter's Ball.mp3 (3:30)
1919 March.mp3 (4:28)
L-O-U-I-S-I-A-N-I-A.mp3 (3:46, Oxtot, vocal)
Yes, Yes in your Eyes.mp3 (5:20, Oxtot vocal)
Mamies Blues.mp3 (6:17, blues)
Love Nest.mp3 (5:21)

Thanks to recordist Dave Greer.
Find more of this, here.




A note on these recordings:
The archival recordings heard on these pages are offered as historic artifacts. They contain many musical and technical flaws, or are incomplete or poorly balanced in places. Personnel are listed as available, or as deduced from educated guesses.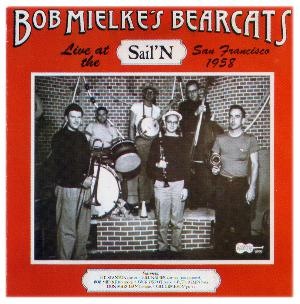 ARCHIVE MUSIC



Bob Mielke's Bearcats
Live at Sail 'N - 1958
Arhoolie cassette C-1099
1998 Arhoolie Records
Recorded by Chris Strachwitz 1958


(Note: Clarinet player Bunky Coleman, pictured right, is not present on this recording.)


P.T. Stanton (trumpet)
Bill Napier (clarinet)
Bob Mielke (trombone)
Dick Oxtot (banjo)
Bill Erickson (piano)
Pete Allen (string bass)
Don Marchant (drums)

Bugle Boy March.mp3 (3:33)
Eh La Bas.mp3 (3:18)
I'm Satisfied with My Gal.mp3 (4:25)
Milenberg Joys.mp3 (5:17)
My Baby Don't Mean Maybe Now.mp3 (3:51)
Pastel Blue.mp3 (5:11)
Saturday Night Function.mp3 (3:57)
Shout 'em Aunt Tillie.mp3 (3:57)
Winin' Boy.mp3 (6:37, guest Burt Bales featured)



NAPIER WITH SCOBEY

This session was recorded at the Tin Angel on the Embarcadero in San Francisco live in the mid-1950s. "Bill Napier, by then established as a major player in town, plays a lovely solo [on 2:19 Blues]," wrote Hal Smith in the liner notes to GHB BCD-285. Personnel includes Bob Scobey (trumpet), Clancy Hayes (vocals and banjo) and Fred Higuera (drums).

2.19_Blues.mp3
At_The_Devils_Ball.mp3

From: The Unheard Bob Scobey and his Frisco Jazz Band, GHB, BCD-285



ARCHIVE MUSIC

Napier with Bill Erickson on trumpet at a Pier 23 jam session, early 1960s

Bill Erickson (trumpet)
Bob Mielke (trombone)
Bill Napier (clarinet)
Dick Oxtot (banjo)
Pete Allen (bass)
Jimmy Carter (drums)

Love Nest, Pier 23.mp3 (5:15)
Original Dixieland One Step, Pier 23.mp3 (5:37)
Darktown Strutters Ball, Pier 23.mp3 (3:28)


New 10.2014

ARCHIVE MUSIC

"The Fabulous Byron Berry –
Pier 23 Polecats, April 11, 1960"

"Recording by Jack Stratford, initiated by Grayson 'Ken' Mills. Recorded zon Wollensack tape recorder with stock microphone. Personnel identified by Jerry Stanton."

Byron Berry (trumpet)
Bill Napier (clarinet)
Bob Mielke (trombone)
Bill Erickson (piano)
Dick Oxtot (banjo)
Al Conger (bass)

Isle of Capri.mp3
Joseph, Joseph.mp3
Just a Gigolo.mp3
Let A Smile Be Your Umbrella.mp3
Muskrat Ramble.mp3
Shake That Thing.mp3
Weary Blues.mp3
You're the Cream in my Coffee.mp3

The Oxtot collection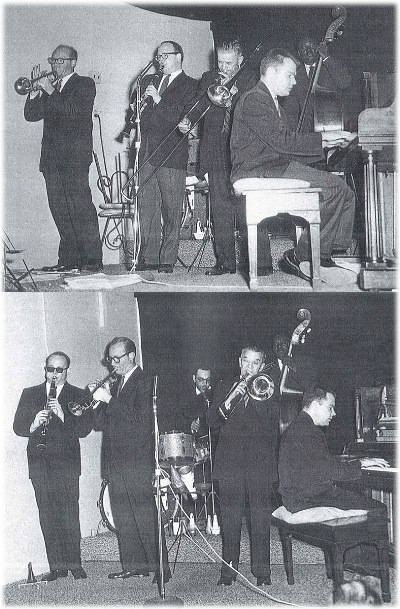 NAPIER WITH ORY

Napier' stint as clarinetist in the Kid Ory band -- at On the Levee in 1960 -- seems to have coincided with that of Bill Erickson on piano, right.

Others were RCH Smith (trumpet), Walter Roberts (bass), Bob Osibin (drums), and Ory (trombone).


Photos: William Claxton & Joachim E. Behrendt, 2005

JAZZLIFE: A Journey for Jazz across America in 1960


ARCHIVE MUSIC

Bob Mielke's Bearcats,
Live on air at KALW-FM, San Francisco 1993:

Bugle Boy March.mp3
Blue Guaiac Blues.mp3
Sawdust Blues.mp3



ARCHIVE MUSIC

Napier with The Oakland A's Baseball Band
at the Bob Helm Memorial Event, San Pablo Moose Lodge, 11.11.02

Bob Mielke, trombone and leader
Bob Neighbor, trumpet
Bill Napier, clarinet
Jim Maihack, tuba
Stuart Zank, banjo

Once in a While - Oakland A's Band.mp3
There's an Old Spinning Wheel in the Parlor - Oakland A's Band.mp3
Joseph Joseph - Oakland A's Band.mp3
Savoy Blues - Oakland A's Band.mp3
Take Me Out to the Ballgame - Oakland A's Band.mp3

Recorded by Phil Edwards and Bill Ruck for Bud Spangler and KCSM
Courtesy of Leon Oakley and Diamondstack Productions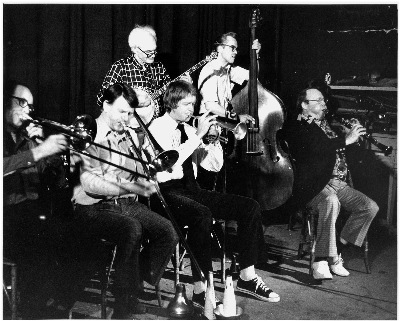 Dick Oxtot Golden Age Jazz Band, c. 1970s


L to R:
Bill Bardin, Bob Mielke, Dick Oxtot,
Jim Goodwin, Jim Cummings, Bill Napier


Oxtot Collection



Forthcoming: The best and most rare of the archival jazz recordings heard on these pages will soon be available for purchase on CD or downloads (Amazon, i-tunes, etc) from Frisco Jazz Archival Rarities, a partnership between Dave Radlauer and Grammercy Records.

The Genius of Bill Napier: Private Recordings, Jams and Unissued Sessions, 1950s-'90s

Frisco Jazz Archival Rarities offers unissued historic recordings from live performances, jam sessions and private tapes. Recorded mostly in the Bay Area 1940-75, this is lost sound from a boisterous musical culture that created an independent jazz style of its own.



LINKS:

San Francisco Chronicle obituary
Photos with Kid Ory

LINKS (this site):

Burp Hollow tapes
The Ordinary tapes
The Larks Club tapes
Bob Mielke
Bill Erickson page
Bill Erickson archive
P.T. Stanton
Berkeley Jazz house
Dick Oxtot