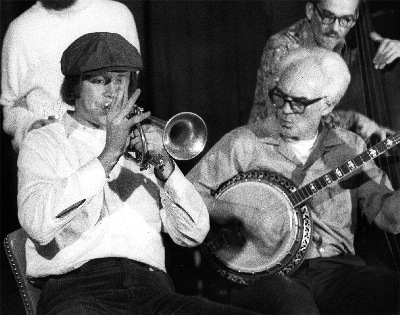 Jim Goodwin


Cornet,

Piano




Jim Goodwin (1944 - 4/19/09, Portland, OR) was a fine musician, very good cornet player and superb jazz pianist.


In the San Francisco Bay Area for about a decade in the late 1960s and early '70s, Goodwin made a strong impression on listeners and fellow musicians.


His appearance was exceptionally youthful; he looked like a big kid. And though it was never an actual moniker he was often informally referred to simply as "the kid."


Jim Goodwin had a great swinging horn sound, muscular and assertive in the tradition of "Wild Bill" Davison, Louis Armstrong, Sidney deParis, and most apparently Henry "Red" Allen, one of his strongest style influences. For instance his squashed notes recall Allen's expressive half-valve effects.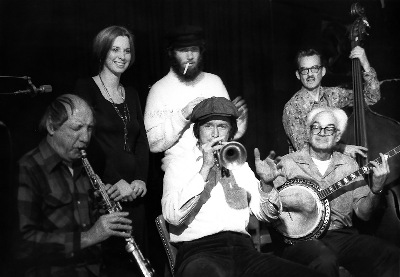 Jim was a longstanding close musical associate of Ray Skjelbred. Others included Ted Shafer Dick Oxtot (Golden Age Jazz Band) Burt Bales, Mike Duffy, Bret Runkle, Ray Landsberg and Earl Scheelar. He played in a host of swinging West Coast ensembles: Berkeley Rhythm, Sunset Music, Swingin' A's Oakland Baseball, Jazz Cardinals, Port Costa, Keats Tom Cats. Even Turk Murphy!


Photo L to R: Bob Helm, singer Diane Holmes & Ray Skjelbred standing, Goodwin, Jim Cumming, Dick Oxtot, early 1970s. Oxtot collection.

Some of the Bay Area's finest revival jazz musicians offered fond memories and high praise for Goodwin.


Michael Steinman,
JAZZ LIVES

Jim Goodwin, 1943-2009, 4/2009
https://jazzlives.wordpress.com/2009/04/20/jim-goodwin-1943-2009

"I have just learned that the brilliantly individualistic musician Jim Goodwin has died. He had been ill for some time and had concentrated on the piano rather than his first love, the cornet. On that instrument, he had much of the same surprising intensity and off-center majesty of Red Allen: you didn't know where his phrases came from or where they were going, but they always fit. An eloquent player, he knew how to drive a band!"

Courtesy JAZZ LIVES.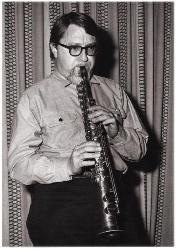 Richard Hadlock (from liner notes for the LP, Taking a Chance . . .

Speaking of the partnership between Goodwin and Skjelbred, Richard comments:

"I believe Jim and Ray are happiest when working together, with occasional drop-ins by musicians who can scramble well within their informal but quite intense musical setting. For a good part of the 1970s they worked just such a duet job in Port Costa."

"Best of all, I think, is the . . . off the wall musical interplay, always a delightful ingredient of the duo's work. On can't help thinking of Hines and Armstong in 1928 as these two friends develop one another's ideas."



Out-of-Print LP Albums and oddities: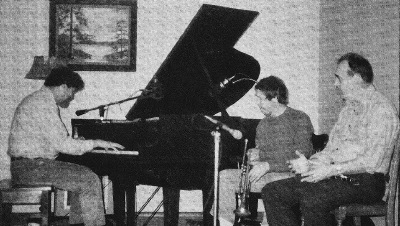 Taking a Chance . . .
Jim Goodwin and
Ray Skjelbred

Rhythm Master RM 101 (LP album)
Produced by John Ochs
Seattle, 1988

Add Hamilton Carson (clarinet) on select tracks

In the album liner notes Richard Hadlock suggests this relaxed session captured the "off-the-wall musical interplay" of the duo's legendary 1970s Bull Valley Inn residency in Port Costa, "a ghost town-like remnant of a once busy port on the Sacramento River."

Photo: Skjelbred, Goodwin and clarinetist Ham Carson.

He writes that Jim and Ray had been "rehearsing their act for more than twenty years," developing, "a seemingly bottomless bag of tunes and took delight in exchanging 'inside' melodic and stylistic references to earlier jazz performances . . . all made more appealing by frequent high-risk improvisations and plain good taste."

"Typical Port Costa music here: old warhorses brought to life, un-notatable cornet sounds, unexpected tempos, off beat tunes, seat-of-the-pants improvising (with an occasional fluff), spontaneous wit, and the blues." As usual, Ray is a one-man rhythm section, over which you'll hear his personal blend of Earl Hines, Jess Stacy and Art Hodes with a dash of Ellington, Thelonious Monk or Chicago blues piano here and there."

Side A
Every Minute of the Hour
Keep Smiling at Trouble
Copenhagen (add clarinet)
Home
A Cottage for Sale
Digga Digga Doo (add clarinet)

Side A complete

Side B
My Little Pride and Joy
Taking a Chance on Love (add clarinet)
Rosetta
Blues in C

Running Wild (add clarinet)
After Awhile

Side B complete



Hadlock highlighted the positive impact these two Portlanders had on Northern California jazz:

"They settled in the San Francisco Bay Area in the same week of 1969 and both were soon in demand for all sorts of jazz jobs." Both were admired for their "drive, swing and original ideas. The arrival in the Bay Area of Goodwin and Skjelbred was like heaven-sent fresh air from the North . . .

They revived in many of us a sense of the value of really HOT jazz, the excitement of commitment to the musical moment . . . Together or separately Jim and Ray could lift soggy ensembles off the ground."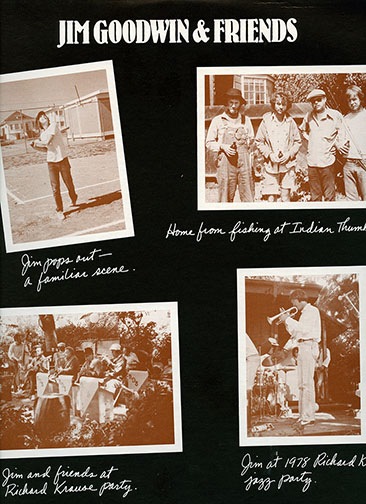 Jim Goodwin and Friends

Another fine effort from Berkeley Rhythm Records produced by the late Mike Duffy with Ray Skjelbred. This delightful LP album was compiled from live Bay Area performances in the 1970s at Bull Valley Inn, Berkeley Square, the Pacific Film Archive and private residences.

Side A
I've Got My Fingers Crossed – Marty Grosz
Goodwin (cornet), Skjelbred (piano), Marty Grosz (guitar), 7/76

Melancholy Baby - Goodwin and Bales
Goodwin (cornet), Burt Bales (piano), 8/77

You're a Lucky Guy – Goodwin piano solo
Jim Goodwin (piano), 7/77

When It's Sleepy Time Down South – Berkeley Rhythm
Goodwin (cornet), Dick Hadlock (soprano sax), Dave Clarkson (tenor sax), Ray Skjelbred (piano), Jack Knox (guitar), Jim Cumming (bass), 8/71

Jim_Goodwin_and_Friends_LP_Side_A_complete.mp3

Side B
You've_Changed – Skjelbred's Yeti Chasers
Goodwin (cornet), Skjelbred (piano), 8/76

A_Sailboat_in_the_Moonlight – Duffy's Second PFA Band
Goodwin (cornet), Hadlock (soprano), Skjelbred (piano), P.T. Stanton (guitar), Duffy (string bass), Bret Runkle (washboard) 1/78

The_Love_Nest – Bret Runkle and his Starting from Scratch Band
Goodwin (cornet), Walt Yost (cornet), Bill Bardin (trombone), John Smith (soprano sax), Skjelbred (piano), Stanton (guitar), Duffy (bass), Runkle (washboard), 8/77

Honolulu Baby – Ray Skjelbred's Yeti Chasers
Goodwin (cornet), John Smith (alto sax), Skjelbred (piano), Karl Walterskirchen (banjo) and others, 8/77

Jim_Goodwin_and_Friends_LP_Side_B_complete.mp3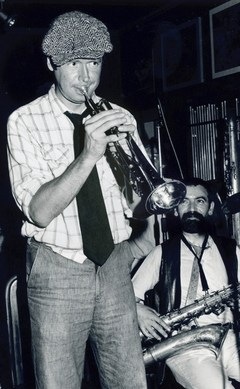 David Frishberg

Jim Goodwin Remembered,
Obit by Dave Firshberg, 5/2009
https://jazzlives.wordpress.com/2009/05/18/jim-goodwin-remembered

"During his forty-year career as a cornetist and pianist, Jim had long residencies in Breda, Holland and Berkeley, California, as well as in his home town of Portland. He played with many prominent musicians of the "old school," including Joe Venuti, Manny Klein, Phil Harris, and Portland's Monte Ballou (Jim's godfather).

He toured extensively in Western Europe and became probably better known there than in the US. During his long residence in the Bay Area he played regularly at San Francisco's Fairmont Hotel and at Pier 23, as well as in three World Series with the Oakland A's pep band. Before his recent return to Portland, he spent several years living in rural Brownsmead, OR, near Astoria."

Courtesy JAZZ LIVES.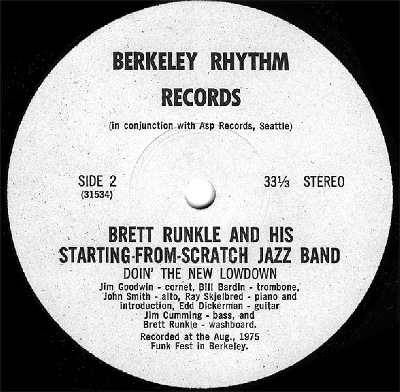 Bret Runkle
and his Starting-from-Scratch Jazz Band

Recorded 8/75 at Funk Fest in Berkeley


Bret Runkle (leader, washboard)
Jim Goodwin (cornet)
Bill Bardin
John Smith
Ray Skjelbred
Jim Cumming (bass)

Doin' the New Lowdown


Archival Audio & Earl Scheelar sessions: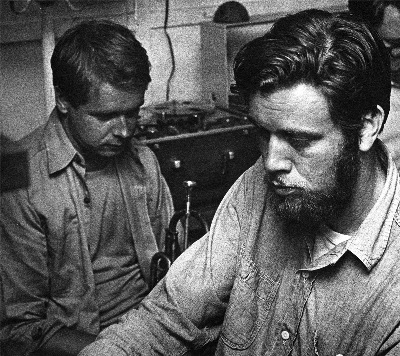 ARCHIVE MUSIC

Jim Goodwin-Ray Skjelbred
Basement session
Berkeley, 1969

Jim Goodwin (cornet)
Earl Scheelar (clarinet)
John Farkas (trombone)
Ray Skjelbred (piano)
Dick Oxtot (banjo)
Pete Allen (string bass)

The searing horn of Jim Goodwin (b. 1944, Portland, OR) served as focal point for this swinging session in the basement of Scheelar's Berkeley rental. All parties rose to the occasion and trombonist John Farkas was at his very best. Scheelar switches to baritone horn on "Someday You'll Be Sorry."

Photo: Jim Goodwin and Ray Skjelbred, late 1960s. Mielke collection.

Ray Skjelbred (b. 1940, Chicago, IL) rarely sounded better in this session ranging from swinging sophistication to raucous barrel house. His nuanced piano fills and solos were picked up nicely, but only barely adequately for his vocal on "Glad Rag Doll."

Glad Rag Doll
Red Roses for a Blue Lady
Mood Indigo
Just Because
Make Me a Pallet on Your Floor
Blues at Earl's
Someday Sweetheart
Someday You'll Be Sorry (Earl Scheelar, baritone horn)
Lady Love
Yes, Yes in Your Eyes

Earl's Oct 1969 Skjelbred Goodwin complete

Courtesy Earl Scheelar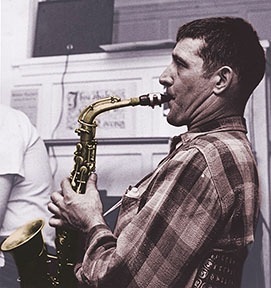 Jam Session Above Earls VW Shop

Scheelar Plays Alto & Soprano Saxes

Earl's Rumpus Room
Berkeley, CA 2.16.71

Goodwin is relaxed and focused, nicely supported by Ray Skjelbred (piano). Luder Ohlwein is terrific alternately playing banjo or a soprano four-string guitar or tiple. On "Marie," Bob Mielke joined in, the entire ensemble skillfully trading fours. Switching between soprano and alto, Earl's jaunty effervescence is delightful.

It's neither well known nor appreciated that Scheelar played very good alto and soprano saxophones. He had fine technique and style on each, hinting at many influences but imitating none. With some pride he recently issued a CD of his soprano and alto music recovered from A Jam Session Above Earl's VW Shop 1971 (available directly from Earl).

Jim Goodwin (cornet)
Earl Scheelar (soprano and alto saxophones)
Ray Skjelbred (piano)
Luder Ohlwein (banjo, guitar)
Add Bob Mielke (trombone) on "Marie"

Yellow Dog Blues
What's the Reason I'm not Pleasin' You
Marie
Give Me Your Telephone Number

(Note: Audio courtesy of Earl Scheelar was taken from master tapes, not the commercial CD.)



More About Jim Goodwin: Life Stories (comprehensive article)
Joan Harvey, The Oregonian, 6/1/2009
https://jazzlives.wordpress.com/2009/06/02/more-about-jim-goodwin

"He was a musician's musician, largely unknown to the public but legendary among jazz cognoscenti and to those who played with him. His authoritative, stunning cornet leads and spontaneous outpouring of original, appropriate ideas awed other musicians and inspired them to play better.

His music reflected his soul — he was a gentle person with an oddball, oblique wit; he was brilliant, generous and unerringly true to himself. He was charismatic and immediately charmed everyone he met. Friends stayed friends forever; no one knows of an enemy he ever had.

Jim never had a backup plan or the stability of a day job, health insurance or any regular source of income. He lived with friends, rented here and there and sometimes, especially when he was young in Europe, slept outdoors.

Still, he lived well. He had a series of cars, including a 1954 Jaguar, a Triumph TR3 and a 1950 English Singer Roadster, that he traded, swapped or adopted out as his cash fluctuated. Jim was adamant about never owing anybody money and paid back every nickel he ever borrowed. He liked to pick up the tab when he could. . .

Every friend has a story about Jim's humor. Once, he and a fellow musician put their shoes on the wrong feet and, in the middle of a set, splayed their feet in front, never knowing whether anyone noticed. He had long discussions about how to tie shoes. He built mannequins and placed them on his front porch or in a darkened room complete with lit cigar and a glass of wine. They were so realistic that people were often fooled. He once recorded a tape of himself painting a fence — the only sound was an occasional car rolling by.

He and friends started Portland Brewing Co. just as micro brewing took hold. He asked to be bought out early because he didn't want to be tied down to a business. Instead, for years he played regularly at the company's Flanders Street Pub with Dave Frishberg."


Courtesy JAZZ LIVES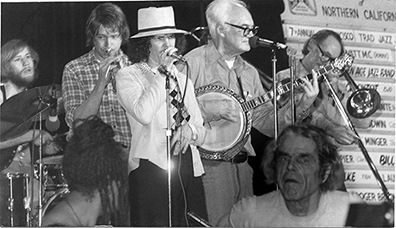 ARCHIVE MUSIC

NOJC Sunday session
11/16/69

Dick Oxtot group:

Jim Goodwin (cornet)
Bill Napier (clarinet)
Bob Mielke (trombone)
Ray Skjelbred (piano)
Dick Oxtot (banjo, vocals, leader)
Don Marchant (drums)

This seems to be a nascent Golden Age Jazz Band, at an early session of the New Orleans Jazz Club.

Photo L to R:
Unknown drummer, Goodwin, Terry Garthwaite, Dick Oxtot, Bill Bardin.
Oxtot collection.

Cornetist "Kid" Goodwin shines on "Wild Man Blues," "Sing On" and "When It's Sleepytime" aided by the front line and Ray Skjelbred's tasteful piano. Napier's daring solos backed by riffs are energized on: "Monday On," "Pontchartrain Blues" and "Once in a While."

"Lindberg ..." was an Oxtot specialty dating back to the days of Mielke's Bearcats. Mielke shines on "Sing On," and shares the spotlight with Goodwin on Oxtot's song, "My Lovin' Imogene." The ensemble comes together beautifully for a grand rendition of Ellington's "The Mooche."

Though some songs are incomplete at start or finish, the music is presented for its artistic and historic merit. Actually the restored sound quality of this mono 3.75 i.p.s. tape is quite good for an amateur recording dating back four and a half decades.

Set A
Ice Cream.mp3 6:03
Wild Man Blues.mp3 5:21
From Monday On.mp3 4:49
Pontchartrain Blues.mp3 6:24
Walkin' with the King.mp3 5:22
Lucky, Lucky, Lindberg, The Eagle of the USA.mp3 5:26

Mielke_Goodwin_Napier_B7_NOJCNC_11.69_Set_A_complete.mp3 37:44

Set B
Sing On.mp3 5:41
The Mooche.mp3 5:52
Limehouse Blues.mp3 4:38
Once in a While.mp3 3:30
It Should Be You.mp3 3:52
My Lovin Imogene.mp3 3:49
Barney Google.mp3 3:58
Bye Bye Blues.mp3 (banjo feature) 4:36
When Its Sleepy Time Down South.mp3 5:14

Mielke_Goodwin Napier NOJCNC_11.69_Set_B_complete.mp 41:29

Bob Mielke collection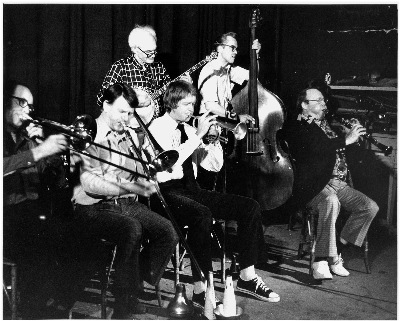 ARCHIVE MUSIC


Dick Oxtot's All Stars
Mandrakes
Berkeley, CA 10/7/70

Jim Goodwin &
P.T. Stanton (lead horns)
Bob Helm (soprano sax)
John Smith (soprano sax)
Bob Mielke (trombone)
Dick Oxtot (banjo, vocals, leader)
Ray Skjelbred (piano)
Jim Cumming (string bass)
Drums: unknown


Photo L to R:
Bill Bardin, Bob Mielke, Dick Oxtot, Jim Goodwin, Jim Cumming, Bill Napier
Probably at Mandrakes, Berkeley. Oxtot collection.

There are a lot of players here. I've made an attempt to identify the personnel with the assistance of a knowledgeable listening panel. It's hard to account for the notation "Swedish clarinet?" on the tape box.

Interestingly two renditions of "Mecca Flat Blues" show the contrasting approaches of "Kid" Goodwin and PT Stanton. The latter's rendition morphs from "Pastel Blue" into "Mecca."

This is a rare opportunity to hear soprano saxophonist John Smith, and incidentally, in duet with Bob Helm in places. Helm was in fine fettle: pungent, potent and daring throughout.

Set A
Nobody Knows You. mp3 (Goodwin, Helm, Smith)
Shake that Thing.mp3 (Goodwin & PT Stanton, John Smith and Helm reed; vocal duet Helm & Oxtot, tuba)
Pastel Blue or Mecca Flat Blues.mp3 (PT Stanton with reeds, Goodwin out)

Set B (PT Stanton out)
High Society.mp3 (Goodwin & Helm, 2 reeds?)
Wrap Your Troubles in Dreams (Goodwin featured, Helm soprano, & clarinet?)
It Should Be You.mp3 (Oxtot banjo featured)
Mecca Flat Blues.mp3 (Goodwin & soprano)
[title unknown].mp3 (John Smith soprano, college fight song?)
I Want a Little Girl.mp3 (two sopranos, vocal Oxtot)

Mandrakes_PT_J Smith_Oxtot All Stars_Set B_complete.mp3 32:38

Mielke collection




Michael Steinman,
JAZZ LIVES

Jim Goodwin, Hot Man, 12/2009
https://jazzlives.wordpress.com/2009/12/03/jim-goodwin-hot-man

"Jim always played — no matter what the context or the tempo — as if his life depended on it. Not necessarily loud or high, not necessarily spattering the listener with fancy runs, but taking chances, never coasting. Even when he playing the opening chorus of something like "Please Be Kind," you knew that the request wasn't an idle one: he meant business!"

and

"Everything is All Right Down at My End:" Something for Jim Goodwin 3/2012
https://jazzlives.wordpress.com/2012/03/16/everything-is-all-right-down-at-my-end-something-for-jim-goodwin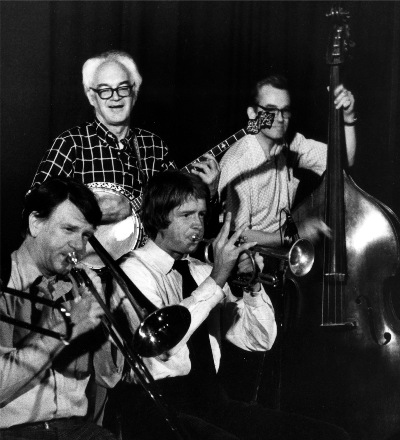 ARCHIVE MUSIC


Oxtot's Golden Age Jazz Band with vocalist Terry Garthwaite
Location unknown, early 1970s

This recording was possibly made at Mandrake's, an East Bay nightclub in Berkeley.


Photo:
Golden Age Jazz Band
L to R: Bob Mielke, Dick Oxtot, Jim Goodwin, Jim Cumming. Probably Mandrakes in Berkeley, early 1970s.




Jim Goodwin (trumpet)
Bob Helm (clarinet)
Bob Mielke (trombone)
Ray Skjelbred (piano)
Dick Oxtot (banjo and leader)
John Moore (tuba)
Terry Garthwaite vocals

Stand On the Rock.mp3
Walkin' Blues.mp3
Lookin' for a Pilot.mp3

Courtesy of Earl Scheelar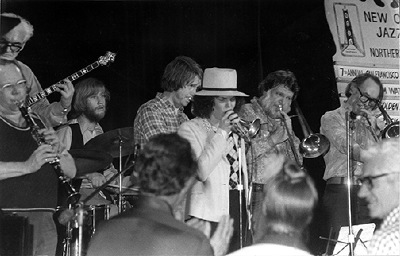 ARCHIVE MUSIC

Oxtot Golden Age Jazz Band
NOJCNC Showcase
1.16.77

Jim Goodwin (trumpet)
Bob Mielke and
Bill Bardin (trombones)
Bill Napier (clarinet)
Dick Oxtot
(banjo, vocals and leader)
Jim Cumming
(string bass)
probably Walt Yost or John Moore (tuba)
unknown Drums
Terry Garthwaite (vocals)

Photo and recording seem to be same date and location.
L to R: Oxtot, Napier, unknown drummer, Goodwin, Garthwaite, Mielke, Bardin
NOJCNC Showcase, 1.16.77

This was one of Oxtot's finest Golden Age ensembles (pictured here and elsewhere this page). Napier plays hot and the trombone duet of Bob Mielke and Bill Bardin is spectacular on "Honky Tonk Town" and "Savoy Blues." Vocals by Terry Garthwaite and Dick Oxtot are rich and mellow.

Down in Honky Tonky Town.mp3
Savoy Blues.mp3
What's the Matter with Love.mp3 (vocal Garthwaite)
Doin' the New Raccoon.mp3
Dallas Blues.mp3 (vocal Oxtot)
Pilot.mp3 (vocal Garthwaite)

Oxtot Golden Age Jazz Band, 1.16.77 complete.mp3 30:29

Oxtot collection



Goodwin's name came up in an interview of Bob Mielke for his memoir,
A Life in Jazz (Trafford, 2008):

"Jim Goodwin doesn't read at all and also he never took a lesson, so he is a pure natural. Tremendously gifted. He is one of the finest trumpets I have ever heard in my life and had the privilege to play with. So band leaders naturally seek him out to hear him, but then they discover he cannot read. Okay. I am of the same class. I don't read worth a damn. Jim Goodwin is a jazz artist."



Oakland A's Swingers Baseball Band & 1973 World Series: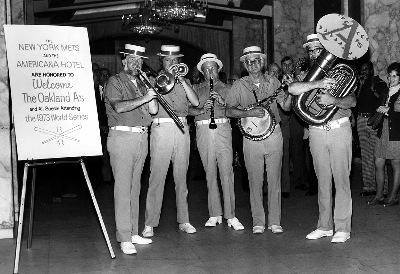 The Swingin' A's
Oakland Baseball band

L to R: Bob Mielke,
Jim Goodwin, Bill Napier, Dick Oxtot and John Moore. Lobby of the Americana Hotel, NYC.

The band's high point may have been attending the 1973 World Series.

Oxtot collection.



Sports columnist Ron Fimrite, hardly an incisive music critic, wrote about the band's between-inning concerts in the San Francisco Chronicle, June 8, 1970:

"The band, you say? Yes, the As's authentically have the best band in baseball. . . one of the finest traditional jazz bands in the United States . . . essentially Bob Mielke and his Bearcats, a traditional band that has provided Bay Area music lovers with some of the best sounds in their genre for more than 20 years."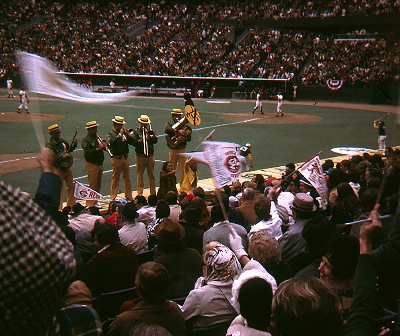 Swingin' A's
Oakland Baseball band
Goodwin third from left

Yankee Field
1973 World Series

Oxtot collection.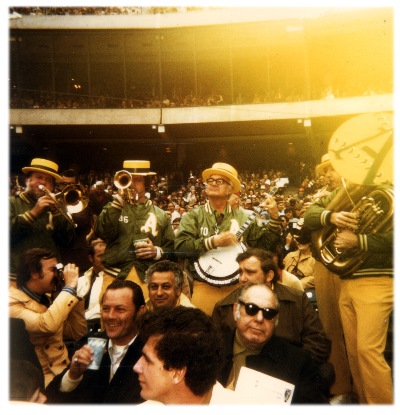 1973 World Series, Yankee Stadium

L to R:
Mielke (trombone), Goodwin (cornet and NYC coffee), Dick Oxtot (banjo), Bob Helm (soprano), John Moore (tuba).

Oxtot collection


Jim Leigh on Goodwin

In his memoir Heaven on the Side: A Jazz Life (self-published, 2000) Jim Leigh recalled Goodwin, especially their time together in Sunset Music Company:

"If asked at gunpoint to name my own favorite living trumpet [sic] player, I wouldn't hesitate to name him. Goodwin's play is so uniformly hot, free, fertile and recognizable, that it must simply be another of those huge injustices that he is not better known."

Leigh admired that Goodwin's technique was a synthesis of his influences, "integrated into his own sound. Goodwin is, and has been for as long as I've been hearing him, entirely beyond category, except to say that he is always working with the rest of the band, swinging as naturally as he breathes, and inventing melody."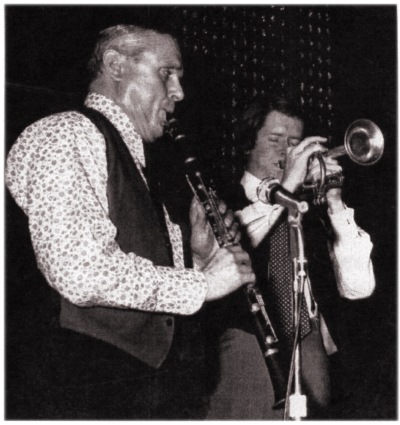 Vince Cattolica &
Jim Goodwin
2.21.73


Photo: Ed Lawless


Jim Goodwin's Piano music: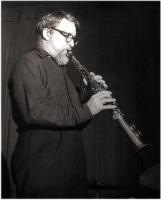 Richard Hadlock on Goodwin's piano playing:

"Jim Goodwin was one of my favorite pianists. I loved playing with him on piano. I'm not dead sure of all his influences there, but Joe Sullivan was a major one. He loved Jess Stacy, Albert Ammons (and a bunch of blues/boogie woogie players), Earl Hines, Alex Hill and his close friend, Ray Skjelbred. He had a very personal style which, like his horn playing, always swung."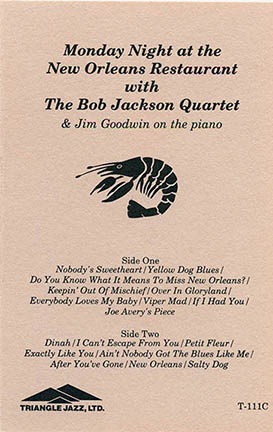 The Bob Jackson Quartet
with Jim Goodwin at the piano


Recorded at Husted Studio, Seattle, 2/88
Triangle Jazz, Ltd. audiocassette T-111C


Bob Jackson (trumpet)
George Goldsberry (clarinet)
Mike Duffy (string bass)
Skip McDaniel (banjo & guitar)
Jim Goodwin (piano)


Side A
Nobody's Sweetheart
Do You Know What It Means to Miss New Orleans
Yellow Dog Blues
Keepin' Out of Mischief
Over in the Gloryland
Everybody Loves my Baby
Viper Mad
If I Had You
Joe Avery's Piece

Bob_Jackson_Qt_Jim_Goodwin_Side_A complete.mp3

Side B
Dinah
I Can't Escape From You
Petite Fleur
Exactly Like You
Ain't Nobody Got the Blues Like Me
After You've Gone
New Orelans
Salty Dog

Bob_Jackson_Qt_Jim_Goodwin_Side_B_complete.mp3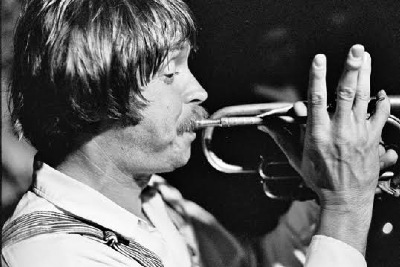 Jim Goodwin,
Dendermonde, Belgium
c. 1979

© William Carter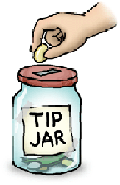 Tip Jar

This site is free. But you can help sustain it, and encourage me with donation to the tip jar. Secure payment through PayPal is anonymous, except that I will see your e-mail address.

Donation $5.00
Donation $10.00
Donation $20.00
Donation $35.00
Donation $50.00
Donation: You decide