Bobby Bruce, violinist
b. 1925 - d. 2018
(original name Robert Berg)

Noting the recent passing of this remarkable musician and sweet man.

Bobby Bruce had one of the longest and most diverse music careers I've encountered.

A versatile musician and arranger, Bruce played vaudeville, jazz, popular music and Western Swing.

Bobby was heard and seen on radio and television starting in the early 1950s, with a lengthy studio career playing, arranging and composing in Hollywood, TV, and film.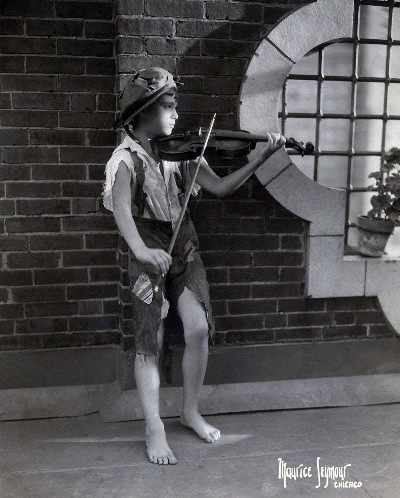 Early 1930s:

At age ten Bobby began in Vaudeville outside of Chicago. He performed with his piano playing sister, Eileen in an act called The Personality Kids on the Keith Orpheum circuit.


Bobby credits Vaudeville for his ease in any genre. He was exposed to almost every style of music in the acts preceding and following his, and eagerly absorbed litte bits of each.


Theirs was a classic Vaudeville Family act:

"What we had was songs, dances and funny patter, a couple of jokes. I was about nine or ten. I'd play and sing, do acrobatics and things like that. My sister would also dance and tap-dance and do acrobatics and sing.

And my mom sang, tap danced a little bit and told funny stories. She had long red hair but she used to pack it all underneath her cap on her head and dressed like a guy, and blacked out a couple of front teeth. And she'd do a clog of some sort, kind of hillbilly.

I had a little thing I did, singing and playing. I would bend over backward on a soapbox I was standing on. They had a glass of colored water, pink water with tape around the top of it. And I'd bend over backward trying to sing and pick up that glass of water with my mouth as I'm trying to play. That was the finale and we'd get a lot of applause to a beg-off at the end of it. It was a hell of a good show."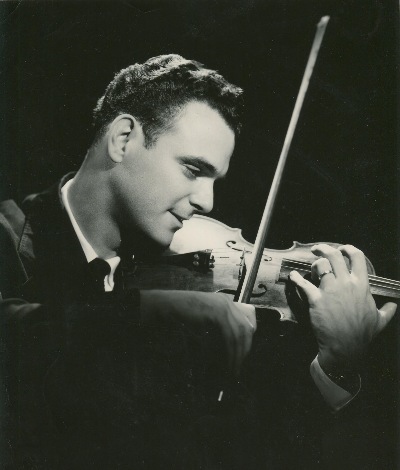 Late-1930s:

When only 16 and underage, Bobby Bruce launched a hometown Chicago band so he could play the music of his biggest inspiration, jazz violinist Stuff Smith, "I loved his work, he had such drive. And he played very much like a horn; his attitude was more like a horn would want to wail than a violinist ever would. He had such a good sense of time."


His remarkable skills earned him a scholarship to a solid classical education under "one of the finest teachers in the world," Leon Sammantini at the Chicago Musical College.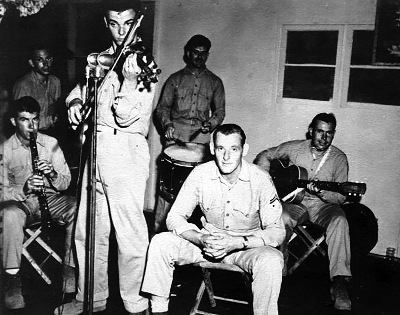 World War Two, early 1940s:

A US Marine in World War Two his fiddle went ashore with him to Pacific Island battles; carrying wounded soldiers, he survived Guam, Saipan, Tinian and Iwo Jima.

The Pacific High Command discovered his musical talents and assigned Bruce duties directing and arranging music ensembles. Soon, he was directing a staff of, "125 guys, and here I am eighteen years old, a punk kid."

Photo: Marine combo WWII. Bobby notes that in this photo he was using a large bass bow because the tropical weather had destroyed his violin bow. And that he was Bobby Berg not Bruce in the Marines; known in his battalion as the "Fightin Hebe."


A Life in Professional Music:


Western Swing, late 1940s-early 1950s:

After the war Bobby Bruce was in heavy demand with top Western Swing leaders playing their dance band and radio broadcast circuit. He had stints with Bob Wills, Luke Wills and Johnnie Lee Wills (both in Calif. and Texas) and five years with Leon McAuliffe in Tulsa, Oklahoma.

Bobby launched an independent career in the early 1950s and continued working with top Country and Western Swing bandleaders in Southern California: Spade Cooley, Tex Williams and Jimmy Wakely (CBS Radio, 7 years).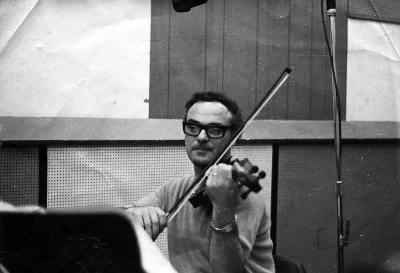 Mid-1950s to present,
Bruce launched a fantastically successful career in L.A studio and film work:

On television Bobby Bruce was heard and occasionally seen on: Lawrence Welk, Barbara Mandrell, Ray Anthony, Green Acres, Colombo, Bewitched, Little Home on the Prairie and many others.

Bruce worked with Henry Mancini (Oklahoma Crude). His original music and performance for the "Roots" soundtrack with Quincy Jones garnered him an Emmy.

"I taught myself how to orchestrate and how to write. I read some books, found out how to write for different horns and instruments and things like that, and I carried that through. From my formal education as a violinist I carried it three steps further and learned about harmony and theory and instrumentation and voicing and things like that, so that I wrote a couple of albums for Leon McAuliffe."



Bobby Bruce music
JAZZ SIX PACK and Little Girl
Produced and arranged by Bobby Bruce

Bobby Bruce (violin)
Jon Kurnich (guitar)
Dave Stone (bass)
Mark Converse (drums)

Little Girl
Georgia
After You've Gone
Green Dolphin Street
The Trolley Song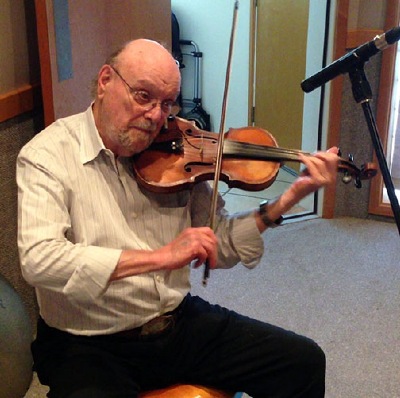 Bruce in mid-2016



Bobby Bruce Interview
Los Angeles, Aug. 2016

VAUDEVILLE DAYS.mp3
VAUDEVILLE background.mp3
BROADCASTING TULSA.mp3
INTRO TO JAZZ_Stuff_Smith.mp3
CLASSICAL_TRAINING.mp3
LAWRENCE WELK.mp3
PLAYING the CIRCUIT BROADCASTING.mp3
SAN JOAQUIN VALLEY CIRCUIT.mp3
SPADE COOLEY.mp3
TEX WILLIAMS & SPADE COOLEY.mp3
WORLD WAR TWO A.mp3
WORLD WAR TWO B IWO JIMA.mp3
JIMMY WAKELY.mp3
HOLLYWOOD WORK.mp3

Special thanks to Dan Radlauer



Western Swing Years, c. 1947-57:



Here's an outline of Bruce's Western Swing career investigated in greater detail below.

Luke Wills Rhythm Busters (Bob Wills brother) broadcasting and performing in Los Angeles and Fresno, c. 1947;

Harley Huggins Barn Dance Gang in Fresno, c 1947-48;

Principal arranger for five years starting in 1948 with Leon McAuliffe and his Western Swing Band, playing a five state dance/radio circuit out of Tulsa, OK, with radio and even some TV exposure.

Six months with Bob Wills and his Texas Playboys in California with daily radio broadcasts, c. 1953.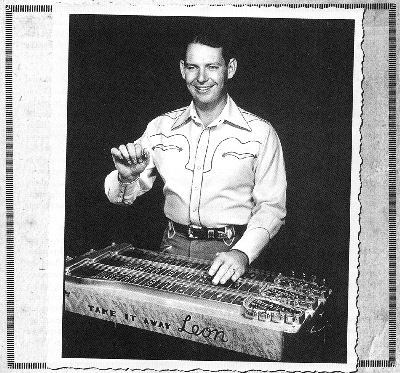 Leon McAuliffe
and his
Western Swing Band
(Music from Tulsa Straight Ahead, Bear Family BCD 16987 AH.)

This is Leon's ten-piece band with Bobby Bruce, violin and principal arranger. Bruce co-wrote "Twin Fiddle Rag" with fiddler and composer Jimmy Hall (violin), their duet showpiece. Jimmy Hall wrote several tunes for McAuliffe including "Tulsa Straight Ahead." Hall and possibly Bruce sang backup vocals on "Bonaparte's Retreat."

McAuliffe was a very popular entertainer, singer and tunesmith best known for playing steel guitar with Bob Wills before the WW II. Leon's popularity in the Texas Playboys was second only to Bob; he was a featured soloist and among Wills' better vocalists. His own band after the war was popular in a five state region, based in Tulsa.

Twin Fiddle Rag, Dallas, 1949
Panhandle Rag, Dallas, 1949
Cimarron Rag, KVOO, Tulsa, 1950 (add Cecil Brower, violin)
Bonaparte's Retreat, KVOO, Tulsa, 1950
Jelly Bean Rag, KVOO, Tulsa, 1950
What've You Got, KVOO, Tulsa, 1950 (fine fiddle solo by Bruce)
Take it Away Leon, KVOO, Tulsa, 1950
Tulsa Straight Ahead, KVOO, Tulsa, 1950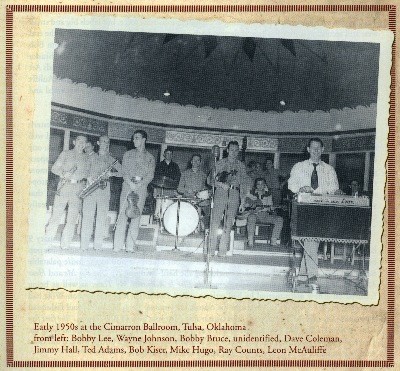 From Kevin Coffey's notes to
Tulsa Straight Ahead,
Bear Family CD 16987

"It was arguably not McAuliffe's famous steel that put "Panhandle Rag" over the top, but rather the stunning fiddle work of young Bobby Bruce, a classically trained Chicago native (real name Bobby Berg) who had joined the band in April 1948 after working and recording with Luke Wills' band in Los Angeles and a brief stint with another Wills alumnus Harley Huggins in Fresno."

"The December 1952 recordings marked Bobby Bruces' last with the group; he left soon after to work with Jimmy Wakely in California, where he would remain, eventually becoming one of the most prolific recording studio violinists and fiddlers in the business."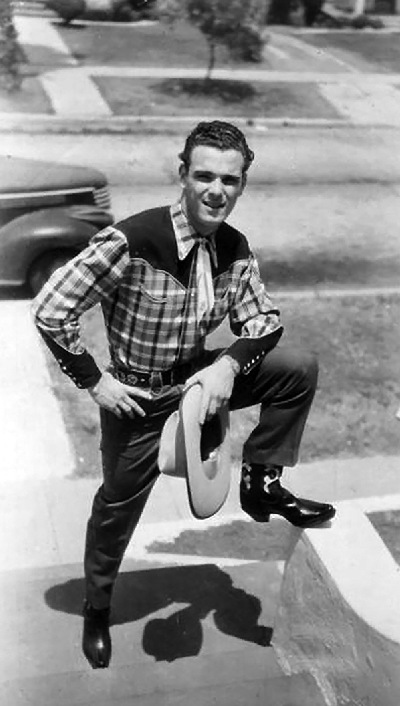 Radio/Dance Band Circuit:

From the 1920 to the '50s in rural America regional bands of all kinds worked territorial circuits that relied on radio to draw audiences. Daily early morning local 6:00 am or 12:00 noon broadcasts alerted the rural listeners and drove attendance.

When the audience and bands migrated West, radio remained the prime advertising medium in rural or urban markets, with television soon added in the larger cities for the most successful orchestras.

From The Jazz of the Southwest,
Jean A Boyd, University of Texas Press, Austin, 1998:

Like most bands of the time, [Luke Wills'] Rhythm Busters had a daily radio show and played a regular dance circuit . . . After a year with Luke Wills, Bobby got a call from Leon McAuliffe, who, having left the Texas Playboys, had his own outstanding jazz band operating out of Tulsa.

Bobby describes McAuliffe's group as a 'modern' band. "He had an appreciation for better chords and good taste. I just loved his idea of what good music is . . . We had a saxophone and a trumpet and a couple of fiddles, and we'd each get some good notes to play and do it right with Leon, and it sounded like a big band. When you've got a real driving beat going, the people adored it."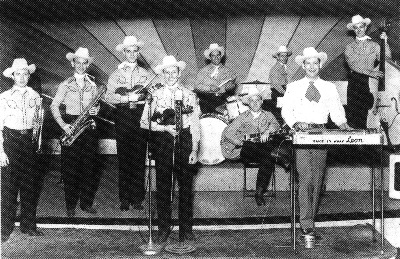 Bobby recalls aspects of his Western Swing years:

Leon McAuliffe, Broadcasting, Rodeos:

"When I was with Leon McAuliffe out of Tulsa we had . . . the Philtower Building I believe was the tallest one downtown, thirteen stories high. We used to do a daily radio show from there. And then jump in the bus and then go out to Podunk somewhere to play a dance.

Photo: Leon McAuliffe Western Swing Band, 1949, Bobby Bruce third from left. When Bobby saw this photo of himself with the Leon McAuliffe Band he laughed and said, "I hated wearing that f-----g hat."
(He always hated wearing hats and wouldn't wear his Marine combat helmet, going bareheaded through combat on Iwo Jima and Saipan.)

"Sometimes we'd do rodeos. Now THAT was somethin' else. When we worked rodeos they used to have the bandstand lined with chicken wire. That was to stop the bottles and the tables and chairs from comin' in and hurtin' your instrument, ya know. The band started at nine, and the fight started at five after."

Spade Cooley & Tex Williams:

DR: Spade Cooley had a big outfit.
BB: Oh, yeah. He had big show.
DR: He had a symphonic harp?
BB: Yeah. He had about six or seven fiddles.
DR: So how was that band musically?
BB: It was very good. They'd take a hoedown and make a little jazz thing out of it.
DR: But it wasn't as jazzy as Bob Wills was it?
BB: Oh, I wouldn't say that. They had horns. It swung like a son-of-a-gun.
DR: Did you do any arranging in that band?
BB: No.
DR: Tex [Williams] was not a jazz guy, I'm guessing?
BB: No, he was not. He was straight. A sweet guy too.
Spade was a swinger [musically]. But the trouble with him was, he was an Indian [native American] and he cannot drink.
DR: Ohhhh!
BB: That's how he got in trouble with his wife. He was drunk and he killed his wife.
DR: A sad end for Spade.
BB: Yeah.

Jimmy Wakely:

BB: I worked seven years with Jimmy Wakely. We had a CBS radio show every week. It was a half hour show. As a matter of fact we had a guitarist by the name of Barney Kessel. We had a pianist by the name of Tall Paul Smith. Paul Smith was a fabulous accompanist for Ella Fitzgerald.
DR: Yeah, so he used a lot of jazz guys.
BB: And he'd just take five minutes, pick at tune and wail on it. I did concerts with him. Yeah, I traveled all over the place.
DR: Was Wakely more of a national touring act?
BB: We used to go up the West Coast, all up into Washington, Oregon and places like that. Had a good steel guitar player by the name of Noel Boggs.
DR: Oh, he was monster. All those crazy key changes.
BB: He was. He was beautiful.



Contributor Buddy McPeters is a writer, interviewer and jazz guitarist. He's written Western Swing CD liner notes, articles, journals, newspapers, newsletters and magazines including Guitar Player, Guitar World, FRETS and others.

McPeters personally knew and performed with many of the musicians mentioned on this page. He offers additional detail about Bobby's years with McAuliffe, noting that by the late 1940's many of the most employable fiddlers in the southwest had moved to California seeking work with Bob Wills and others:


"Leon was a little light in the fiddle department with only Jimmy Hall as his main fiddle man, plus a couple of others that came and went who played mostly harmony parts and ensemble section stuff until Bobby Bruce joined. Hall & Bruce became a real fiddle team who were real crowd pleasers because they could switch off on hot lead solos and the play those tight harmonies that produced great performances like 'Twin Fiddle Rag'.

'Twin Fiddle Rag' is one of the tunes Bobby gets some residuals or royalties and composers credit from as a songwriter. He wrote that with fiddler Jimmy Hall, McAuliffe's other fiddler at the time who also wrote some other tunes and sang pretty well.

Not sure how much Leon contributed to the tune other than his amazing steel and possibly the arrangement. I knew Leon pretty well and like a lot of bandleaders he hedged in on the credits when sidemen in the band wrote a tune he recorded, which is pretty standard practice.

I know that Leon told me he first heard Bobby play with Luke Wills in early 1947 when he made a road trip from Tulsa to the west coast and was very impressed, so much that he put out an offer for Bobby to come see him or call him if he was interested in joining his band."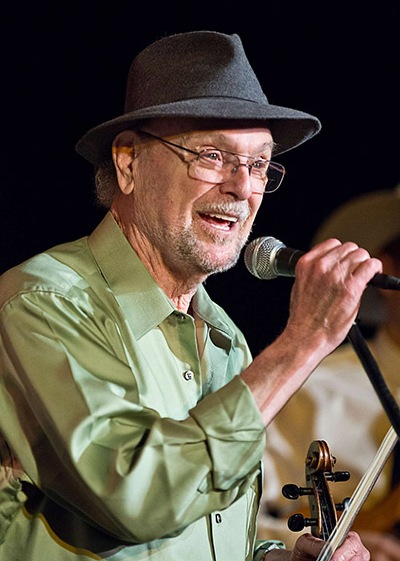 Buddy McPeters and others speak highly of Bobby's musicianship:

"I think Bobby Bruce gets it and he is definitely one of those rare connections between real Jazz and Swing who is equally at home playing classical violin, western swing or a country hoedown. He can do anything he wants. He's that versatile and that good to play with equal enthusiasm and musical excellence regardless of the setting. He is a consummate virtuoso in any field he decides to play in."

Leon McAuliffe remarked to me about Bobby's ever-readiness, enthusiasm & stage presence: "When Bobby was on my band we called him 'Bouncin' Bobby Bruce because he never walked to the microphone, he always bounced up to it with his fiddle! He was always ready to play. He can make anything swing!"


Texas Playboy fiddler, Nashville and Hollywood session sideman Johnny Gimble told McPeters emphatically more than once, "Bobby Bruce plays all there is on the fiddle AND the violin - and there ain't no more!"

Photo: Bobby at induction to the National Fiddler Hall of Fame in 2014.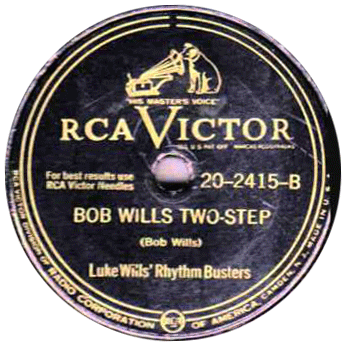 Further detail on Bobby Bruce with Luke Wills, Bob Wills and Harley Huggins

Described by Buddy McPeters


Luke Wills began his Rhythm Busters band in Fresno in late 1946 at his brother Bob Wills request. The idea was for Luke to cover Bob's California activities in his absence when road tours took him through 16 states: the west coast, northwest and southwest. Bob had an 80 acre spread in Fresno, California; The Triple-B Ranch which was his headquarters. He was a regular at The Fresno Barn with a daily broadcast over radio KMJ.


It was all Bob Wills' idea; he took care of the details and Luke & Co. kept the road hot all over California playing dances and radio spots on a grueling schedule in an older bus of Bob's. He chose most of Luke's band members; some were Fresno resident Texas Playboys who didn't want to travel far. He booked their itinerary and dance schedule, arranged for radio time, daily broadcasts, recording contracts, oversaw their rehearsals and booked their recording sessions in L.A.

Luke spent all of 1947 split between playing dances in a string of one-nighters all over central California and down in L.A. where they were fixtures at various venues. The band was featured on radio programs and recorded for the King Records label, then broke up.



A few months later Bob started Luke out all over again with a 'reconstructed' band, including some loaned Playboys and some new faces. One of them was fiddler Bobby Bruce, newly wed and fresh out of the Marines after 3 years of service. Bruce and his bride had moved from Chicago to L.A. looking for work and to be near family. While playing at a jam session, one of Bob's Playboys heard him and called Wills who took Bobby's number and told him to expect a call.

Bob Wills invited Bruce to sit in with his band at their dance that evening. Wills was so impressed he nearly hired Bruce for his own band but told him they would play again someday. Luke called right away and Bobby drove up to Fresno and joined the band playing that night at the Fresno Barn.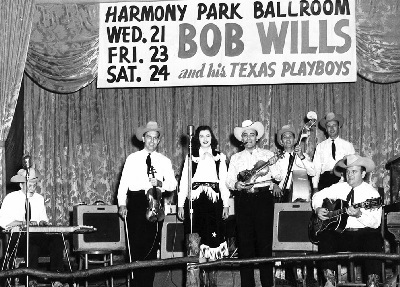 Photo: Bob Wills at Harmony Park. late 1953.
L to R: Billy Bowman (steel), Keith Coleman (fiddle), Louise Rowe (vocal & bass), Bob Wills (fiddle & cigar), Jack Lloyd (bass, also vocal), Bill Choate (vocal, standing next to bass), Eldon Shamblin (guitar). Piano not seen is Skeeter Elkin & unseen drummer is Jack Greenback.

In LA Luke Wills Rhythm Busters also played a regular circuit for a few weeks at the usual dance halls, which were popular hot spots for most Western Swing bands in the area. These included: 97th St. Corral (Compton), Riverside Rancho (Glendale/Los Feliz), Harmony Park (Anaheim/Orange County) and others: Santa Monica Ballroom, Venice Pier and The Mule Kick in North Hollywood. They played this circuit and returned to Fresno, then out to regional bookings, and then back to L.A. resuming their dances, radio, recordings etc; grind, grind, grind.



As the holidays approached in 1947 problems arose as they had before; bookings dwindled, gate receipts were less and less, some of the boys got to drinking, missing their families and home which affected their performances and a couple quit. Luke again called Bob to bail him out. When Bob returned he fired the band and told Luke they were moving his headquarters to Sacramento at Wills Point. Luke went back on bass in the Playboys.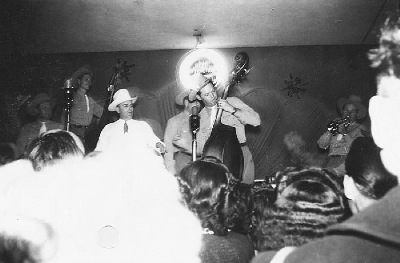 Bobby Bruce then went straight to Harley Huggins and The Barn Dance Gang who picked up most of Bob and Luke's regional booking. Fresno was their hub with familiar territory, faces and the usual dancehalls in Central California's San Joaquin Valley. Huggins schedule was a 6:00 am daily broadcast on radio KMJ and frequent dances at The Fresno Barn, which they called home for about a year. Huggins band enjoyed a local following with fans as far away as Bakersfield and Sacramento. They broke up having never recorded except for a few transcribed radio shows that survive.

Photo: Bob Wills band. "That's Luke soloing and he was a really great bassist! Taught by one of the best jazz and symphonic bassists in Tulsa, Teddy Adams who played with Bob Wills, Johnnie Lee Wills, Tommy Duncan, Leon McAuliffe and also taught Billy Jack who is playing the other bass in the photo," reports Buddy McPeters.

Bobby left Fresno for Tulsa with steel player J.L. Jenkins, who returned to the Johnnie Lee Wills band there. Bobby called Leon McAuliffe but he wasn't able to hire Bruce yet as one fiddler had given two weeks notice. So Johnnie Lee Wills hired Bobby for a couple of weeks until Leon could hire him. Bruce stayed with McAuliffe for about 5 years leaving sometime in 1953 to go back to L.A. where he had family.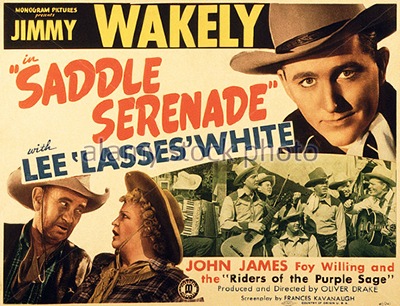 About the same time Luke started a 3rd version of his band in Dallas. Again it was Bob's idea with him calling the shots. He heard that Bobby was leaving Leon and called him to see if he was interested in working for Luke.

Bobby was almost persuaded to join Luke's 3rd version of the band in Dallas, but Bob was on his way to L.A. to set up shop again and Bruce wound up joining the Playboys on their tour West and played in California with Bob Wills for six months in 1953.

Bobby Bruce left when Wills decided to go on tour East, and to resettle in Texas. He wanted no part of a road tour or moving. So instead he stayed put, joining Jimmy Wakely's band where he could be home every night with his family. Eventually he worked his way into session work in Hollywood.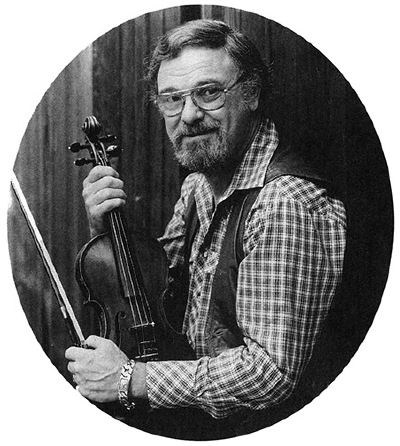 A personal reflection on Bobby Bruce from Buddy McPeters:



"I met Bobby Bruce and played on stage with him at a Western Swing Jamboree on March 4, 1983 in Riverside, California along with many notable musicians from Western Swing bands and my friend Luke Wills who played that day. Bobby came in late; jumped on stage mid-song and launched into a jaw dropping hot fiddle solo of pure swing without missing a note.

After the song he tuned his fiddle! I sat there playing rhythm chords on my guitar on one Bob Wills song after another. Bobby introduced himself and invited me to join him and his wife, along with Luke. I was able to casually interview him and visit.

Bruce said he would be in my town (Hemet, CA) at the Ramona Bowl with Les Brown's Band of Renown soon and invited me to come. Then he had to return to L.A. for an evening session. I missed the Les Brown show.

A month later Bobby was a guest with the Sons of the Pioneers who played Ramona Bowl, filling in for their absent fiddler; guitarist Roy Lanham was also a guest that night. A friend saw them and told me I missed a great show, raving about Lanham and especially about Bruce, 'You should have heard Bruce swing! I've never heard that kind of fiddling with the Pioneers!'"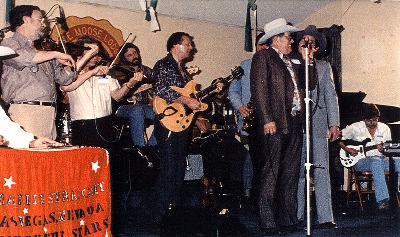 Western Swing Jamboree
March 04, 1983, Riverside, CA

L to R: Charlie Straight (steel), Bobby Bruce (fiddle), John Nelson (fiddle), unk. drummer, unk. bass, Neil Levang (guitar & fiddle), Tommy Wheat (guitar), John D. Wills [Luke's son] (sax & trombone), Glynn Duncan [Tommy Duncan's brother] (vocals), Billy Mize (vocals), Luke Wills (vocal, behind Mize), Truitt Cunningham (vocal, behind Mize), unk. pianist, Buddy McPeters (guitar).

Photo by Billy Beeman. Courtesy of Buddy McPeters collection.


From, Boys in the Bunkhouse
United Artists, 1977

Al Casey(guitar, banjo, mandolin), Mart Marker (guitar), Jaydee Maness (steel guitar), David Hungate (bass), Bobby Bruce (violin), Bob Yung (violin, piccolo), Bobby Furgo (violin), Bob Craig (keyboards), Dalton Smith (trumpet, flugel), Glen Garret (woodwinds), Archie Francis (drums), Wayne Parker (vocals).

Twin Fiddle Rag (arr. Bruce)
Big Beaver

Arranged by Howard Perry and Al Casey, except Twin Fiddle Rag arranged by Bobby Bruce.



Studio Sessions and such:



Impromptu Studio Session, Aug. 2016
Los Angeles, CA

Bobby Bruce (violin, age 90 years)
Jordan Reifkind (guitar, age 16 years)
Dan Radlauer (bass, age 59 years)
Ruben Radlauer (drums, age 20 years)

On the Sunny side of the Street - video

All of Me
Girl from Ipanema
A Foggy Day in London Town
Sunny Side of the Street

Special thanks to Dan Radlauer









Impromptu jam session among three generations (above).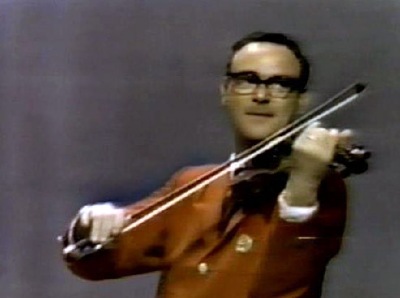 Highlights of Bobby Bruce's studio recording credits include:

Photo: On the Lawrence Welk Show

Chet Atkins
Elvin Bishop
The Carpenters
Johnny Cash
Leonard Cohen
Ry Cooder
Duane Eddy
Herb Ellis
Everly Brothers
Lefty Frizzell
Charlie Haden
Rickie Lee Jones
Maddox Brothers and Rose
Dean Martin
Willie Nelson
Randy Newman
Harry Nilson
Dolly Parton
Al Stewart
Ian Whitcomb
Jimmy Witherspoon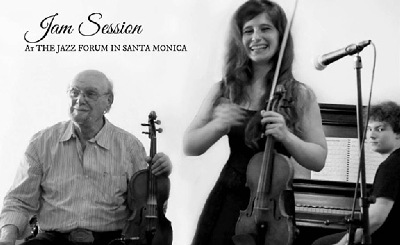 Solène Le Van,
Sean Le Van and
Bobby Bruce

Casual Jam
Santa Monica Jazz Forum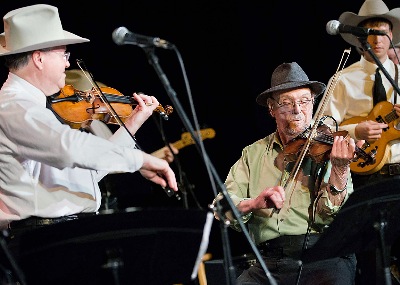 LINKS:

Bruce at the National Fiddlers Hall of Fame

Interview at Fiddlers Hall of Fame

Bobby's Lawrence Welk hoedown

Little Girl, from movie "The Sting"

With Ian Whitcomb

And more with Whitcomb

Related on this site:

Cowboy Jazz & Bob Wills

Violin Jazz

Benny Strickler, Tulsa

Photo: Bruce at 2014 induction to National Fiddler's Hall of Fame.




Thanks to Scott Siedman and Buddy McPeters.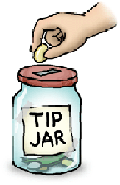 Tip Jar

This site is free. But you can help sustain it, and encourage me with donation to the tip jar. Secure payment through PayPal is anonymous, except that I will see your e-mail address.

Donations are paid securely through PayPal.

Donation $5.00
Donation $10.00
Donation $20.00
Donation $35.00
Donation $50.00
Donation: You decide