Charile Christian
How electric guitarist Charlie Christian changed the direction of Jazz and Popular music during 1939-40 before his untimely death at age 25.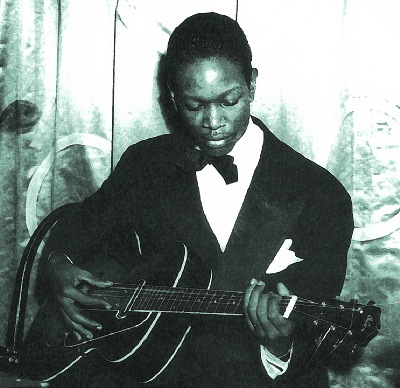 Third of a series Pioneers of Jazz Guitar, this program examines how electric guitarist Charlie Christian changed the direction of Jazz and Popular music during 1939-40 before his untimely death at age 25.

Charlie Christian electric guitar on all selections.

Pioneers of Jazz Guitar Pt. 3A Charlie Christian.mp3
Flying Home -- The Benny Goodman Sextet, 1939
Stardust [excerpt] -- The Benny Goodman Sextet, 1939
Breakfast Feud -- The Benny Goodman Sextet, 1941
Rose Room -- The Benny Goodman Sextet, 1939
Till Tom Special -- The Benny Goodman Sextet, 1940
Charlie's Dream -- The Benny Goodman Sextet, 1940

Pioneers of Jazz Guitar, Pt. 3B, Charlie Christian.mp3
Soft Winds [excerpt] -- The Benny Goodman Sextet, 1939
Wholly Cats -- The Benny Goodman Sextet, 1940
Seven Come Eleven -- The Benny Goodman Sextet,1939
Shivers -- The Benny Goodman Sextet, 1939
AC/DC Current -- The Benny Goodman Sextet, 1939
Swing to Bop [excerpt] -- Jam Session at Minton's Nightclub, 1941
Up on Teddy's Hill [excerpt] -- Jam Session at Minton's Nightclub, 1941
Waitin' for Benny [excerpt] -- The Benny Goodman Sextet, rehearsal, 1941
Solo Flight -- Benny Goodman and his Orchestra, 1941
Airmail Special -- The Benny Goodman Sextet, 1941




The Revolutionary Sound of Charlie Christian

Christian and the Benny Goodman Sextet.mp3

Amplified guitar in the hands of Charlie Christian was a striking innovation. He was a remarkable improviser who, upon hearing a melody and chord structure was instantly ready to solo for 25 choruses. His confident line, bell-like tone, adventurous chords, angular phrasing and innovative style vastly impacted Jazz, Swing, Popular music, and the record buying public.

In 1939 there was radical change in Jazz and Swing: the Benny Goodman Sextet featuring Charlie Christian was at the cutting edge of that innovation. When Benny Goodman featured the guitarist in his newly formed 1939 Sextet he brought an eloquent new voice to Jazz and Popular music.

The influence of Christian's forward-leaning sound on Jazz went well beyond his work with Goodman. In Down Beat Magazine polls of 1940, '41 and '42 he was voted best guitarist. And he soon became a significant influence at a crucial inflection point: the cutting edge jam sessions in New York City that foreshadowed the development of modern Jazz.


GUITAR on the HIGH PLAINS

Born and raised near the Texas-Oklahoma border, Christian was son of a blind black itinerant Blues singer. Showing talent from an early age, he built his own guitar in school wood shop with a cigar box. Both he and the instrument are reliably reported to have sounded very good.

By his early twenties Christian was playing with some of the top Swing orchestras of the Southwest and the Midwest. In 1937 he bought an amplifier so he could compete with brass and reeds in loudness. Building on what Eddie Lang and other pioneers of the 1920s and '30s had done, Christian was developing his own style when he was plucked from relative obscurity in 1939 to be the centerpiece of Benny Goodman's new Sextet.


The Western Swing Connection

The_Western_Swing_Connection.mp3

Its easy to find shallow opinions about Christian from those who should know better, claiming that he arrived on the Jazz scene, "wholly formed, and from nowhere." But everyone comes from somewhere, and its my belief that early on Charlie Christian was influenced as much by the western swing music of his native Texas & Oklahoma as by his regional competitors.

Yes, the premier Swing bands of Kansas City and the Midwestern circuit made it through Oklahoma; and Charlie himself eventually worked in the best of those. He's known to have heard and been deeply impressed by saxist Lester Young; many find Lester's long, angular lines in his solos. Charlie was quite aware of his guitar contemporaries in the Basie band, but his music shares few stylistic similarities with Eddie Durham or Freddie Green.

Its my contention that, race barriers or not, a musical mind like Charlie's would have inevitably been drawn to the raucous amplified guitar sounds of Western Swing that was broadcasting from jukeboxes, dance pavilions, record players and radios throughout the Southwest.

The rowdy popular regional music now known as 'Western Swing' (then marketed as, "Hot String Band") was a unique fusion of Jazz, fiddle, Blues, Swing, Pop and ethnic musics. Among its most popular features was amplified electric guitar, though the amplified "electric steel" or "lap steel" guitar styles favored were markedly different from Charlie's.

But I find less evidence of influence from his Jazz contemporaries than from the dozens of Western Swing electric guitar players surrounding him on the high plains. Most of these innovators, like the obscure Bob Dunn heard in several of the early and notable bands, were not household names . . . save perhaps Leon McAuliffe. McAuliffe was the star amplified guitarist of Bob Wills' Texas Playboys who had one of the biggest country music hits of 1936 with "Steel Guitar Rag."

And like Christian, many of these electric guitarists were self-taught unlettered musicians, who also wanted to jam one-on-one with the horns and blow saxophone-like single-line solos. Their aims were not dissimilar from Christian's.

But Charlie was a superlative musician who was developing far more sophisticated musical ideas. Among the benefits of amplification for Charlie -- aside from greater loudness -- were nuance, the capacity for sustaining longer notes and highlighting otherwise lost details or subtleties.

Outside his fame with the Goodman Sextet, Charlie Christian quickly became such a welcome fixture at Minton's sitting in after hours with guys like Thelonious Monk, Dizzy Gillespie and Lester Young, that they kept a stool ready for him on the bandstand. Fortunately some of those rare recordings of Christian from the Minton's jams are now available.

CHARLIE in New York City.mp3



The Benny Goodman Sextet and Toast of the Town

The Sextet and variants Goodman built around his new muse became one of the most influential of the late Swing era, creating Jazz at a new level of unity, precision and clarity. By the early 1940 sessions Goodman was fusing his Sextet with Count Basie's star soloists and famed rhythm section. Sadly, some of the very best music from those collaborative sessions remained unissued until decades later for reasons that remain unexplained.

A lot of the Sextet's repertoire of tunes and hits were based on Charlie's riffs and jams. "AC-DC Current," "Shivers" (a variation on 'I Never Knew') and "Seven Come Eleven" are all fascinating tunes built from from simple musical materials originating with Charlie.

Benny was seeking musicians equal to his own creativity and commitment to developing new musical forms regardless of their race or social status. About the best-selling artist in popular music, Goodman had enough commercial clout that when he found talent he wanted to work with he got away with VIOLATING the racial barriers that had segregated the music industry from its inception. So it should be noted that all the Goodman small bands were well-known at the time as the first widely available records of racially integrated Jazz ensembles; a historic step forward in segregated '30s America.

For a kid from the sticks who was the new toast of the town, the world was his oyster: maybe a little too much for a young man in his early 20s. Everyone wanted to jam with him, party with him, buy him booze and drugs. And, I haven't mentioned that Charlie had tuberculosis. Not too bad at first, just a persistent cough. But he got poor health care, and with the partying and all night jamming his health deteriorated rapidly. By July 1941 he was too sick to play.

Its hard to know if it was really the tuberculosis, or the partying and all night jam sessions, that killed Charlie Christian in March 1942. He was 25 years old. Benny Goodman privately paid his medical bills.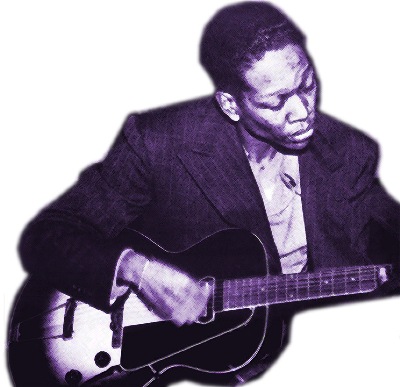 Solo Flight

Solo_Flight.mp3

In less than two years in the public light Christian had completely revolutionized the role of guitar in Jazz . . . and soon, popular music. "Solo Flight" was one of Charlie Christian's best-known records where he was featured as soloist with the full band. Its an all-too-brief concerto for Charlie's amplified guitar and orchestra.

Aside from the Sextet, it was his highest profile role on record and in front of the world's most popular Swing orchestra. "Solo Flight" marked the moment when the electric guitar announced its arrival. It eventually became the predominant instrumental voice of 20th century American Popular music.

Waitin_for_Benny,excerpt.mp3

The posthumously issued curiosity "Waiting for Benny" is instructive because its a Goodman Sextet rehearsal without Benny, who was delayed for some reason. Its a lengthy studio jam providing a rare opportunity to hear Charlie riffing and inventing at considerable length. I find it notable that his solos were shifting: from improvisations on MELODY, to variations focused more on the HARMONIC STRUCTURE of a tune . . . the preoccupation of modern Jazz.

Charlie Christian showed how the guitar could compete with horns in volume, drive, tone and articulation. His talent for endless riffing, adopting Lester Young's long angular sax lines and improvising on the harmonic elements brought guitar to the cusp of Modern Jazz.



More about Pioneers of Jazz Guitar, here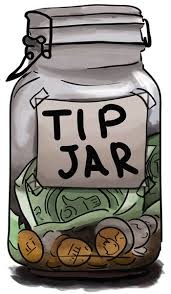 Tip Jar

This site is free. But you can help sustain it, and encourage me with donation to the tip jar.

Secure payment through PayPal is anonymous, except that I will see your e-mail address.


Donations are paid securely through PayPal.

Donation $5.00
Donation $10.00
Donation $20.00
Donation $35.00
Donation $50.00
Donation: You decide