Introducing
BUNNY BERIGAN

JAZZ RHYTHM programs about Berigan:

Soaring with Bunny Berigan Pt. 1A (mp3)
Soaring with Bunny Berigan Pt. 1B (mp3)

Soaring with Bunny Berigan Pt. 2A (mp3)
Soaring with Bunny Berigan Pt. 2B (mp3)

Bunny Berigan was an outstanding trumpet-player of the Swing era best known for his hit recording of "I Can't Get Started." In the late '30s his masterful horn soared above the finest bands. One of the first to play the trumpet equally well from top to bottom, he successfully fused the extroverted power of Louis Armstrong with Bix Beiderbecke's nuanced tone palette.

Berigan was a tall, handsome, dark-haired Irishman adored by Big Band audiences and deeply admired by fellow musicians. More than 600 recordings are evidence of his brilliant talent, ability to make a tune his own and remarkable mastery of trumpet throughout its range. Sadly, despite his successful high profile career during the 1930s, Berigan died in the early 1940s from alcoholism.

A Musician's Musician

Berigan was a charming, popular and well-loved musician. Not only a trumpeter but an occasional singer as well. He was a charismatic stage personality. By all accounts the experience of hearing him live was electrifying, revelatory, and described as 'life-changing.' Those who did hear him said words failed to describe his sound -- that you had to be there to experience the magic.

Bunny was held in high respect, even awe, by his fellow musicians. For instance Louis Armstrong said, "To me, Bunny can't do no wrong in music," and Berigan's skills were often compared favorably to Satchmo's. Benny Goodman described his solos as, "a bolt of electricity running through the whole band . . . he just lifted the whole thing."

As Jazz was maturing in the late 1920s a clear dichotomy arose in trumpet style and musical conception between the bravura, extroverted sound of Louis Armstrong, versus the more introverted, nuanced manner of Bix Beiderbeke. Berigan's unique achievement lay in fully blending and synthesizing these two tendencies into his own personal vocabulary:
* Like Armstrong, he was capable of maintaining powerfully expressive virtuosity through a wide range of timbre and dynamics.
* Yet like Bix, he tailored his playing to serve the musical material while incorporating a subtle lyricism that had originated with Beiderbecke.

Berigan uniquely fused these diverse stylistic elements with his own fine harmonic sensibilities into a distinctive, uninhibited personal voice. This synthesis is best heard in his eloquent and masterful interpretation of "I'm Coming Virginia."

Bunny Berigan - I'm Coming Virginia (mp3)

Big Band Era Superstar

Oddly, while Berigan should be best known for his superb trumpet playing, it's his vocal rendition of "I Can't Get Started" for which he's best remembered. In 1936 something about the lyric caught the mood of the times, with its references to having tea or dinner with Greta Garbo or Franklin D (Roosevelt), settling revolutions in Spain and flying around the world in a plane. Even though he was hardly a great singer and only rarely sang, Berigan's low key, plaintive hit has entranced listeners ever since.

Bunny Berigan - I Can't Get Started (mp3)

It seems that many successful Big Band instrumentalists thought they could run a band . . . or were urged to it by friends, fans, promoters or record companies. Most failed financially even if they succeeded musically and Berigan was no exception to the rule. It's sad too, because Bunny was particularly ill-equipped to run a band: his management was lax, he didn't run a disciplined organization and the whole enterprise became a non-stop drinking party.

Berigan's band had few big-name musicians. However he did have one in particular who's not well enough known: George Auld, a Canadian-born, Coleman Hawkins-inspired tenor saxophonist. Though Auld's tone and attack defy description his sax solos brought a bright energy and lightness to the band before he moved on to join Artie Shaw and then Benny Goodman. (Incidentally, Auld was much later heard prominently on the soundtrack of the 1977 film, "New York, New York" in which he also appeared.)

Though Bunny's band sounded great and his musicians were happy, he was bankrupt in three years. Nonetheless much exciting music (and frankly, some not so exciting) came out of Bunny's orchestra. At its best the band had a drive equal to the high-profile outfits, thanks in part to various drummers: Johnny Blowers, George Wettling, Dave Tough and Buddy Rich. Some fine records and very good broadcast transcriptions of his orchestra remain.

The impressive list of his employers, colleges and band mates over the years tells us Berigan was in constantly high demand by the Dorsey brothers, the Boswell Sisters, Benny Goodman, Paul Whiteman, Artie Shaw, Frankie Trumbauer, Red Norvo, Andre Kostelanetz, Billie Holiday, Louis Armstrong, CBS and NBC radio, Columbia, Decca, Victor and Brunswick record companies.

When the swing-era magazine Metronome asked its readers in 1936 to vote for their favorite musicians, they elected trumpeter Bunny Berigan. A subsequent jam session at Victor Records placed him among fellow All-stars': Tommy Dorsey, guitarist Dick McDonough, drummer George Wettling and Fats Waller.

Parallels with Bix

There are odd, even spooky, parallels between the lives of Bunny Berigan and Bix Beiderbeke:

* Both died from alcoholism at a young age.

* Both were from the upper Midwest: Bix from Iowa, Bunny from Wisconsin next door.

* Each worked for a while in the Paul Whiteman Orchestra.

* They even played together once on a gig, though Bix was pretty far gone by that point.

Jazz writer Richard Sudhalter who has examined the music of Bunny and Bix in detail points to musical similarities between them, some obvious, others rather subtle:

* The use of 'ghost notes.'

* Lengthy concentrations of eighth notes played with a bell-like attack.

* And melodic lines that encompass more than one contrapuntal part.

Clearly Berigan felt a deep kinship with Bix. He was the first to record Beiderbecke's little-known impressionistic compositions six years after his death, "Candlelights" waxed in 1938 being the most successful.

Bunny Berigan - Candlelights (mp3)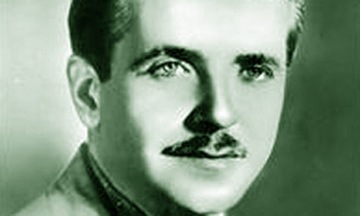 Killed by Alcohol

Drunk or sober his playing was incomparable. Nonetheless, alcohol eventually killed Bunny. Besides making him unreliable and turning a usually likeable fellow into a 'mean drunk.' Drinking undermined his employees (employers) confidence and his ultimate potential for success.

After dissolving his orchestra Berigan worked in others, most notably Tommy Dorsey's. But his alcoholism deteriorated, he was diagnosed with cirrhosis of the liver, and there were 'incidents': falling off stage or passing out on the bandstand.

By the early '40s Berigan was physically wasted, suffering all the horrifying symptoms of late stage alcoholism: edema, tremors and delirium. His old friend Tommy Dorsey was with him when he died in June 1942 . . . at age 33.

A Soaring and Innate Grandeur

The unique freshness and distinct style of his music endures. Bunny's music was not always calculated primarily to impress, but best serve the musical narrative. Each phrase, note, flourish or effect focuses your attention more on the music than the player.

He was a brilliant talent, fusing together in his own style the bold, brash extroverted power of Louis Armstrong with the reflective nuanced sensitivity of Bix Beiderbeke, while demonstrating excellent strength, tone and power throughout the entire range of the trumpet.

For over a decade, and nearly 600 recordings before his death in 1942, Bunny was one of the finest, most consistently inspiring trumpet talents of his generation, white or black.

Author Richard Sudhalter points to his "innate grandeur of conception, lending a sense of inevitability to whatever he plays." Whatever he played, Berigan soared, taking the music to a higher level. He awed fellow musicians. In the many decades since his untimely passing Bunny Berigan's trumpet has continued to soar through musical skies.