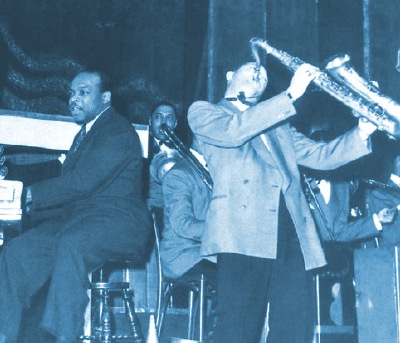 Count Basie and his Orchestra

World's Greatest Swing Band

Now that its been a century since the birth of William "Count" Basie, its clear how crucial he was in bringing Swing music to full fruition. Basie and the musicians who coalesced around him brimmed with talent, innovation & genius.

The best Basie orchestra tunes like their official theme song "One O'clock Jump" or signature tunes like "Jumpin at the Woodside" and "Swinging the Blues" are based on simple riffs tossed between the reeds and brass, carried along by a buoyant rhythm section. The Basie rhythm was superbly streamlined and subtle -- yet delivered terrific forward momentum on the bandstand night after night.

Recordings from 1937 - 40 like, "Taxi War Dance," "Every Tub," or "Doggin Around" demonstrate the Basie orchestra's forward looking aesthetic & technique of collective composition; they are a remarkable testament to the fabulous creativity, drive and genius collected in the Basie band of the late 1930s and embody all things great about the Basie band:
*driving, streamlined rhythm: 4-beats to the measure swing;
*loose head arrangements based on simple riffs;
*call-and-response between the brass and reed sections;
*inspired solo improvisation, especially Lester Young's revolutionary tenor sax; and,
*incomparable dynamic energy and drive.

COUNT_BASIE_1A.mp3
COUNT_BASIE_1B.mp3

COUNT_BASIE_2A.mp3
COUNT_BASIE_2B.mp3

COUNT_BASIE_3A.mp3
COUNT_BASIE_3B.mp3

COUNT_BASIE_4A.mp3
COUNT_BASIE_4B.mp3


BASIE ORCH LESTER LEAPS IN (mp3)



Lester Leaps In

Tenor saxophonist, Lester Young, was the brightest star and resident genius of the Basie organization. In the late 1930s he revolutionized saxophone with a highly original style that defied the existing rules of jazz instrumentals. Young abandoned the predominant tenor sax style of Coleman Hawkins: rich overtones, deep vibrato and a basically harmonic approach to improvisation.

Instead Lester focused more on melody, while streamlining and stripping it down, simplifying and abbreviating tunes to fit his purpose. His instrumental tone is a lighter sound exploiting free use of 4-beats allowing for a flexible, dancing rhythmic impulse.

And Lester Young was always doing the unexpected. His choice of notes, melodic intervals and accents continually surprise. With Lester the notes he chooses NOT to play are as significant as the notes he DOES play.

For instance listen to the famous "Lester Leaps In" with the 1939 Kansas City Seven, a small unit of the Basie band, for his economic and unexpected choice of notes; odd harmonic intervals; light, almost brass-like sax tone; and simplification: in fact the tune itself is an abbreviation of "I Got Rhythm."

Supporting Lester, the soloists, and orchestra was the Basie rhythm section. It was THE finest of the swing era: drummer Jo Jones was just as spare and economical with his drums and brushes as Basie was on piano.

Bassist Walter Page was key in shaping this kind of Kansas City Swing in earlier bands where many of the band's innovative methods had earlier been developed. Page was a masterful veteran of the seminal Benny Moten Orchestra, and his own legendary, Blue Devils. Called "Big Un" he served as a mentor and behind the scenes architect of the radically new Basie rhythm section.

Walter Page's unique approach retained the spontaneity of small band jazz within a large band context. One of his key insights was restraint: Page instructed the rhythm section to bring the VOLUME down, but keep the INTENSITY up. This offered dynamic range and created space for the blending of timbres -- resulting in the rhythm section sounding seamless, almost like one instrument while leaving more room for the band's remarkable soloists.

Walter Page also encouraged continually shifting the rhythm, in order to counterpoint and support the horns and soloists. Contrasts in the rhythm patterns emphasized the various transitions and shifting colors of the front line horns, creating a highly flexible support system for the band's powerhouse brass and reed sections.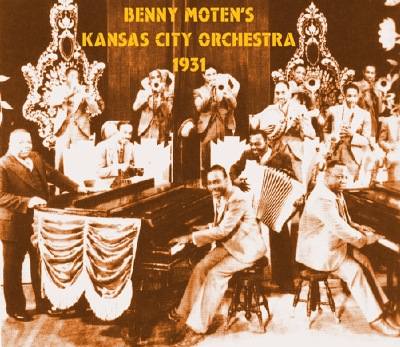 Don't Forget the Vocalists

The innovations and greatness in the Basie band extended to the vocalists as well. Jimmy Rushing succeeded in adapting Blues to the hot rhythms of Swing better than just about anyone else. For a large man (nicknamed "Mr. Five-by-Five) he had a light and youngish sounding voice, skillfully adapting the blues to a modern swing band.

Billie Holiday sang with the Basie orchestra; but Billie was not a blues singer. Sure, she could bend a blue note and was influenced by the blues, but she was primarily a jazz singer. She used her voice interpretively the way a jazz instrumentalist did and in early years her song material was mostly ballads & pop songs with very little actual blues content.

During her year with the Count Basie during 1937-38 she became very close with the band members, developing a remarkable musical relationship with Lester Young, and apparently a love relationship with trumpeter, Buck Clayton.

Sadly, she couldn't record with Basie because of her contract with a competing record label (though a few air checks have been issued over the years). But, fortunately when Holiday did record on her own, she drew heavily from the Basie personnel for her best recordings. In those sessions -- nominally under the musical direction of pianist Teddy Wilson -- we hear her intimate familiarity with Basie-ites like Lester and Buck Clayton, and the remarkable Basie rhythm players, drummer Jo Jones & Freddie Green continuing. Billie's best sessions of the late '40s feature

* Lester deftly backing and supporting her vocal line, creating a pleasing counter-melody;

* Buck Clayton's muted trumpet 'fills' -- sensitively placed among her breaths and pauses; and

* a smooth blending of instruments in an atmosphere of relaxed co-operation.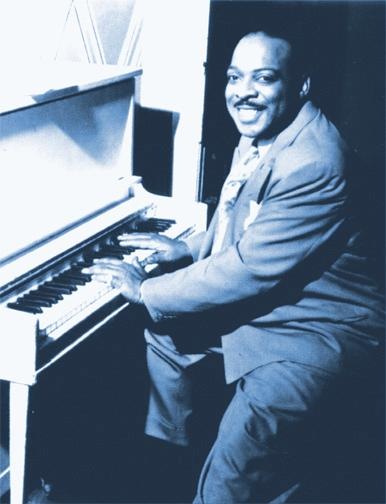 Bill Basie: the Kid from Red Bank

Count Basie, himself was not from the Midwest but hailed originally from Red Bank, New Jersey. He was stranded in Kansas City when a band he was touring with went bust, staying for the bustling nightlife that was generating work for entertainers. Kansas City, Missouri during prohibition and in the early years of the Great Depression was a wide-open "sin city" under the benign dictatorship of gangster and political boss, Tom Pendergast.

In Kansas City Basie hooked up with the best connected musical outfit; Bennie Moten's Kansas City Orchestra. Moten was a fair pianist, composer and musical director with connections to the political machine that generated work. He built a large aggregation of formidable musical talent, including the likes of tenor sax giant Ben Webster; trumpeter Hot Lips Page; trombonist, guitarist and arranger Eddie Durham; singer Jimmy Rushing, and bassist Walter Page.

Basie had grown up on the East Coast where he received instruction from James P. Johnson and Fats Waller. He developed a highly personal style of his own that was spare and highly subtle: based on understatement and a minimum number of notes, he discarded anything that stood in the way of rhythmic drive and momentum. And on Basie's small-band and piano-with-rhythm discs he had brilliant support from the other members of his famed rhythm section.

Basie's mother was his first piano teacher which possibly influenced the nurturing way he directed his musicians from the keyboard. Basie clearly learned well from the two masters he had studied: from James P. Johnson he got a strong foundation in Harlem Stride piano style, and from Fats Waller a sense of whimsey and irony.

As Basie fused the best elements of stride, blues, boogie and jazz piano into a personal voice he trimmed off anything that impeded rhythmic momentum; always simplifying his instrumental vocabulary. Like Lester Young he was deliberately abstracting and abbreviating, surprising the ear equally with both the notes he played, and the notes he chose NOT to play.

In the '30s and '40s Basie's onstage persona and public image was suave and handsome. Later as an elder statesmen of jazz he was cherubic and gnome-like.

During the '50s and '60s Basie reinvented his band, utilizing some of the best arrangers around: Quincy Jones, Neal Hefti, Benny Carter, Thad Jones; and hired topflight soloists like Eddie "Lockjaw" Davis, drummer Buddy Rich, Clark Terry and Buddy de Franco. He recorded with popular stars like Ella Fitzgerald, Tony Bennett and Frank Sinatra. His band toured the United States, Europe and Japan. Baise, was an evergreen: down to earth; true to Jazz and Blues; well-loved and deeply respected by other musicians until his death in 1984.


COUNT BASIE's KANSAS CITY SOUND (mp3)