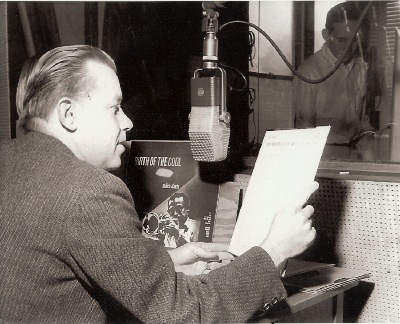 PHIL ELWOOD

Jazz Archives Programs:
Lu Watters' Yerba Buena Jazz Band


These legendary broadcasts and interviews by Phil Elwood were first assembled and broadcast in 1957, and rebroadcast in 1966 with additions and commentary.


Rare interviews with Lu Watters and Bob Scobey, and 97 recordings
including excerpts of the 1950 Hambone Kelly's KLX broadcast.
Total length 4:45 approx.

Compiled by H. Duijmelink
Special thanks to Frank Selman



Note on sound quality: Despite efforts to correct technical flaws,
many unavoidable distortions, skips and gaps remain in these historic tapes.




Phil Elwood YBJB 1 - 47:08

Intro, 1966
Struttin' with Some BBQ, 1946
Snake Rag, 1947
Annie Street Rock, 1946
INTERVIEW: LU WATTERS
Shake That Thing [8:26], 1950
Yerba Buena Strut, 1946
INTERVIEW: LU WATTERS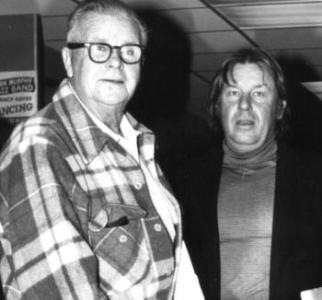 Phil Elwood YBJB 2 - 45:50

Ory's Creole Trombone, 1950
Some of These Days, 1950
INTERVIEW: LU WATTERS
Original Dixieland One-Step, 1950
Blues My Naughty Sweetie Gives to Me, 1950
High Society, 1942
Maple Leaf Rag, 1946
Chattanooga Stomp, 1947
Muskrat Ramble, 1946
Oh, By Jingo, 1949
Sweethearts on Parade, 1950
Terrible Blues, 1950
Dusky Stevedore, 1950

Elwood with Lu Watters, left


Phil Elwood YBJB 3 - 36:27

Canal Street Bues, 1950 (Whorehouse Five)
I Ain't Got Nobody, 1950 (Whorehouse Five)
Sunset Cafe Stomp, 1946
New Orleans Stomp, 1946
Weary Blues, 1950 (Don Kinch 1st trumpet)
Skid-Dat-De-Dat, 1950
King Chanticleer, 1950
Big Butter and Egg Man, 1950 (clarinets: Darnell Howard and Bob Helm)



Phil Elwood YBJB 4 - 36:26

Sage Hen Strut, 1946
That's a Plenty, 1946
INTERVIEW: BOB SCOBEY
Some of These Days, 1950
Come Back Sweet Papa, 1950
Struttin. with some BBQ, 1950



Phil Elwood YBJB 5 - 22:52

Ding Dong Daddy From Dumas, Clancy Hayes vocal, 1950
Richard M. Jones Blues, 1950
Irish Black Bottom, 1950
Jazz Me Blues, 1950
Doctor Jazz, 1950
Yellow Dog Blues, 1950



Phil Elwood YBJB 6 - 48:00

Sweethearts on Parade, 1950
Bill Bailey, 1950
Yerba Buena Strut, 1941
South, 1941
The Wise Old Owl, 1941
Tin Roof Blues, 1942
At the Jazz Band Ball, 1942
Grandpa's Spells, Scobey/Murphy, 1946
A Good Man is Hard To Find, 1946, Scobey/Murphy, Turk Murphy vocal
Heebie Jeebies, 1946, Scobey/Murphy
Fidgety Feet, 1946, Scobey/Murphy
Custom House Up and Down, 1946
Get it Right, 1946
Cakewalking Babies, 1950
Kansas City Man Blues, n.d. Scobey/Murphy band



Phil Elwood YBJB 7 - 38:05

Alexander's Ragtime Band, Scobey/Murphy band, nd.
Oh, Didn't He Ramble, 1950
Maple Leaf Rag, 1950
Panama, 1950
Panama, 1937
You Can't Shush Katie, 1946
Original Jelly Roll Blues, 1946
Muskrat Ramble n.d.
Smokey Mokes, 1941
Aunt Hagar's Blues, 1949
Doin' the Hambone, 1949 (alternate)
Oh, by Jingo, 1949 (alternate) Clancy Hayes, vocal
St. James Infirmary Blues, 1949, Clancy Hayes, vocal



Elwood YBJB 8 - 15:55

Willie the Weeper, 1941
Oriental Strut, 1950
Jazzin' Babies Blues n.d.
South n.d.
Of All the Wrongs n.d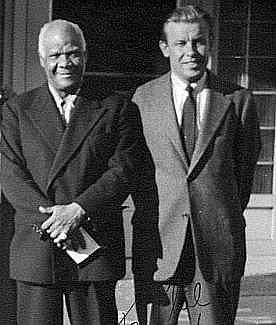 LINKS (this site):

Bill Dart
Bob Helm
Bunk Johnson
Burt Bales
Clancy Hayes
YBJB
YBJB Archive
Lu Watters
Turk Murphy
Wally Rose

LINKS (external):

Elwood Chronicle Obit, 2006


Photo: Elwood with Sidney Bechet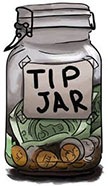 Tip Jar

This site is free. But you can help sustain it, and encourage me with donation to the tip jar. Secure payment through PayPal is anonymous, except that I will see your e-mail address.

Donation $5.00
Donation $10.00
Donation $20.00
Donation $35.00
Donation $50.00
Donation: You decide