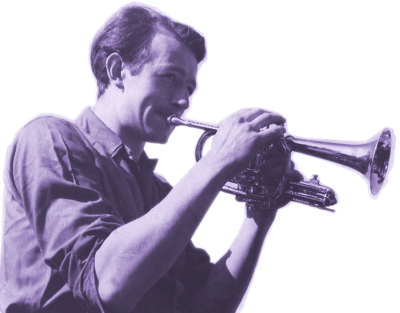 Farewell to
HUMPHREY LYTTELTON
2008



The English trumpeter who adopted New Orleans style Jazz and made it popular in Great Britain.


The uncontested leader of British jazz for decades, he was also a remarkably good clarinet player.

In addition, Lyttelton was a talented cartoonist, world-class calligrapher, and journalist, who became one of England's best-loved BBC Radio personalities.


Pt. 1 - Farewell to Humphrey Lyttelton

Lyttelton 1A.mp3
DOCTOR BLUES -- The Humphrey Lyttelton-Wally Fawkes Troglodytes, 1992
DALLAS BLUES -- Humphrey Lyttelton and his Band, 1950
MELANCHOLY BLUES -- Humphrey Lyttelton and his Band, 1948
IRISH BLACK BOTTOM -- Humphrey Lyttelton and his Band, 1949
GEORGIA ON MY MIND -- H. Lyttelton & his Band w/ Sidney Bechet, 1949
ELIZABETH -- Humphrey Lyttelton and his Band, 1949
STRAIGHT FROM THE WOOD -- Humphrey Lyttelton and his Band, 1950
THE ONIONS -- Humphrey Lyttelton and his Band, 1952
BLUES MY NAUGHTY SWEETIE GIVES TO ME -- H. Lyttelton-Wally Fawkes Troglodytes, 1992

Lyttelton 1B.mp3
BLUES FOR AN UNKNOWN GYPSY -- Humphrey Lyttelton and his Band, 1951
RANDOLF TURPIN STOMP -- Humphrey Lyttelton and his Band, 1951
MEZZ'S TUNE -- The Humphrey Lyttelton-Wally Fawkes Troglodytes, 1992
HOPPIN' MAD -- Humphrey Lyttelton and his Band with Ade Monsbourgh, 1951
MIDNIGHT CREEP -- The Bell-Lyttelton Jazz Ten, 1951
BACKROOM JOYS -- Lazy Ade and is Late Hour Boys with Humphrey Lyttelton, 1951




Pt. 2 - Farewell to Humphrey Lyttelton

Lyttelton 2A.mp3
CARELESS LOVE BLUES -- Humphrey Lyttelton and his Band, 1950
WEARY BLUES -- Humphrey Lyttelton and his Band, 78 rpm, 1948
WORKING MAN BLUES -- Humphrey Lyttelton & his Band, 78 rpm, 1948
HOPFROG -- Humphrey Lyttelton and his Band, 1950
DON'T MENTION IT -- Humphrey Lyttelton and his Band, 1983
GEORGIA MAE -- Humphrey Lyttelton and his Band, 1974
DON'T GO WAY NOBODY -- Humphrey Lyttelton-Russell Davies Repertory All Stars, 1986
MY BUCKET'S GOT A HOLE IN IT -- Humphrey Lyttelton et al, 1986
IF YOU DON'T SHAKE -- Humphrey Lyttelton-Russell Davies Repertory All Stars, 1986
BAD PENNY BLUES -- Humphrey Lyttelton and his Band, 1956

Lyttelton 2B.mp3
THE WRESTLER'S TRICKS -- Buck Clayton with Humphrey Lyttelton & his Band, 1964
ONE FOR BUCK -- Buck Clayton with Humphrey Lyttelton & his Band, 1966
TROUBLE IN MIND -- Humphrey Lyttelton & his Band, 1950
IT MAKES MY LOVE COME DOWN -- Humphrey Lyttelton & his Band, 1951
I LIKE TO GO BACK IN THE EVENING -- Humphrey Lyttelton and his Band, 1986



Pt. 3 - Farewell to Humphrey Lyttelton

Lyttelton 3A.mp3
HOPFROG -- The Humphrey Lyttelton-Wally Fawkes Troglodytes, 1992
MAHOGANY HALL STOMP -- Humphrey Lyttelton and his Band, 1948
BLACK AND BLUE -- Humphrey Lyttelton and his Band with Sidney Bechet, 1949
SUNDAY MORNING -- Humphrey Lyttelton and his Band, 1948
PANAMA -- Humphrey Lyttelton and his Band, 1948
LEAH'S LULLABY -- Humphrey Lyttelton-Wally Fawkes Troglodytes, 1992
OLE MISS RAG -- Humphrey Lyttelton-Wally Fawkes Troglodytes, 1992
BLUE FOR WATERLOO -- Humphrey Lyttelton and his Band, 1949

Lyttelton 3B.mp3
SMALL HOUR FANTASY -- The Bell-Lyttelton Jazz Nine, 1951
OPEN HOUSE -- The Bell-Lyttelton Jazz Nine, 1951
SOME OF THESE DAYS -- Humphrey Lyttelton and his Band with Sidney Bechet, 1949
CAKEWALKIN' BABIES BACK HOME -- Humphrey Lyttelton and his Band, 1950
TROG'S BLUES -- Humphrey Lyttelton and his Band, 1951
COME ON AND STOMP, STOMP, STOMP -- Humphrey Lyttelton and his Band, 1950
THE OLD GREY MARE -- Humphrey Lyttelton and his Band, 1951