The Bob Mielke Tape Archive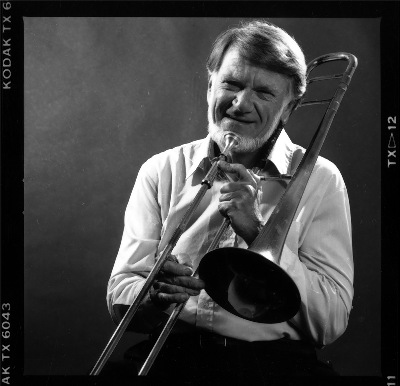 Mielke and his associates were quite prolific between 1950-2000.

This page contains the best and rarest tapes excerpted from Bob Mielke's own tape library.

Also included are tapes from the collections of Dick Oxtot, Earl Scheelar, Dave Greer, Oscar Anderson and others.


The passing of trombone player and bandleader Bob Mielke (1927-2020) at age 93 was the result of age and fragility. He was in slow decline for decades, though able to play at parties and special events until recently.

Bob Mielke and The Bearcats Jazz Band, were a distinct and independent voice in the great Traditional Jazz revival that swept through San Francisco and environs in the mid-20th Century.

Mielke was one of the most imaginative trombonists to emerge from the Frisco Revival. His personal trombone style fused elements from Kid Ory's New Orleans tailgate tradition, the Harlem swing of J.C. Higginbotham and plunger mute techniques of Ellington's "Tricky Sam" Nanton.



ARCHIVE MUSIC

Piano Player Joe Sullivan's band at the Tin Angel, 1961


Joe Sullivan was dwelling in besotted obscurity in San Francisco during the 1950s and '60s. But he still 'had it' when playing a residency at the Tin Angel on the Frisco waterfront in 1961 or '62. Mielke told biographer Jim Goggin that working with him in "a red-hot band . . . was a delight."

Never previously published or posted, these tracks seem to have been recorded at the Tin Angel. Backing Joe's magnificent keyboard artistry were cats Mielke was associated with at the time -- the elusive trumpet player Byron Berry, Pete Allen (bass) and drummer Bob Osibin who worked there when Kid Ory ran that club as On the Levee. The bold and luminous clarinet lines of little-known San Francisco native Vince Cattolica are thrilling.

You're Driving Me Crazy
Love is Just Around the Corner
Sweet Lorraine
(What Did I do to be So) Black and Blue
Baby, Won't You Please Come Home

Sullivan set complete



ARCHIVE MUSIC
Yost, Scheelar, Mielke, Erickson Runkle
Monkey Inn, 2/3/63

Walter Yost (cornet)
Earl Scheelar (clarinet)
Bob Meilke
Bill Erickson (piano)
Brett Runkle (washboard)

Photo: The Gang at Monkey Inn, late 1950s. Earl Scheelar, Barbara Dane, Le Sharpton, Sam Charters and Dick Oxtot.

Intro by Dave Greer

1919 Rag 4:28
When Erastus Plays his Old Kazoo 6:17
Wild Man Blues 6:29
You Always Hurt the One You Love 6:12
Just a Closer Walk 5:17

Set complete 28:40



ARCHIVE MUSIC

Bob Mielke and The Oakland A's Baseball Band
at the Bob Helm Memorial Event, San Pablo Moose Lodge, 11.11.2002

Bob Mielke, trombone and leader
Bob Neighbor, trumpet
Bill Napier, clarinet
Jim Maihack, tuba
Stuart Zank, banjo

Once in a While.mp3
The Old Spinning Wheel.mp3
Joseph Joseph.mp3
Savoy Blues.mp3
Take Me Out to the Ballgame.mp3

Recorded by Phil Edwards and Bill Ruck for Bud Spangler and KCSM
Courtesy of Leon Oakley and Diamondstack Productions




Bob Mielke's All Star Band (aka) Golden Age Jazz Band
NOJCNC Sunday Session 11.16.69

The poor balance of the pickup mars this otherwise fine performance by superb musicians listening carefully to each other. Despite technical shortcomings like off-mic vocals and being monophonic, it's presented as history and for your enjoyment.

Surprisingly, this is the exact lineup of his New Bearcats of the early 1990s, save for the lead horn.

Jim Goodwin (cornet)
Bill Napier (clarinet, soprano)
Bob Mielke (trombone)
Ray Skjelbred (piano)
Dick Oxtot (banjo, vocals)
Don Marchant (drums)

Set A1 17:10
I Aint Gonna Give You None of my Jelly Roll
When It's Sleepy Time Down South
Barney Google
Bye Bye Blues

Set A2 25:15
It Should Be You
Bugle Boy March
Sing On
The Mooche
Limehouse Blues (inc)

Set B1 21:40
Ice Cream
Wild Man Blues
Lindbergh, Eagle of the USA
From Monday On

Set B2 16:00
Because I'm Still in Love With You [vocal off mic]
Pontchartrain Blues
Walkin' with the King




The New Bearcats at Kimball's East, 1990

Clarinetist Bill Napier and piano player Ray Skjelbred never sounded more eloquent nor articulate than in these clean, in-house professional recordings from Mielke's residency at Kimball's East. The musicians were more than just skilled practitioners — gifted virtuosi all. This was an advantageous setting for the Mainstream trumpet stylings of Jack Minger; he's relaxed and melodic, offering a co-operative horn lead and tasteful soloing.

The New Bearcats also gave Mielke an opportunity to reinterpret a repertory he had been exploring for decades. He and his brilliant musicians found fresh inspiration in tunes from the original Bearcats core repertory: Saturday Night Function, Sing On, 1919 Rag, Weary Blues, Milneberg Joys, Bogalusa Strut and Joseph, Joseph.

There are some discrepancies regarding the sessions dates. Most of the cassettes are dated 1990, some 1991 and his biography Mielke recalled the Kimball East dates as 1992.



ARCHIVE MUSIC
New Bearcats, Kimball's East, 1990

In the early 1990s, Bob created and booked Bob Mielke's New Bearcats for nightclubs, casuals, Trad Jazz events and festivals with marvelous musicians such as trumpet player Jack Minger, pianist Ray Skjelbred, former Bearcats drummer Don Marchant and clarinetist Napier.

This high-profile gig was one of the first outings of the New Bearcats at Kimball's East in October 1990 in Berkeley-adjacent Emeryville. Bob was always comfortable singing jazz and popular standards like "Sweet Sue or "When I Take my Sugar to Tea." "Blue Guaiac Blues" and Django's "Tears" showcase the superlative tone and improvising of clarinetist Napier.

Sweet Sue
Blue Guaiac Blues
When I Take my Sugar to Tea
Tears
Bogalusa Strut
Weary Blues

Kimballs set complete

Tracks featuring Bill Napier with pianist Ray Skjelbred

Daydream
Struttin' with Some Barbeque




New Bearcats Kimball.s East 10.20.90

personnel as above

A1 43:00
Just a Little While to Stay Here
Milneberg Joys
Keepin Out of Mischief Now
The Gold Digger's Song
Blue Guaiac Blues
When I Take my Sugar to Tea – vocal Bob Mielke
Weary Blues
Squeeze Me

A2 45:15
Sing On
Original Dixieland One-Step
Pastel Blue
Down Home Rag
Daydream - clarinet feature
Sweet Sue – vocal Bob Mielke
Bogalusa Strut
What is this Thing Called Love?



Kimballs East 10.20.90

sub Strauss (guitar, vocal)
B1 23:00
Doin' the New Lowdown
Tears
I Want to Be Happy
Saturday Night Function

B2 23:00
Do You Know What it Means to Miss New Orleans?
Royal Garden Blues
Struttin' with Some Barbecue
1919 Rag

B3 22:00
Joseph, Joseph
1919 Rag
Just a Little While to Stay

B4 22:20
Milneberg Joys
Love Me or Leave Me
Sweet Georgia Brown - Ray Skjelbred featured
A Porter's Love Song to a Chambermaid - vocal Steve Strauss



Kimball's East 10.20.90

personnel as above

C1 22:10
Sweet Sue
Bogalusa Strut
What is This Thing Called Love?
Doin the New Lowdown

C2 21:15
Tears
I Want to Be Happy
Saturday Night Function
Glad Rag Doll (piano solo)

C3 28:00
Royal Garden Blues
Struttin with Some BBQ - Napier feature, duet with Ray
Joseph, Joseph
1919 Rag
band personnel

D1 23:00
Pastel Blue
Weary blues
Sawdust Blues
Sullivan's Travels - piano medley

D2 24:25
Sing On
Original Dixieland One-Step
Blue Guaiac Blues
Struttin' with Some Barbecue




ARCHIVE MUSIC

Bob Mielke's Bearcats 7/76, with Bill Carter.

Though the Bearcats ended as a band by around 1970, Mielke kept the name and spirit alive for occasional events such as this at the Blue Dolphin in San Leandro, CA.

Clarinet player Bill Carter fit comfortably in the ensemble. You can hear why he was a well respected player, deeply seasoned in the New Orleans tradition and outlook.

P.T. Stanton (cornet)
Bill Carter (clarinet)
Bob Mielke (trombone)
Dick Oxtot (banjo)
(bass unknown)

Bourbon Street Parade.mp3
Sing On.mp3
Blue Guaiac Blues.mp3 (composition by Bunky Coleman)
Ice Cream.mp3

Mielke collection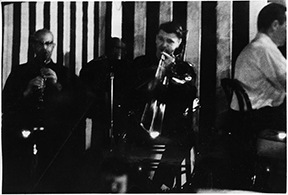 ARCHIVE MUSIC

Here's a set from the Monkey Inn, 2.1.62 with Bob, Frank Big Boy Goudie (clarinet), Bill Erickson (piano) and Jimmy Carter (drums). "Creole Love Call" is one of Ellington's silkiest confections and Kid Ory's "Get Out of Here" conjures the earliest days of New Orleans Jazz.

Creole Love Call 2.1.62

Darling Nellie Gray 2.1.62

Somebody Stole my Gal 2.1.62

Get Out of Here 2.1.62

Photo: Erickson Quartet at Monkey Inn, L to R: Goudie, Carter, Mielke, Erickson 1961-62.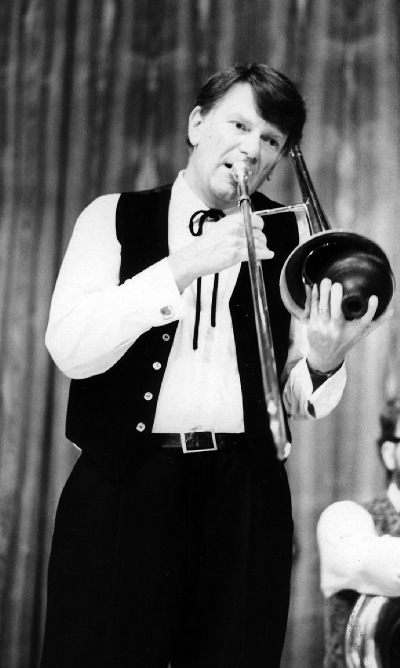 LINKS:

Bearcats archive

More about Bill Erickson

More about Frank Goudie

More about Bill Napier

More about P.T. Stanton

More about Burt Bales

More about Dick Oxtot

More rare and archival tapes:

Burp Hollow tapes

Lark's Club tapes
Monkey Inn tapes

Berkeley Jazz House tape

Nods Taproom (with Byron Berry) tapes

Pier 23 tapes

Oakland Swingin' A's Baseball Band

Mielke at Stanford Libraries Trad Jazz site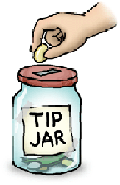 Tip Jar

This site is free. But you can help sustain it, and encourage me with donation to the tip jar. Secure payment through PayPal is anonymous, except that I will see your e-mail address.

Donation $5.00
Donation $10.00
Donation $20.00
Donation $35.00
Donation $50.00
Donation: You decide