CLUB HANGOVER Archive, 1954-58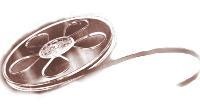 Louis Armstrong
Earl "Fatha" Hines
Kid Ory
Muggsy Spanier
Ralph Sutton
Jack Teagarden


25 complete unedited half-hour broadcasts from Club Hangover, the premier nightspot for Dixieland and New Orleans music in San Francisco during the 1950s.

Excerpts have been issued over the years on LP and CD, but much of this material is available here for the first time, complete as originally broadcast.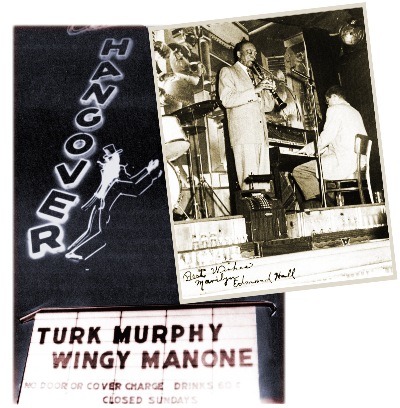 Clarinet player Edmond Hall and pianist Ralph Sutton, were frequently featured.

Note the very shallow stage perched over the bar!


The Louis Armstrong broadcast & sound check of 1/16/54 is one-of-a-kind.*

Update:
According to the Louis Armstrong Archives, only portions of these performances have been issued over the years. "Struttin' with Some Barbecue," "Over the Rainbow" and "Sleepy Time" are completely previously unissued.

The on-air host for these KCBS broadcasts Bob Goerner arranged for these "line checks" to be recorded at the radio station where the dedicated broadcast phone line brought the signal from the club. Bob preserved the tapes for decades, loaning them out occasionally for issue by small record labels.

After hearing my local program of classic and traditional jazz on KALW-FM in San Francisco, Goerner made them available to me for broadcast in the early 1990s. After Bob passed, the tapes were acquired for preservation by the San Francisco Traditional Jazz Foundation with the assistance of Ken Ackerman, another former KCBS employee, and they are now at the Stanford University Braun Music archive.

These .mp3 files are taken from the original 15 ips monophonic tapes in that collection.

For just the cream of these broadcasts, additional context & more see: Club Hangover Rarities.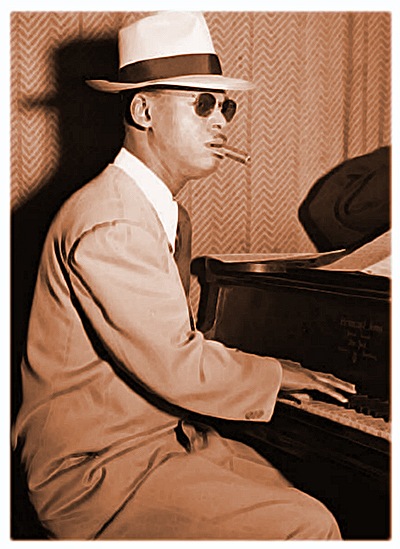 EARL 'Fatha' HINES

A popular and frequent headliner. His shows ranged from Dixieland and swinging Bop to his own originals dating back to the '30s, all featuring his stunning piano style.

More about Hines and rare Hines broadcasts, here.


Surprisingly many of these musicians were living in the Bay Area or on the West Coast at the time: Earl Hines and Jack Teagarden both lived in Oakland during the late '50s and early-'60s. Kid Ory lived variously in L.A. and Petaluma, a chicken-ranching community north of S.F. Muggsy Spanier spent his later years in the artistic community of Sausalito just north of San Francisco.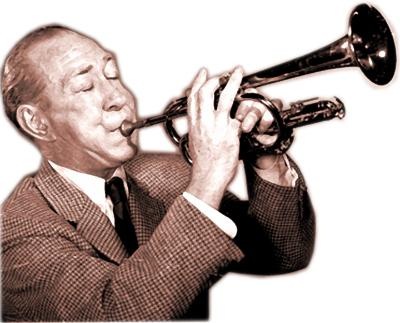 MUGGSY SPANIER
leads his band and the Hines-Spanier All-Stars** on several broadcasts.

More about Spanier, here.



CLUB HANGOVER ARCHIVE

Click on file to launch a broadcast:

*CLUB HANGOVER LOUIS ARMSTRONG BROADCAST 1/16/54
*CLUB HANGOVER LOUIS ARMSTRONG REHEARSAL 1/16/54

CLUB HANGOVER 1A(KID_ORY 1037) 8/21/54
CLUB HANGOVER 1B(KID_ORY 1038) 10/2/54
CLUB HANGOVER 1C(KID_ORY 1040) 10/23/54
CLUB HANGOVER 1D(KID_ORY 1041) 10/30/54
CLUB HANGOVER 1E(KID_ORY 1042) 11/6/54
CLUB HANGOVER 1F(KID_ORY 1046) 12/25/54
CLUB HANGOVER 1G(KID_ORY 1047) 2/5/55

CLUB HANGOVER 2A(MUGGSY SPANIER 1043) 11/13/54
CLUB HANGOVER 2B(MUGGSY SPANIER 1044) 11/20/54
CLUB HANGOVER 2C(MUGGSY SPANIER 1045) 11/27/54

CLUB HANGOVER 3A(EARL FATHA HINES ESQUIRE ALL STARS 1030) 1/30/54
CLUB HANGOVER 3B(EARL FATHA HINES ESQUIRE ALL STARS 1031) 2/13/54
CLUB HANGOVER 3C(EARL FATHA HINES ESQUIRE ALL STARS 1032) 2/27/54
CLUB HANGOVER 3D(EARL FATHA HINES ESQUIRE ALL STARS 1004) 2/6/54
CLUB HANGOVER 3E(EARL FATHA HINES ESQUIRE ALL STARS 1054) 9/10/55
CLUB HANGOVER 3F(EARL FATHA HINES ESQUIRE ALL STARS 1061) 2/9/57
** CLUB HANGOVER 3G(HINES/SPANIER ALL STARS 1070) 3/22/58
CLUB HANGOVER 6A(EARL FATHA HINES ESQUIRE ALL STARS 1004) 2/6/54

CLUB HANGOVER 4A(RALPH SUTTON 1033) 7/24/54
CLUB HANGOVER 4B(RALPH SUTTON 1035) 9/7/54

CLUB HANGOVER 5A(JACK TEAGARDEN 1007) 4/24/54
CLUB HANGOVER 5B(JACK TEAGARDEN 1049) 4/30/55
CLUB HANGOVER 5C(TJACK TEAGARDEN 1050) 5/7/55

Stay tuned, more broadcasts are forthcoming!




CLUB HANGOVER 2nd helping (posted 11/1/13)

JACK TEAGARDEN_4.17.54_1006.mp3
EARL_FATHA_HINES_1.23.54_1003A.mp3
EARL_FATHA_HINES_2.20.54_1005A.mp3

EARL FATHA HINES New Years Eve 12.31.56.mp3 (15:00 in stereo)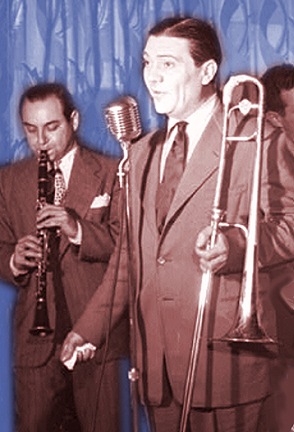 JACK TEAGARDEN

The show-stopping 'glass'n-a-half' was his big feature at the time. It was a blues played with only a portion of the trombone blowing into a glass and frequently heard in his Hangover broadcasts.


More about Teagarden, here.



LINKS:

Club Hangover pics and misc

More from these artists on JAZZ RHYTHM:

Jack Teagarden
Louis Armstrong
Muggsy Spanier
Earl Fatha Hines

More Club Hangover Rarities on JAZZ RHYTHM, here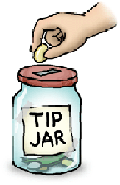 Tip Jar

This site is free. But you can help sustain it, and encourage me with donation to the tip jar.

Donations are paid securely through PayPal.

Donation $5.00
Donation $10.00
Donation $20.00
Donation $35.00
Donation $50.00
Donation: You decide