CASA LOMA ORCHESTRA
Pioneering Swing Orchestra



An exceptional Swing band and fierce competitor in 1930s big band battles, Casa Loma Orchestra was one of the hottest bands of the Swing Era. It was a rich source of original tunes and one of the most danceable bands of all time.

A Hard-Swinging Popular Dance Band

One of the first hard-swinging dance orchestras of the early-1930s Casa Loma Orchestra was among the most popular and danceable bands of early swing, one of the first heard widely on network radio. They were a source of delightful original music, particularly from the deft pen of arranger and composer Gene Gifford, who wrote many of the band's hits.

Casa Loma was unusual for being a white band that competed successfully with the bands from Harlem for sheer swing and drive. One of the few white bands admired by its best black competitors. In addition it was popular for sweet, romantic music that was typified in their radio theme song, "Smoke Rings."

For years it was run as a collective corporation: the members had an active say in band membership, management, and finances, resulting in strong team spirit and ensemble unity. Musically, there were no big stars in Casa Loma, which seems to have strengthened its musical cohesion. One writer of the day called it: "the band that's organized like a corporation and run like a college fraternity."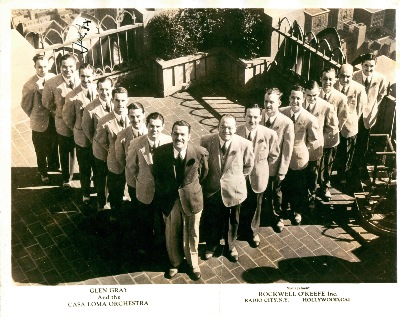 Swingin' with the Casa Loma, Pt. 1

CASA_LOMA_Pt_1A.mp3
CASA LOMA STOMP -- 1938
CHINA GIRL -- 1930
SUE SAN STRUT -- 1930
THE LADY FROM ST. PAUL -- vocal, Pee Wee Hunt, 1932
BLUE JAZZ -- 1932
BLACK JAZZ -- 1931
WHITE JAZZ -- 1931
SMOKE RINGS -- 1937 HEP CD 1056
SMOKE RINGS -- Dean Mora's Modern Rhythmists, vocal Kayre Morrison, 1999
BLUE PRELUDE -- 1933

CASA_LOMA_Pt_1B.mp3
YOU AIN'T BEEN LIVIN' RIGHT -- vocal, Pee Wee Hunt 1935
WHO'S SORRY NOW -- 1934
DANCE OF THE LAME DUCK -- 1932
OLD MAN RIVER -- 1934
WILD GOOSE CHASE -- 1933
MALADY IN F -- 1938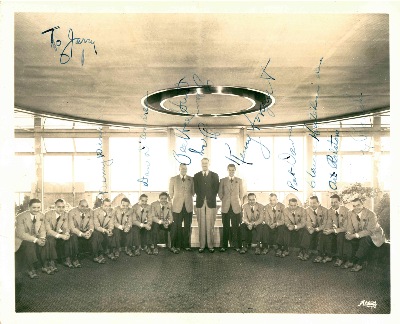 Swingin' with Casa Loma, Pt. 2

CASA LOMA Pt. 2A.mp3
SWING LOW, SWEET CHARIOT -- 1937
MANIAC'S BALL -- 1931
LIMEHOUSE BLUES -- 1934
BUJI -- 1933
THE GOBLIN BAND -- 1937
CHANT OF THE JUNGLE -- 1935
WHOA BABE -- 1937, vocal Kenny Sargent
SHADES OF HADES -- Mora's Modern Rhythmists, 2004
BLUE RHAPSODY -- c. 1943

CASA LOMA Pt. 2B.mp3
TRUCKIN' -- Live radio broadcast on the Camel Caravan, 1936
WEARY BLUES -- Live radio broadcast on the Camel Caravan, 1936
ZIG ZAG -- 1937
GEORGIA ON MY MIND -- 1939
BONEYARD SHUFFLE -- 1939
RIVERBOAT SHUFFLE -- 1939
NO NAME JIVE Parts 1 & 2 -- 1940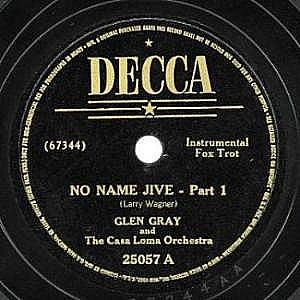 Arrangements, Head
Arrangements and Style

The orchestra swung with a terrific drive, successfully balancing the elements of precision and looseness. Their sound was distinctly different from most other swing orchestras of the early 1930s. Its style came partly from the superb arranging of Gene Gifford (followed by several talented successors), and partly from its reliance on collective composition.

Casa Loma Orchestra played both written music and head arrangements -- that is, memorized routines that were not written down, but worked up over time in a process of group improvisation. These head arrangements were based on band sections riffing: essentially improvised group solos played in unison by the brass or reed sections: sometimes spontaneous, sometimes devised over time, often in a call-and-response pattern.

The band's first and best arranger, Gene Gifford, made good use of these riffs. His skilled writing and arranging harnessed this roster of crack personnel into a formidable musical organization. Well-respected, even feared by fellow musicians, they presented a slick professionalism on stage: dressed in tuxes and tails, fronted by the tall, handsome, Glen Gray.

Most observers of the day suggested that Casa Loma's recordings failed to fully capture their dynamism, rich layering of sounds, and the excitement they generated live. Dressed in tuxedos they had a classy and sophisticated appearance, described as: "truly magnificent . . . impeccably groomed . . . a collection of very good looking men. This orchestra reeked with class . . . both crisp and precise the band programmed each set with versatility."

Origins of Casa Loma

Casa Loma's origin is an unlikely story. They formed from the ashes of a band called The Orange Blossoms. Booked to play at a Toronto hotel called the Casa Loma, they were stranded when the hotel suddenly closed. Stories vary as to whether they actually played the hotel briefly, or if it closed before they even opened.

In any case, the musicians formed Casa Loma Orchestra as a collectively run organization. Its remarkable cohesion and sound were forged during 1931-33 on a barnstorming tour of 101 consecutive weeks of one-night stands. Amid all the rough and tumble of being on the road in the very worst days of the Great Depression, they flourished despite dangerous roads, blizzards, and an incident in which the entire band was arrested on suspicion of bank robbery!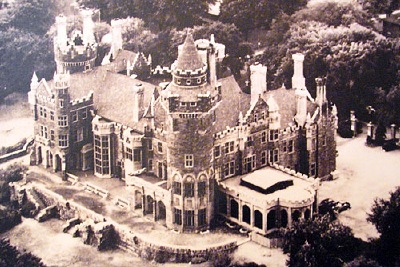 SIDEBAR:
Casa Loma Castle

The Casa Loma itself is fascinating story. It was originally conceived as a grand castle by Sir Henry Pellatt who was a Canadian insurance, real estate, and industrial magnate. During 1911-1914 Sir Henry spent $5 million building a medieval castle on a hill above Toronto, Canada (right). Casa loma means "house on a hill."

The castle had more than 100 rooms, 60 bathrooms, 5000 electrical lights, its own telephone system, a shooting gallery in the basement, and the largest wine cellar in North America.

Though the sprawling folly of gables, turrets and arches was briefly a hotel, it's been owned by the City of Toronto since 1930 and remains among its most spectacular tourist attractions. Which is fascinating, if somewhat unrelated to the story of orchestra itself.

How do you solve a problem like Casa Loma?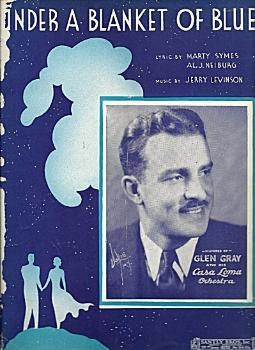 Glen Gray

Glen Gray (Knoblouch) was known to fellow musicians as 'Spike'. He was a tall and handsome saxophonist elected to manage and front the band in the early days. Casa Loma eventually became more conventional structurally and musically, billed as "Glen Gray and the . . ."

Tall and handsome, Gray has been incorrectly described as a merely ceremonial conductor. But arranger Spud Murphy, who was with Casa Loma for a while, emphatically told me this was not the case. Spud insisted that Gray was indeed an excellent, knowledgeable musician who played a significant role in the musical direction of Casa Loma. And in later years all former Casa-lomans spoke of Gray with fondness and respect.


A Proud Legacy

The greatness of Casa Loma lay in several unique characteristics. For one, its collective structure meant that each band member shared in decision-making and the band's income, which contributed to its strong esprit de corps and cohesive musical identity. While the band had featured instrumentalists, soloists and singers, its strength came from the bottom up.

Like the best territory bands and black swing orchestras, head arrangements, call and response patterns and riffing were the basic building blocks. Its talented arrangers -- particularly Gene Gifford -- channeled and organized these collectively generated ideas in unconventional ways, with original and outstanding results.

Casa Loma Orchestra blazed a pioneering path for the bands that followed, helping shape the Swing era. It was an innovative white jazz orchestra, one of the most influential among other musicians, one of the few that was feared and admired by its African-American colleagues.

At the outset of the Swing era Casa Loma set a high standard for collective spirit, crack musicianship, superb arranging, classy presentation, sweet ballad delivery, and hard-driving dance music.

Dick Sudhalter wrote in his landmark book, Lost Chords: White Musicians and their Contribution to Jazz, 1915-1945 (Oxford, 1999):
"No band of those years was more frequently discussed, more widely admired or emulated . . . no other band of the day, whatever race, could rival it for popularity, precision and team spirit, or for the ability to bring dancers to the floor."

I'd say that's a proud legacy for any group of musicians.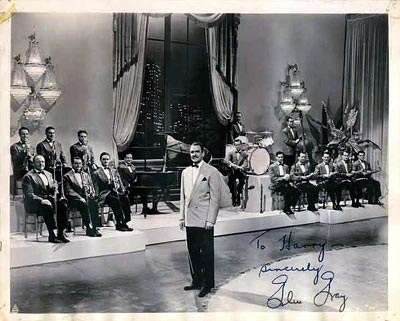 LINKS:

http://www.bigbandlibrary.com/glengray.html
http://en.wikipedia.org/wiki/Casa_Loma_Orchestra
Spud Murphy

Casa Loma Castle:
How do you solve a problem like Casa Loma

Music files:
http://98.130.146.204/casa_loma/casa_loma_orchestra.html