Ev Farey
(1930-2018)
Cornet and bandleader


His contributions to the Frisco Traditional Jazz revival were notable and considerable.

He was a mainstay or leader for several prominent bands, most famously Bay City Jazz Band (and its reunions), Sunset Music Company
(c. 1978) and Golden State Jazz Band.

Photo: 1975
Ed Lawless

Courtesy Ev Farey



Riding the Two-beat / Four-beat Spectrum

Farey moved easily along the two-beat to four-beat classic jazz style spectrum. A vivid demonstration of his flexibility can be found in two prime examples below – Bay City (1967) and Golden State (1982). Few bands produced a more authentic Watters-inspired Traditional Jazz sound than Bay City. It had a two-beat rhythm section prominently featuring tuba and banjo and a second cornet when available. By contrast, Golden State featured a swinging four-beat rhythm section and highlighted the individual improvisational voices of skilled soloists.

From 1955-59 Bay City Jazz Band was the best and most popular successor to the Watters tradition. The band inherited the Yerba Buena Jazz Band style, repertory, fan base and occasionally former members, Bob Helm or Wally Rose. In the 1960s and '70s it reconvened on numerous occasions and became semi-regular as New Bay City, 1975-1980s.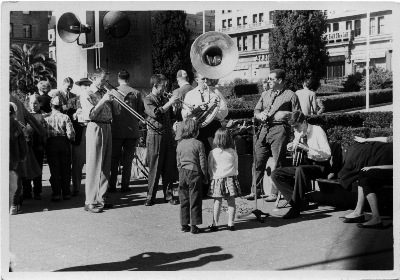 Bay City 1955

Prob Neubauer (trombone), Farey (cornet), Ray Giomi (clarinet).

Visual evidence suggests this is a President Eisenhower political event at Union Square in San Francisco.

Courtesy Ev Farey.


Golden State Jazz Band (1978-85) was originally formed by Bill Allred, but Farey took over after Bill left early on. Golden State had several lengthy and successful residencies -- at the Senator Hotel in Sacramento, in San Francisco at the Rathskeller and subbing for Turk Murphy at Earthquake McGoon's (1978-80). Some of the illustrious personnel included Bob Helm, Bob Mielke, Bill Napier, Bunky Coleman, Ray Skjelbred, Burt Bales, Carl Lunsford, Mike Duffy and Hal Smith.


For half a century Farey participated in notable bands, ensembles, tours and recording sessions involving Turk Murphy, Dick Oxtot, Bob Helm, Bob Mielke and others. Sundry examples are offered here.

Incidentally, Farey worked in Mielke's Oakland Swingin' A's baseball band. And led his own San Francisco Giants Dixieland Band.



Farey Interview 2015

San Francisco musicians vs. East Bay musicians:
Farey: There was a big difference between the East Bay group and the San Francisco group. And that was commitment to the music. Most of those [East Bay people] were playing music for a living and were constantly on the go. Not all of them but a lot of them.

People like myself and most of us on the [San Francisoc] side were all working for a living and squeezing in music where it was possible.

The East Bay was a real hotbed of four-beat jazz at that time. The San Francisco people were largely two-beat.

DR: You find the same players in two-beat and four-beat bands and ensembles.

Farey: Yeah, there was a lot of mixing. There was a lot of work, a lot of places to play. Much of the time it was just pickup bands.

Launching the Sail 'N Venue (near The Embarcadero):
"The Sail 'N was a big bar and dance hall in the main floor of a big old box hotel. And it was largely a hangout for working girls [prostitutes], seamen and the like. The seamen all had rooms there, lived there.

But the bar was a long one and when you came in the front door all you saw was the bar. The rest of it was all dark; it looked like a long narrow bar. On the right side there was a large room with a very large dance floor.

The Bay City band had been just formed a little while before was rehearsing [in 1955]. Somebody went in there and suggested it would be a good place. So Sanford and I went down and approached the owners. A man and woman – Tony and Maria Rodriguez. I think they were Portuguese folks. And talked them into letting us tryout with them for a weekend.

We had about a month to get ready for it. The band all pitched in and just cleaned the place up, put up decorations and made a bandstand probably about a foot [high]. And moved a piano in. Mainly it was cleaning up because nobody went in there, nobody cleaned it up, nothing.

So they reluctantly let us come in for that one weekend and we were really ready for it. But they weren't. They had no idea what was gonna happen. We had a packed house. [Chuckles.] It was really fun. We were doing Fridays and Saturday nights for about two years.

Then something that happened in the band. I was never really quite sure of, but the band broke up. Sanford gave notice to the people that we were going to be gone. But I just said, 'I'm going to stay here.' So some of the guys stayed and some left and we kept it going for another couple years.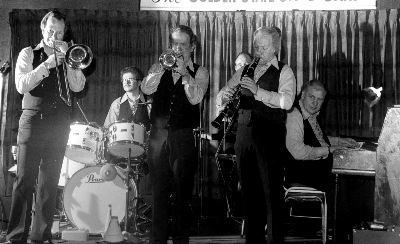 The original
Golden State Jazz Band, 1975.

Bill Allred (trombone)
Ev Farey (trumpet)
Dutch Deutch (clarinet)

Courtesy Ev Farey



Bay City Jazz Band
New Orleans Jazz Club of Northern California
Flamingo Motel, Santa Rosa, CA, 1.15.67

Ev Farey (cornet)
Bob Neighbor (trumpet)
Roy Giomi (clarinet)
John Boland (add/alt clarinet)
Sanford Neubauer (trombone)
Don Keeler (piano)
Lee Valencia (banjo)
Walter Yost (tuba)
Lloyd Byassee (drims)

Set A

Beale St. Blues
Friendless Blues
Angry
Coal Cart Blues
Royal Garden Blues
I Can't Say
Doctor Jazz
Antigua Blues
1919 March

Set A complete

Set B

Gatemouth (this track adds Ed Sprankle 2nd banjo)
Alligator Blues
South
Irish Black Bottom
Milenberg Joys
Riverside Blues

Set B complete

Set C

Chimes Blues
Basin St. Blues
My Heart
Come Back Sweet Papa
New Orleans Stomp

Set C complete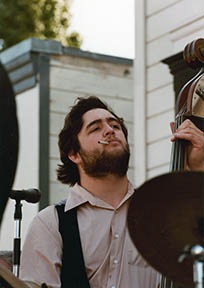 Golden State Jazz Band
Boerger King Studios demo, 1982

The intimate studio environment highlights the clarinet of Bill Napier, typifying his tasteful soloing, rich but delicate tone, intriguing twists and subtle modulations. Bob Mielke (trombone) is loose and imaginative supporting the band. Ray Skjelbred (piano) ably backs the ensemble offering inspired solo improvisations. Bass player Steven Strauss drives the rhythm and his light tenor voice graces a couple of lyrical jazz standards.

Photo: Steven Strauss, courtesy Ev Farey.

Ev loved this unissued 1982 Golden State demo session made at Boerger King Studios. It was the only tape he did not want to part with.

Ev Farey (trumpet)
Bill Napier (clarinet)
Bob Mielke (trombone)
Ray Skjelbred (piano, vocal)
Steve Strauss (bass, vocal)
Tom Stamper (drums)

Panama
As Long As I Live (vocal, Strauss)
I Can't Escape from You (vocal, Skjelbred)
Doin' the New Lowdown
Stardust
I'm Crazy 'Bout my Baby (vocal, Strauss)
I Can't Say
Singin' the Blues
Mahogany Hall Stomp

Boerger King Demo complete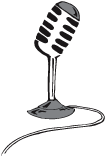 Bill Napier

"He was fun to play with. He could hardly read notes. But he had just a horrendous [good] ear. You didn't even have to tell him the key or anything.

He was a good professional musician. He was always there. Always looked good. Never misbehaved. Was always thankful for the work. And everything about him was cheerful.

He never complained about rehearsing. They all used to come to my house in San Anselmo to rehearse once a week and never complained about it. Saved a lot of tunes for us. Pulling them out of the hole, especially new stuff.

And he could learn an arrangement -- I wrote the charts. Mostly with just introductions or interludes, but once in a while there were arranged passages. We would take a tune and rehearse it for two or three weeks before we tried to play it. And he would have the part down. Other people wouldn't, but Bill without being able to read, he'd know the damn part. Had a lot of fun with him.

And he very seldom missed a job. We had a period with the Golden State where we were working a lot. Some of it wasn't much of a job, but it was a job nonetheless and he always made them. He never bowed out because it was not worth it or something. He was a very loyal sideman."




Ev Farey with
Peanuts Hucko

1976

Photo: Ed Lawless

Courtesy Ev Farey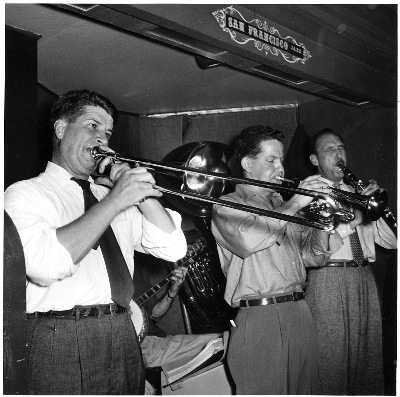 Turk Murphy,
Ev Farey and
Bob Helm, 1950s.

Courtesy Ev Farey.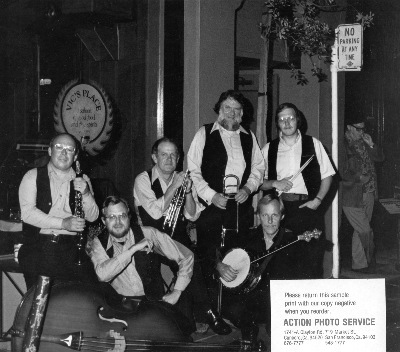 Golden State
Jazz Band
outside Vics in San Francisco.

L to R: Napier, Duffy, Farey, Mielke, Lunsfor, Smith.

Burt Bales is standing right smoking "an illegal substance" according to Smith.

Courtesy Ev Farey.



Recalls Hal Smith:

"Golden State Jazz Band performed weekly at Vic's Place (44 Belden Alley) in San Francisco in 1978 and 1979. That's where the photo with Bales was taken.

The band also played a brunch at the Steamer Gold Landing in Petaluma, private parties at the Presidio, company picnics, the Pismo Beach Jubilee, concerts for NOJCNC and the Sacramento New Orleans Hot Jazz Society.

From late 1978-'80 the regular personnel were Ev, Mielke, Bill Napier, Carl Lunsford, Mike Duffy, me. Subs included Bill Bardin, John Farkas, Jim Leigh (trombones), Bill Carroll (tuba), Brian Richardson and Turk Murphy on 'bone; Bob Helm (reeds), Ellis Horne and Bunky Colman, clarinet; Tom Keats (guitar); Dick Oxtot (banjo); Jim Cumming, (bass); Bob Raggio (washboard). There was also a vocalist for a while named Fyama, but I don't remember her last name."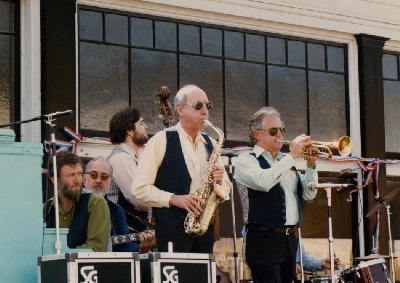 Golden State
Jazz Band
Prob late 1970s

L to R: Skjelbred,
P.T. Stanton, Steven Strauss, Bob Helm, Ev Farey, Tom Stamper (hidden)

Courtesy Ev Farey



Ev Farey and the Bay City Jazz Band Story
Interview and radio program



Interview Program
KALW-FM, San Francisco, CA 11.96

This interview of Farey tells his narrative from the second wave of the Traditional Jazz revival, 1950-80s. His in-depth debriefing provides both granular detail and broad context recalling those vibrant times.

Adding historic continuity and co-hosting the interview was clarinetist Bill Carter, author of Preservation Hall: Music from the Heart (Norton, 1991). Carter was a participant in Bay City himself, is heard playing clarinet on some of these rare recordings from 1958 or '59 (Part B) and was an energetic force at the San Francisco Traditional Jazz Foundation in the 1990s.

The interview was pre-recorded in-studio and mixed with music and live commentary on-air at KALW-FM, San Francisco in November 1996. It has not been re-broadcast or published since.



Part A 25:15

Introduction to Bay City
"Snake Rag"
"West Texas Blues"
Patterned after Yerba Buena Jazz Band, used Watters' charts
"My Heart" 1956
Sanford Neubauer (trombone), Canal Street Jazz Band and formation of Bay City
"Yerba Buena Blues" 1956
Good Time Jazz, demo and recording session
"Weatherbird Rag" 1956



Part B 40:00

Two-beat vs. Four-beat jazz factions
"Just a Closer Walk With Thee" 1959
"Antigua Blues" – Bill Carter (clt) 1958
"Drop That Sack" – Bill Carter (clt) 1958
Carter and Ev recall Bay City c. 1958 or '59
"Sister Kate" - Bill Carter (clt) 1958
Recap
"Gut Bucket Blues" - Bill Carter (clt) 1958
"I Can't Say" - Bill Carter (clt) 1958
The success of Golden State Jazz Band
"Once in a While" 1981
"You're Driving Me Crazy" 1981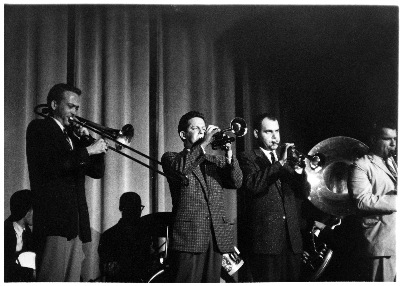 Bay City
Jazz Band

Dixieland Ragtime Jamboree
San Francisco, CA 2.22.57

Front line:
Sanford Neubauer, Al Cavallin, Ev Farey, Roy Giomi

Photo by Ed Lawless


Part C 23:00

Bob Helm, Ev Farey and Bay City
Ode to Bob Helm and excerpts from the Riverside Roustabouts LP
"How Am I Going to Do it When I Don't Know What You Crave?" - Helm
Canal Street Jazz Band, mid-1950s
Joining, touring and recording with Turk Murphy
"Riverside Shake" - Helm
"Doin' The Plymouth Rock" - Helm
San Francisco two-beat vs. East Bay New Orleans four-beat style
"Shake that Thing" 1959



Part D 29:00

"Riverside Blues"
Port City Jazz Band
"Boodle-am Shake"
Whatcha' Gonna Do When There Ain't No Swing
Playing the State Fair with Port City strolling
Farey's turn away from "big heavy bands" to lighter, looser jazz style
"Brother Lowdown" - 1959
"Bay City" - 1959
Fortunate and grateful: "Music gave me a twenty year vacation."
"Beale Street Blues" – 1956
"New Orleans Stomp"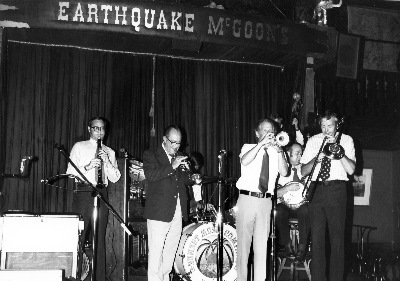 Golden State
Jazz Band
6.22.77

Bunky Colman, Pee Wee Erwin, Ev Farey, Jim Cumming, Karl Walterskirchen, Mike Starr, apparently Jeff Hamilton (drums) Earthquake McGoon's.

Photo by Ed Lawless courtesy Farey.


Bay City Jazz Band (c. 1975)

Ev Farey & Bob Neighbor (cornets)
Roy Giomi (clarinet)
Sanford Neubauer (tbn)
Lee Valencia (banjo)
Walter Yost (tuba)
Lloyd Byasse (drums)

Bay City personnel
Mecca Flat Blues
My Heart
Antigua_Blues
Cakewalkin' Babies (from Home)

Bay City c. 1975 complete



Farey Swing Ensemble, 1975?

Ev Farey (trumpet)
Bill Napier (clarinet)
Bob Mielke (trombone)
Ray Skjelbred (piano, vocal)
Steven Strauss (bass vocal)
Unknown drums

Set A
What Can I Say Dear
Trouble in Mind
You're Driving Me Crazy
A Porters Love Song to a Chamber Maid vocal, Strauss

Set B
Creole Song
Runnin' Wild
I'd Love It (banjo! Banjo!! BANJO!!!)
I Can't Escape From You vocal, Skjelbred


A tape from Ev's collection contains two contrasting examples from c. 1975, possibly the same occasion. (If so, it was likely New Orleans Jazz Club of Northern California.)

These were very different Farey bands. One was yet another reunion of the two-beat, two-horn Bay City Jazz Band. The other was a four-beat sextet similar to the later phase of Golden State Jazz Band with Napier, Mielke, Skjelbred and Strauss. It's clear from his interviews and music that Farey gradually shifted toward a "four-beat New Orleans" sound, losing his taste for "big, heavy bands."

It's noteworthy that during the swing set a minor insurgence breaks out when the two-beat faithful raucously chant "banjo, Banjo, BANJO!" almost with menace.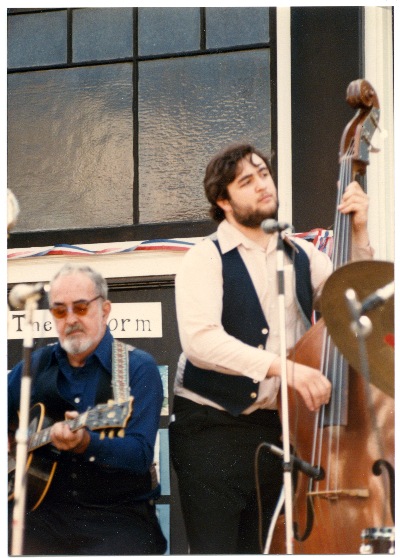 Golden State
Jazz Band

P.T. Stanton (guitar)
Steven Strauss (bass)

Courtesy Ev Farey.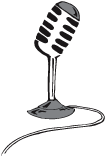 Farey interview 2015

The sexy mannikin at Burp Hollow.mp3

Millio Militti, Burp Hollow owner.mp3

Broadway Environment.mp3

East Bay group vs SF group work style.mp3

32 Piece 49ers Football band at Kezar Stadium.mp3

Launching the Sail 'N club 1955.mp3

Bill Napier.mp3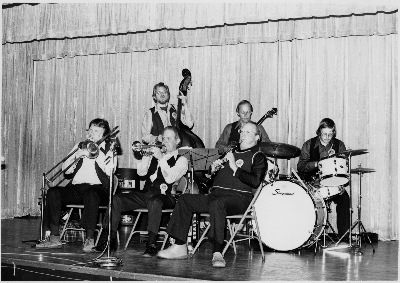 Golden State
Pismo Beach, Ca 10.78

L to R: Bob Mielke, Mike Duffy, Ev Farey, Carl Lunsford, Bill Napier, Hal Smith

Courtesy Ev Farey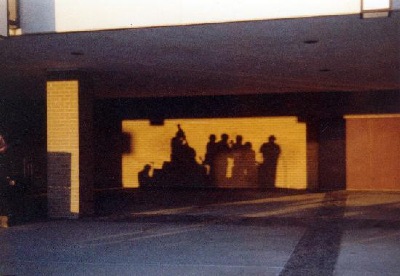 This was one of Ev's favorite photographs of his band . . .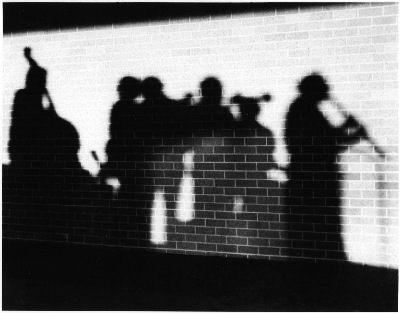 . . . and this one shot in Walnut Creek.


Great thanks to Hal Smith for his memories, assistance and expertise.
Thanks to Joe Spence for audio and assistance. Thanks also to Steven Strauss.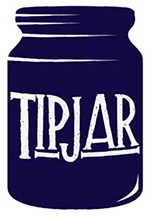 Tip Jar

This site is free. But you can help sustain it, and encourage me with donation to the tip jar.

Secure payment through PayPal is anonymous, except that I will see your e-mail address.

Donation $5.00
Donation $10.00
Donation $20.00
Donation $35.00
Donation $50.00
Donation: You decide