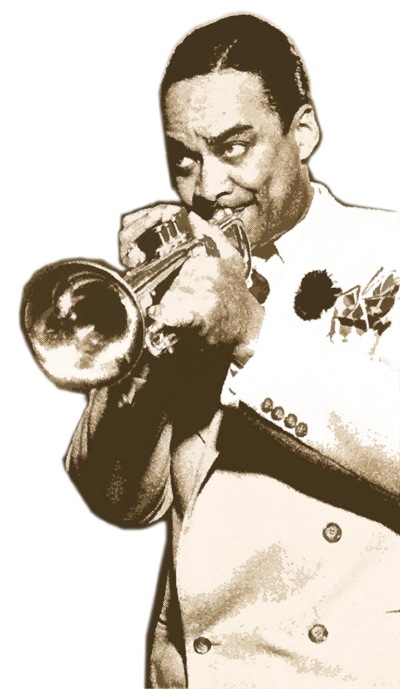 BUCK CLAYTON

Introducing 'Cat Eyes'

Swing-era trumpeter Buck Clayton is best-known for his role in the early success of the Count Basie orchestra and sensitive accompaniments to Billie Holiday's records of the 1930s. His smooth, tasteful muted trumpet was an essential element of the Count Basie Orchestra's innovative early hits like "One O'Clock Jump" and "Jumpin' at the Woodside"; his first recorded solos were on Basie's 1937 "Swingin' at the Daisy Chain."

B_CLAYTON SWINGIN AT THE DAISY CHAIN (mp3)
B_CLAYTON JUMPIN AT THE WOODSIDE (mp3)

Clayton's tasteful use of cup-mute and burnished trumpet tone gave him a distinctive sound. Combined with his subtle style and melodic improvising he was a popular soloist in the Swing era and a central figure of Mainstream Jazz through the 1940s and 50s.

Incidentally Clayton was known as one of the most handsome, best-dressed men of Jazz with striking blue-green eyes. Billie Holiday famously called him, "the prettiest cat I ever saw." His striking blue-green eyes won him the nickname, 'Cat Eyes.'

Born and raised in Kansas he was the son of a tuba-playing minister and had some Native-American blood, which was why his mother nicknamed him 'Buck.'

Widely respected by other musicians, Clayton was NOT a virtuoso soloist ala Louis Armstrong. Compared to big trumpet stars of the Swing era his sound was smoother and gentler. He was a skilled craftsman without the need to grandstand, though he WAS reported to be more passionate and extroverted in live performance than on record. His personal style featured a flowing and melodic approach to improvisation, refined and tasteful featuring subtle use of mutes, a great feel for the blues, fine technique and the ability to present an engaging musical personality.

B_CLAYTON LOVE ME OR LEAVE ME (mp3)
B_CLAYTON SWING BAND 1988 AVENUE C (mp3)

Early Years

Perhaps because there are no recordings of Buck Clayton during his 1933-34 stay in Los Angeles his colorful chapter there is often overlooked. Barely out of high school Clayton started out trying to break into the music business in L.A. while he worked odd jobs in a barbershop, a garage and a pool hall.

In L.A. during the 1930s Central Avenue was a jumping jazz district and Buck became acquainted with notable musicians there:
* popular bandleader Paul Howard;
* bassist Milt Hinton and bandleader Charlie Barnet,
* and he worked for Lionel Hampton.
* When the Ellington band came out to Hollywood to make the film, "Murder at the Vanities" he met Duke and most of his band.

It was also in Los Angeles where Clayton first met his inspiration, Louis Armstrong. In that first meeting, after hearing Satchmo at the west coast Cotton Club, Louie showed Buck how to make a gliss (that is, a smeared note) on the trumpet . . . and introduced him to marijuana.

Clayton also became familiar with noted Hollywood celebrities and entertainers of the day:
* gangster-film movie-star George Raft;
* black character actor, Stepin Fetchit -- who traveled around town in his own caravan of five Cadillacs;
* and a prominent boxer named Gorilla Jones, who used to stroll down Central Avenue with his lion cub on a leash, given him by Mae West.

Buck worked briefly in the movies as an extra in a few films and had brief encounters with the likes of Loretta Young and Ginger Rogers. Duke Ellington even threw him a big wedding party. Because Duke's band played, it was attended by stars like Mae west, George Raft and the star of "Murder at the Vanities," Carl Brisson.

Weeks later Buck was on his way to Shanghai, China where his band The Gentlemen of Harlem accompanied the orchestra of Teddy Weatherford for a lengthy residency during 1934-35 at the top nightclub there, the Canidrome.

Joinging up with Basie

Though Clayton was born and raised in Kansas that's not how he became part of the Kansas City music scene in Count Basie's orchestra. When he joined Basie in 1936 he'd already had considerable success on the West Coast and a lengthy gig in Shanghai. Buck just happened to visit Kansas City right when Basie was in need of a trumpeter and he was hired practically on the spot.

It was a perfect match up for the band and for Clayton, who said of the Basie crew, "they never let up. They would swing you into bad health."

He found Basie to be "a nice congenial cat that knew all the answers," adding in his memoir that, "I had never heard such swingin' music in my life . . . there were only nine of them, but that nine could out-swing anything that I'd ever heard."

Though Clayton was shocked to be offered only $14 dollars a week to play at the Reno Club, he took it because he loved the band's music so much. And Buck was no fool -- he knew the band had upcoming gigs in Chicago and New York. The timing did prove lucky for him as the Basie band was just about to move east and hit it big, and Clayton is heard on the band's early signature hits.

Buck was an extremely valuable component in the Basie inner circle: he was unofficial musical director of the band, and contributed musical arrangements and original tunes. His vital role extended to the landmark catalog of Basie small-band recordings by the Kansas City five, Six and Seven. He composed the fitting tune "Destination KC" that was recorded by the Kansas City Seven, featuring Buck, Lester Young and trombonist Dickie Wells in 1944.

B_CLAYTON KC SEVEN DESTINATION KC (mp3)

The Basie sound was like no other: they could either blow other bands off the bandstand, or create dark and subtle moods with new sounds that had never been heard before in music. Basie's most distinctive soloists like Lester, Buck and trombonist Dickie Wells were often featured in the 1938 & 39 Basie small bands in remarkable discs like the mysterious "Dickie's Dream," which even though I've heard a hundred times always gives me chills.

B_CLAYTON KC SEVEN - DICKIE'S DREAM (mp3)



ACCOMPANYING BILLIE HOLIDAY

Among Clayton's notable achievements was his thirty or so titles recorded with Billie Holiday between 1937-39, often alongside some of his buddies on loan from the Basie orchestra, most notably saxophonist Lester Young.

At one point during her brief stint as singer for the Basie orchestra Buck and Billie became very close friends. I suspect that at times they were more than just good friends: that they were lovers. And Billie famously called him "the prettiest cat I ever saw."

B_CLAYTON & BILLIE HOLIDAY DOCU-MEDLEY (mp3)


Buck Clayton on Billie Holiday, from his memoir:

"My first recording was with Teddy Wilson along with Billie Holiday, just about two weeks before Basie made his first recording with the band. The first recording of my life was "Why Was I Born?" which happened to be the first song to be sung by Billie.

Billie and I immediately became friends and soon we were recording. Such pleasure I had backing up Billie's songs to her vocals. When she would record I would watch her mouth and when I saw she was going to take a breath or something I knew it was time for me to play between her expressions. It's what we call 'filling up the windows.'

We made several more dates with Billie after that, in fact whenever Basie would be in town we were sure to be called to play with the Lady. They turned out to be very successful, especially down South where the people really dug the blues.

Billie had joined the Basie band. She was great to work with as she was game to do anything that we would do. She would shoot dice with us, joke with us and, in general, do everything that we would do. We all liked Billie. Sometimes on the bus at night, when everybody else would be sleeping, Billie and I would talk.

Sometimes, when we were in New York, she would take me by her mother's restaurant and I'd have some ham hocks and turnip greens and other soul goodies. When we first met Billie Holiday she made it her business to take Lester and myself all around Harlem. We'd go t all the joints in Harlem. We three were always pretty tight together."

LIFE AFTER BASIE

Aside from his fame backing Billie and in the Basie orchestra Clayton also had a very successful career recording and performing as a star soloist in many remarkable bands.
Its little appreciated that clayton was a pretty fair arranger and composer. He was unofficial musical director for Basie, and went on to write and arrange for Tommy Dorsey, Benny Goodman, Duke Ellington and others.

During W.W.II Buck was briefly in the army playing music under the leadership of Sy Oliver and Mercer Ellington, and he won an Esquire Gold Award for "Best Musician in the armed forces." Quite fortunately, he was stationed in New Jersey close enough to New York to continue jamming and recording with his civilian buddies.

His career flourished working or recording with Coleman Hawkins, singer Jimmy Rushing, tenor saxist Don Byas, Mezz Mezzrow, Earl Hines, Sidney Bechet, Jazz at the Philharmonic, and he was a valued star soloist for studio sessions, in numerous jam session recordings, and on the festival circuit.

In the 1950s Clayton appeared in the film "The Benny Goodman Story"; at the 30th anniversary concert of John Hammond's "Spirituals to Swing"; and was a popular star soloist touring Europe, Australia & Japan through the 1950s & 60s.

Beginning in 1949 Buck made several tours of Europe with extended stays in France. Unlike many of his jazz colleagues who lived or worked there, he easily learned the french language. In Paris 1949 he recorded with his Buck Clayton sextet.


RESPECTED, FLEXIBLE & TALENTED

Few trumpeters who matured before 1940 were able to make a successful transition to the musical directions jazz took after W.W.II, but Clayton did better than most addressing Modern Jazz and Bebop. Though he never made a full transition to the revolutionary sounds of Dizzy, Bird, Monk or Mingus, he did succeed at finding a comfortable stance all his own between swing and modern jazz that came to be known as 'Mainstream Jazz.'

His early willingness to embrace the new sensibilities in bop-influenced swing music can be heard in some surprisingly progressive recordings he made in the mid-1930s with trombonist Trummy Young, and composer/pianist, Leonard Feather.

B_CLAYTON LEONARD FEATHER ALL STARS - SCRAM (mp3)
B_CLAYTON TRUMMY YOUNG LUCKY SEVEN - GOOD 'N GROOVY (mp3)
B_CLAYTON JC HEARD QUINTET - GROOVIN' WITH JC (mp3)

Buck had a rough period in the 1970s when he had dental problems and could no longer play trumpet, though he did tour Africa for the US State Department in 1977. In the '80s he did a great deal of writing and arranging music, published a memoir and fronted his own big band for a few years starting in 1988. Buck Clayton died about a month after his 80th birthday in 1991.

FAREWELL TO A WELL-DRESSED CAT

Trumpeter Buck Clayton first gained recognition as a key component and soloist in the early Basie Orchestra and small-bands; and for his sensitive backing of Billie Holiday on 30 titles between 1937-39. Clayton had many other skills as a bandleader, music director, tune smith and arranger for Swing and Big Band. And his contemporaries recalled him for his good looks, grand sartorial style and blue-green eyes that won him the name "Cat Eyes."

B_CLAYTON BC SEXTET PARIS 1949 - PATRICIA'S BLUES (mp3)

B_CLAYTON IKE QUEBEC SWING SEVEN 1945 - CUP-MUTE CLAYTON (mp3)

Buck Clayton's autobiographical memoir is:
BUCK CLAYTON'S JAZZ WORLD, by Buck Clayton, Oxford University Press, 1986