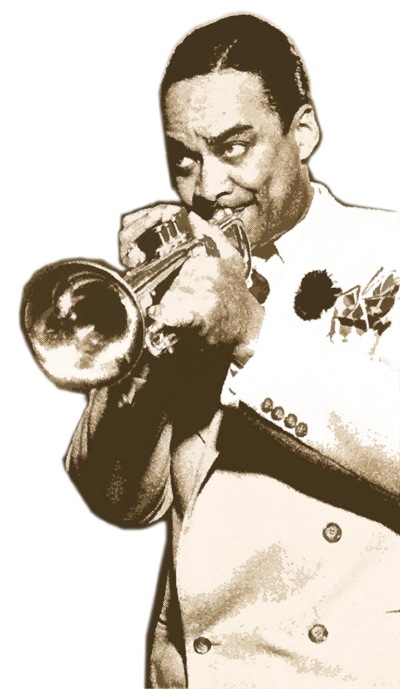 Trumpet Player Buck Clayton (1911-1991)

Swing era trumpet player Buck Clayton is best known for his role in the early years of Count Basie and his Orchestra and sensitive accompaniment to Billie Holiday on records.

Clayton's burnished, understated trumpet tone and tasteful use of cup-mute were distinctive.

In later years, his style came to define the Mainstream Jazz movement.



The personal musical style of Buck Clayton featured a flowing and melodic approach to improvisation, a refined tone, subtle use of mutes, a great feel for the blues and fine technique. Buck's trademark sound was more streamlined, smoother and intimate than his contemporaries. Widely respected among musicians, Clayton was NOT a bravura soloist in the Louis Armstrong manner, though he reportedly showed greater passion in live performances than on records.

Clayton's contemporaries recalled his striking good looks, grand sartorial style and memorable blue-green eyes that won him the nickname "Cat Eyes." His sly, muted trumpet sound was an essential element of the innovative Count Basie Orchestra style in hits like "One O'Clock Jump" and "Jumpin' at the Woodside."

Buck's restrained style and melodic improvising made him a popular soloist through the Swing era. Later, as Swing gave way to Bop, Clayton's stance between and independent of both camps came to be called Mainstream Jazz.

Bugle Blues & Rampage in G Minor.mp3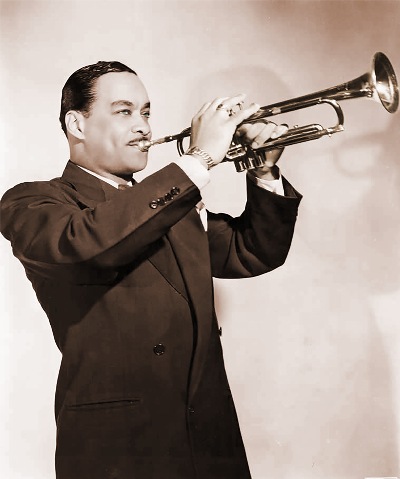 "The prettiest cat I ever saw," wrote Billie Holiday.


Swinging with Buck Clayton on Dagogo.




New 9.2015

Featuring Buck Clayton 1A
Clayton 1A.mp3

SWINGIN' AT THE DAISY CHAIN -- Count Basie and his Orchestra, 1937
BUGLE BLUES -- Count Basie and his All American Rhythm Section, 1942
RAMPAGE IN G MINOR -- Buck Clayton and his Swing Band, 1988
EASY DOES IT -- Count Basie and his Orchestra, 1940
AFTER THEATER JUMP -- Kansas City Seven, 1944
AVENUE C -- Buck Clayton and his Swing Band, 1988

Featuring Buck Clayton Pt. 1B
Clayton 1B.mp3

JAPANESE SANDMAN -- Earl Hines all Star Quintet, Paris 1949
DICKIE'S DREAM -- Count Basie's Kansas City Seven, 1939
GOOD MORNING BLUES -- Kansas City Five, 1938
THE VERY THOUGHT OF YOU (excerpt) -- Billie Holiday and her Orch, 1938
HE'S FUNNY THAT WAY (excerpt) -- Teddy Wilson and his Orch, 1937
CAN'T HELP LOVIN' DAT MAN -- Teddy Wilson and his Orchestra, 1937
DON'S BLUES -- Buck Clayton Sextet, Paris, 1949
SWEETHEARTS ON PARADE -- Buck Clayton Quintet, Paris, 1953
LOVE ME OR LEAVE ME -- Basie's Bad Boys, 1939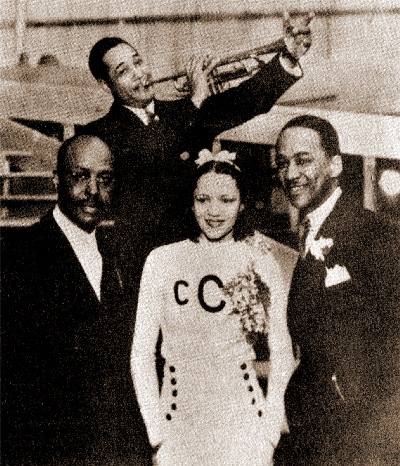 Early Years Out West, 1933-34

Buck Clayton's brief but colorful stay in Los Angeles is often overlooked -- perhaps because he made no records. The lively episode was recounted in his entertaining autobiographical memoir, Buck Clayton's Jazz World (1986). Barely out of high school he was trying to break into the music business while working odd jobs -- barbershop, garage, pool hall. The Central Avenue District of L.A. was a jumping jazz scene where he hung out and became acquainted with notable musicians -- bassist Milt Hinton and bandleaders Paul Howard, Charlie Barnet and Lionel Hampton.

Photo: The 1934 Clayton wedding was hosted by Duke Ellington (top), the officiating Reverend N. P. Greggs, Clayton's first wife Gladys "Derb" Henderson and Buck, 1934.

Clayton worked as a studio extra -- encountering actresses Loretta Young and Ginger Rogers. He became familiar with several Hollywood entertainers and flamboyant celebrities such as the prominent local boxer Gorilla Jones, who used to stroll down Central Avenue with a lion cub on a leash.

He met his inspiration Louis Armstrong, who was then playing at Sebastian's Cotton Club in L.A. Buck wrote that in their first encounter Satchmo showed him how to make a gliss (glissando: a smeared or bent note) and introduced him to marijuana.

Duke Ellington and The Famous Orchestra came to Hollywood to film the movie, Murder at the Vanities. Buck became friendly with Duke and most of the band and briefly worked for Ellington.

Ellington 'surprised' Clayton, hosting a large celebrity-studded wedding for him. A grand affair, it was held at the film studio with a specially constructed bandstand and seating for such attending luminaries as Mae West and gangster-film actor George Raft while the newsreel cameras rolled.

Duke and the orchestra actually performed for the marriage ceremony and following reception: "Cootie [Williams] and Tricky Sam Nanton growled the wedding march," reminisced Buck. The studio commissary produced "the biggest cake I ever saw made for me and my wife. Ivie Anderson sang . . . Duke did a concert of numbers."

A couple weeks later Clayton and his new bride were on a ship to China. His band, the Gentlemen of Harlem, accompanied piano player Teddy Weatherford for a 1934-35 residency at the top nightclub in Shanghai, the Canidrome. Working closely with impresario and musician Li Jinhui, Buck adopted Chinese musical scales into his composing and arranging, making a notable impact on popular music in China.

West Coast 1933-34 - Them There Eyes & What'll It Be.mp3

New 9.2015

Featuring Buck Clayton Pt. 2A
Clayton 2A.mp3

JUMPIN' AT THE WOODSIDE -- Count Basie Orchestra, 1938
DESTINATION K.C. -- Kansas City Seven, 1944
STOMPIN' AT THE SAVOY -- Teddy Wilson Sextet, 1945
THEM THERE EYES -- Don Byas' All Star Quintet, 1945
WHAT'LL IT BE -- Benny Carter Chocolate Dandies, 1946
NANCY'S FANCY -- Buck Clayton and his Swing Band, 1988
BLUES IN FIRST -- Buck Clayton Sextet, Paris, 1949
RATTLE AND ROLL -- Trummy Young and his Lucky Seven, 1945

Featuring Buck Clayton Pt. 2B
Clayton 2B.mp3

TOPSY -- Buck Clayton and Ben Webster, Belgium, 1967
PATRICIA'S BLUES -- Buck Clayton Sextet, Paris, 1949
WHAT'S THE USE -- J.C. Heart Quintet, 1945
GROOVIN' WITH J.C. -- J.C. Heard Quintet, 1945
GOOD 'N GROOVY -- Trummy Young and his Lucky Seven, 1945
SCRAM! -- Leonard Feather All Stars, 1944
CUP-MUTE CLAYTON -- Ike Quebec Swing Seven, 1945


Joining Count Basie, 1936

Though Clayton was born and raised in Kansas that's not how he became part of the Kansas City music scene. In 1936 he just happened to be in K.C. when Basie needed a trumpeter and practically hired him on the spot. Clayton was on every recording of the Basie orchestras and small bands from their first emergence on record in 1936 until 1942, save a small handful of sessions.

The Basie Orchestra's sound was like no other. They could blow other bands off the bandstand or create dark and mysterious moods with innovative harmonics. He was a perfect match for the Basie crew, writing: "they never let up. They would swing you into bad health . . . I had never heard such swingin' music in my life . . . there were only nine of them, but that nine could out-swing anything that I'd ever heard."

Though shocked to initially be offered only $14 dollars a week, Buck took the job anyway because he loved their music. His timing proved fortunate; the orchestra soon moved East and hit it big. Clayton became a valued component of the inner circle. Unofficially he was the orchestra's music director, also contributing tunes and arrangements. The sound of his muted trumpet was a key textural component integral to early Basie hits.

Clayton's vital role extended to the landmark small band records of Count Basie and the Kansas City Five, Six and Seven (1938-39). He co-starred in those combos with saxophonist Lester Young, trombonist Dickie Wells, Basie and the famed rhythm section. Their success was part of a broad trend of successful jazz combos that sold well, transforming and advancing Swing music.

Joining Basie - Dickie's Dream & Good Morning Blues.mp3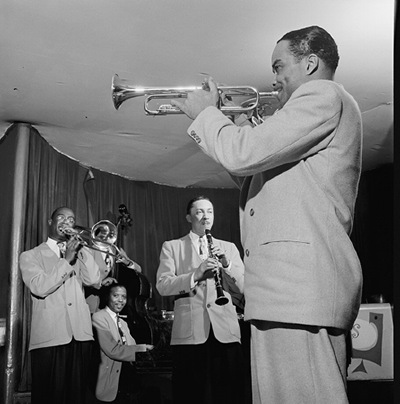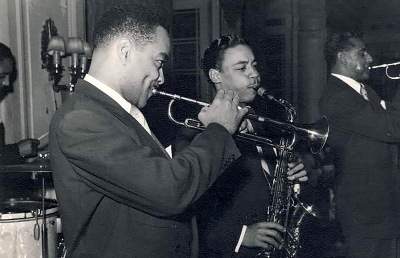 Buck Clayton
Photo Archive

In recent years some fine and previously unpublished images of Clayton have become available, including several from an online Jazz Archive that seems to have since withdrawn them.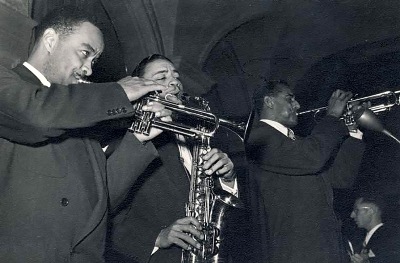 I believe many in this series are from Switzerland around 1949.


L to R: Clayton, possibly Glyn Paquet (alto sax), Merrel Stepter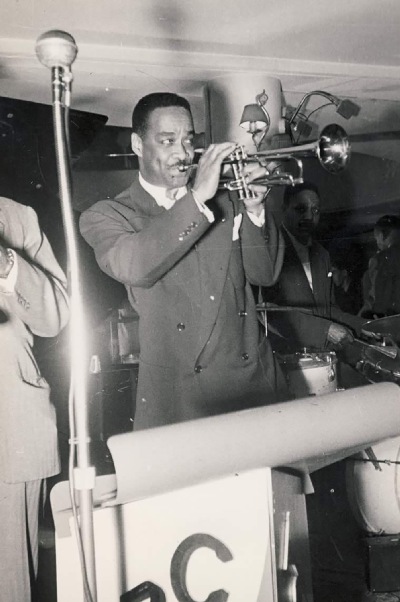 Note the music stand letters BC, for Bill Coleman
who was running a band in 1949 at the popular Chikito Club
in Basel, Switzerland, recognizable in the photos.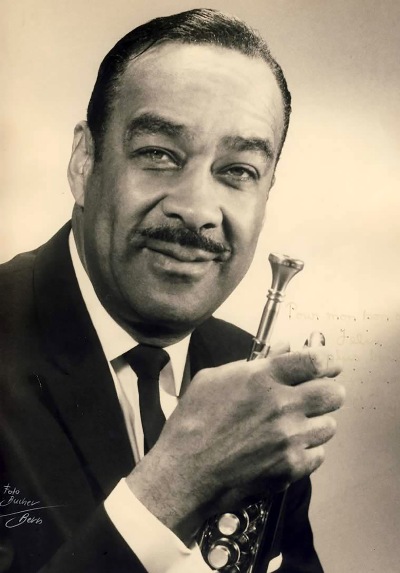 Arranger and Composer

Often overlooked are Clayton's formidable chops as a composer and arranger, dating back to his key role in the Count Basie Orchestra.

His arranging skills came notably to fruition during the 1980s in his Buck Clayton Swing Orchestra that performed in and around New York City. It's memorialized by the performances below.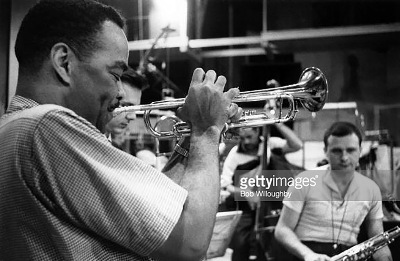 Life After Count Basie

Clayton's tenure with Basie ended when he was drafted in November of 1943 and during the Second World War he was briefly in the US Army. Fortunately, he was stationed in New Jersey, permitting him to continue recording and jamming in New York City. He played music under the leadership of Sy Oliver and Mercer Ellington (Duke's son), winning an Esquire Gold Award for "Best Musician in the Armed Forces."

Buck's career flourished through the 1940s and '50s. He worked or recorded with tenor saxophonists Coleman Hawkins and Don Byas, singer Jimmy Rushing, clarinetist Mezz Mezzrow, Earl Hines, Sidney Bechet, Norman Granz' Jazz at the Philharmonic and he appeared in the film "The Benny Goodman Story."

Clayton was one of the few trumpeters to mature before 1940 who successfully adapted to the changes in Jazz after WW II. Though he never made a fulsome transition to Bebop or Modern Jazz, Clayton took an independent stance that many called Mainstream Jazz (or Bop-influenced Swing). He waxed surprisingly progressive recordings in the mid-1940s with Ike Quebec and composer/pianist, Leonard Feather.

It's little appreciated that, aside from his fame with Basie and backing Billie, Clayton had an independent career as a recording star, soloist and arranger. He wrote and arranged for Tommy Dorsey, Benny Goodman and Duke Ellington. He was a valued all-star soloist for studio jam sessions and on the international jazz festival circuit, touring Australia, Japan and Europe several times with extended stays in France. Learning French easily, he recorded in Paris with a sextet under his own name in 1949.

Composer and arranger - Nancy's Fancy, Blues in First, Rattle and Roll.mp3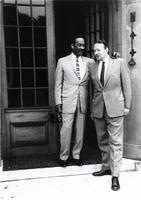 Buck and Humph, 1964-66

Humphrey Lyttleton (1921-2008) was the predominant British jazz trumpeter of the 1950s and '60s. He invited Clayton to join him making records and touring England. At this time Lyttleton was playing in the Count Basie style. The 1965 tour was a Kansas City Jazz Show -- a Swing revival starring Buck Clayton, Ben Webster (tenor sax), Vic Dickenson (trombone) and blues shouters Big Joe Turner or Jimmy Rushing.

Over the course of several tours the two had, wrote Clayton, "a ball blowing together" and became fast friends. Both wrote in their memoirs of the deep personal and musical rapport they shared. In Buck's autobiography – with a foreword by Lyttleton -- he dedicated an entire chapter to their time together, declaring them "trumpet brothers." Buck wrote of his delight at riding in Humph's sports car, racing through the rolling English countryside and stopping at roadside pubs for meat pies and ale.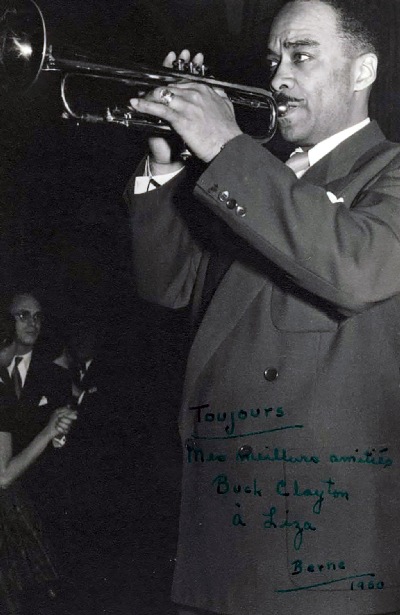 Farewell to A Well-Dressed Cat

Buck Clayton first gained popularity as a foundational component of the early Count Basie orchestra and related Kansas City combos. His sensitive accompaniments to Billie Holiday on record remain a tasteful exemplar of horn accompaniment for jazz singer. Today, this evergreen musician is recognized in his own right as a talented bandleader, music director, arranger and composer.

In the 1980s he lived in New York City, wrote his memoirs and led an orchestra. His composing skills came to fruition anew with the Buck Clayton Swing Orchestra for which he wrote dozens of tunes and arrangements. He taught at Hunter College (CUNY) and toured Europe again in 1983. Clayton died in 1991 about a month after his 80th birthday.

This dapper all-around musician was an original, sensitive and durable voice of jazz. Sustaining a creative and cooperative outlook for more than six decades, he embraced and resynthesized old and new with grace and modesty. Buck Clayton's subtle tone is woven into the very fabric and texture of mid-20th Century American Popular music and Jazz.

Conclusion and Cup-Mute Clayton.mp3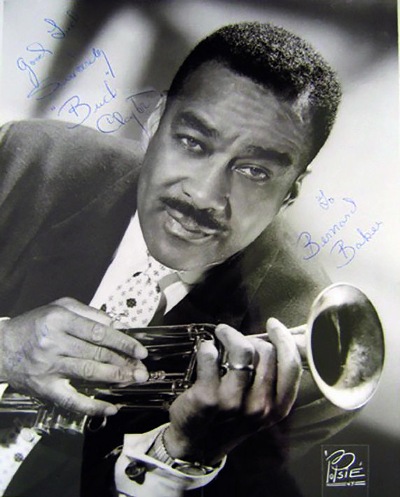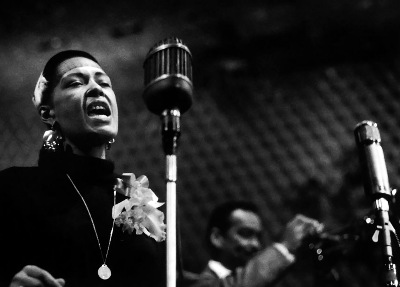 With Billie Holiday, 1937-39

Billie Holiday sang briefly for the Basie orchestra. She and Buck became very close and were probably lovers. Buck waxed about thirty titles with her during 1937-39.

Some of Holiday's finest studio accompanists, like Clayton, were often on loan from the Basie orchestra: tenor saxophonist Lester Young, guitarist Freddie Green or drummer Jo Jones. Their intimate partnerships shaped a new paradigm of intimate musical interaction for vocalist and jazz horn.

In his memoir Clayton recalled: "Such pleasure I had backing up Billie's songs to her vocals. When she would record I would watch her mouth and when I saw she was going to take a breath or something I knew it was time for me to play between her expressions. It's what we call 'filling up the windows'."

Recalls Billie Holiday - He's Funny That Way & Can't Help Lovin' Dat Man.mp3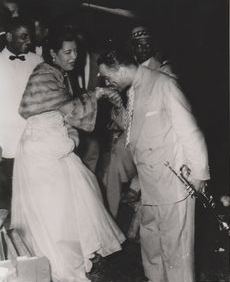 Buck Clayton on Billie Holiday, from his memoir:

"My first recording was with Teddy Wilson along with Billie Holiday, just about two weeks before Basie made his first recording with the band. The first recording of my life was "Why Was I Born?" which happened to be the first song to be sung by Billie.

We made several more dates with Billie after that, in fact whenever Basie would be in town we were sure to be called to play with the Lady. They turned out to be very successful, especially down South where the people really dug the blues.

Billie had joined the Basie band. She was great to work with as she was game to do anything that we would do. She would shoot dice with us, joke with us and, in general, do everything that we would do. We all liked Billie. Sometimes on the bus at night, when everybody else would be sleeping, Billie and I would talk.

Sometimes, when we were in New York, she would take me by her mother's restaurant and I'd have some ham hocks and turnip greens and other soul goodies. When we first met Billie Holiday she made it her business to take Lester and myself all around Harlem. We'd go t all the joints in Harlem. We three were always pretty tight together."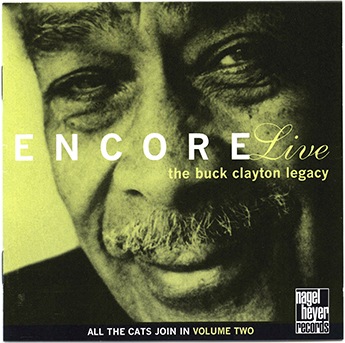 Randy Sandke and the Buck Clayton Legacy, 1993-94
Randy Sandeke was featured trumpet soloist for the regular engagements of the Buck Clayton Swing Orchestra at Fat Tuesday's Club in NYC, two European tours, and Clayton's memorial in December 1991.

Some of this band's arrangements were Buck's, and Sandke did his arranging based on years of experience working closely with him. Other friends of Clayton here include tenor saxophonist Danny Moss and drummer Oliver Jackson, who was associated with him for over three decades.


New 9.2015

Randy Sandke and the Buck Clayton Legacy
Nagel-Heyer CD 006 and CD 018
Composed and arranged by Buck Clayton, except as noted.

Hamburg, Germany, Nov. 1993
Randy Sandke (trumpet)
Danny Moss & Harry Allen (tenor saxes)
Antti Sarpila (clarinet, soprano and alto saxes)
Jerry Tilitz (trombone)
Brian Dee (piano)
Len Skeat (bass)
Oliver Jackson (drums)

Last four tunes in this set composed by Clayton:

All the Cats Join In.mp3
Blue and Sentimental.mp3
Come Again.mp3
Top Brass.mp3
Toot Sweet.mp3
Professor Jazz.mp3



Hamburg, Germany, Nov. 1994
Add: Scott Robinson (baritone sax)
Sub: Butch Miles (drums)

Toot Sweet.mp3
Professor Jazz.mp3
Jumpin' at the Woodside.mp3 (arr. Sandke)
All the Cats Join In.mp3 (arr. Sandke)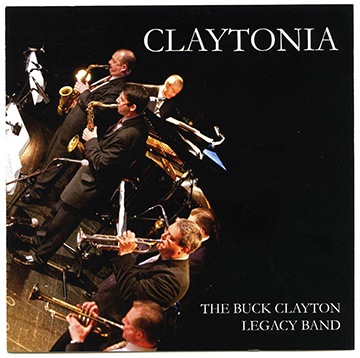 The Buck Clayton Legacy Band, 2011
BBC Radio 3, BCLB001

From Alyn Shipton's liner notes:
"In 1985, I met Buck Clayton when he had just finished the first draft of his autobiography, written with Nancy Miller Elliot, called Buck Clayton's Jazz World.

Just after Buck died in 1991, Nancy contacted me, and handed over a box of his music, with a message from Buck saying, 'You kept my memory alive with the book, maybe you can do the same with my music?'

It took a while, but in 2004, Matthias Seuffert and I launched the Buck Clayton Legacy Band at the Ascona Jazz Festival in Switzerland." [That terrific presentation deeply impressed this listener! DR].

"The music – beautifully arranged by Matthias from a variety of original lead sheets, scores and parts – had a few more airings in public before we decided to set the band up on a regular basis, and to play as many times a year as it was possible to gather our musicians from the UK, Holland and Germany.

This session was recorded during our first British tour in the spring of 2011. We had a great time bringing Buck's music back to life – some of it written in the 1950s, some in the '60s, but most of it dating from the period of his Swing Band in the 1980s."

Commentary by Peter Vacher, Jazz UK:
"The former Basie trumpeter gave co-leader Shipton a box of original music. Revamped for this brilliant nonet by saxophonist, Matthias Seuffert, Clayton's pieces lived again, emphasizing his composer's gift for well-shaped, swinging structures, the playing as exuberant yet concise as any Basie-ite might wish."



Claytonia: The Buck Clayton Legacy Band
March, 2011 for BBC Radio:

Matthias Seuffert (tenor sax, clarinet, co-leader)
Alyn Shipton (bass, co-leader)
Menno Daams & Ian Smith (trumpets)
Alan Barnes (alto sax, clarinet)
Adrian Fry (trombone)
Martin Litton (piano)
Martin Wheatly (guitar)
Norman Emberson (drums)

Composition by Clayton, arrangements by Seuffert:

Horn of Plenty.mp3
I'll Make Believe.mp3
Party Time.mp3



Swinging with Buck Clayton on Syncopated Times.



Sources and further reading:

Buck Clayton's Jazz World, Buck Clayton (Oxford University Press, 1986)

Black Beauty, White Heat: A Pictorial History of Classic Jazz, 1920-50, Frank Driggs and Harris Lewine (Da Capo Press, 1996)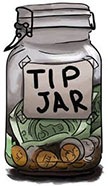 Tip Jar

This site is free.

But you can help sustain it, and encourage me with donation to the tip jar.

Secure payment through PayPal is anonymous, except that I will see your e-mail address.