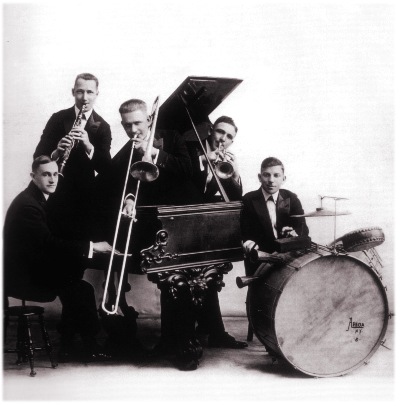 Original Dixieland Jazz Band
(ODJB)






Program excerpts:

ODJB PT. 1.mp3
ODJB PT. 2.mp3

ODJB PT. 3.mp3
ODJB PT. 4.mp3



Being the First

The music of Original Dixieland Jazz Band recorded between 1917 and 1922 has had a lasting impression on jazz makers world-wide for good reason. Their records contain all the important elements of New Orleans Jazz: dance rhythms, improvised solos, ensemble polyphony, and the unique musical blend that emerged from New Orleans' gumbo pot of diverse cultures -- a gumbo that was both black and white; immigrant and native; European and African; sacred and secular; privileged and impoverished.

Anybody who is the first to do a thing, who has instant success, or who lives in the shadow of people who later did a thing a thing better, is bound to have detractors: especially among critics, academics and historians. This is especially true in music and art. And that's very much the case with ODJB . . . as it has been at one time or another for W.C. Handy, Jelly Roll Morton, King Oliver, Bix Beiderbecke, Thelonious Monk, Sidney Bechet and others.

So one thing I'd like to say right up front is that Nick LaRocca and ODJB have been relentlessly disrespected by jazz writers: accused of plagiarism, racism, stiff rhythms, overexcited tempos, lack of improvisation and unsophistication -- but I'm going to prove those points wrong!

The Recordings may Sound Archaic Today . . .

Investigation reveals a group of dedicated musicians well steeped in New Orleans musical traditions, but presented by fledgling record companies in an unfamiliar and crude technology. ODJB was forced by their earliest recordists to speed up their tempos so that their tunes would fit onto 3 minute discs, and their overheated dance tempos also reflected the excitements of America's intoxication with World War One: especially troops heading to or returning from that existential no-mans land.
In fact, their later discs often have extended solos and more relaxed tempos proving that the band did have an introspective side, that they could play, as trombonist Eddie Edwards said "soft and ratty" so that, "the shuffle of the dancers feet could be heard."

As the first jazz band to successfully record jazz commercially their impact was worldwide. Listening to The Original Dixieland Jazz Band today is challenging due in part to the limited recording techniques of the day. But a careful listen to either their strong ensemble style, or historically accurate recreations of their sound today, may be a revelation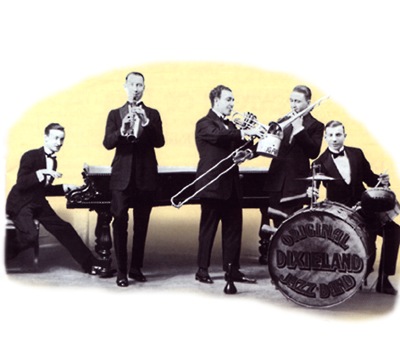 The London Recordings

"Satanic Blues" and "Lost my Heart in Dixieland" are both proof positive that ODJB could swing. They had a more relaxed tempo during their London sessions, due in part to being able to stretch out to nearly four minutes on a twelve inch disc, and mellow down to a medium tempo, with good ensemble dynamics. Larry Shields' clarinet tone comes through much more clearly on those sessions than in previous sessions. There's more of the low woody soulfulness typical of the best new orleans clarinetists.

Nick LaRocca Called a Racist

There's no doubt that ODJB trumpeter Nick LaRocca has become a controversial figure. He and ODJB were considered passé after 1922 when better jazz bands began to record. With perfect hindsight jazz writers began making harsh criticisms. Later, LaRocca and ODJB fell into disfavor with academics & jazz writers. Like pioneers W.C. Handy, James P. Johnson, & Jelly Roll Morton, ODJB was accused of plagiarism, inability to swing and not representing real music of New Orleans. All of which are untrue.

Like Morton Nick LaRocca became embittered at the success of others as fashion -- and success -- passed him by. He struck out at his critics, and even became something of a racist cartoon by actually asserting that black musicians had made little contribution to New Orleans jazz, nor anyone else besides ODJB.

Original Dixieland Jazz Band did have the privilege of recording for about 4 or 5 years before any African-American bands were let into studios by record companies. After 1922 other musicians and . . . frankly, better ones . . . were heard on disc: most of them black, some of them white.

But tell me -- should ODJB be held responsible for this segregation? Should their place in history be distorted because American society was racist? or because record companies were slow to realize that excellent black jazz talent was available?

I think not, because ODJB was understood by the public of their time to be playing the real jazz of New Orleans. Their world-wide success paved the way for jazz. When their first 1918 Victor recording of "Livery Stable Blue," surpassed the million-and-a-half sales mark within months of its release record companies quickly realized that this music had a vast and unique appeal -- and that a buck was to be made.

In any case, LaRocca became embittered suffering a nervous breakdown in 1925. He left music to run a contracting business in New Orleans and made a couple failed attempts to revive the band in the 1930s.

Nonetheless LaRocca and ODJB were a significant influence on young jazz musicians world-wide: Bix Beiderbeke, Bobby Hackett, the West Coast Trad Jazz revival band and jazz as a whole. Their tunes continued to be recorded world-wide to this day.

It's very easy to forget today that LaRocca grew up and lived during a time of considerable prejudice against his particular ethnicity: Sicilian-Americans who took plenty of ethnic abuse of their own. In fact, I think Italian-Americans have been largely unrecognized for their contributions to early jazz as evidenced by such illustrious Italian names in early New Orleans as: Wingie Manone, Sharkey Bonnano, Louis Prima, Leon Roppolo, Tony Parenti and Santo Pecora.

All of this -- and the controversy about Nick LaRocca and ODJB -- is investigated in greater depth in the excellent book by Dick Sudhalter, LOST CHORDS: White Musicians and their Contribution to Jazz from Oxford University Press . . . and at ODJB.com.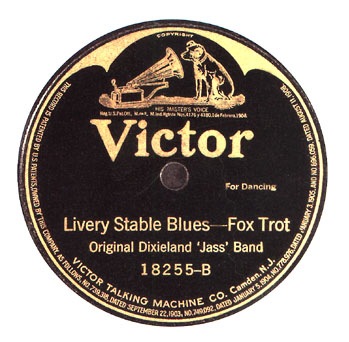 Hold That Tiger

ODJB TIGER RAG (mp3)

"Tiger Rag" was not an original tune when recorded and published by LaRocca. It had been well-known around New Orleans . . . possibly originating in a quadrille dance.

But it was the ODJB recordings that brought "Tiger Rag" into wide circulation, very wide circulation. It ranks up there with "St. Louis Blues," "Stardust" and "Dinah" among the most frequently recorded of jazz tunes -- certainly in the first half of the 20th century. It was put on disc by a wide range of musicians including King Oliver, Benny Goodman, Art Tatum, Duke Ellington, Django Reinhardt and Stephane Grappelli. In Germany during the time when the Nazis restricted jazz recordings and "non-Aryan" song titles, Tiger was disguised under the name "Der Schwartz Panther" (the black panther).

ODJB recorded "Tiger Rag" three or four times between 1918 and 1936. Sift through the ODJB waxings of "Tiger Rag" and you'll find good stuff there. Not to be overlooked is the revived Original Dixieland Five of 1936 with the original personnel. And the same year an ODJB big band with Nick LaRocca, Larry Shields, J. Russell Robinson, Tony Sbabaro and ten other musicians made some fairly decent records -- including "Tiger Rag" sounding remarkably like Casa Loma Orchestra!

But I think the best Tiger is still one of the early waxings: 1921, featuring Larry Shields' clarinet lines, which have become integral to the tune. Its a fitting monument to the first jazz band that was heard on disc playing New Orleans ensemble polyphony, with improvised solos and swinging dance rhythms: Original Dixieland Jazz Band.

I hope that I've brought you a more nuanced understanding and better appreciation for ODJB. The landmark recordings of the first New Orleans-style band heard on record were, and have remained, a global influence and a powerful jazz legacy.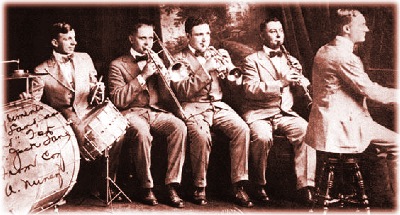 LINKS:

ODJB.com

ODJB at Wikipedia

ODJB at Ken Burns JAZZ

ODJB at Red Hot Jazz.com