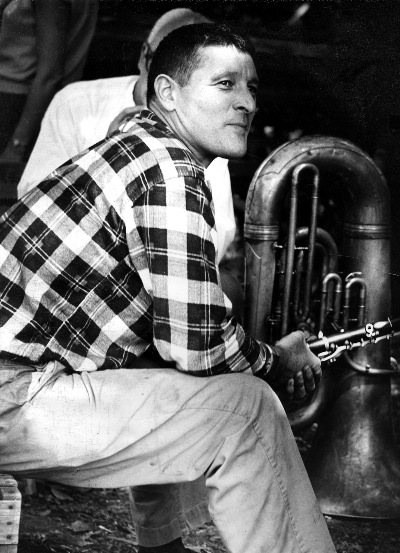 Earl Scheelar tape archive

This page is an archive of Earl Scheelar's tapes and performances, mostly from his personal library.

Much of this music is from an unissued trove of performances, jams and private sessions taped by Earl in Berkeley at the rumpus room above his VW Shop, The Albatross bar or the basement of a rental.

Earl's music ensembles of the 1960s often took on the character of the musicians participating and flavor of the moment.

Scheelar is heard playing:
Cornet
Clarinet
Soprano Sax
Alto Sax
Banjo
Baritone Horn
Tuba

Except as noted photos are from Scheelar's personal collection. Photographic credits given where available.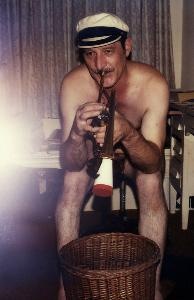 Earl Scheelar Will Surprise You

Dave Radlauer

Frisco Cricket, #71, 2016
SF Traditional Jazz Foundation

Interactive biographical sketch of Scheelar: 20 pages, 40 photos, 90 audio tracks.

* * * * *

More of Scheelar's music and story, here.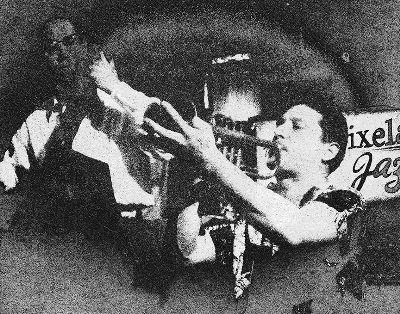 Shaping his Sound

As a bandleader Scheelar gradually imposed a defined format on his more formally organized ensembles beginning with Earl's New Orleans House Jazz Band (1966, right) and continuing in Funky New Orleans (1972). The trend intensified in Zenith Jazz Band, and its sister Zenith New Orleans Parade Band (1980s-'90s), an eleven-piece New Orleans-styled marching band.

Photo: Salvaged image of Earl with bassist Red Honore, probably at a jam session in the 1950s. Honore passed shortly afterwards.

Scheelar is an eloquent classic jazz horn player. Forthright and full-voiced, his heartbreaking tone is steeped in the Classic Blues. Playing with expression and fire, he imitates no one and has the rare ability to deliver the full impact of the blues on cornet.

In recent years I've come to know Earl and been granted generous access to his personal tapes, memories and photos. I'm continually surprised by his many remarkable skills, stylistic range, and ability to play several instruments very well. I'm in awe of his broad talent, steady dedication over six decades, and quiet independence. All modestly concealed by his taciturn demeanor.

In many respects Earl's hot bands of the 1960s embodied the spirit of Lu Watters' small bands and quintets during the sunset years of Yerba Buena at Hambone Kelly's. Working closely for years with Burt Bales and decades with Helm, Scheelar engaged with the deepest roots and traditions of west coast jazz.

Plainly a man of many parts, aside from making all this music Earl has been a resourceful craftsman, businessman, home builder and licensed real estate agent. Surprisingly, despite his broad proficiency and polymathic musical skills Earl was never a "reading musician." Almost all the fine restored recordings here were originally made, produced, dubbed or edited by Earl, either with is own reel-to-reel or by Marshall Kent who had access to an Ampex deck and fine European microphones.


ARCHIVE MUSIC
Oxtot, Scheelar, Bardin, Sharpton, Charters, Dane,
Monkey Inn, c. 1958

Dick Oxtot (cornet)
Earl Scheelar (clarinet, cornet)
Bill Bardin (trombone, last two)
Le Sharpton (string bass),
Sam Charters (banjo, vocal)
Barbara Dane (vocal)

Good Morning Blues (vocal, Dane) 3:30
Muddy Water (vocal, Dane) 3:27
There'll Be Some Changes Made 3:29

Add: Bardin, trombone
At a Georgia Camp Meeting (Scheelar, cornet; no clarinet) 2:30
Till We Meet Again 4:36

Set complete.mp3 27:50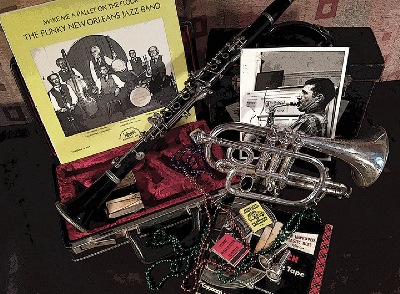 A rough guide to these exclusive performances:

I..Rumpus Room era, party tapes, The Albatross, Jackson-Scheelar Hot Five and the Basement tapes, c. 1960-70. Earl plays baritone horn and tuba 1960s.

II. Earl plays Alto and Soprano saxophones, 1970s. Swinging sessions or casuals from the late-1960s and early 1970s.

III. P.T. Stanton's Stone Age Jazz Band, mid-1970s.

IV. Various ensembles and small bands, 1980s-90s.

Note: This music was taped at informal gigs, jam sessions, performances or dedicated recording sessions. Despite occasional flaws, technical shortcomings and missed notes they're offered as historic artifacts.




Monkey Inn, early 1960s

According to Bob Mielke, Monkey Inn could occasionally, "get a little rough." He describes the college-age crowd as, "fraternity boys out on their first beer benders," though another less charitably called them "a pack of little thugs." Scheelar reports that one time, when a tough motorcycle gang infested the joint, the musicians packed up their instruments and left.

The sometimes boisterous establishment opened onto to busy Shattuck Avenue through the (audibly) swinging barroom doors next to the piano. During "Sweethearts on Parade" Erickson fends off a patron trying to use the piano as a trash receptacle, the occasional clang of a dinner bell had something to do with food orders.

Other bands and ensembles heard there included Great Pacific Jazz Band, Bob Mielke's Bearcats and Le Sharpton's New Orleans Band. After about 1960 Bill Erickson was house pianist, directing various combos and ad hoc groups.


ARCHIVE AUDIO
Yost, Scheelar, Erickson Runkle
Monkey Inn, 2/3/63

Walter Yost (cornet)
Earl Scheelar (clarinet)
Bob Meilke (trombone last five)
Bill Erickson (piano)
Brett Runkle (washboard)

Set A
Intro by Dave Greer

I Ain't Gonna Give Nobody None of my Jelly Roll 4:30
Breeze 4:23
Nobody's Sweetheart 5:17
Nagasaki 3:48
Sweethearts on Parade 3:40

Set A complete 21:50

Set B
Add Bob Mielke (trombone)

1919 Rag 4:28
When Erastus Plays his Old Kazoo 6:17
Wild Man Blues 6:29
You Always Hurt the One You Love 6:12
Just a Closer Walk 5:17

Set B complete 28:40



Great thanks to Earl Scheelar for supplying most of the sound, images and memories contained herein.

Thanks for assistance to Dave Greer, and to Hal Smith for music consultation.




The Rumpus Room
above Earl's VW Shop, 1960s:





ARCHIVE MUSIC

Wild Sessions at Earl's Rumpus Room 1960s

Through the 1960s Scheelar recorded dozens of excellent sessions above his VW shop in Berkeley, at The Albatross bar, or the basement of a place he rented. The spacious 'rumpus room' above his Berkeley Volkswagen repair shop was popular for jam sessions, and Bill Erickson practiced piano there.

Here there were lively parties and memorable feasts says Earl, "One Thanksgiving we had a big dinner and served a whole roast pig with an apple in its mouth." Which was promptly torn apart and consumed in a "feeding frenzy" by more than two-dozen revelers. Fortunately, a couple of roast turkeys were also on hand, if slightly undercooked.

Several Rumpus Room sessions stand out for spontaneity and enthusiasm, such as this party tape made by Dave Greer around 1960. Earl doubled on cornet and clarinet alongside John Boland (clarinet) and Ernie Carson (trumpet). "Weary Blues" and "Cakewalkin Babies" feature Earl's cornet duets with Carson, and his clarinet duets with the rarely recorded Boland. Other personnel were Tony Lanphier (trombone), Bill Erickson (piano), and in places probably Dick Oxtot (banjo), Pete Allen (string bass), Walter Yost (tuba), Bret Runkle (washboard) and others.

Earl's Party, c. 1960:
Weary Blues
Cakewalkin' Babies (from Home)

Earl wryly told me, "Ernie Carson got drunk that night. And I caught him trying to leave with a half-gallon jug of wine." With Carson out, Earl led one of his cornet showcases, "Mama's Gone, Goodbye" with lots of 'trading fours' until everyone jumped in for a monster out-chorus.

Mama's Gone, Goodbye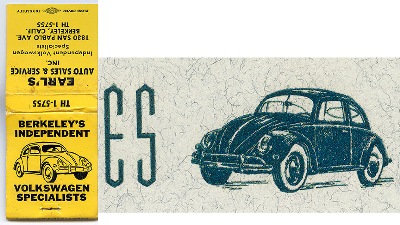 The Rumpus Room Above Earl's VW Shop 1966

Many of the sessions taped at the rumpus room above Earl's VW shop were fine settings for soprano (and tenor) saxophone player John Smith, a follower of George Probert. Smith was from Southern California, in the military and stationed at nearby Oakland Army Base. His soprano and tenor sax were a delightful addition to Scheelar's sessions. However, I must confess bafflement regarding criticism of his style and technique by fellow musicians. Sadly, when Earl picked Bob Helm rather than Smith for his 1972 LP album the result was a permanent rift between the two.

Images: Earl's Auto Sales & Service matchbook advertising, and Earl's personal letterhead.

Besides John Smith and Scheelar on cornet, personnel were John Farkas (trombone), English pianist Cyril Bennett, Karl Walterskirchen (banjo) and Peter Berg (guitar). Dick Oxtot plays an E-flat tuba. Earl's heart-rending horn tone and soulful vibrato are breathtaking.

VW Shop, 1966:

Someday Sweetheart
I Can't Give You Anything But Love
Anytime
My Bucket's Got a Hole in It
Everybody Loves My Baby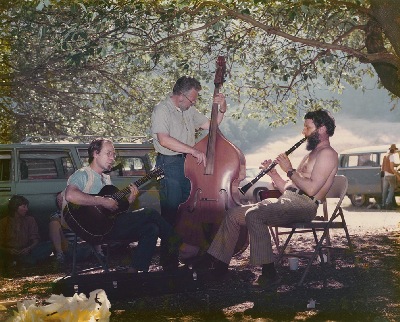 Pete Allen (bass) and Peter Berg (guitar).

Earl and Allen joined Berg, an archaeologist for the state, at a dig in rural California.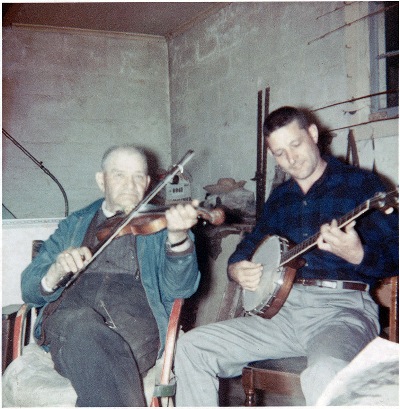 Violin and Fiddle Music 1960s

Growing up in Oregon Earl's father Ben (right) played country fiddle and he learned too. From time to time Scheelar returned to his rural musical roots and picked up a violin. On special occasions or just feeling experimental he'd play hillbilly fiddle or semi-jazz violin in an unadorned straightforward manner. In one recovered tape Earl was rehearsing for a gathering of the New Orleans Jazz Club of Northern California, accompanied by Dick Oxtot (piano or banjo) and Dick Bowman (trombone).

Earl Scheelar, violin:

That's a Plenty
Just Because
Farewell Blues

Other times Earl reprised tunes his father had played: waltzes, schottisches and country favorites. "When You Wore a Tulip" was from a party around 1960 when he was backed by Bret Runkle (washboard) and an unknown mandolin and string bass player.

Earl Scheelar, fiddle:

Oklahoma Hills
San Antonio Rose
When You Wore a Tulip



Scheelar-Jackson Hot Five:


Scheelar-Jackson Hot Five, 1964-65

"For my money, this is one of the very best sessions ever recorded in the East Bay," says traditional jazz drummer Hal Smith. I'm calling the spirited band on these long unheard tapes the Scheelar-Jackson Hot Five. Recorded at The Albatross and the basement of Earl's rental.

Bob Jackson was an excellent cornet player who came to Berkeley regularly visiting his mother. In later years he played in Grand Dominion Jazz Band, possibly Vancouver, Canada's best revival jazz band. I concur with Earl that his and Jackson's horn styles were remarkably similar in tone and outlook.

These informal ensembles embody something of the spirit of the sunset years of Watters' Yerba Buena band at Hambone Kelly's in the East Bay. During the 1960s Scheelar's music drew from a broad stylistic palette and stellar roster of associates. His ensembles took on the flavor of the personnel and character of moment, looser and more spontaneous than his later more formally organized bands.


Scheelar-Jackson Hot Five I
Earl's Basement 9/19/65:

Besides Jackson and Scheelar (clarinet) this lineup includes Bob Mielke (trombone), Dick Oxtot (banjo) and Walter Yost (tuba) who was never in better form supporting this ensemble sans piano or drums. Earl serves up a rich clarinet gumbo for some high steppers and a lowdown blues.

You Tell Me Your Dream
You Always Hurt the One You Love
Salty Dog
When You Wore a Tulip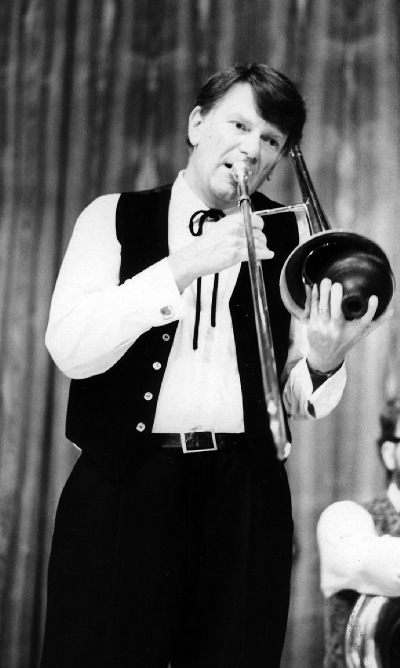 Scheelar is convinced there was no more imaginative trombone player in the Bay Area than Bob Mielke. But he wasn't as consistent or reliable as others who worked for Earl, like John Farkas, Mike Starr or Bill Bardin. Says Earl:

"There were a lot of good [trombone] players, but not imaginative players. They didn't have the background that Mielke and Bardin did.

Mielke had a distinct style; you can pick him out of a crowd any time. He had his own licks that he played a lot; he didn't copy anybody. I've heard Mielke play things that would make you cry. But he was never the consistent player that Bardin was."

Mielke collection




Scheelar-Jackson Hot Five II
Earl's Basement 9/19/65:

I hear echoes of Mielke's Bearcats in this session with Jackson (cornet) and Scheelar (clarinet). Bob's trombone and vocalizing are distinctive on "I'll Be Glad When You're Dead," as is Oxtot's singing for "There'll Be Some Changes Made." There was no better rhythm banjo player in the Bay Area at the time; Dick swung the whole band in this two-man rhythm section with Walter Yost (tuba).

I'll be Glad When You're Dead (You Rascal You)
There'll Be Some Changes Made
The Blues my Naughty Sweetie Gives to Me
Don't You Leave Me Here
Cakewalkin' Babies (from Home)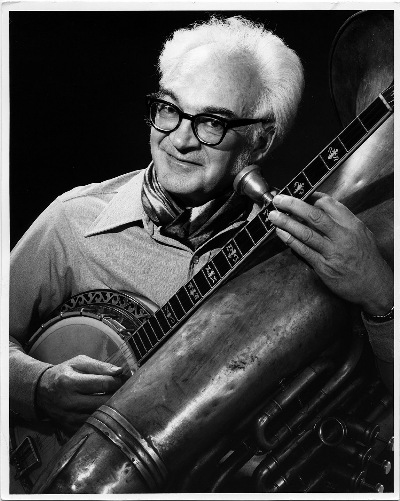 Dick Oxtot

Purveyor of
"Vintage music
with Style."

Oxtot collection.


Scheelar-Jackson Hot Five III,
The Albatross 4/23/65:

Sessions from this era show the imprint of P.T. Stanton on Scheelar's leadership, particularly the use of riffs. Riffing was two or more horns playing simple repeated figures behind soloists. It was a key feature of East Bay revival jazz, and among the techniques Stanton helped to introduce.

Listening back a half century later Earl commented, "I had no idea this session was that good." On this occasion Earl sounds a little like Bob Helm, one of his favorite musicians. "Should I?" shows clever use of riffs in both the foreground and background.

This is the so-called Scheelar-Jackson Hot Five with no trombone, but instead John Smith on tenor sax. The Albatross was (and still is) a pub on San Pablo Avenue in Berkeley where Earl and others played in the mid-1960s.

Should I?
Just a Little While to Stay
Everybody Loves My Baby




Earl Scheelar's music and story are further explored, here.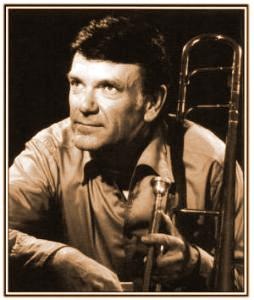 Scheelar-Jackson Hot Five Plus One IV,
The Albatross 1964-65

Scheelar was associated with Dick Oxtot for more than forty years. Dick is present on nearly every tune presented ihere, playing banjo, tuba, singing or bandleading. The two-man rhythm duo of Oxtot (banjo) and Pete Allen (string bass) provided rhythmic locomotion with unbeatable drive, accuracy and swing as they had in Mielke's Bearcats.

With a four-horn front line in this session, inventive head arrangements and riffing added harmonic complexity and rhythmic drive, especially with a riffing specialist like Bob Mielke on hand. John Smith's tenor sax (the plus one) came across beautifully, the well-blended voices of Mielke and Smith creating a startling diesel-powered 'section' effect on "Gettysburg March."

Tishomingo Blues
Bye, Bye Blackbird
Gettysburg March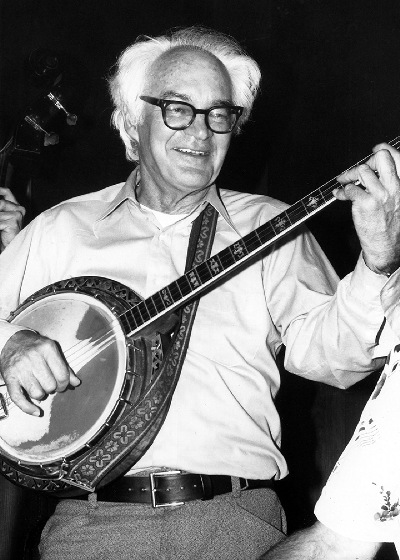 Dick Oxtot and Scheelar were affiliated for at least four decades.

Oxtot collection.


Scheelar-Jackson Hot Five V
The Albatross 1965-66

Earl plays Baritone Horn

Earl regards his proficiency with baritone horn and tuba as natural extensions of his interest in the cornet; they are essentially the same instrument scaled up in size, down in pitch. He notes that the baritone horn occupies the same tonal range in the brass family as trombone.

During this 1965 performance at The Albatross Earl switched to baritone horn for a few tunes. Besides Scheelar personnel were Bob Jackson (cornet), John Smith (soprano sax), Dick Oxtot (banjo, vocal) and Pete Allen. The fourth item on this list, "Someday You'll Be Sorry" is from a 1969 session with Jim Goodwin (cornet) and Ray Skjelbred (piano) detailed below.

Salty Dog
L-O-U-I-S-I-A-N-I-A
I Ain't Gonna Give Nobody None of my Jelly Roll
Someday You'll Be Sorry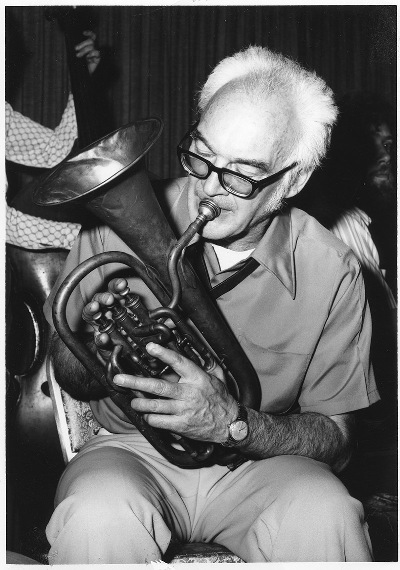 Like Earl,
Dick Oxtot also played baritone horn.

Mielke collection.


Scheelar-Jackson Hot Five VI
The Albatross 1966

Scheelar tuba

Scheelar was eager you should also hear some of his tuba playing as well. The date and location of this session when he blew some tuba for kicks is uncertain. It's probably at the Albatross in 1966 with John Smith (soprano), Farkas (trombone) and Karl Walterskirchen (banjo).

Nobody's Sweetheart
I'm Gonna Sit Right Down and Write Myself a Letter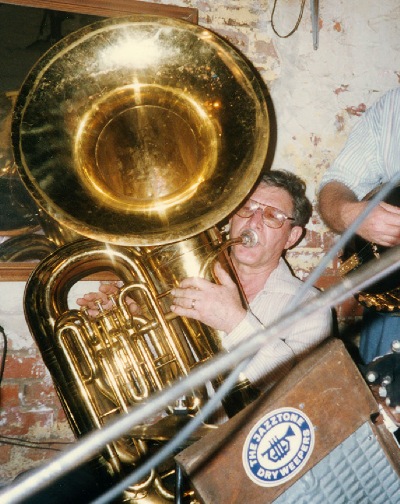 Earl in New Orleans sitting in at Fritzel's,
c. 1989.


Scheelar with Bob Helm: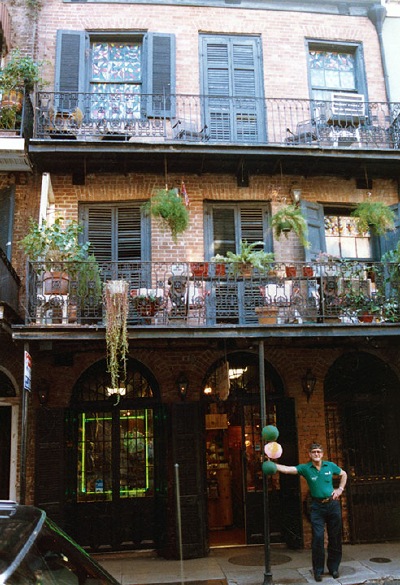 Drifting South
New Orleans, 1989-2005

Earl's music ensembles and life in general drifted steadily South toward Louisiana. In fact, Scheelar and wife Alice moved to New Orleans, living there part-time, 1989-2005:

"We bought a 3 story, six-unit, brick building with wrought-iron balconies in one of the nicest parts of the French Quarter. We spent 6 to 8 weeks a year building an apartment in the attic, before selling the building, just before Hurricane Katrina in 2005.

For several years Bob Helm was my guest, played at the French Quarter Festival, sat in with the locals, and recorded with Gauthe's band. Bob and Jacques became very good friends." 


In New Orleans Scheelar befriended the local jazz musicians, sitting in with Jacques Gauthe and his eight-piece, Lu Watters style, Creole Rice Jazz Band at the prestigious Meridian Hotel, as did Helm. Earl also started a small foundation distributing musical instruments to local youngsters.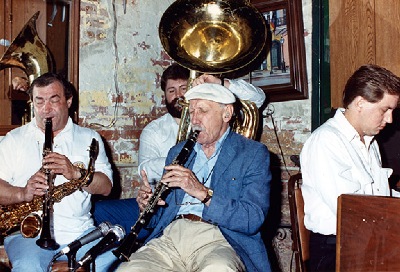 Helm in New Orleans, late 1980s

L to R: Jacquest Gauthe, Tom Saunders, Helm, unknown piano player.



Scheelar-Helm band,
NOJC, Marshall, CA 1969

This is a barely disguised version of Earl's New Orleans House Band on the way to becoming Funky New Orleans Jazz Band. Scheelar was never better on cornet, his heartbreaking tone on full display. Helm was at the height of his powers and trombonist Farkas sounding great.

Earl Scheelar (cornet)
Bob Helm (clarinet, soprano and tenor sax)
John Farkas (trombone)
Ray Skjelbred (piano)
Dick Oxtot (banjo, vocal)
Jim Cummings (bass)

Side A
Tishomingo Blues
Angry
Milenberg Joys
Alcoholic Blues
Bogalusa Strut

Scheelar-Helm Marshall Set A complete

Set B
I Want a Little Girl
Willie the Weeper
Someday Sweetheart
Just Because
You Always Hurt the One You Love
Atlanta Blues (Helm tenor sax, tape damage)
Doctor Jazz

Scheelar-Helm Marshall Set B complete



Swinging Sessions, 1969-78: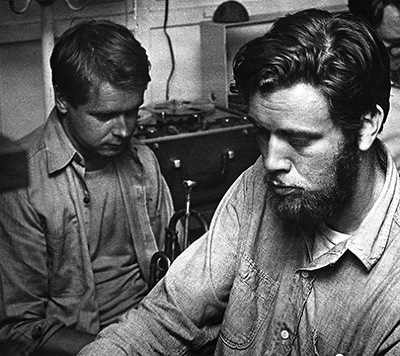 New 6.2016

ARCHIVE MUSIC

Jim Goodwin-Ray Skjelbred Basement session, 1969

Jim Goodwin (cornet)
Earl Scheelar (clarinet)
John Farkas (trombone)
Ray Skjelbred (piano)
Dick Oxtot (banjo)
Pete Allen (string bass)

The searing horn of Jim Goodwin served as focal point for this swinging session in the basement of Scheelar's Berkeley rental. All parties rose to the occasion and trombonist John Farkas was at his very best.

Photo: Jim Goodwin and Ray Skjelbred, late 1960s. Mielke collection.

Ray Skjelbred (b. 1940, Chicago, IL) rarely sounded better in this session ranging from swinging sophistication to raucous barrel house. His nuanced piano fills and solos were picked up nicely, but only barely adequately for his vocal on "Glad Rag Doll." Scheelar switches to baritone horn on "Someday You'll be Sorry."

Glad Rag Doll
Red Roses for a Blue Lady
Mood Indigo
Just Because
Make Me a Pallet on Your Floor
Blues at Earl's
Someday Sweetheart
Someday You'll Be Sorry (Scheelar, baritone horn)
Lady Love
Yes, Yes in Your Eyes

Earl's Oct 1969 Skjelbred-Goodwin complete

Courtesy Earl Scheelar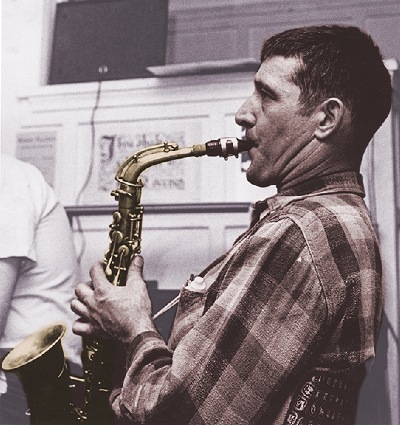 Earl Plays Alto and Soprano Saxophones
Rumpus Room, 1971

It's neither well known nor appreciated that Scheelar played very good alto and soprano saxophones. He had fine technique and style on each, hinting at many influences but imitating none.

With some pride he recently issued a CD of his soprano and alto music recovered from A Jam Session Above Earl's VW Shop 1971 (available directly from Earl). Often doubling, switching between soprano and alto, Earl's jaunty effervescence is delightful

Jim Goodwin (cornet)
Earl Scheelar (soprano and alto saxophones)
Ray Skjelbred (piano)
Luder Ohlwein (banjo, guitar)
Add Bob Mielke (trombone) on "Marie"

Yellow Dog Blues
What's the Reason I'm not Pleasin' You
Marie
Give Me Your Telephone Number

(Note: Audio courtesy of Earl Scheelar was taken from master tapes, not the commercial CD.)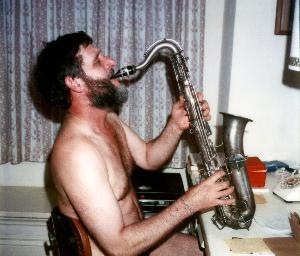 Doubling on Alto Sax
and Clarinet
with Andy Stein and
Dick Oxtot,
The Ordinary 1975

Hot violinist Andy Stein was then playing locally with Commander Cody and the Lost Planet Airmen, a band fusing Rockabilly and Western Swing. Stein went on to national success on radio with Prairie Home Companion house band and in the Saturday Night Live orchestra on television.

Something about the alto brought out the wild man in Scheelar, particularly around 1975 at Dick Oxtot's rolling jam sessions at The Ordinary. This lively, casual Oakland nightspot drew a rather younger, hipper (and Hippie?) crowd. It was the first place trombonist Bill Bardin saw unisex bathrooms. Notably, Oxtot is the only musician present on more than two thirds of the recordings presented here. This lively session fulfilled the slogan on his business card and letterhead, "Vintage music with Style."

Scheelar doubled on alto and clarinet in this barely salvageable audiocassette. Stein switched between bluesy jazz fiddle and baritone sax. Bill Bardin played trombone and Walter Yost tuba, cornet on "Sunday."

L-O-U-I-S-I-A-N-I-A
Mama's Gone, Goodbye
Sunday



Dave Walker's All Stars,
Bob Helm and Burt Bales
NOJCNC 1974

Walker's All Stars was an exquisite jam band assembled from the usual suspects for a session of the New Orleans Jazz Club of Northern California. Former club president Dave Walker selected these "All Stars," musicians who'd been friends for decades: Scheelar (cornet), Bob Helm (clarinet and soprano), Bob Meilke (trombone), Burt Bales (piano), Dick Oxtot (banjo) and Walter Yost (tuba). Identity of the drummer remains unknown.

Oh, Didn't He Ramble
Willie the Weeper
The Waltz You Saved for Me
Dippermouth Blues



Further explore Scheelar's life and music, here.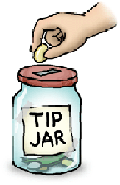 Tip Jar

This site is free.

But you can help sustain it, and encourage me with donation to the tip jar.


P.T. Stanton's Stone Age Jazz Band,
1974-78: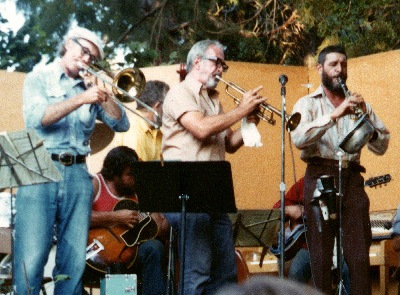 P.T. Stanton's Stone Age Jazz Band

The Missing Reels, 1975


Scheelar's clarinet was a principal voice in
P.T. Stanton's Stone Age Jazz Band. Horn man P.T. Stanton
was a gifted instrumentalist and bandleader who
created an odd but distinctive personal style and ensemble sound.

Earl and P.T. were close musical friends. His influence on Earl is substantial relating to qualities of leadership, well-voiced riffing and an emphasis on the clarinet and trombone as primary soloists. Buried in Earl's rich horn palette one might hear echoes of Stanton's expressive tone heavily modified by mutes. Earl responded to P.T.'s outlook and leadership style saying:

"His cornet style was so sparse, so laid back, but he would punctuate and syncopate and do things that made other people respond. P.T. was the most understated back-in-the-background player. But he had the ability to goose people and get the best out of them. And that's very evident in the Bearcats, and in the Stone Age."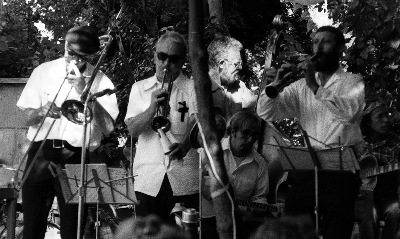 Stone Age Jazz Band

L to R:
Bardin, Stanton, Allen, Boberg, Scheelar, Berg

Date and location unknown.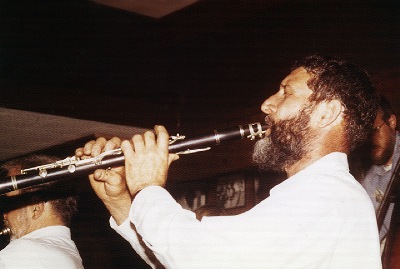 It was Scheelar who suggested the unorthodox rhythm format of Stone Age utilizing banjo AND guitar with a string bass but no drums or piano. On this session regular guitarist Peter Berg was replaced by Melissa Levesque (now Melissa Collard) and the banjo player was Karl Walterskirchen.

Officially, Peter Allen was string bass player though the late Mike Duffy often subbed for him in rehearsals and his alternate, Walter Yost, played tuba on many recordings, including most of the album tracks. Yost was the rare tuba player skilled enough to blend delicately with the two plucked instruments.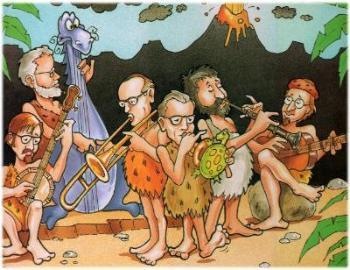 ARCHIVE MUSIC

Stone Age Jazz Band, 1975

The reels from which the 1992 Stone Age album was made went missing. This music was salvaged by remixing the original four-track masters.

Scheelar was constantly weaving a dense musical line, his distinctive voice providing a firm structural armature for the band, and Bill Bardin's fluid trombone was an eloquent and broadly supportive voice.

"Earls Blues" (aka "Stone Age Blues") and "Tiger Rag" were on their one album. Recorded at New Orleans House in June 1975 by Marshall Kent, these are newly remixed tracks and recovered outtakes from their Stomp Off LP (SOS 1128, 1992).

P.T. Stanton (cornet)
Earl Scheelar (clarinet)
Bill Bardin (trombone)
Melissa Lavesque/Collard (guitar)
Karl Walterskirchen (banjo)
Walter Yost (tuba)

The Old Spinning Wheel
1919 March
Swanee River
Girl of My Dreams
Earl's Blues
Tiger Rag



Various ensembles
and small bands, 1980s & '90s: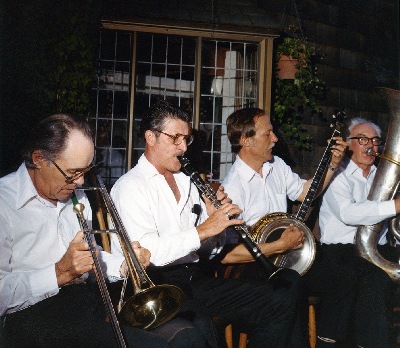 Scheelar associates

L to R: Bill Bardin, Earl Scheelar, Carl Lunsford, Dick Oxtot c. 1980.


Zenith Jazz Quartet, Tom Barnebey (cornet) 1991

Here's a little something extra; previously unissued music taped with care by Marshall Kent at the Brass Rail in Alameda, CA 6/16/91. Since around 1990 Scheelar has worked extensively with Tom Barnebey, a cornet, piano, banjo, trombone and tuba player, singer and bandleader; and he still does today. Jim Cumming (string bass) and Frank Tateosian (banjo) were friends and associates of Earl since before 1960.

New Orleans Shuffle
Way Down Yonder in New Orleans
Someday Sweetheart
Do You Ever Think of Me
Isle of Capri
Lady Love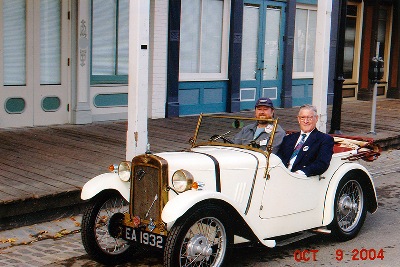 Earl Scheelar's music and story are further explored, here.


Earl's restored custom-bodied 1933 Austin Arrow.



Thanks for assistance to Dave Greer, Hal Smith for music consultation.

Great thanks to Earl Scheelar for supplying most of the sound, images and memories contained herein.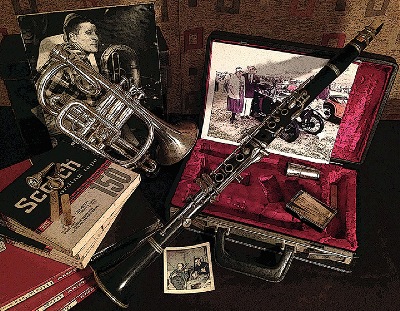 Earl's souvenirs
from a life dedicated to jazz.


Image
by Dave Radlauer