IMAGINING BUDDY BOLDEN (1877 - 1931)










Only known photo of Bolden and his band.

BOLDEN WAS THE FIRST

Turn-of-the-century trumpet player Buddy Bolden was the first to play blues for dancing, the first to lead a real jazz band, the first to live a flamboyant larger-than-life existence as "King" of the jazz tribe in New Orleans.

"Imagining Buddy Bolden" is a radio documentary about this first band-leading "King" of New Orleans jazz, c. 1900-06. He never recorded and to this day remains an enigmatic legend. Its my hope that listeners can imagine Bolden's music through the words of those who actually heard or knew him and recordings of the trumpet players most likely representative of his rough, unschooled but inspiring sound.

Audio excerpts:

01_Introduction to Bolden (mp3)
04_Bunk Johnson Remembered Bolden (mp3)
05_Lee Collins & Joe Nicholas Heard Him (mp3)
02_Buddy And His Men Played By Ear (mp3)
08_Odd Fellows Hall (mp3)
09_Three New Orleans Venues (mp3)
10_Hearing Bolden Over Water (mp3)
11_Buddy Bolden's Blues_ Aka Funky Butt (mp3)
12_Bolden Goes Insane & Conclusion (mp3)


Imagining Buddy Bolden is based largely on the research of Donald Marquis' landmark book, In Search of Buddy Bolden: First Man of Jazz, 1978. Its surely the most authoritative work, painstakingly researched through hundreds of interviews, articles, oral histories, books, monographs and an exhaustive search of documentary records in Louisiana. Carefully reasoned and cautious, I believe it a reliable account of his life, sound, musical repertory and eventual insanity.

Going further, to IMAGINE Bolden, I've borrowed from Michael Ondaatje's fictional biography of Buddy, Coming Through Slaughter, 1976. Its a spirited and inspired attempt to penetrate the mind and personality of the first self-invented jazz musician.

BOLDEN's MUSIC

By all accounts Bolden did play exceptionally loud, he played almost everything in B-flat, and though musically untrained and lacking technique his improvisatory embellishments, especially his expressiveness playing blues, deeply affected all who heard him. According to musicians Kid Ory, Bud Scott and Mutt Carey, Buddy's fame came in part from his ability to "fake." Ory said that "if he forgot a passage he would introduce embellishments that his listeners often enjoyed more than the music originally written." Trombonist Roy Palmer agreed: "Buddy would never bother with written music, he faked all the time." He in fact may have been able to read music, but not very well and in any case he played from his head. But Bolden's greatest contribution was that he played blues and stomps for dancing leading an ensemble band that enthused the populace of New Orleans regardless of class, race or position. (Marquis, 1978)

Before Bolden New Orleans music was still ragtime, after him it definitely became jazz. Creole clarinetist George Baquet vividly recalled hearing Bolden's music the first time and its impact:

"All of a sudden, Buddy stomps, knocks on the floor with his trumpet to give the beat and . . . they played 'Make Me a Pallet'. Everybody rose and yelled out "Oh, Mr. Bolden, play it for us Buddy, play it!" I'd never heard anything like that before. I'd played "legitimate" stuff. But this, it was something that pulled me in. They got me up on the stand and I played with them. After that I didn't play legitimate so much."(Marquis, 1978 p. 99)

And when the occasion called for less stimulating fare his repertory included waltzes, ragtime, slow drag, spirituals and hymns, and the occasional Joplin rag. Still, we can only imagine what Bolden actually sounded like because he never recorded. We can only speculate on how the history of jazz could have differed -- and know that a Bolden recording certainly would have demonstrated an early alternative to Louis Armstrong's relatively schooled sound and virtuoso soloing. Instead, that contrast remained unnoticed until the New Orleans revival of the 1940's brought forth rougher, more primitive sounds, initially heard by the public from Bunk Johnson.

And while Bunk knew how to sound like King Bolden and even recorded an invaluable medley of Bolden variations he is not where to look for imagining Bolden's sound. While rich and brilliant, Bunk's music derived from a proper schooling in ragtime. Furthermore, Bunk has been soundly debunked on the general subject of Bolden.


BBC Buddy Bolden Project

In 1986, Humphrey Lyttelton was engaged in a landmark BBC documentary about Bolden the first jazz trumpeter in New Orleans. In an audacious work of jazz archaeology, Lyttelton attempted to recreate the sound of Buddy and his band c. 1900.

He aimed for an approximation of Bolden's personal trumpet sound, band instrumentation, performance style and repertoire. The resulting album presented music reliably thought to be part of Bolden's repertory and style: "My Bucket's Got A Hole In It," "If You Don't Shake," and "Don't Go Way Nobody," which was reputed to be Buddy's show opener.


TRACES OF BOLDEN

Freddie Keppard (b. 1890) who followed Bolden as "King" of the horn playing band leaders both in lifestyle and in rough, loud, blues-based improvisational lead horn is probably a closer approximation to Bolden's general approach, though still a bit more refined than Bolden, according to contemporaneous ear witnesses. Unlike Bolden, Keppard struck out on the road with his Creole Jazz Band visiting the West Coast even before he settled in Chicago in the World War I era. Unlike Bolden, Keppard made records; though legend probably has it right that he had lost most of his power and brilliance when he finally recorded. Keppard's Chicago recordings of 1926-27 do reveal glimpses of what must have been a very convincing blues-for-dancing power trumpet sharing Bolden's outlook. (See discography, below.)

Other trumpeters can serve as reliable guides in helping us imagine the Bolden sound. Wooden Joe Nicholas, (b. 1883) who was recorded in the 1940s learned to play cornet by listening to Bolden, his all time favorite, and followed him wherever he played. Wooden Joe's sound is heard and described in Bill Russell's American Music Book/CD. He manifests the raw soulfulness reported by those who actually heard Bolden. Nicholas' recordings of "Tiger Rag" and "Sugar Blues" -- popular New Orleans fare at the turn of the century -- bring us very close to Bolden's music.

Trumpeter Lee Collins (b. 1901) was called "a boy with beautiful tone; he is between Buddy Bolden and Bunk Johnson . . . " by no less than John Robichoux, Bolden's leading band competitor at the time. This according to Collins' autobiography, Oh Didn't He Ramble: The Life Story of Lee Collins, 1974.

Even more recent trumpet/cornet players seem to have emulated Bolden's general approach in their sound: Wingie Manone in the 1930s, P. T. Stanton in the 1950s, and even Clint Baker today, seem to be possessed by the spirit of Bolden's brash, rough, blues-for-dancing, stomp, and slow drag lead horn that heralded a new music nearly a century ago.

BOLDEN'S INSANITY

Buddy Bolden's end -- after some 25 years in a Louisiana insane asylum -- was tragic. He was hospitalized after he had band troubles, became erratic, more than usually quarrelsome, and bedridden. An incident in which he struck his mother who was tending his bedside with a water pitcher, according to newspaper reports, began the series of events leading to his lengthy internment in the Jackson Insane Asylum in 1906. During his years at the asylum he was not considered dangerous; he was free to move about and work at the hospital; and he was even known to have played his horn a bit, though never with the occasional bands formed by patients. (Marquis, 1978)

But Buddy's condition gradually deteriorated. Eventually he became uncommunicative. After twenty years he walked around ritually touching objects and had, according to hospital staff:
" . . . a string of talk that is incoherent. Hears voices of people that bothered him before he came here . . . does no work, and spends his time waving his hands about in the air and talking with imaginary voices." (Marquis, 1978, p. 129)

Donald Marquis rules out alcohol, or syphilitic dementia which have been suggested as possible causes of Bolden's madness. He suggests "doubts and frustrations," the difficulty of balancing equal weight among his simultaneous roles as idol, husband, father, lover, band leader, teacher and pupil, noting that Bolden's
" . . . lack of a complete musical education left him vulnerable. . . . What he wanted he was not capable of fully achieving. Neither was he prepared to cope with the overwhelming fame that came early in his adult life." (Marquis, 1978, p. 125)

Finally, by returning to Michael Ondaatje's fictional Buddy Bolden in Coming Through Slaughter where my inspiration for "Imagining Buddy Bolden" started, we may be able to more deeply penetrate the inner conflicts of what Ondaatje depicts as Buddy's "mad dignity." He conjectures that Bolden was exhausted by the effort of sustaining the "King" persona he had invented for himself living outside conventional roles and rules that others had to hold themselves together or fall back on. Bolden's insanity took him away from the grasp of others' demands to a place with no history and no parading:
" . . . reputation made the room narrower and narrower, till you were crawling on your own back, full of your own echoes, till you were drinking in you own recycled air."(Ondaatje, 1976, p. 86)

Air -- and its fleeting alchemical transformation into music by breath -- is Ondaatje's fitting metaphor for Bolden's inventiveness, brilliance and madness, as suggested in Jelly Roll Morton's "I Thought I Heard Buddy Bolden Say":

I thought I heard Buddy Bolden shout
Open up that window and let that bad air out
Open up that window and let that foul air out
I thought I heard Buddy Bolden say


The air of the Twentieth Century has been much enlivened by the breath of inspiration that emanated from turn of the century New Orleans. Those breaths which became magical notes still reverberate today as we try to imagine Buddy Bolden and the origin of our most unique American art form, Jazz.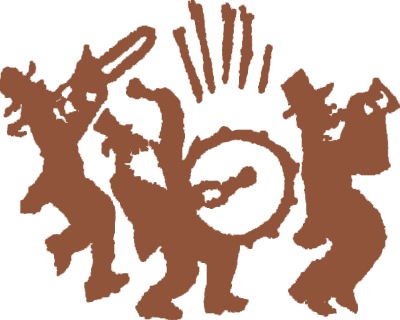 DISCOGRAPHY AND BIBLIOGRAPHY

What follows are discographic and bibliographic materials for this article and sources which provided the music and readings for the radio documentary, "Imagining Buddy Bolden," heard in September 1997 as part of the series Jazz Rhythm produced for KALW-FM, San Francisco, California 1984 - 1997 and now syndicated on public radio and internet.

DISCOGRAPHY:
(All are tunes known to have been performed by Bolden except where noted.)

BAKER, CLINT
"Panama", "Just a Little While to Stay" CA, 1992
In the Groove (CD) Burgundy Street

BOCAGE, PETER with Love-Jiles Ragtime Orch
"Hilarity Rag" "B-Flat Society Blues" New Orleans, LA. 6/12/60
New Orleans: The Living Legends
Riverside (CD) OJCCD-1835-2

CELESTIN, PAPA Original Tuxedo Jazz Orchestra
"Careless Love" New Orleans 1/23/25
Oscar "Papa" Celestin/Sam Morgan (CD) Jazz Oracle BDW 8002

COLLINS, LEE
(not Bolden repertory but good examples of Collins)
in the Jones and Collins Astoria Hot Eight
"Damp Weather" & "Tip Easy Blues" New Orleans, 11/15/29
Sizzling the Blues (CD) Frog DGF5

JOHNSON, BUNK
"Bolden Medley" piano acc by B. Gonsoulin, San Francisco, &
Bunk Johnson in San Francisco (CD) AMCD-16

"Lord, Lord, Lord You've Sure Been Good to Me" New Orleans, 1944
"Make Me a Pallet on Your Floor", New Orleans 4/15/45
American Music Book CD

KEPPARD, FREDDIE
(not Bolden tunes but demonstrate Keppards strengths)
"Adams Apple" with Jimmy Blythe and his Ragamuffins, Chicago 7/26/26
"Stomp Time Blues" with Jasper Taylors State Street Boys, Chicago 1/27
Keppard/Ory/Dodds/Carey ... : New Orleans Giants, Vol. 2
Hot 'n Sweet (CD) 15222

"Messin' Around" with Cookie's Gingersnaps, Chi. 6/22/26
Freddie Keppard (LP) Herwin 101

LYTTELTON, HUMPHREY
(this album was the result of the Lyttelton Band's musical recreation of Bolden's sound for the BBC Radio 3 program, "Calling his Children Home'" and BBC 2 TV program, "Buddy Bolden's Children")
"Don't Go 'Way Nobody," "Funky Butt," "My Bucket's Got a Hole in It," "If You Don't Shake, Don't Get No Cake/Bunk Remembers," " Get Out of Here and Go On Home"
London 7/23/86
Calling My Children Home
Calligraph (LP)

MAGNOLIA JAZZ BAND w/ Robbie Schlosser cornet
"All the Whores Love the Way I Ride" Santa Rosa, CA. Dixie Jazz, 8/88
Private tape, Dave Radlauer

MANONE, WINGIE
(not Bolden tunes but show Wingie's rough side)
"Weary Blues" & "Up the Country Blues" Decca, 1930
Jam and Jive (LP) MCA/Decca

MORTON, "JELLY ROLL"
"I Thought I Heard Buddy Bolden Say" 9/14/39
(this melody is based on "Buddy Bolden Blues" aka "Funky Butt" and was introduced in New Orleans by the Bolden band)
The Pearls (RCA/Bluebird) BMG (CD) 6588-2

(from the Alan Lomax Library of Congress recordings:)
"If You Don't Shake"
Winin Boy (CD Library of Congress, Vol. 4) Rounder 1094

"Buddy Bolden" (spoken w/ piano acc.)
Library of Congress (LP)

NICHOLAS, "WOODEN JOE"
"Tiger Rag" New Orleans 4/10/45
& "Sugar Blues" New Orleans 7/12/49
American Music Book CD

"Don't Go Way Nobody"
Wooden Joe Nicholas American Music (CD) AMCD 5

ORY, KID Creole Jazz Band
"Oh, Didn't He Ramble" L.A. 1948
New Orleans Masters (LP) Swing House

SMITH, HAL Creole Sunshine Orch. (Bob Armstrong, tpt) 1984
"My Bucket's Got a Hole in It" (Played by Bolden when he spotted friends or wanted to liven things up.)
"Get Out of Here"
Do What Ory Say (LP), Stomp Off Records 1078

STANTON, P.T. w/ Stone Age Jazz Band
"Tiger Rag" & "Moose March" Berkeley, CA 1974-78
Stone Age Blues, (cassette) Stomp Off C1228

BIBLIOGRAPHY

AMERICAN MUSIC, Book/CD, Jazzology Press, GHB Foundation, 1993

COLLINS, LEE Oh Didn't He Ramble: The Life Story of Lee Collins,
Editors Frank J. Gill & John W Miner, Univ. of Ilinois Press, 1974/1989

POPS FOSTER, The Autobiography of a New Orleans Jazzman,
as told to Tom Stoddard, Univ. of California Press, 1971

HAZELDINE, MARK Bill Russell's American Music
Book/CD, Jazzology Press, GHB Foundation, 1993

HILLMAN, CHRISTOPHER Bunk Johnson: His Life and Times, Universe Books, 1988

MARQUIS, DONALD M. In Search of Buddy Bolden, First Man of Jazz
Louisiana State University Press, 1978; Da Capo, n.d.

ONDAATJE, MICHAEL Coming Through Slaughter, Random House, 1976, Vintage, 1996


LINKS:

BUDDY BOLDEN's BACKGROUND & GENEALOGY at DoctorJazz.co.uk