Imagining Buddy Bolden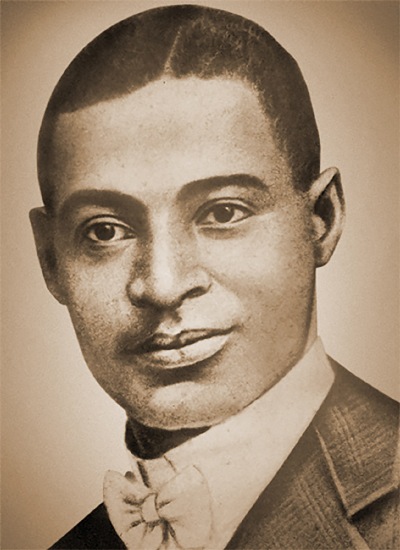 Well-circulated etching of Buddy Bolden.



Buddy Bolden (1877 - 1931) was the first to play jazz in New Orleans c. 1895-1905 -- or something we would recognize as Jazz not Ragtime. Many myths and legends surrounded his story prior to the publication in 1978 of a definitive biography and subsequent researches.

He was the first to lead a real jazz band, first to play blues for dancing and live a flamboyant larger-than-life existence as the most popular "King" of the trumpet (or cornet) in New Orleans. His sound was rough and unschooled but moving. Part of his appeal was blowing exceptionally loud.

Buddy's horn was reputed to be audible for miles around the city of New Orleans. But because he was never captured on phonograph we will never hear Bolden's music. Yet we can attempt to identify what his sound might have been like by listening to recordings of his contemporaries, proteges, followers and successors. The dramatized eyewitness accounts and audio clips heard in Imagining Buddy Bolden were first presented live on-air in 1997 at radio KALW-FM, San Francisco.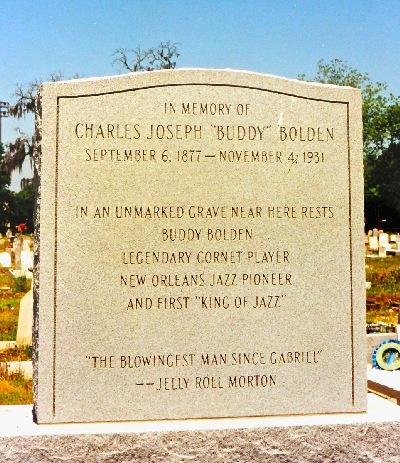 Bolden memorial marker in New Orleans.


Introduction to Bolden.mp3

Buddy Played By Ear - My Bucket's Got a Hole In It.mp3

Home Sweet Home and Fish Fry.mp3

Three New Orleans Venues.mp3

Odd Fellows Hall.mp3

Hearing Bolden Over Water.mp3

Lee Collins & Joe Nicholas Heard Bolden.mp3

Bunk Johnson Recalls Bolden.mp3

Lake Pontchartrain & Milenberg, Rough Crowd - Salty Dog.mp3

Buddy Bolden's Blues, Jelly Roll Morton and Funky Butt.mp3

Bolden Goes Insane & Conclusion.mp3


In Search of Buddy Bolden

The audio clips presented here tell the story through numerous eyewitness accounts documenting the earliest known emergence of jazz. Also incorporated is text from the imaginative fictional tale of Bolden by Michael Ondaatje -- Coming Through Slaughter (1976). The short novel is an inspiring attempt to penetrate the mind of the first self-invented jazz musician, celebrating the mythical Bolden without benefit of subsequent research.

Our most reliable source is In Search of Buddy Bolden: First Man of Jazz by Donald Marquis (1978). It's a detailed account of his life and times and landmark of jazz scholarship carefully reasoned and extensively researched for over a decade.

Marquis supplied the most authoritative account of Bolden, exhaustively searching hundreds of interviews, articles, oral histories, books, monographs and the State of Louisiana archives. Australian writer Don Hardie has further explored Bolden's music in The Loudest Trumpet (2000).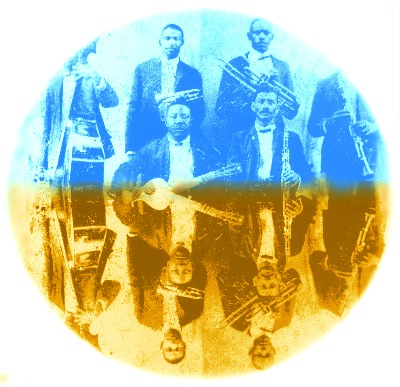 BBC Buddy Bolden Project

In 1986, Humphrey Lyttelton was engaged in a landmark BBC documentary about Bolden the first jazz trumpeter in New Orleans. In an audacious work of jazz archaeology, Lyttelton attempted to recreate the sound of Buddy and his band c. 1900.

He aimed for an approximation of Bolden's personal trumpet sound, band instrumentation, performance style and repertoire. The resulting album presented music reliably thought to be part of Bolden's repertory and style:

"My Bucket's Got A Hole In It"

"If You Don't Shake"

"Don't Go Way Nobody" -- reputed to be Buddy's show opener.


Bolden's Jazz



By all accounts Bolden played exceptionally loud. He played almost everything in B-flat. Buddy and his men were musically untrained and short on technique. But his improvised embellishments and expressiveness deeply affected most who heard him.

Bolden's music undoubtedly retained many elements of Ragtime, the then-predominant style of popular music in America. But Buddy had a talent for altering the elements of rhythm, melody and performance that appealed to his fans, forever changing the course of music.

His fame derived in part from his ability to "fake" according to the recollections of his contemporaries. Trombonist Kid Ory said, "if he forgot a passage he would introduce embellishments that his listeners often enjoyed more than the music originally written." Another trombone player, Roy Palmer agreed: "Buddy would never bother with written music, he faked all the time."

He may in fact have been able to read music but not very well. In any case, he played from the head. But Bolden's innovation was performing blues and stomps for dancing, leading an ensemble in a manner that enthused the populace of New Orleans regardless of race, class or position in the decade around 1900.

His basic innovation was the jazz band format and improvised variations. He set the basic template for the Classic Jazz (Dixieland) front line: trumpet (or cornet), clarinet and trombone backed by three or four rhythm instruments.

During the era now considered the Golden Age New Orleans music c. 1895-1917, alternate lineups or circumstances might substitute banjo or mandolin for guitar. Tuba became a very popular because it didn't go out of tune and could be played in the famed street parades. Violin players were plentiful and frequently engaged to play the clarinet parts. Piano rarely had a role in such mobile or ad hoc outfits and was more often associated with upscale bordellos.



Before Bolden New Orleans music was Ragtime. After him it definitely had become jazz. Creole clarinetist George Baquet vividly recalled hearing Bolden's music the first time and its impact:

"I'd never heard anything like that before. I'd played 'legitimate' stuff. But this, it was something that pulled me in. They got me up on the stand and I played with them. After that I didn't play legitimate so much."

When the occasion called for less stimulating fare Bolden played waltzes, slow drags, spirituals and hymns or the occasional Joplin rag. But in the end, because he never recorded we cannot know with certainty how he sounded.

Note that the authentic New Orleans recordings sampled here rarely include solos. Musicians played together primarily as an ensemble without much soloing in early New Orleans. There were short instrumental breaks, what they called "runs," but solos were rare. Playing together as an ensemble was the predominant mode.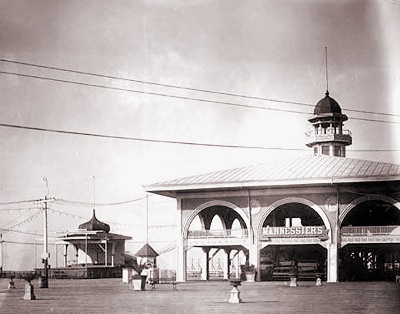 Mannessiers Pavillion on the West End. Photo courtesy C. Milo Williams Collection.


Traces of Bolden I: Freddie Keppard and Joe "King" Oliver



Freddie Keppard succeeded Bolden as "King" of the New Orleans trumpet-playing bandleaders, sharing his style of rough, loud, blues-based horn. Unlike Bolden, Keppard struck out on the road. He visited the West coast with Bill Johnson's Original Creole Orchestra and then settled in Chicago before World War I.

Freddie, also unlike Buddy, did make records. But common wisdom probably has it right that by the time he recorded his power and brilliance had faded. His style had evolved adapting to current tastes. Yet his 1926-27 recordings reveal glimpses of what must have been a powerful blues-for-dancing trumpet sharing Bolden's heritage. Convincing recreations of his likely New Orleans-era music can be found on albums by Chris Tyle's Silver Leaf Jazz Band from the 1990s.

Joe King Oliver succeeded Keppard as King of the New Orleans horn players and the moniker stuck. He continued to reign unchallenged in Chicago during the early 1920s. Yet Oliver developed his own concept of the horn and brought Louis Armstrong in as a second cornet to double the firepower. Though Louis always paid tribute to Joe, there is substantial evidence suggesting that Bunk Johnson was also one of his early teachers -- another strong connection to Bolden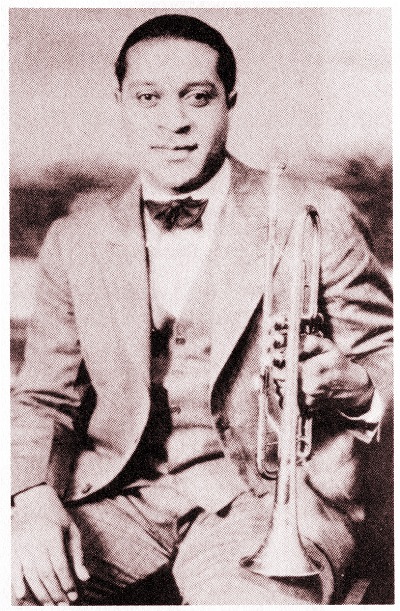 Lee Collins in 1923 shortly before joining Joe Oliver in Chicago.

Traces of Bolden II: Wooden Joe Nicholas and Lee Collins

Horn player Wooden Joe Nicholas – and other New Orleans horn players from the era who absorbed and retained Bolden's style -- can also guide us to imaging his sound. Recorded in the 1940s, Wooden Joe learned to play cornet by listening to Buddy and followed him wherever he played.

Bringing us close to Bolden's rough unschooled sound, manifesting the raw soulful power reported by those who actually heard Bolden are Wooden Joe's "Tiger Rag" and "Sugar Blues" -- popular turn-of-the-century New Orleans fare.



Trumpeter Lee Collins is another Bolden follower who recorded during the 1920s in New Orleans. No less than bandleader John Robichoux -- Bolden's main bandleading competitor -- called him "a boy with beautiful tone; he is between Buddy Bolden and Bunk Johnson."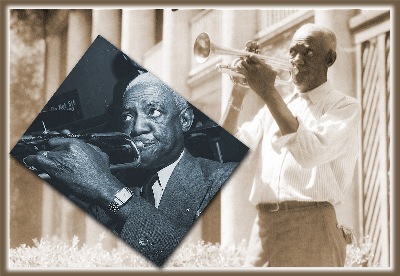 Traces of Bolden III: Bunk Johnson

The rediscovery and re-emergence of Golden Age New Orleans trumpeter Bunk Johnson around 1940 galvanized musicians, fans and scholars, accelerating the nascent New Orleans jazz revival. On balance, Johnson may be our closest, richest and best documented estimation of Bolden's style and repertory.

Johnson was never King of the New Orleans horn players, but could sound like Buddy. Bunk subbed for him when his career was in decline and trombonist Frankie Dusen ran the band. He even recorded the priceless medley of Bolden variations heard below.

In contrast to the majority of these early horn players, Johnson had a proper musical training and solid foundation in Ragtime. Despite the fact that much of what he said eventually proved unreliable, Bunk remains our most direct musical link to Buddy Bolden.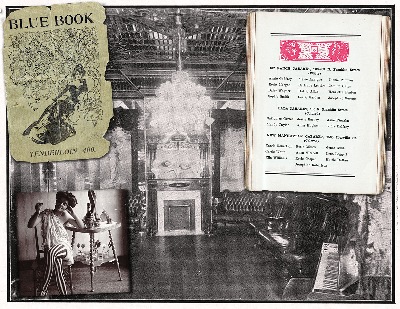 New Orleans boasted hundreds of brothels, photography parlors and bawdy houses between 1897-1917.

Seen are Blue Book guides from around 1900 and Josie Arlington's Storyville establishment in 1908.

Bolden and Women

This is a delicate subject. Buddy surrounded himself with beautiful women and loved them. In our hero we discover the negative traits found all too often in modern music stars and public celebrities. As for his actual relationships with women, the data is scarce beyond the fact that he was married and had children.

Bolden was certainly idolized in New Orleans around 1900 and might have been the first American music star with a harem of groupies. His larger-than-life persona, heavy drinking and flamboyant public lifestyle were to become a pattern among American music celebrities and singers from Frank Sinatra and Billie Holiday to The Rolling Stones and trumpeter Miles Davis -- or Rap musicians today.

Bolden was most popular among the so-called Sportin' House crowd – the denizens and sex workers of the notorious red-light district of New Orleans. Before 1917 the city hosted the world-famous Storyville section containing hundreds of brothels, photography salons and all manner of erotic entertainments.

Buddy catered to a rough, dangerous, demimonde, performing for them Sunday afternoons and Mondays in the parks and lakeside pavilions -- or late nights and early mornings in rented halls and lowdown saloons. These are the tawdry facts at the origin story of jazz. Even the term "jazz" itself (originally "jass") was an unsavory verb prior to 1920, remaining impolite slang until the '30s.

Nonetheless, he was challenging prevailing morality when he "jazzed up" a tune or the band improvised bawdy lyrics. Like modern music stars, Bolden was pushing the limits -- even in the most promiscuous quarter of North America. The scandalous lyrical variations of Bolden's informal theme song "Funky Butt" became so salacious and nasty that the local authorities banned it, threatening musicians with jail for its public performance.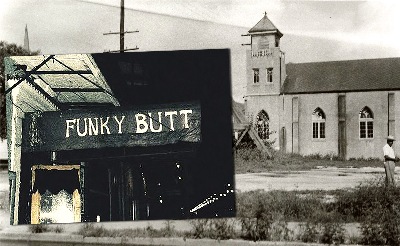 Bolden became so associated with the venue known as Funky Butt Hall that locals forgot its original name was Union Sons Hall. The building was used as a church for a while, as seen.

Traces of Bolden IV: Humphrey Lyttelton and Wynton Marsalis

Recreating the sound of Bolden and his band for a 1986, BBC radio and television documentary, Calling his Children Home, British bandleader and jazz horn player Humphrey Lyttelton achieved a landmark of musical archaeology. Aiming for an approximation of Bolden's ensemble style, trumpet sound, repertoire and format with twin clarinets and bowed bass, his stunning realization is not dissimilar from the 2019 Bolden movie soundtrack.

In Bolden, jazz trumpet player Wynton Marsalis -- in collaboration with producer Daniel Pritzker -- imagines both the man and his myth in his original soundtrack and musical direction. Marsalis has championed Bolden's cause for decades, celebrating him in performance and composition, culminating in commitment to the film.

In Bolden, Louis Armstrong is the metaphorical godson of the first jazz pioneer. Satchmo proved to be the best-equipped representative for popularizing and spreading the music worldwide. Today it's indisputable that Buddy Bolden was Louis' spiritual grandfather and point of origin for jazz.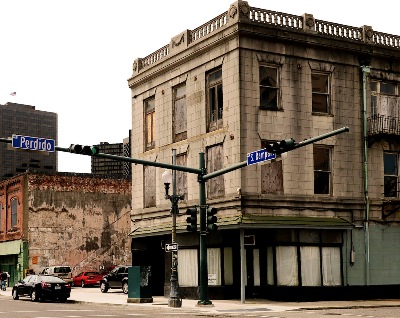 Eagle Hall,
aka Eagle Saloon, Odd Fellows/Masonic Hall at Perdido and South Rampart streets.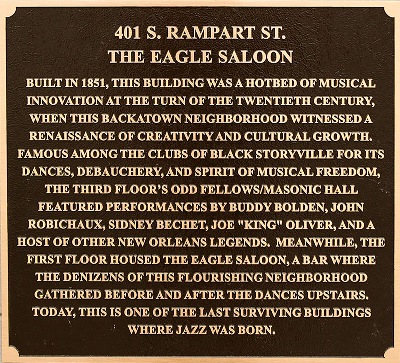 Eagle Hall
Historic Plaque

Great thanks to the voice actors who dramatized the words of those who knew or heard Bolden: Peter Coyote, Jill Eikenberry, Joe Hughes and Ed Markman. Below are sources for this column and the audio clips.

The radio documentary Imagining Buddy Bolden was produced by Dave Radlauer on-air at KALW-FM, San Francisco, California in 1997.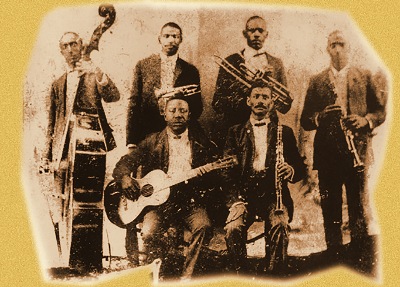 This is the only known photograph of Bolden and his band.


Bibliography and Further Reading:

Barker, Danny Buddy Bolden and the Last Days of Storyville (Continuum, 1998)

Collins, Lee, Oh Didn't He Ramble: The Life Story Of Lee Collins (University of Illinois Press, 1974)



Foster, Pops The Autobiography Of A New Orleans Jazzman, (University Of California Press, 1971)

Hardie, Daniel, The Loudest Trumpet: Buddy Bolden and the Early History of Jazz (self-published, 2000)



Hazeldine, Mark, Bill Russell's American Music
Book/CD, Jazzology Press, GHB Foundation (1993)



Marquis, Donald M. In Search of Buddy Bolden, First Man of Jazz (Louisiana State University Press, 1978)



Ondaatje, Michael Coming Through Slaughter (Random House, 1976)

Discography:

Bocage, Peter, Love-Jiles Ragtime Orchestra, "Hilarity Rag," "B-Flat Society Blues" New Orleans 6/12/60

Celestin, Papa Original Tuxedo Jazz Orchestra, "Careless Love" New Orleans 1/23/25

Collins, Lee, "Damp Weather," "Tip Easy Blues" New Orleans 11/15/29

Johnson, Bunk, "Bolden Medley" San Francisco 1943, "Make Me A Pallet On Your Floor" New Orleans 4/15/45

Keppard, Freddie, "Here Comes The Hot Tamale Man," Cookie's Gingersnaps, "Salty Dog," "Stockyard Strut" Keppard's Jazz Cardinals

Morton, Ferdinand "Jelly Roll," "I Thought I Heard Buddy Bolden Say" RCA Victor 9/14/39, "If You Don't Shake," "Buddy Bolden," The Alan Lomax Library of Congress Recordings 1938-39

Nicholas, Wooden Joe, "Tiger Rag" New Orleans 4/10/45, "Sugar Blues" New Orleans 7/12/49, "Don't Go Way Nobody"

Ory, Kid, "Oh, Didn't He Ramble" Creole Jazz Band, Los Angeles 1948
Smith, Hal Creole Sunshine Orchestra, "My Bucket's Got A Hole In It" 1984

Stanton, P.T. W/ Stone Age Jazz Band, "Tiger Rag" Berkeley 1975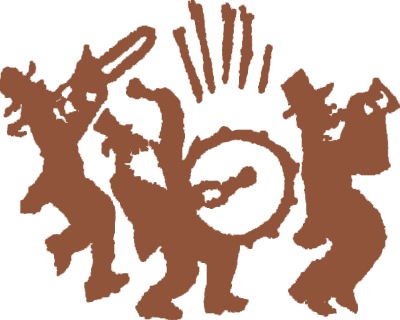 Links:

Bolden movie
Bolden movie at Syncopated Times
Three books about Bolden

On this site:

Bunk Johnson
Humphrey Lyttelton
Joe "King" Oliver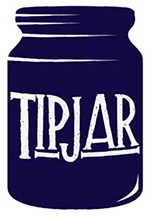 Tip Jar

This site is free. But you can help sustain it, and encourage me with donation to the tip jar. Secure payment through PayPal is anonymous, except that I will see your e-mail address.

Donations are paid securely through PayPal.

Donation $5.00
Donation $10.00
Donation $20.00
Donation $35.00
Donation $50.00
Donation: You decide