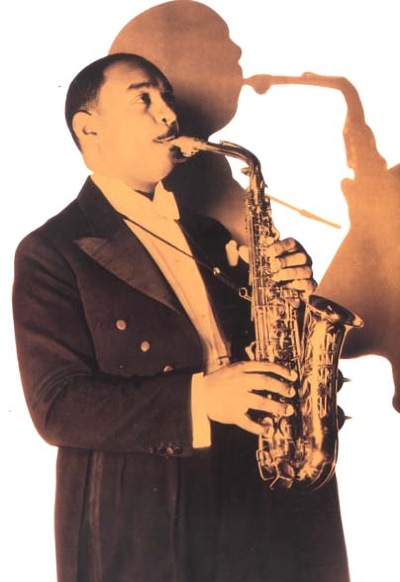 BENNY CARTER: American Genius

"BENNY CARTER -- American Genius"

BENNY CARTER PT 1A (mp3)
BENNY CARTER PT 1B (mp3)

BENNY CARTER PT 2A (mp3)
BENNY CARTER PT 2B (mp3)

BENNY CARTER PT 3A (mp3)
BENNY CARTER PT 3B (mp3)


Benny Carter should be considered among the greatest jazz alto saxists of the swing era alongside Johnny Hodges. More than merely a giant of jazz saxophone, Benny Carter was a composer and arranger, skilled clarinetist and gifted trumpet player, and an exceptionally versatile, talented musician active for more than three quarters of a century.

As a saxophonist his significance was teaching the alto to sing. His signature sound was smooth, flowing and graceful -- displaying ease, confidence and a clear sense of direction when soloing. It's my impression that alto sax can be a very difficult instrument on which to develop a rich, pleasing tone, but Carter succeeded brilliantly. He had impeccable phrasing giving each note full value, even in rapid arpeggios and runs, exquisitely balancing taste, technique, freshness and emotion while making it all look easy.

Whether leading a jazz orchestra or sax section Benny Carter's leadership generated effervescent swing and unified a reed section -- making written arrangements sound clean and spontaneous. His written arrangements in the 1920s and '30s helped create the basic building blocks of Big Band Swing for Fletcher Henderson and Benny Goodman among others.

Besides being a composer, arranger, and bandleader, Carter was a very good clarinetist in his early years, an excellent jazz trumpeter (he influenced no less than Dizzy Gillespie), blessed with perfect (or absolute) pitch -- and was largely self-taught. Later, he composed for Hollywood films and television, and taught at Princeton University where he was awarded a Doctorate of Humanities in 1974.

All of his remarkable talents can be heard early in his career in such recordings as:

-- "Dee Blues" and "Six or Seven Times" by The Chocolate Dandies of 1929-30, masterpieces including trumpeter Rex Stewart and tenor giant Coleman Hawkins, and;

-- the 1933 Chocolate Dandies "Krazy Kapers" written by Carter, that includes his excellent solos.

In any of these you can hear Carter's sweet alto saxophone tone and in the solos an easy balance and sense of direction. Carter's impeccable phrasing gave each note full value.

European Triumphs

Carter was in Europe during the years 1936-38, where he was a sensation, successfully appearing and recording to wide acclaim. Leading ensembles and collaborating with other great American jazzmen then in Europe Carter set the standard for hot jazz and swing.

PARIS, 1935 -- Carter is toast of the town, jamming and recording with Django Reinhardt and Stephane Grappelli in the Quintet of the Hot Club of France.

ENGLAND, 1936 -- Within 24 hours of his arrival Benny Carter is signed to make what turn out to be great records with the cream of British jazz musicians, orchestrates several movie scores and briefly directs the BBC Dance Orchestra.

LONDON, 1936 -- Carter records the first jazz waltz. A modest 24-bar blues with Benny soloing on tenor, alto sax and trumpet, his "Waltzing The Blues" demonstrates that jazz and classical forms can be successfully be combined. It is loudly praised -- and condemned -- by the British music press.

HOLLAND & FRANCE, 1937 -- Benny is wildly popular in Holland and France where he records with Coleman Hawkins, again with Django, and leads an international, multi-racial jazz band in the Hague.

The fruits of these years are perhaps best exemplified by "Gin and Jive" (London, 1936) and "Skip It" (Hague, 1937) both of which are his own compositions. His easy precision and economical solos that are as carefully structured as an architectural drawing can be heard on on "My Buddy" (Hague, 1937) where Carter plays both alto and trumpet. Among my own all-time Carter favorites are "I'm Coming Virginia" and "Farewell Blues" (1938) from his last pre-war European sessions in Paris with guitarist Django Reinhardt and the excellent French tenor saxophonist Alix Combelle.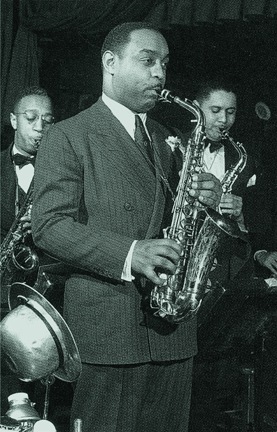 Plymouth Rock

In 1938 Carter returned to America -- one obvious reason was the imminence of World War Two. But a less obvious motivation may have been his desire to play cutting edge jazz where the edge was sharpest: in America where the Swing craze was in full bloom -- specifically in New York and Harlem.

Within weeks of returning he was recording; and quickly put together a band that booked into the Savoy Ballroom in Harlem for an extended residency. Many say this was his best band: the arrangements were highly sophisticated; his settings for the reed section were intricate, with fantastic voicing and exotic chords melding the saxes into an airtight unit that sounded fresh and spontaneous; with the entire band locked into place by Carter's superb direction. Carter's presence always brought a sax section to its peak of perfection.

Two titles representative of his orchestra and arranging at the Savoy Ballroom during 1939-40 are the fitting titles "Savoy Stampede" and "Plymouth Rock" (you know, like where the Pilgrims landed in the New World).


Not Obvious Enough?

Carter's music isn't always obvious. For one thing he was a musicians' musician writing very sophisticated stuff that was often above the heads of the popular mass audience; which may explain why his bands were never financially successful.

Also he pulled it all off with such ease and aplomb, never breaking a sweat. The late trumpeter Doc Cheatham agreed that Carter made the difficult look easy, perhaps too easy. He didn't put on the showy displays that easily impress a crowd. But I think at some point he sensed this and in crowd-pleasers like "Back Bay Boogie" (1941) started to give the audience thrilling fireworks.

Its also fair to say that Carter was an unabashed balladeer able to make the alto sing, partly by allowing each note to fully bloom. The long unissued, "Ill Wind" of 1940 demonstrates his signature talents: balance, proportional phrasing, and impeccable tone.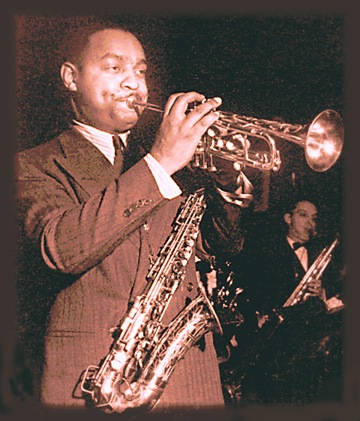 GENIUS REWARDED

In 1942 Carter moved to Hollywood, California where the focus of his efforts shifted to composing and arranging:

* for films, starting in 1943 with "Stormy Weather"

* for television series: like "Alfred Hitchcock Presents" and "M Squad"

* for singers Ella Fitzgerald, Sarah Vaughn, Ray Charles and Louis Armstrong -- plus a brief spell with Duke Ellington in 1968.

* several popular hits: "Key Largo," "Cow Cow Boogie," and "When Lights Are Low"

* extended concert works for symphonic and jazz orchestras, like "Kansas City Suite" (1960), "Central City Sketches" (1987), "Glasgow Suite" (1987) and "Harlem Renaissance" (1992).

One of Benny Carter's fully orchestral compositions grew from his frequent visits to Japan where he was a perennial favorite visiting frequently from the early '50s on. "Tales of the Rising Sun" Suite (1992) was written for his enthusiastic followers there. It expresses his musical impressions of Japan and warm feeling for the Japanese people.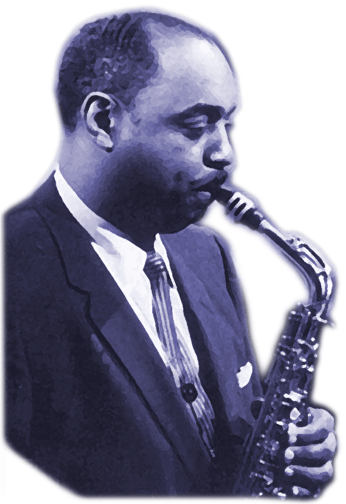 HONORED STATESMAN OF JAZZ

In the 1970s Benny Carter resumed performing, touring the international festival circuit, and taught music at Princeton University where he was awarded an honorary Doctorate of Humanities. In his last few decades he remained very active, widely honored, and performed for least three US Presidents.

I saw Carter lead a band in the '90s and his sax still had that gorgeous tone, flowing melodiousness, poise and ease. Its amazing how well Benny Carter maintained his purity of tone, dedication to melodic improvisation, and talent for well-structured solos. Its my impression that could accomplish any musical goal he set for himself.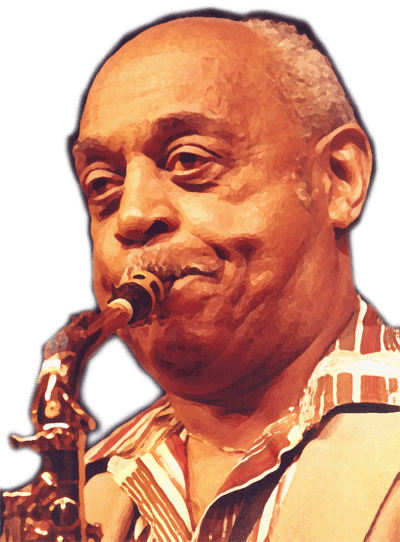 Sources and Resources:

A definitive biography is the two-volume 877 page, BENNY CARTER: A LIFE IN AMERICAN MUSIC, by Berger and Patrick, Scarecrow Press, 1982.

Internet searches will take you to a great number of Carter tribute sites including: the comprehensive, Bennycarter.com and a site maintained by Rutgers University at newarkwww.rutgers.edu/bc/.

BENNYCARTER.com

LINKS Page at BENNYCARTER.com

BENNY CARTER A site & virtual exhibit maintained by Rutgers University