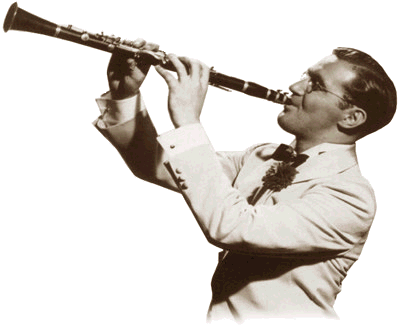 BENNY GOODMAN's
Kingdom of Swing



Exploring Goodman's music, career, cultural significance and odd personality.

Gabriel Broadcast Award-winner

Part 1 - Benny Goodman: King of Swing

Benny Goodman1A.mp3
SWEET GEORGIA BROWN -- Benny Goodman and his Orchestra, live NYC, 1959
DON'T BE THAT WAY -- Benny Goodman and his Orchestra, 1938
BIG JOHN SPECIAL -- Benny Goodman and his Orchestra, 1938
TAKING A CHANCE ON LOVE -- Benny Goodman & his Orch, 1940
Docu-medley: "Becoming the King of Swing"
SWINGTIME IN THE ROCKIES -- Benny Goodman & his Orch, 1938
HOW HIGH THE MOON? -- Benny Goodman & his Orch, voc Helen Forrest, 1941
SUNNY DISPOSISH -- Benny Goodman and his Orchestra, live 1937
HOW LONG HAS THIS BEEN GOING ON -- B. Goodman & his Orch, voc Peggy Lee 1941

Benny Goodman 1B.mp3
STOMPIN' AT THE SAVOY -- Benny Goodman and his Orchestra, 1936
DOWN SOUTH CAMP MEETING -- Benny Goodman & his Orch, live 1937
Medley:
Don't Be That Way
Stomping at the Savoy
On the Sunny Side
Rose Room
In a Mellotone
Moon Glow
One O'Clock Jump
Sing, Sing, Sing, live NYC 1959
RIDIN' HIGH -- Benny Goodman and his Orchestra, live NYC 1937



Introducing Benjamin David Goodman

Benny did for clarinet what Louis Armstrong had done for the trumpet. He gave it a newly assertive leadership role in the jazz ensemble.

His was the most popular and influential swing band of the 1930s and '40s, and his unique trios, quartets and sextets shaped small-band Jazz style. Before Benny, clarinet was rarely a lead instrument for a band. His success made it the most popular instrument for other bandleaders like Artie Shaw, Jimmy Dorsey and Woody Herman.

During the Swing era other bandleaders came and went. Other bands rose to popularity, had number-one hits and were hailed as the greatest thing since sliced bread. But for the duration of the swing era and beyond Benny was golden, selling in excess of 100 million records. While he didn't invent the music alone, Goodman was, and remained, its most popular and best-selling, 'King of Swing.'

Benny Goodman was the best Jazz clarinet improviser of the Swing era. He forged an unmatched style early in his life drawing from the best New Orleans players -- Jimmy Noone, Albert Nicholas, Leon Rappolo and Barney Bigard -- to which he added his own pinpoint accuracy, control and astonishing creativity. With his graceful, flowing melody-centered line Goodman invented with complete assurance, never improvising a passage the same way twice.

From about 1935-45 Benny Goodman's Orchestra was the most popular white dance band of the Swing era. During a career lasting into the early 1970s Benny made about 5000 commercial recordings selling over 100 million records.

Beyond his own unequaled instrumental virtuosity, the Benny Goodman Orchestra succeeded musically by presenting top-drawer musicians who could play ensemble sections with precision from arrangements, and cut loose with swinging solos, backed by a jumping rhythm section. And Goodman assembled an unparalleled book of great arrangements from the cream of jazz arrangers such as Fletcher Henderson, Horace Henderson, Jimmy Mundy, Edgar Sampson, Spud Murphy, Benny Carter and Mary Lou Williams.

The band struck an ideal balance between tightly arranged but loose-sounding large-ensemble jazz; solo virtuosity; and swinging danceable rhythms. His innovative, racially integrated small bands introduced a broad popular audience to a new kind of chamber jazz. Goodman's music was an important stage in the development of 20th Century music and a definitive statement of American popular culture.

Becoming "King of Swing"

Born in Chicago in 1909, Goodman displayed an early gift for music and enthusiasm for jazz. By his early teen years Benjamin David Goodman was earning more money than his impoverished Jewish father.

At age 13 he was a professional union musician splitting his time between working 'legitimate' dance bands, and playing jazz with his Chicago hot-music buddies who included Bix Beiderbecke, Jimmy McPartland and pianist, Art Hodes.

But until the early 1930s Benny Goodman was just one of many hot clarinet soloists working in Chicago and New York -- though certainly one of the most skilled and talented. He bounced around from dance band to band, picking-up various gigs and recording sessions wherever he could, making records with Jack Teagarden, Hoagy Carmichael; the orchestra of drummer Ben Pollack for whom he worked for several years; and he did quite a few sessions with trumpeter Red Nichols. Mostly Benny Goodman followed his whims . . . .

Until around 1934 when he got serious about starting a band and making it successful because of opportunity to form a band for the Let's Dance broadcasts on network radio. The series was to include dance bands of three different styles: Sweet, Latin, and Hot; and the sweet and Latin bands had already been hired.

Goodman got the Hot music portion of the program and dished it out, steaming hot on the live coast-to-coast Saturday night broadcasts over more than 50 radio stations. His swing orchestra's first national exposure, they were as Benny himself said,"the biggest thing that ever happened to me."

This story has been told often and frequently repeated: how Benny and his orchestra set out on a 1935 tour across the country that went from misadventure to near disaster to triumph.

The tour started poorly. They worked their way West playing venues in Ohio, Michigan, Wisconsin, Salt Lake City and Denver: in short, places where waltzes were more popular than swing music.

West of the Rockies, their luck changed. Unknown to Goodman and his musicians, their hot music broadcasts had become tremendously popular with youthful dancers and young listeners. On the West Coast, things began to pick up. First in San Francisco and Oakland, California where they were enthusiastically received by huge crowds.

In Los Angeles the legendary breakout happened at the tour's main destination: the new and prestigious Palomar Ballroom. At first, Benny and the band were still demoralized; as yet they had no clue of their passionate following among the jitterbugs and Lindy-hoppers on the coast.

Goodman himself described how, at first, they opened the Palomar on the safe side, with tepid, sweet, tea-dance fare. But at some point despairing that they were near the end as a band, Benny and the boys said 'what the hell' and decided to kick out all the stops, cutting loose with the hot music they loved. The kids went crazy and began dancing in the aisles.

You see, it turned out that in California the Goodman orchestra was the star attraction of the "Let's Dance" broadcasts. Due to the time-difference, Benny's late-night broadcasts were heard in prime time on the Pacific coast. There his band had become wildly popular with teenagers who craved swing music for dancing at Saturday night parlor-room dance parties.

Originally scheduled for only a month Goodman's huge success at the Palomar was extended another. Word got out. Bookings started flooding in. Records sold like hot cakes. Soon the influential magazine, DOWN BEAT, was running stories on Benny Goodman in every issue including front page feature articles.

Now it should be said that at the time there were other very good white swing bands playing hot music for dancing, most notably the Casa Loma orchestra. But Goodman's style of Swing matched youthful tastes more exactly than any of his competitors. At age 26 he was himself only a little older than his college-age fans.

Additionally he was one of the few bandleaders who featured female singers: initially the jazz-influenced and very attractive Helen Ward, whose warm, direct style was very popular with college-age males. His other singers, Helen Forrest, Martha Tilton and Peggy Lee, all had huge popular hits with Goodman's band.

Its hard to visualize today the frenzy of youthful energy tapped by Goodman's style of Swing music. It was a social movement equivalent to early Rock 'n Roll, Elvis, the Beatles or Psychedelic rock music.

By 1937 Goodman, his swing orchestra and small bands were the biggest thing in the music business, playing prestigious venues to unprecedented ticket sales. Benny was dubbed the 'King of Swing' by the press; and the band soon featured in several Hollywood films. In 1939 his autobiography, The Kingdom of Swing was published . . . one month before his 30th birthday.

Goodman's music was more than just very good dance music, it was jazz: Swing jazz. His orchestra was playing not just written charts (though they had some of the best) but swinging jazz music with plenty of room for improvising, set to exciting dance rhythms.

So Benny did for clarinet what Louis Armstrong had done for the trumpet. Before him clarinet was rarely a lead instrument for a band, but his success made it the most popular instrument for other bandleaders like Artie Shaw, Jimmy Dorsey and Woody Herman.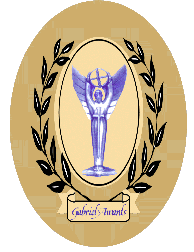 Part 2 - Benny Goodman's small bands

Benny Goodman 2A.mp3
SLIPPED DISC -- The Bernny Goodman Qunitet, 1954
OH, LADY BE GOOD -- The Benny Goodman Trio, 1935
BODY AND SOUL -- The Benny Goodman Trio, 1935
MOONGLOW -- The Benny Goodman Quartet, 1936
RUNNIN' WILD -- The Benny Goodman Quartet, 1937
OPUS 3/4 -- The Benny Goodman Quartet, 1939

Benny Goodman 2B.mp3
SEVEN COME ELEVEN -- The Benny Goodman Sextet, 1939
AC-DC CURRENT -- The Benny Goodman Sextet, 1939
FLYING HOME -- The Benny Goodman Sextet, 1939
RACHEL'S DREAM -- The Benny Goodman Quartet, 1945
HI'YA SOFIA -- The Benny Goodman Quartet, 1947
I NEVER KNEW -- The Benny Goodman Sextet, 1939
WHOLLY CATS -- The Benny Goodman Sextet, 1940
BENNY'S BUGLE -- The Benny Goodman Sextet, 1940
AIR MAIL SPECIAL -- The Benny Goodman Sextet, 1941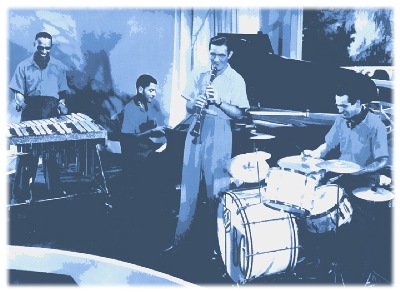 The Classic
Benny Goodman
Quartet c. 1936


King of the Swing Era . . . and what is Swing?

During the Swing era other bandleaders came and went. Other bands rose to popularity, had number-one hits, and were hailed as the greatest thing since sliced bread. But for the duration of the era and beyond Benny was golden, selling in excess of 100 million records. While he didn't alone invent Swing music, Goodman was, and remained, its most popular and best-selling, 'King of Swing.
Swing music, which emerged from the earlier Classic jazz of the 1920s, had strong jazz elements fused with the dance music of the era and popular American song.

Benny's Swing contained jazz ingredients: top-flight musicians who could both play arranged ensemble sections with precision and cut loose with hard-driving improvised solos, supported by a jumping rhythm section. His orchestra's charts and arrangements were sketched by the best jazz arrangers of the day. They succeeded in part by keeping the melody moving around, through the different sections and soloists, Goodman being the lead soloist.

As Swing developed it expanded popular taste. Audiences were educated to accept more sophisticated harmonic and improvisational palettes. Goodman and his musicians moved well beyond popular dance. They developed a music compelling enough to stand on its own as concert music.

Thanks in part to Benny, Swing jazz became the main idiom of American popular music between, roughly 1935-1950. For a generation whose courtship style centered on dance, this dance-oriented music captured its imagination and Benny Goodman captured its loyalty.

Looking over the catalog of the Goodman orchestra I find a high proportion of uptempo music and dance tunes compared to the bands of say, Glen Miller or Tommy Dorsey, particularly in the years before 1939. Yes, Benny did record plenty of sweet and romantic music, stuff like "And the Angels Sing," "Moonglow," "I Surrender Dear" and "Memories of You." But he did it well, I think, and kept hot, uptempo and dance music and combo jazz central to his repertoire.

But the question often arises about whether Swing is Jazz. How does it differ from big band dance music? I think the distinction is that Benny kept the jazz elements strong in his Swing music: improvisation, head arrangements, hot rhythms and soloing in both in his large and small bands. He avoided stock arrangements and routine read-it-from-the-page blandness that limited many of the Big Band orchestras who, by comparison, were playing just very good dance music, lots of sweet music: but not Jazz, and hence, not Swing.



Part 3 - Goodman's role in America's musical and popular culture

Benny Goodman 3A.mp3
CHINA BOY -- The Benny Goodman Quintet, 1955
OPUS 1/2 -- The Benny Goodman Quartet, 1938
I'M A DING DONG DADDY -- The Benny Goodman Quartet, CBS Radio, 1938
GILLY -- The Benny Goodman Sextet, 1939
BREAKFAST FEUD -- The Benny Goodman Sextet, 1939
BUGLE CALL RAG -- Benny Goodman and his Orchestra, 1937
MADHOUSE -- Benny Goodman and his Orchestra, 1937
AVALON -- Benny Goodman and band, San Francisco, 1976
Docu-medly: Goodman's Classical Career

Benny Goodman 3B.mp3
THREE LITTLE WORDS -- Gene Krupa and his Chicagoans, 1935
RACHEL'S DREAM -- The Benny Goodman Sextet, 1963
OH, BABY! [Side 1] -- Benny Goodman and his Orchestra, 1946
SING, SING, SING -- Benny Goodman and his Orchestra, 1937



Chamber music Jazz

On top of his other accomplishments, Goodman's own small bands: trios, quartets and sextets -- which alone would have made him a notable figure -- introduced a new kind of 'chamber music jazz.'

These combos featured his brilliant extended improvising in close partnership with superb soloists. The Goodman small bands were built largely around his clarinet and one or two other excellent soloists. They worked because he was an incomparable improviser capable of inventing for long stretches without repeating himself or falling back on clichés . . . and only a few musicians can consistently do that.

Benny's small band recordings came about because of his personal need to explore new artistic challenges and his encounters with extraordinarily talented soloists: initially, pianist Teddy Wilson; then vibraphonist Lionel Hampton; and later, guitarist Charlie Christian.

The excitement generated by Goodman's combos stimulated fresh excitement among fans, critics and fellow musicians. Before Goodman there were very few records issued of trios, quartets, and small bands of less than five instruments. But between 1935 and '39 there were about fifty small band recordings issued under his name, some selling up to 50,000 copies.

The Trios and Quartets

Benny's early trio sessions were with drummer Gene Krupa and pianist Teddy Wilson. Wilson was a brilliant highly skilled musician, formally trained in music theory. Teddy and Benny were a perfect match: Wilson's right-hand runs followed Goodman's clarinet lines perfectly. They split choruses, alternated solos, and interwove their lines seamlessly -- with nearly telepathic rapport as if one musical mind.

In 1936, a year after launching his trio, Goodman began his quartet which added Lionel Hampton playing vibraphone. All it took was one late night jam session for Benny to decide he wanted to include him in shows and record with Hamp.

Before his elevation to the Goodman camp, Lionel had been an obscure Los Angeles musician. He was a highly energetic stage personality, with a bright, assertive vibraphone sound; a sound then completely new in jazz. His ability to generate both a punchy, percussive vibraphone line, and sustained piano-like notes was a wonderful complement to Benny's clarinet, while blending nicely with Teddy Wilson's piano.

In slightly under three years the Goodman quartet waxed over three dozen wonderful sides. They're classic exemplars of small band jazz and were some of Benny's biggest and longest lasting hits: "Avalon," "Vibraphone Blues," "Tea for Two," "Tiger Rag," "The Man I Love," "Runnin' Wild" and the biggest hit of them all, "Moonglow."

The Goodman Quartet was a popular feature of his live shows where he was joined by his "special guests" for the combo segment; which incidentally was a highlight of the historic 1938 Carnegie Hall concert. By the early 1940s its principal members, drummer, Gene Krupa; vibraphonist Lionel Hampton; and pianist Teddy Wilson had moved on, launching their own bands or solo careers.

Still, Benny liked the format and starting around 1944 continued to present trios, quartets, quintets frequently over the next 20 or 30 years. For vibraphone he most often chose his long-time friend, Red Norvo though Hampton often returned. Pianists he liked included Mel Powell, Jess Stacy -- and Teddy Wilson also returned often. Goodman also had a roster of great soloists he drew on for shows and session work including trumpeter Charlie Shavers, bassist Slam Stewart, tenor saxists Flip Philips and Zoot Sims, to name a few.

In short, there was no fixed line-up for the later small-bands except Benny himself who chose the personnel and material. Goodman was the guiding force directing the bands in his rather opaque, owlish, otherworldly fashion. And he was the primary soloist presenting astonishing solo improvisations with his unequaled tone, rapid fire precision, and overall brilliance.

Altogether his small-band recordings, live performances, and private concerts spanning 30 years stand among the most remarkable bodies of work in Jazz.

Confronting the Race Barriers in the Music Industry

The small bands, in addition to being some of Benny's finest performances on record, decisively breached a wall of racial separation that had long been strictly enforced in the music industry. Goodman sought sidemen equal to his own creativity, skill and precision regardless of race. Fortunately, he happened to have just enough commercial influence to violate the barriers of segregation that had kept black and white musicians separate on record, and in professional public performance for the previous forty years.

Goodman did not set out to break racial segregation in the music industry. He hired the best musicians that he could find and who he wanted to work with. If they happened to be African-American, he wasn't about to let music industry practice stop him. Goodman was not politically radical; he was just a radical musician with enough commercial clout to ignore segregation if it conflicted with his creative process. As Benny himself put it, "I'm selling music, not prejudice."

And in fact, there never were any racial incidents resulting from his inclusion of black sidemen on his records or in live performance . . . even in the American South. (Incidentally, the musicians in question were never officially members of his band, but were presented as 'special guests.')

Without intending to confront segregation in the music industry his small bands seriously eroded barriers of separation and prejudice that had prevailed from its earliest days. The wide social acceptance in the late 1930s of Goodman's African-American musical partners proved that art, music and American popular culture could transcend racial prejudice. The Benny Goodman Trios, Quartets and Sextets helped move forward the healing of a racially divided nation.

CHARLIE CHRISTIAN & the Goodman Sextet

Goodman was inspired to launch his Sextet when he was introduced to Charlie Christian in 1939. The sound of Christian's amplified guitar was something quite new and very different. Charlie's confident line, bell-like tone, adventurous chords and angular phrasing were to have a huge impact on jazz. He was a remarkable improviser who, upon first hearing a melody and chord structure, was instantly ready to solo for 25 choruses.

The band that Benny built around his new muse became one of the most influential ensembles of the Swing era creating Jazz at a new level of clarity, precision and unity. Oddly though, the raw musical materials provided mostly by Christian were quite simple, consisting mostly of blues, variations on the jam tune "I Got Rhythm," or simple riffs that move up and down the scales.

Nonetheless adding electric guitar was galvanizing and a striking innovation. It enhanced both the unison instrumental texture of the Goodman small band while extending the range of tones emerging from the principals. And notably, two-thirds of the band's new repertory were inventions of Christian, such as "Seven Come Eleven," "AC-DC Current," "Shivers" and "Air Mail Special."

Charlie was the son of a blind itinerant blues singer. By his early twenties he was playing with the top bands in his native Texas and Oklahoma. Christian amplified his guitar so it could hold its own with brass or reeds, and he was the first notable jazz performer on the instrument.

It seems pretty clear today that Charlie got the idea of adding amplification to his acoustic guitar from hearing musicians playing in the Western Swing Country genre: innovators like Leon McAuliffe of Bob Wills' Texas Playboys fame and the obscure but legendary Bob Dunn.

For three consecutive years in the DOWN BEAT Magazine polls of 1940, '41 and '42 Christian was voted best guitarist. During this time he also became a participant in the legendary jam sessions at Minton's in Harlem that presaged the birth of Bop and Modern Jazz.

An unschooled but brilliant musician who couldn't read music, he was nonetheless a dynamic innovator and improviser who reshaped and redirected the direction of jazz style. Sadly it was a future he did not live to see. Christian had advanced tuberculosis which, along with an unhealthy fast and loose lifestyle, killed him within 2 & 1/2 years of joining up with Goodman. He died at age 25. Benny privately paid his medical bills.

Sextet, Septet or Octet?

In practice the so-called Goodman sextet soon grew to seven and then eight pieces, expanding to include such topflight soloists as saxophonist George Auld, trumpeter Buck Clayton and Count Basie on piano. The cohesiveness of these instrumental voices, often speaking in unison, generated a streamlined precision rarely heard in jazz.

And articulate voices these were. by 1940 Benny Goodman had brought in some of the very finest soloists at the cutting edge of jazz: tenor saxist Lester Young and the newest addition to his cadre, plunger-mute master Cootie Williams. Cootie's move from Duke Ellington to Benny Goodman was a major coup breathlessly recounted by the press and was even the subject of the popular hit, "When Cootie Left the Duke" by Raymond Scott.

By 1939 & 40 Goodman's innovative style of 'chamber jazz' was being widely imitated; small bands were spinning off the swing orchestras of Ellington, Count Basie, Tommy Dorsey, Bob Crosby and others. Several record labels began issuing all-star and combo recordings.

These Goodman Sextet records easily surpassed his competitors. The streamlined unison riffing of his was a unique sound, presenting 'Chamber Jazz' at the next level of precision. The Goodman Sextet introduced a more modern combo sound that opened the the way for a new crop of late swing-era small bands from John Kirby, Count Basie and Artie Shaw among others.

Aside from his Swing orchestra the Goodman combos generated a significant body of work and were a superb setting for his incomparable soloing skills. Goodman's trios, quartets and sextets produced a new form of chamber jazz at a higher level of precision, collaboration and finely tuned interaction. It was widely copied, but seldom topped. The small bands introduced a series of breakthroughs, not only in Goodman's own personal musical development but in Jazz style as a whole. They're an essential facet of his musical legacy and delightful addition to the jazz repertory.

"Breakfast Feud," Benny Goodman Sextet, 1939.mp3


Part 4 - Assessing Goodman's personality, and presenting some rarities

Benny Goodman 4A.mp3
GET HAPPY -- Benny Goodman [Sextet], 1954
NO WAY TO STOP IT -- Benny Goodman and his Orchestra, 1959
HOW HIGH THE MOON -- Benny Goodman [Sextet], 1954
GOODY GOODY -- Benny Goodman and his Orchestra, vocal Helen Ward, 1936
WHY DON'T YOU DO RIGHT -- Benny Goodman and his Orchestra, vocal Peggy Lee, 1942
HAPPY BLUES -- The Hollywoood Hucksters, 1947
SEVEN COME ELEVEN -- Benny Goodman and band, San Francisco, 1976

Benny Goodman 4B.mp3
I GOT A RIGHT TO SING THE BLUES -- Benny Goodman with Strings, 1952
KING PORTER STOMP -- Benny Goodman and his Orchestra, 1955
I GOT A RIGHT TO SING THE BLUES -- Benny Goodman with Strings, 1952
SWING IS HERE -- Gene Krupa's Swing Band, 1936
SCARECROW -- Benny Goodman and his Orchestra, 1941
LET'S DANCE -- Benny Goodman and his Orchestra, 1939
BENNY RIDES AGAIN -- Benny Goodman and his Orchestra, 1940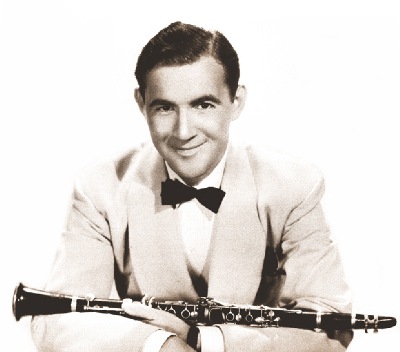 Simply Complicated Personality

Benny was notoriously unpleasant to work for: inscrutable, distant, and infuriating to those who worked in his band; he seemed oblivious to the feelings of his musicians.

Though legend has it he was notoriously miserly and parsimonious, there are several notable instances of his personal generosity: like covering the medical bills of a dying musician or keeping-on an instrumentalist who couldn't read music but was a great horn-player.

Yet this complex man was also simple: or perhaps single-minded is a better description: gifted, hard-driving, hardworking to a fault, with a relentless, obsessive focus on his instrument and his music. a compulsive perfectionist, he held himself and others to nearly impossible standards.

Lastly, let's face it, to succeed in the business of American popular entertainment at the topmost level has always required ruthless determination verging on the Machiavellian. In this regard Benny Goodman needed his toughness, determination and single-minded purpose to survive and triumph both musically and commercially.

Notably, and somewhat unusual for an American celebrity of his stature, Goodman lived a life free of scandal. There is not even a hint of alcoholism, substance abuse, womanizing, financial difficulty or personal unhappiness. For instance his marriage to John Hammond's sister Alice lasted nearly 36 years before her sudden death in 1978.

Classical Virtuoso . . . or not?

In 1949, seeking to develop greater interpretive skill, and character in this style, Benny began studying classical technique and tone in earnest. He seems to have worked very hard and had high aspirations. But to become a great interpreter of that repertorie at the level to which he aspired required moving beyond mere technical excellence.

By most accounts Goodman never became a great classical musician. He achieved very high technical skill -- he had always had that. And his name recognition aided him in gaining considerable success. For a couple of decades he performed with many prestigious conductors, symphony orchestras and chamber music ensembles.

But ironically what seemed to be lacking in his performance was looseness; Benny seemed unable to relax and let go as a classical clarinet soloist. And it's truly ironic that what eluded him in the classical field was precisely the relaxation and flow that had made Goodman such a remarkable jazz musician.

Yet his formal training did yield other long-term benefits. Learning what's called "classical embouchure" probably aided Benny in retaining his superb tone, and retaining strength and flexibility in the muscles of his mouth late into life.

Benny Goodman's Classical Career.mp3

Later Years

During the 1950s Benny Goodman continued to tour, perform and record, re-launching his bands and combos many times while continuing to commission new tunes and arrangements. He toured the far East; toured Europe several times; and during the 50s his classical music career took off.

In 1955 the biographical film The Benny Goodman Story, was released starring Steve Allen. At that time some pretty good 'Hi-Fi' recordings of Goodman were released, successfully recreating some of his early hits.

By the early 1950s it was clear that Swing and the Big Bands were gone and never coming back. However, the "King of Swing" remained a commodity marketable to the generation that had come of age in the swing era; a generation which was by by now mature and enjoying post-war American prosperity. Creative producers looked for ways to repackage one of the best-loved names in American entertainment.

An idea popular in the Fifties was to record a well-known soloist or singer with a fairly bland but well-arranged string orchestra: this was done not only with Goodman, but with no less than Billie holiday and Charlie Parker. The results as heard on the original 10-inch vinyl LP, Benny Goodman with Strings were charming I think.

Beginning the 1970s Goodman had a strong association with Yale University: he taught and conducted seminars there, and received an honorary doctorate. Then only months before his death in 1986, Benny arranged for the Yale Music Archive to receive his musical legacy. To that institution he bequeathed 400 master tapes along with the right to commercially issue the previously unreleased recordings. From that treasure trove the best items have been issued on around a dozen compact discs. And that was just part of a huge quantity of memorabilia, some five truck loads of materials he donated, including his library of about 1500 arrangements, 5,000 photographs, his scrapbooks, clippings and his many awards.

Critics and Criticism

Many criticisms and harsh assessments have been aimed at Goodman and his music over the years. Some of these assessments may be valid while many, in my opinion, are not.

Worst is the allegation suggested by several jazz scholars -- and seconded in the Ken Burns Jazz series -- that Goodman was a white musician who appropriated or exploited the jazz and swing music that was invented by African-Americans.

I find this false on several counts:

1) Jazz has always been an interracial music. It was born in turn of the century New Orleans precisely because of the unique mix of ethnicity, race and culture there.

2) No one racial group owns, nor solely invented, jazz. And the musicians themselves rarely discriminated by race: if a cat could play, he could play, regardless of skin pigment.

3) Benny included notable black jazz musicians in his small bands, touring ensembles and concert performances, bringing his personal brand of jazz music to a mass audience. In my opinion nobody did more than Goodman to break barriers of racial discrimination in the music industry of the late-'30s and early-'40s.

Another criticism of which DOES seem to hold water regards his improvisation. Numerous scholars, critics and musicians have found some fault with Benny's soloing, finding the overall architecture of his soloing lacking: that he was unable to construct long cohesive statements as did the finest improvisers. This may well be Goodman's one significant limitation as a jazz musician, though all acknowledge his awesome technical skill, compelling inventiveness, rapid fire accuracy and musical leadership.

The "BG Ray"

One of the criticisms of Goodman that does strike me as valid is his poor treatment of the musicians who worked for him. By almost all accounts benny was notoriously unpleasant to work for. For instance singer Helen Forrest said that in retrospect her 20 months with Goodman felt like 20 years . . . or even a life sentence.

The dreaded and unnerving stare of disapproval that Benny gave a musician he was not happy with was called 'the ray' by his employees. Forrest described it saying that, "Benny would look right above your eyebrows, in the middle, right on top of the brow."

Nonetheless, by 1947 even Benny was able to chuckle about this peculiarity in a song he recorded with a studio band called The Hollywood Hucksters. In "Happy Blues" he shares a novelty vocal with Stan Kenton who makes a jocular passing reference to the 'BG ray.'

"Happy Blues," The Hollywood Hucksters, 1947.mp3

Vast Impact

Through his vast talent, technique and dazzling improvisational skill, Benny Goodman transformed the role of clarinet in the jazz ensemble bringing it into a newly assertive leadership position. And depending on your taste . . . becoming its greatest proponent.

By fusing together a group of the best jazz instrumentalists with the greatest arranging talent available he shaped and defined Swing jazz.

He was an American evergreen whose personal popularity and music outlived the Swing era. By fusing together a group of the best jazz instrumentalists with the greatest arranging talent available, Benny Goodman shaped and defined Swing jazz.
Plus, his trios, quartets and sextets opened the eyes of a racially divided nation, seriously eroding barriers of racism that had prevailed in the music industry from its earliest days.

Benny Goodman's extensive and astonishing body of work hugely impacted music, launching and defining Swing music of the 1930s and '40s. His exceptional skill, adaptability, musical curiosity, hard work and unparalleled virtuosity built a massive body of work, winning him lasting appreciation and admiration for his vast impact on, and contribution to, American popular culture.

Notes:
In preparing this series I've drawn from numerous sources including two Goodman biographies: Ross Firestone's, Swing, Swing, Swing, and James Lincoln Collier's, Benny Goodman and the Swing Era.

The notes and music in the long out-of-print Time-Life Giants of Jazz LP boxed set have been particularly useful in producing this program series.


BENNY GOODMAN LINKS:

BENNY GOODMAN on Wikipedia
http://en.wikipedia.org/wiki/Benny_Goodman

OFFICIAL WEBSITE of BENNY GOODMAN
http://www.bennygoodman.com/index.php

An excellent GOODMAN SITE
http://www.touchoftonga.com/DavidMulliss/benny-goodman.html

BENNY GOODMAN on Ken Burns Jazz site
http://www.pbs.org/jazz/biography/artist_id_goodman_benny.htm

BENNY GOODMAN on NPR site
http://www.npr.org/templates/story/story.php?storyId=104713445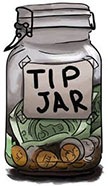 Tip Jar

This site is free.

But you can help sustain it, and encourage me with donation to the tip jar.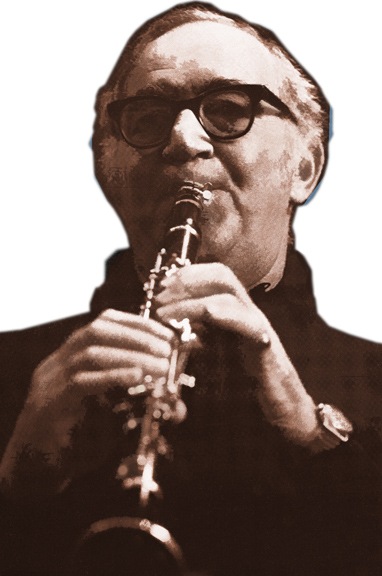 Bonus material:


From a rare live LP recorded at Herb Caen's 60th birthday party in San Francisco, 1976. 100 copies were issued on the tongue-in-cheek label, Co Lector Situm (Collector's Item):



"Avalon".mp3

"Seven Come Eleven".mp3