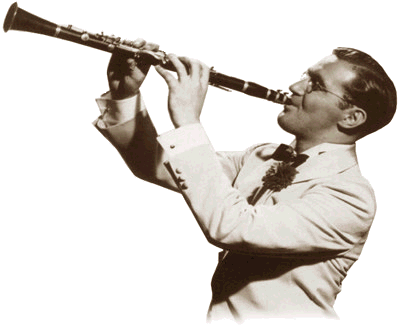 Benny Goodman's Kingdom of Swing


Benny Goodman and his Orchestra were the most popular dance band of the Swing era. His music became a definitive statement of American popular culture in the 20th Century.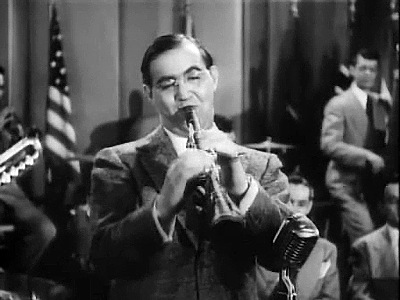 Swing Era Superstar

Benny Goodman (1909-1986) ran the most successful and influential orchestra of the Swing era. He made some 5,000 commercial recordings that were definitive statements of American popular culture, selling more than 100 million records. In the late 1930s his innovative combos – the trios, quartets and sextets explored in part two -- shaped a new style of small-band Jazz, introducing sophisticated chamber jazz to a broad popular audience.


During the Swing era, between 1935 and '45, many bandleaders came and went. Other dance orchestras rose to popularity, had number-one hits and were hailed as the greatest thing since sliced bread. But for the duration of the Swing era and beyond Benny was golden, the most popular and best-selling "King of Swing."

Goodman was arguably the best Jazz and Swing clarinet player of his generation, though many would point to his closest competitor, Artie Shaw. With his graceful, melody-focused clarinet lines Benny improvised with complete assurance, rarely playing a passage the same way twice. As a youth he forged an unmatched style, drawing stylistically from the best New Orleans clarinetists who had migrated North to Chicago to which he added his own astonishing creativity and pinpoint accuracy.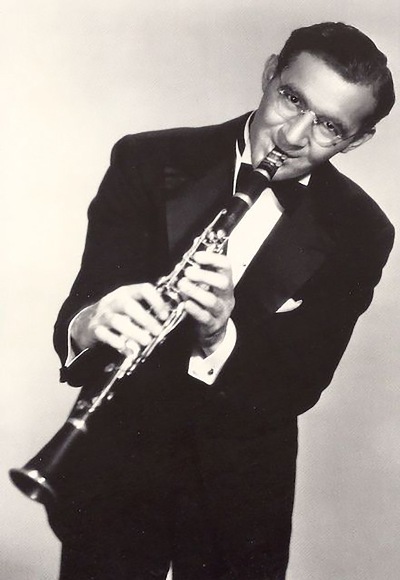 A Carefree Prodigy


Born in Chicago, Benny displayed an early gift for music and enthusiasm for jazz. By age 13 he was a professional union musician earning more than his father, an impoverished Polish immigrant Jewish tailor. Goodman split his time between playing with "legitimate" dance orchestras and running with his Chicago hot-music buddies like pianist Art Hodes and horn players Bix Beiderbecke or Jimmy McPartland.



Until the early 1930s Goodman was just one of many hot jazz clarinetists working in or around Chicago and New York, though he was certainly one of the most talented. Benny bounced around among dance bands, picking-up gigs and recording sessions when he could, but mostly, he followed his whims.


Exploring Goodman's music, career, cultural significance and odd personality.

Gabriel Broadcast Award-winner

Part 1 - Benny Goodman: King of Swing

Benny Goodman1A.mp3
SWEET GEORGIA BROWN -- Benny Goodman and his Orchestra, live NYC, 1959
DON'T BE THAT WAY -- Benny Goodman and his Orchestra, 1938
BIG JOHN SPECIAL -- Benny Goodman and his Orchestra, 1938
TAKING A CHANCE ON LOVE -- Benny Goodman & his Orch, 1940
Docu-medley: "Becoming the King of Swing"
SWINGTIME IN THE ROCKIES -- Benny Goodman & his Orch, 1938
HOW HIGH THE MOON? -- Benny Goodman & his Orch, voc Helen Forrest, 1941
SUNNY DISPOSISH -- Benny Goodman and his Orchestra, live 1937
HOW LONG HAS THIS BEEN GOING ON -- B. Goodman & his Orch, voc Peggy Lee 1941

Benny Goodman 1B.mp3
STOMPIN' AT THE SAVOY -- Benny Goodman and his Orchestra, 1936
DOWN SOUTH CAMP MEETING -- Benny Goodman & his Orch, live 1937
Medley:
Don't Be That Way
Stomping at the Savoy
On the Sunny Side
Rose Room
In a Mellotone
Moon Glow
One O'Clock Jump
Sing, Sing, Sing, live NYC 1959
RIDIN' HIGH -- Benny Goodman and his Orchestra, live NYC 1937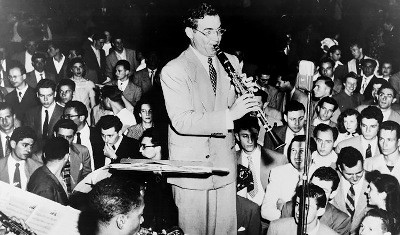 The "Let's Dance" Broadcasts


In 1934 Goodman got serious when he landed the Hot Music portion of the "Let's Dance" network radio program transmitted to more than 50 radio stations. He dished up the dance music steaming hot on the Saturday night coast-to-coast broadcasts. It was a huge opportunity, his first national exposure and "the biggest thing that ever happened to me" said Benny.


On the Pacific Coast, Goodman and his boys were considered standout stars of the "Let's Dance" programs. Due to the three-hour time difference, Benny's late-night shows from the East were broadcast in prime time on the Pacific coast. "Let's Dance" was wildly popular with teenagers who craved the music of Benny Goodman and his Orchestra. They became the preferred soundtrack in the Pacific Time zone for Saturday night dance parties in front of the parlor radio. But neither Benny, the band, nor booking agencies realized just how popular his music was in the West.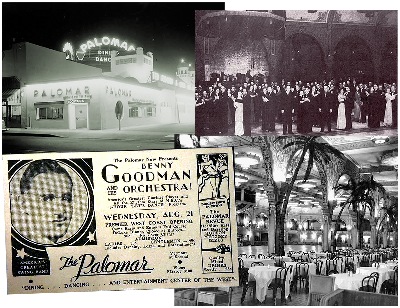 The Palomar Ballroom Breakout

During an otherwise desultory 1935 cross-country national tour, and much to their surprise, the band was received with wild enthusiasm West of the Rockies. Playing to huge crowds in San Francisco and Oakland, California, their legendary breakout happened at their final destination in Los Angeles at the popular Palomar Ballroom.

They were a colossal success at The Palomar and wildly popular with the young Jitterbug dancers and Lindy-hoppers. The Palomar appearance was extended. Word got out. The records sold like hot cakes and bookings flooded in. Soon the influential Down Beat Magazine was featuring Goodman in every issue often with front-page coverage.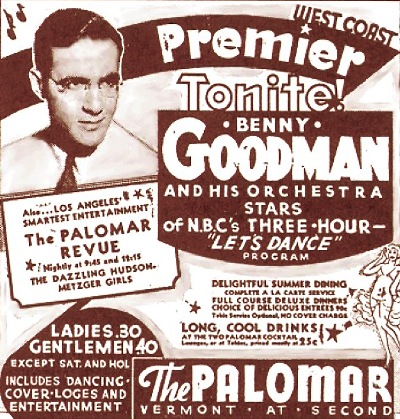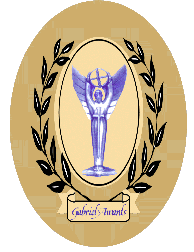 Part 2 - Benny Goodman's small bands

Benny Goodman 2A.mp3
SLIPPED DISC -- The Bernny Goodman Qunitet, 1954
OH, LADY BE GOOD -- The Benny Goodman Trio, 1935
BODY AND SOUL -- The Benny Goodman Trio, 1935
MOONGLOW -- The Benny Goodman Quartet, 1936
RUNNIN' WILD -- The Benny Goodman Quartet, 1937
OPUS 3/4 -- The Benny Goodman Quartet, 1939

Benny Goodman 2B.mp3
SEVEN COME ELEVEN -- The Benny Goodman Sextet, 1939
AC-DC CURRENT -- The Benny Goodman Sextet, 1939
FLYING HOME -- The Benny Goodman Sextet, 1939
RACHEL'S DREAM -- The Benny Goodman Quartet, 1945
HI'YA SOFIA -- The Benny Goodman Quartet, 1947
I NEVER KNEW -- The Benny Goodman Sextet, 1939
WHOLLY CATS -- The Benny Goodman Sextet, 1940
BENNY'S BUGLE -- The Benny Goodman Sextet, 1940
AIR MAIL SPECIAL -- The Benny Goodman Sextet, 1941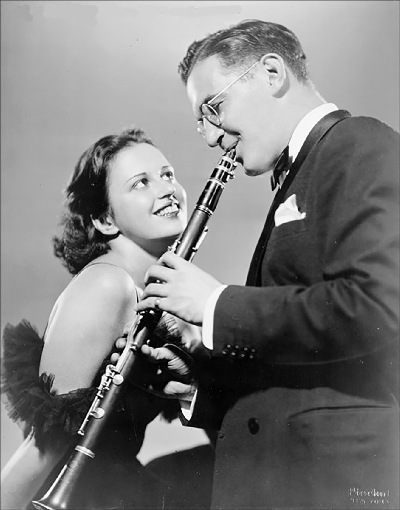 Crowned the
King of Swing

By 1937 the Goodman Orchestra and Jazz combos were the biggest thing in the music business playing prestigious venues. The press christened Benny the "King of Swing" and the orchestra appeared in Hollywood films. Benny's autobiography The Kingdom of Swing was published only a month before his 30th birthday.
One possible key to Goodman's success was his choice to prominently feature female singers. He was one of the first bandleaders to do so, beginning with very attractive and jazz-influenced Helen Ward (seen left).

Her warm, direct manner was very popular with college-age males. Followed by singers Helen Forrest, Martha Tilton and Peggy Lee who all had huge hits with Goodman.

Goodman clip I - Popularity and his Vocalists, Goody Goody & Why Don't You Do Right

The Business of Swing

The Swing and Big Bands that played for vast pavilions full of dancing couples fueled a hundred-million-dollar entertainment industry. At its peak some 30,000 to 40,000 musicians were employed, backed by a support staff of another 8,000 managing, booking, promoting and transporting them.

Across America hundreds, perhaps thousands of traveling dance bands and swing orchestras packed the ballrooms of big cities and small bergs. The best, like Goodman and his crew went into the recording studios, cutting hot-selling records that rescued an industry suffering badly from the Great Depression.

It is true that during this era there were many other very good white Swing bands playing hot music for dancing. Most notably the Casa Loma Orchestra. But Goodman's particular brand of Swing matched youthful tastes more exactly than his competitors, capturing the loyalty of a generation whose courtship rituals centered on dancing the Fox Trot.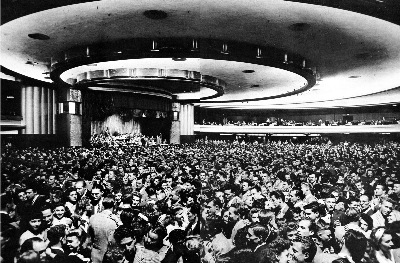 With a capacity of 6,500 dancers, The Palladium in Hollywood was the largest U.S. ballroom, seen here with Tex Beneke leading the Glenn Miller Orchestra.

Advent of the Arrangers

Arrangers were integral to the success of Swing orchestras -- Goodman's in particular. It's often overlooked that written arrangements were crucial to focusing the sound of Swing ensembles of ten or more instruments. A small coterie of talented arrangers confronted the complex and novel task of organizing these musical forces.

With little or no formal training, the newly recruited scribes invented techniques for scoring and organizing four or five saxophones, three or four trumpets, two or more trombones and four rhythm instruments (usually piano, guitar, bass and drums). The best arrangers succeeded by keeping the melodic themes and motifs moving through the various sections, offering shifting timbral contrasts and highlighting the soloists. Mastering these delicately interlocking challenges skillfully was no small task.

The effect was greater volume, dynamic range and variation than had previously been heard in popular music. In Benny's band, top-drawer musicians played complex written arrangements with precision and yet still cut loose with hot solos. Goodman's arrangers struck an ideal balance between danceable rhythms, jazz improvisation, tightly written ensemble sections and that elusive but essential ingredient called 'swing.'

He commissioned song charts from the most creative and exciting of the emerging arrangers (black or white): Jimmy Mundy, Edgar Sampson, Spud Murphy, Benny Carter and Mary Lou Williams. Foremost among them was Fletcher Henderson (and his brother Horace) who authored the charts of Benny's biggest hits.

Goodman's success rested firmly on expert arrangements of popular tunes, ballads and dance music played from superb written charts with improvised elements. At its best Swing was more than just very good dance music set to exciting rhythms. It was jazz.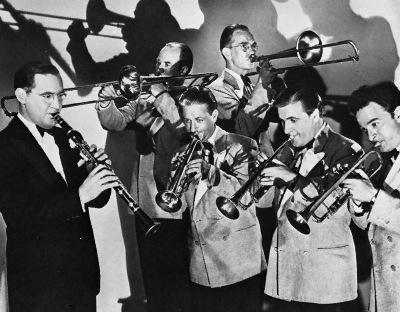 An illustrious Goodman brass section with trumpeters Harry James, and Bunny Berigan to his left.


Part 3 - Goodman's role in America's musical and popular culture

Benny Goodman 3A.mp3
CHINA BOY -- The Benny Goodman Quintet, 1955
OPUS 1/2 -- The Benny Goodman Quartet, 1938
I'M A DING DONG DADDY -- The Benny Goodman Quartet, CBS Radio, 1938
GILLY -- The Benny Goodman Sextet, 1939
BREAKFAST FEUD -- The Benny Goodman Sextet, 1939
BUGLE CALL RAG -- Benny Goodman and his Orchestra, 1937
MADHOUSE -- Benny Goodman and his Orchestra, 1937
AVALON -- Benny Goodman and band, San Francisco, 1976
Docu-medly: Goodman's Classical Career

Benny Goodman 3B.mp3
THREE LITTLE WORDS -- Gene Krupa and his Chicagoans, 1935
RACHEL'S DREAM -- The Benny Goodman Sextet, 1963
OH, BABY! [Side 1] -- Benny Goodman and his Orchestra, 1946
SING, SING, SING -- Benny Goodman and his Orchestra, 1937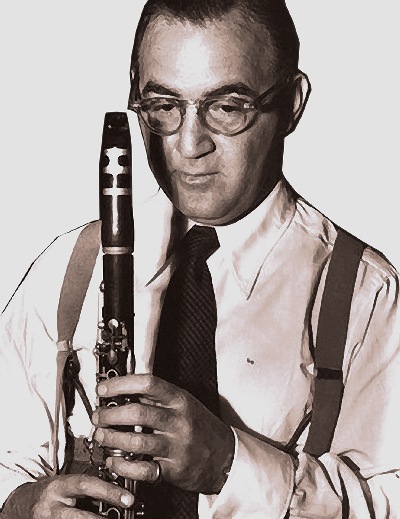 A Simply Complex Man

A complex man, Goodman was also quite simple. Or perhaps single-minded would be a better description. Hardworking to a fault he was a perfectionist, obsessively absorbed in music and his instrument, relentlessly holding himself and others to impossibly high standards. Yet, to succeed and triumph in the tough business of American popular entertainment Goodman may well have needed that tunnel vision and focus.

Notable and somewhat unusual for a music celebrity of his stature, Goodman lived a scandal-free life, without the slightest hint of personal difficulties due to drug or alcohol abuse, money trouble, infidelity or womanizing. His marriage to Alice (nee) Hammond, who was the sister of impresario John Hammond, lasted nearly 36 years until her sudden death in 1978.

And though legend has it he was notoriously miserly, there are notable instances of his personal generosity. For instance, we know that he quietly covered the medical bills of a dying musician and retained a saxophonist who couldn't read music but was a brilliant soloist.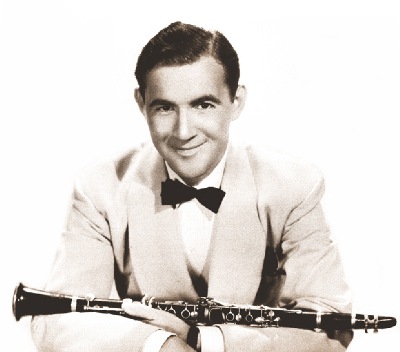 Wrapping it Up

Benny Goodman continued performing and recording vigorously through the 1940s and '50s. He re-launched his orchestras, bands and combos many times, commissioned new music and toured internationally.

A biographical motion picture, The Benny Goodman Story was released in 1955 and shortly afterwards he made some very good recordings of his early hits in high-fidelity stereo. And Goodman became a noteworthy classical clarinet virtuoso performing with top American symphony orchestras.

Through his later decades Benny taught privately and developed an affiliation with Yale University where he held seminars. Today a vast archive of his music scores, papers and audiotapes reside. From this legacy, The Yale Library Benny Goodman project has issued some dozen remarkable titles.

Cultural Legacy

In the 1970s Goodman developed a strong affiliation with Yale University receiving an honorary doctorate. He taught, conducted seminars and gifted his voluminous personal collection to the Yale University Music Library months before his death in 1986.

Today a vast archive of his music scores, papers and audiotapes reside. From this legacy, The Yale Library Benny Goodman project has issued some dozen remarkable titles. The Benny Goodman Yale Library project has issued some dozen volumes, available intermittently on CD, vinyl or streaming services.

This vast talent, drive and creativity, Benny Goodman shaped the Swing era, giving the clarinet a new and assertive leadership role. His trios, quartets and combos shaped a forward-leaning chamber music Jazz, while incidentally opening the eyes and ears of a racially divided culture. The music of Benjamin David Goodman launched and defined the Swing era, winning him lasting admiration for his extraordinary contributions to 20th Century American culture.


Part 4 - Assessing Goodman's personality, and presenting some rarities

Benny Goodman 4A.mp3
GET HAPPY -- Benny Goodman [Sextet], 1954
NO WAY TO STOP IT -- Benny Goodman and his Orchestra, 1959
HOW HIGH THE MOON -- Benny Goodman [Sextet], 1954
GOODY GOODY -- Benny Goodman and his Orchestra, vocal Helen Ward, 1936
WHY DON'T YOU DO RIGHT -- Benny Goodman and his Orchestra, vocal Peggy Lee, 1942
HAPPY BLUES -- The Hollywoood Hucksters, 1947
SEVEN COME ELEVEN -- Benny Goodman and band, San Francisco, 1976

Benny Goodman 4B.mp3
I GOT A RIGHT TO SING THE BLUES -- Benny Goodman with Strings, 1952
KING PORTER STOMP -- Benny Goodman and his Orchestra, 1955
I GOT A RIGHT TO SING THE BLUES -- Benny Goodman with Strings, 1952
SWING IS HERE -- Gene Krupa's Swing Band, 1936
SCARECROW -- Benny Goodman and his Orchestra, 1941
LET'S DANCE -- Benny Goodman and his Orchestra, 1939
BENNY RIDES AGAIN -- Benny Goodman and his Orchestra, 1940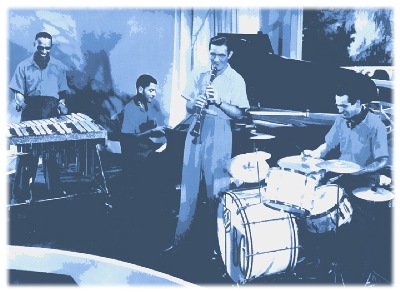 The Classic
Benny Goodman
Quartet c. 1936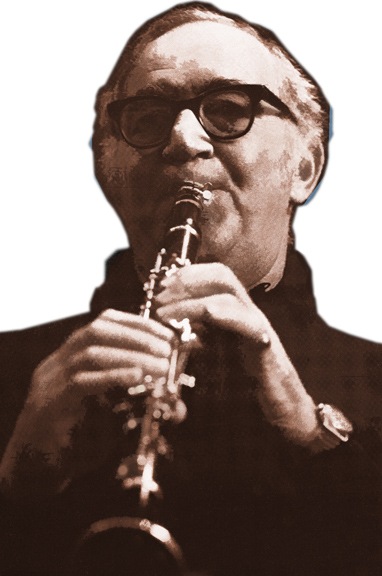 Bonus material:

This album was distributed to celebrate the birthday of noted San Francisco columnist Herb Caen . . . a high-profile Goodman fan and follower.

Recorded at his 60th birthday party, only 100 vinyl copies of this record were issued under the tongue-in-cheek marque:
Co Lector Situm.


"Avalon".mp3

"Seven Come Eleven".mp3

Sources and further reading:

Benny Goodman, Giants of Jazz [box set liner notes], Philip W. Payne (Time Life, 1979)

Grove Dictionary of Jazz 2nd Ed., Barry Kernfeld editor (Macmillan, 2002)

JAZZ, Geoffrey C Ward, Ken Burns (Knopf, 2000)

Jazz Records 1897-42 [discography], Brian Rust (Arlington House, 1978)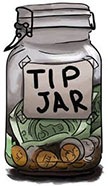 Tip Jar
This site is free. But you can help sustain it, and encourage me with donation to the tip jar. Secure payment through PayPal is anonymous, except that I will see your e-mail address.

Donation $5.00
Donation $10.00
Donation $20.00
Donation $35.00
Donation $50.00
Donation: You decide