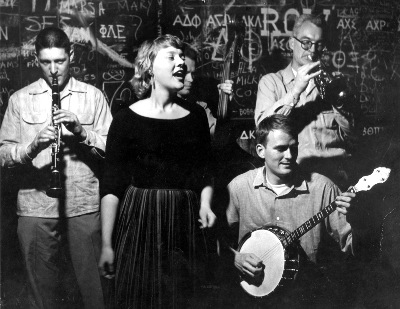 The Gang at Monkey Inn Pt. I

It turns out in retrospect that Monkey Inn was central to the second wave of the great Frisco jazz revival, c. 1956-66.

Musicians, mostly from the East Bay who played this Berkeley beer and pizza joint included trombonist Bob Mielke, bandleader and banjo player Dick Oxtot, multi-instrumentalist Earl Scheelar, and singer Barbara Dane.

Photo above L to R:
Earl Scheelar, Barbara Dane, Le Sharpton, Sam Charters, Dick Oxtot c. 1958-59

(Clarinet players Ellis Horne and Frank "Big Boy" Goudie are heard in
Part II.)

According to Bob Mielke, Monkey Inn could occasionally, "get a little rough." He describes the college-age crowd as, "fraternity boys out on their first beer benders," though another less charitably called them "a pack of little thugs." Earl Scheelar reports that one time, when a tough motorcycle gang infested the joint, the musicians packed up their instruments and left.

The sometimes boisterous establishment opened onto to busy Shattuck Avenue through the (audibly) swinging barroom doors next to the piano. During "Sweethearts on Parade" Erickson fends off a patron trying to use the piano as a trash receptacle, the occasional clang of a dinner bell had something to do with food orders.

Other bands and ensembles who played there for "beer and peanuts" (the beer was free, but they were paid peanuts) included Great Pacific Jazz Band, Bob Mielke's Bearcats and Le Sharpton's New Orleans Band. After about 1960 Bill Erickson was house pianist, directing various combos and ad hoc groups.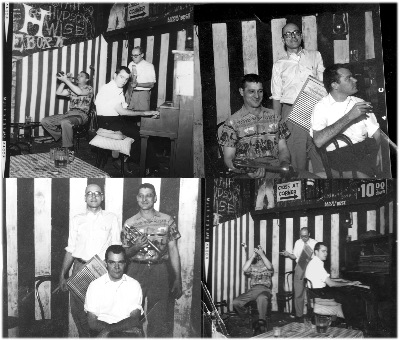 Bill Erickson (piano) "usually erroneously labeled a Dixieland jazzman, was in every way a comprehensive modern musician, performer and composer whose interests ranged from the blues to Bartok," wrote jazz critic Phil Elwood in the San Francisco Examiner, 1967. For about a decade Bill Erickson was a key player in Bay Area revival-jazz and a catalyst for good times and great music. It may well have been Bret Runkle who gave him the moniker "Willie the Master" for his masterful musical skills.

Photo negatives from Monkey Inn 1962 by William Carter.

Bill played very good piano, excellent trumpet, reed instruments, sang and was a deft arranger with solid musical training. Erickson's bold and creative piano playing supports two-thirds of these tracks. His hard to categorize piano style was described by Mielke: "a light Teddy Wilson style" in the right hand, "coming on like gangbusters, a rhythm section unto himself," in the left.

A gifted musician, session director and entertainer, Bill worked as a sideman with Jack Sheedy around 1950, and with Kid Ory at On the Levee in San Francisco, c. 1960. He played trumpet with Bob Mielke's Bearcats, gigged with Dick Oxtot and Barbara Dane on the San Francisco Waterfront during the early 1960s and ran the popular jam sessions at Pier 23 from the piano bench.

Victim to demons and depression, Erickson committed suicide in 1967, a traumatic blow to his friends and fellow musicians. Once the shock and emotions of the memorial concerts passed -- with few examples of his music left on disc -- Bill faded from memory. In this collection a sparkling light of Bay Area jazz is again heard at his best.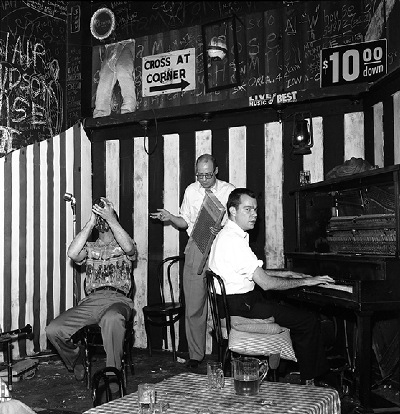 ARCHIVE MUSIC
Earl Scheelar
clarinet and cornet (doubling), 1/62

Earl Scheelar
(cornet, clarinet)
Bill Erickson
(piano)
Bret Runkle
(washboard)

Cakewalkin' Babies From Home 4:42
I'm Confessin' 5:18
When Erastus Plays his Old Kazoo 4:03
Wild Man Blues 5:23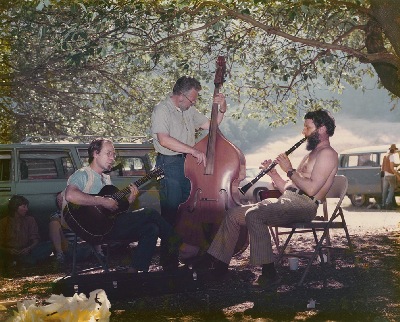 Earl Scheelar
(cornet, clarinet) is a dedicated proponent of New Orleans music. Few transmit the Blues on cornet and clarinet with greater conviction, passion and eloquence. A self-taught independent musician, Earl's technique and personal style are distinctive, his cornet tone heartbreaking. Scheelar's Johnny Dodds-influenced New Orleans-via-Southside-Chicago clarinet style provides strong support in any ensemble, and he's always ready with a piquant solo or chorus of the blues. Earl's power (even, muscularity) as a clarinetist is on full display in "You Always Hurt the One You Love," long one of his favorites.

Photo L to R: Peter Berg, Pete Allen, Earl Scheelar

A talented multi-instrumentalist, Earl doubled on cornet and clarinet in the January 1962 trio session accompanied by Bill Erickson (piano) and Bret Runkle (washboard). Earl feels that he was still learning his instruments and crafting his style. Yet he demonstrated notable potency, balance and clarity while "doubling": switching between cornet and clarinet.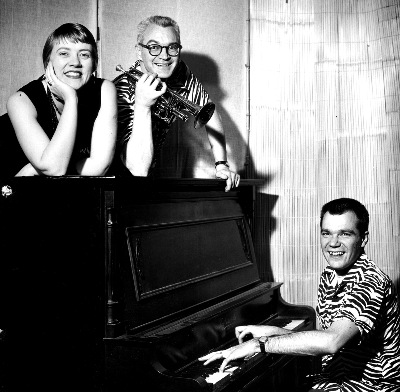 Barbara Dane, Dick Oxtot, Bill Erickson publicity photo for their gig at Jack's Waterfront Hangout on the San Francisco waterfront in the late 1950s.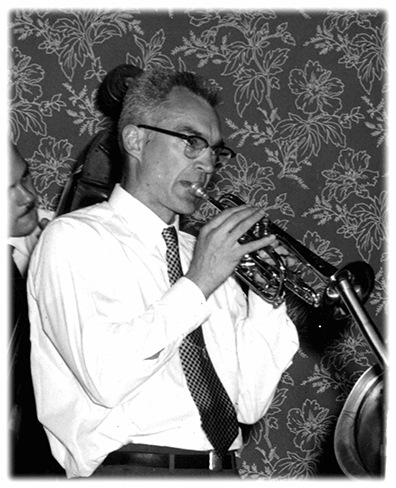 It's little appreciated that Dick Oxtot (cornet) started out playing jazz cornet but shifted to banjo and related plectrum instruments for health, personal and professional reasons. Oxtot also played very good tuba, string bass and continued occasionally playing cornet into the early 1960s.

An unmatched gig-getter, Oxtot proffered "Vintage music with Style" on both sides of the Bay. Though he's on only a few of these reels, Dick was a pioneer at Monkey Inn, as early as May 1957 according to extant union contracts.


Hearing Walter Yost play cornet was a rare treat; he had a lovely sound but was known almost exclusively for his excellent jazz tuba chops. But because it was harder at the time to find good tuba players than good cornet or trumpet players, Walter was in constant demand to play tuba for the East Bay jazz ensembles of Dick Oxtot, Earl Scheelar, Ted Shafer or P.T. Stanton.

Yost had an appealing cornet style with a light touch. Though he was no Beiderbecke imitator, the influence is unmistakable. His clean, clear bell-like tones are placed with care and little Bixian flourishes that echo the moody genius.

Earl Scheelar suggests that Walt stuck to the tuba in part because he lacked the confidence to play lead horn. But Yost transcended those inhibitions when blowing cornet in supportive circumstances, like the informal atmosphere at Monkey Inn or parties at the local Berkeley Jazz houses.

Singer Barbara Dane had an intensity and volume sufficient to lead or easily blend with any ensemble. She too recorded with George Lewis in San Francisco 1956, and was a long-time associate of these musicians. She successfully cut several albums, sang in nightclubs including her own Sugar Hill in San Francisco's North Beach, toured, was a committed political activist, and is still singing at age 90.

The late Sam Charters (banjo, vocal) became well known for his research, writing and music reissues of Jazz, Folk and Blues. In 1957 he instigated a project involving most of these East Bay musicians in a recording project recreating the music of Clarence Williams' Washboard bands of the 1920-30s. Long unissued, Scheelar recently made this music available.

Le Sharpton (string bass) played very good string bass and trombone. He worked with Oxtot, Scheelar and others on both sides of the Bay and ran his own New Orleans Band. Leland recorded with clarinetist George Lewis in San Francisco 1956, playing bass with Oxtot (banjo) and singer Barbara Dane.


ARCHIVE MUSIC
Oxtot, Scheelar, Bardin, Sharpton, Charters, Dane,
Monkey Inn, c. 1958

Dick Oxtot (cornet)
Earl Scheelar (clarinet, cornet)
Bill Bardin (trombone, last two)
Le Sharpton (string bass),
Sam Charters (banjo, vocal)
Barbara Dane (vocal)

Good Morning Blues (vocal, Dane) 3:30
Muddy Water (vocal, Dane) 3:27
There'll Be Some Changes Made 3:29
Eh, Las Bas (vocal, Charters) 4:27

Add: Bardin, trombone
At a Georgia Camp Meeting (Scheelar, cornet; no clarinet) 2:30
Till We Meet Again 4:36

Set complete.mp3 27:50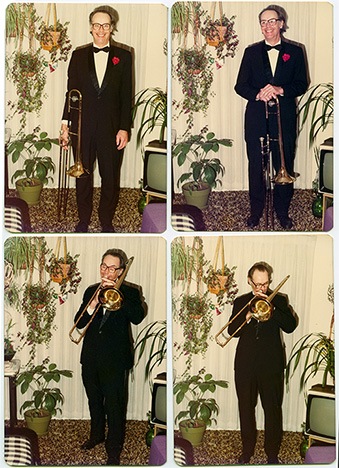 Bill Bardin (trombone) was second to none in Bay Area jazz. He was eloquent playing gutty New Orleans stomps, sophisticated Swing, or the Blues.

He had subbed for Turk Murphy in the wartime Yerba Buena Jazz Band at age 17 and was Mielke's only sub in the Bearcats.

Bill worked for decades with with bandleaders Oxtot and Scheelar and was a beloved principal voice in the Frisco revival.


Photo courtesy Earl Scheelar


ARCHIVE AUDIO
Yost, Scheelar, Erickson Runkle, 2/3/63

Walter Yost (cornet)
Earl Scheelar (clarinet)
Bob Meilke (trombone last five)
Bill Erickson (piano)
Brett Runkle (washboard)

Set A

Intro by Dave Greer

I Ain't Gonna Give Nobody None of my Jelly Roll 4:30
Breeze 4:23
Nobody's Sweetheart 5:17
Nagasaki 3:48
Sweethearts on Parade 3:40

Set A complete 21:50

Set B
Add Bob Mielke (trombone)

1919 Rag 4:28
When Erastus Plays his Old Kazoo 6:17
Wild Man Blues 6:29
You Always Hurt the One You Love 6:12
Just a Closer Walk 5:17

Set B complete 28:40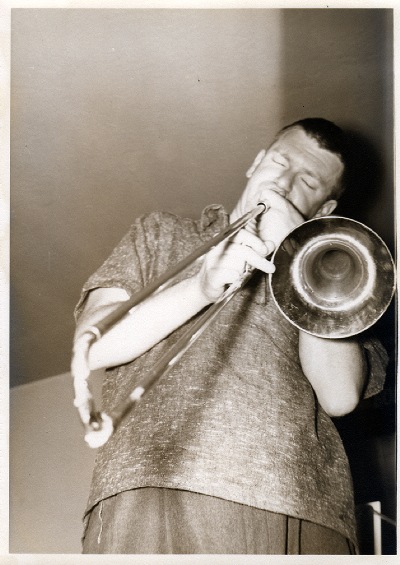 Bob Mielke (trombone) led the very popular Berkeley-based Bob Mielke and the Bearcats Jazz Band in the 1950s and '60s, and was a central figure in the East Bay jazz scene for a half century. As a soloist Mielke kept things interesting by being brave enough to take the unexpected route.

Bob synthesized his own exciting trombone style with elements from Kid Ory's New Orleans tailgate tradition, the Harlem swing of J.C. Higginbotham, and vox humana of Ellington's "Tricky Sam" Nanton. His exemplar for playing New Orleans parts was George Brunis in Muggsy Spanier's 1939 Ragtime Band.

Bret Runkle (washboard) was an East Bay Dixieland, Traditional and Revival jazz super fan, an avid habitué of the local jazz clubs, bars and dives. His washboard brought a bright supportive rhythm element to Berkeley jazz ensembles. Runkle wrote a notable monograph, "Bay Area Jazz Clubs of the Fifties," which is today a rich source of information and stories about the nightspots where this music flourished.


ARCHIVE MUSIC

Bill Erickson piano solos
with banjo accompaniment by Earl Sheelar
Monkey Inn, Berkeley, 1962

Banjo was yet another skill of multi-instrumentalist Scheelar who also sang, played soprano and alto saxophones, tuba, baritone horn and guitar.

Hindustan.mp3
A Shanty in Old Shanty Town.mp3
I Ain't Got Nobody.mp3
When You're Smiling.mp3
Wabash Blues.mp3

Thanks to Earl Scheelar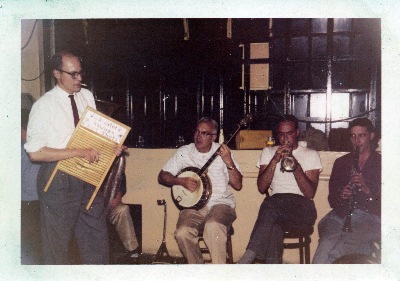 The usual suspects, at Nod's Taproom, Berkeley

L to R:
Bret Runkle, Dick Oxtot, Ted Butterman, Earl Scheelar

The Monkey Inn Legacy

In the late 1950s and early 1960s, the Monkey Inn was a focal point for traditionalist music in the San Francisco East Bay – an unintimidating gig where emerging talent could gain experience and hone their chops. For decades Mielke, Oxtot, Scheelar, Yost, Dane and Mielke were the nucleus of an East Bay contingent in the lively second wave of the great San Francisco Jazz revival.

When the Monkey Inn closed in 1966, Rock music was displacing Dixieland at venues catering to college-age music fans. Since 1975, the location has been La Pena Cultural Center – a performance space, restaurant and Berkeley community resource.

Excepting the Great Pacific ensemble, these musicians built an independent Jazz sound that was not based on the two-beat, two-cornet approach of groups such as the Bay City Jazz Band. At the smoky, rowdy, collegiate Monkey Inn, some of the finest musicians from this branch of the great Frisco Revival fashioned their own interpretation of early New Orleans, Chicago, Kansas City and Classic Jazz.


Based on interviews, discussions and correspondence with Barbara Dane, Dave Greer, Richard Hadlock, Bob Mielke, and Earl Scheelar, who also fact checked these notes.

Thanks to Bob Mielke, Darlene Oxtot and Earl Scheelar for tapes and photos.


The Monkey Inn Gang II
Erickson, Mielke, Frank Goudie, Ellis Horne, Jerry Blumberg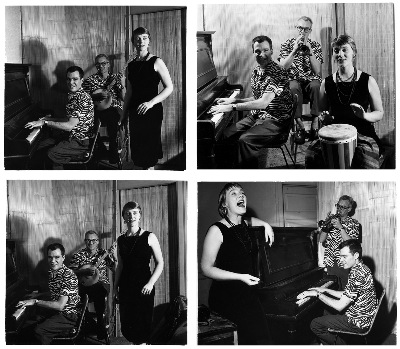 Publicity stills for their gig at
Jack's Waterfront Hangout, The Embarcadero on the Frisco Waterfront.

Bob Mielke collection



Audio and photos courtesy of Darylene Oxtot, Bob Mielke and Earl Scheelar.



Links:

The Gang at Monkey Inn Pt. 1 - Classic and Traditional Jazz 1958-62 at Syncopated Times

The Gang at Monkey Inn Pt. 2 - The Bill Erickson combos 1961-62 at Syncopated Times

Earl Scheelar

Barbara Dane

Dick Oxtot

Bob Mielke

Bill Erickson

Great Pacific Jazz Band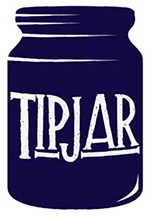 Tip Jar
This site is free. But you can help sustain it, and encourage me with donation to the tip jar. Secure payment through PayPal is anonymous, except that I will see your e-mail address.

Donation $5.00
Donation $10.00
Donation $20.00
Donation $35.00
Donation $50.00
Donation: You decide