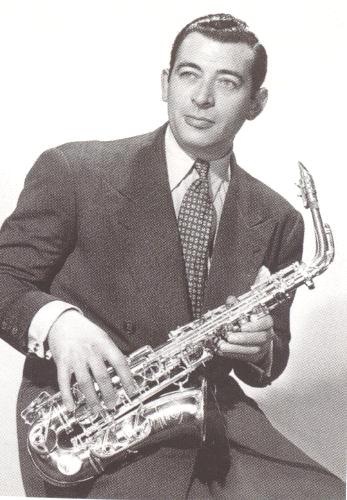 André Ekyan


French Jazz Pioneer


The most creative French saxophonist, and a major force in French jazz during the 1930s and '40s.


This page emphasizes his
key role drawing Django Reinhardt into the jazz sphere, mentoring and encouraging him as music professional.



Alto saxophone, clarinet
b. Meudon, France 10.24.07 - d. Alicante, Spain 8.9.72

A significant jazz pioneer in France, he was a self-taught arranger, bandleader and jazz organizer at the center of jazz development in France. He worked vigorously helping develop and promote jazz at clubs and cabaret venues, recordings, concerts and jam sessions. He established wide popularity in London and Paris in the early 30s, then recorded as a leader and sideman between 1935-46. He was an energetic and early jazz activist promoting concerts, jam sessions (called, "Des Boeufs" by the French).

Undoubtedly André Ekyan was one of the most original French jazz musicians of the 1930s, second only to Django. His mother was Hungarian, his father from Armenia. His official name was Echkyan. He was raised in France and took up the clarinet and saxophone as a child.

A major talent, Ekyan was one of the most original jazz stylists of France. He was one of the very few saxists in Europe to develop his own style in the 1930s independently from the dominant Coleman Hawkins paradigm.

Yet his sound was very much appreciated by Hawk and they recorded together in 1935 and '37. As an alto saxophone player Ekyan must have been influenced by the two most important early stylists of the instrument: Johnny Hodges and Benny Carter, the latter was in Europe several years in the mid-1930s.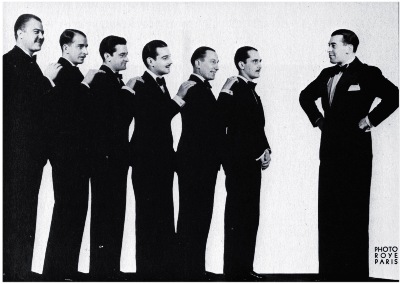 Andre Ekyan (right) and his Orchestra


(Photo: Mme. Ekyan, no date, Goddard, Jazz Away from Home)

In the late 1930s Ekyan was recording vigorously alongside Coleman Hawkins, Benny Carter, Django, Big Boy Goudie, Joe Turner, Jacques Butler and others at Disque Swing, where I suspect he may have done a lot of organizing behind the scenes.

Ekyan was a musical associate of Django Reinhardt frequently between 1934-51. His clarinet and alto saxophone solos appear frequently on Reinhardt's recordings between 1937-41 and again in 1949-50.

He recorded with the cream of French, British and American jazz musicians: Benny Carter, Coleman Hawkins, Fats Waller, Tommy Dorsey, Joe Turner, Mezz Mezzrow, Frank Big Boy Goudie and Tommy Benford. He worked or toured in the large dance orchestras of Jack Hylton (London, 1930-31), Gregor (Paris, 1932-33), Tommy Dorsey (New York, 1936) and Ray Ventura (1938, 1941).


CHRONOLOGY

1920s
Dental studies at university, takes up alto sax.
Leading own bands in Paris and the club, Le Perroquet.




early 1930s
His small group was playing at the "La croix du Sud" cabaret early-30s.

1930-31
With Jack Hylton's Orchestra (English).

1932-33
Grégor and his Grégoriens (French).

1934
First encounters and jams with Django Reinhardt.
French crooner, Jean Sablon recorded accompanied by Ekyan and his orchestra.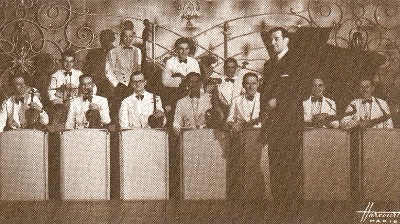 Ekyan orchestra
at Maxim's




ARCHIVE MUSIC

These tracks from 1939-41 display Ekyan as a major talent.
He was one of the few European saxophonists thinking beyond the style of Coleman Hawkins.

Andre Ekyan, alto sax with Django
"Hungaria," 1941.mp3
"Rosetta," 1940.mp3
"A Pretty Girl is Like a Melody," 1940.mp3

Frank Big Boy Goudie and his Orchestra, 5.28.39
Andre Ekyan clarinet and alto
Jack Butler (trumpet)
Goudie (tenor sax)
Joe Turner (piano)
Norman Langlois (guitar)
Wilson Meyers (bass)
Tommy Benford (drums)

"You and I Babe," 1939.mp3
"Who's Sorry Now," 1939.mp3
"You in my Arms and Sweet Music"
"Heebie Jeebies"
"Who's Sorry Now?"

(Special thanks to Bo Scherman, Göran Söderwall and Rune Sjögren)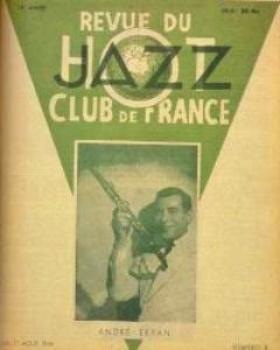 1935
Records with Coleman Hawkins and Benny Carter All Star band.

March '35 Records with Michel Warlop Orchestra.

In 1935 Ekyan became one of the major organizers in the "Boeuf sur le Toit," a cabaret where a lot of jazz musicians performed.

Records for the Ultraphone label.

1936
New York: with Tommy Dorsey and with Joe Turner and Fats Waller.

1937
Returning to France he started the Swing Time cabaret, his own orchestra was the house band.
Tenor sax player Alix Combelle remembered some great jam-sessions at the club.

First to be recorded by the new Disque Swing label with Coleman Hawkins, Benny Carter,
Alix Combelle and Django Reinhardt

1938
With Ray Ventura Orchestra (French).

1939
Records quite often on the Swing label both as leader and sideman.



ARCHIVE MUSIC:

Andre Ekyan Orchestra (sextet), 1939
(Frank Big Boy Goudie, trumpet)

"Blues of Yesterdays"
"The Sheik"
"Darktown Strutter's Ball"



CHRONOLOGY

1940
Records with Django's Music [jam-sessions-on-record hosted by Django].

1941
Ray Ventura orchestra, Switzerland.
September has a quintet at Moulin Rouge.

1949-50
Persuades a disheartened Django to resume playing concertizing: concerts, residencies and recordings with Django in Paris and Rome.

1949
Residency with Django at Paris, Paris (in Paris, France).

Apr- May, 1950
Rome: plays alto in a French quintet with Django at the Open Gate.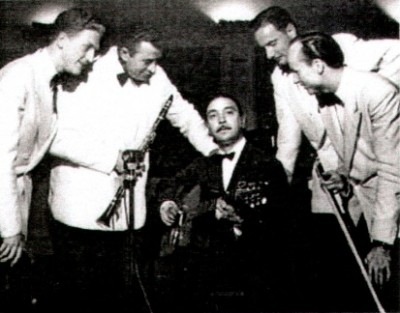 Ekyan,
second from left,
with the Gypsy,
c. 1950

DJANGO AND EKYAN

Detail about Ekyan's key role drawing Django into the world of professional European jazz musicians is filled in by Michael Dregni's definitive biography, Django: The life and Music of a Gypsy Legend (Oxford, 2004).


I. During Reinhardt's first professional job 1932-34 with the Jean Sablon orchestra, Ekyan was charged with serving as a kind of personal minder and chaperone for the gypsy. And he took responsibility for helping groom him into a professional musician. Ekyan helped teach Reinhardt about showing up for a gig with hair combed, fingernails clean, shoes shined, or wearing a tuxedo.

Just the 'showing up' part was a perennial shortcoming for Django. Because he was oblivious to calendars, clocks or curtain times, it was Andre's personal responsibility to fetch Reinhardt, and a guitar, and drive him to the job.

Django was shockingly rustic and ignorant of 'gadjo' (non-Romani) manners. He often took new found enthusiasms, like fancy clothes and cars, to extremes. There's the tale of his driving to a venue in the mountains in a spartan but powerful sports car. Arriving three days late after being lost in a snowstorm, he was dressed in nothing but a tuxedo.

II. There were numerous encounters, recordings, concerts and jam sessions:
* 1937 Django jammed at Ekyan's Swing Time nightclub
* 1939 The gig at Jimmy's Bar was organized by Ekyan for Django
* 1940 Ekyan was on several of the Django's Music jam-session-on-disc recordings
* 1941 Three-tired stage at Moulin Rouge featuring bands of Django, Ekyan, Guy Viseur
* 1946 Joint concert at Salle Pleyel

III. By early 1949 Django had disappeared from music and was somewhat demoralized. Ekyan sought him out, convinced him to perform, and arranged for badly needed dental surgery. Ekyan was by his side to reassure him during the procedure, which almost turned tragic when Django nearly choked to death.

In mid-1949 they resumed concertizing: "With his dazzling new white teeth in place, Django was enlisted by Ekyan to play again. Ekyan arranged a backing quintet of pianist Eddie Bernard, drummer Gaton Leonard, and bassist Jean Bouchety, and found them work . . ." They played in or near Paris at Pavillion de l'Elysee, the Casanova and Le Touquet. Then they set off on tour -- with Ekyan again serving as Reinhardt's personal chauffeur and valet -- playing in the French provinces, Cote d'Azur, Switzerland, and Rome in early 1950.

While reception to the Django-Ekyan quintet was tepid in Italy, they had a good recording session RAI studios. There was a fabulous all night jam session at a villa outside Rome with Roy Eldridge, Zoot Sims, Toots Thielemans and Ed Shaughnessy: "Django was taken by composer Anton Karv's zither soundtrack to the recent movie The Third Man, and Django played the theme song, using its eerie mood as jumping off point to explorations. As [bass player Alf] Masselier said, 'In my life as a musician -- and I accompanied everyone, from Coleman Hawkins to Don Byas -- I never heard an improviser like Django'."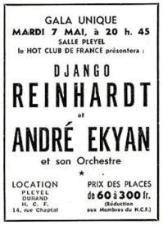 ARCHIVE MUSIC:

Ekyan with Django featured on
guitar and electrified guitar c. 1950:

Django's Castle.mp3
September Song.mp3
Daphné.mp3
Black Night.mp3
Micro.mp3
Nuages.mp3
Place de brouckere.mp3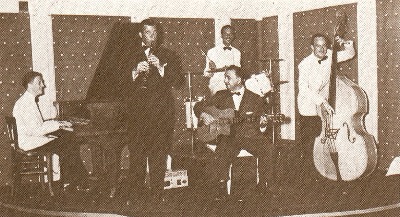 After being talked out of retirement
by Ekyan, Django joins him, c. 1949


LINKS (this site):
Django
Jazz in France, 1930s
Frank Big Boy Goudie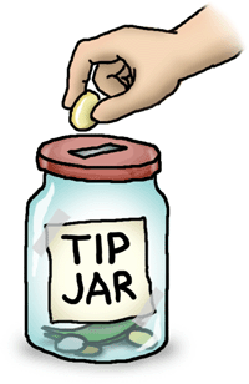 Tip Jar

This site is free. But you can help sustain it, and encourage me with donation to the tip jar.

Secure payment through PayPal is anonymous, except that I will see your e-mail address.

Donation $5.00
Donation $10.00
Donation $20.00
Donation $35.00
Donation $50.00
Donation: You decide