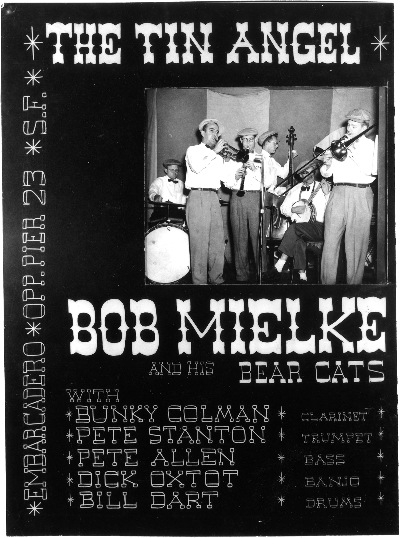 BOB MIELKE'S BEARCATS
AUDIO ARCHIVE
1950s-60s

This page is an archive of recovered performances by Bob Mielke's Bearcats
and related ensembles: re-mastered or unissued early Bearcats albums, some offered for the first time; unissued concerts and rarities.

Bob Mielke's Bearcats and related East Bay musicians were a distinct and independent voice in the Frisco jazz revival. They developed their style drawing broadly from New Orleans traditions, early classic jazz, Harlem and Ellington, Kansas City and Basie, in addition to the Watters tradition.

Except where noted personnel are the core vintage Bearcats: Bob Mielke (trombone), P.T. Stanton (cornet), Bunky Colman (clarinet), Dick Oxtot (banjo, vocals), Peter Allen (bass). On a few very early tracks Oxtot plays cornet and P.T. Stanton plays banjo. Drummers Don Fay, "Wonderful Don" Marchant, and pianists Bill Erickson or Burt Bales augment the group at times.

Many of these items are from rough rehearsal tapes or impromptu jam sessions, and are offered as historic (yet to be posted) artifacts despite technical errors. Special guests, subs and jammers include Bill Napier (clarinet), Jerry Blumberg (cornet) and Bill Erickson (trumpet).


Bob Mielke's dedicated page is here. on Syncopated Times.
The Bearcats at the Lark's Club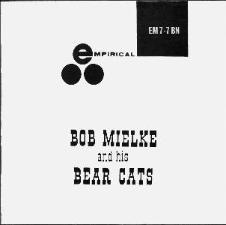 EMPIRICAL LP/Tape (1955)
The ill-fated Empirical Stereo album is a jewel. It would have been the Bearcats first album. It's a complex saga: tape editing errors prevented publication of the projected 10" LP album, though a few stereo tapes were issued, seen in the photos.

Eight sides were taped at Jenny Lind Hall in Oakland, CA in 1954 by Davey Jones, intended for issue by Empirical Recording of Yellow Springs, Ohio. However, due to mistakes in editing, unacceptable errors prevented release beyond a short first run. Within a few years, Jones sold Emiprical. He continued working as a recording engineer, but eventually dropped out of sight along with the tapes, which Mielke never recoverd.

The San Francisco Traditional Jazz Foundation eventually issued the music on CD in 1991 from existing second-generation sources. The liner notes explain the backstory and apologize for the remaining but unavoidable flaws in "Ice Cream" and "Creole Song."


Bob Mielke's Oakland Swingin' A's Baseball Band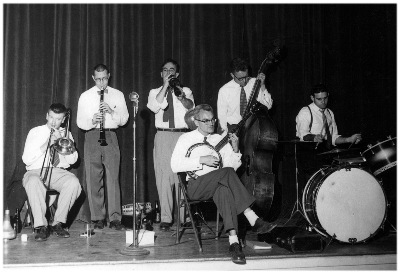 Bob Mielke's Bearcats c. mid-1950s


ACCESSING INNOVATIVE STEREO
Through the kindness of jazz collector Joe Spencer I've made fresh transfers from the original Empirical master tape. Besides superb sound, this was a pioneering stereo recording utilizing a microphone technique known as mid-side. This allowed me to extract maximum detail and presence, while retaining the glorious ambiance of Jenny Lind Hall – well know as one the best sounding recording locations in Northern California.

Accessed in this way the music required no equalization or dynamic manipulation to produce full range sound, a detailed presence and vivid stereo image. This innovative musical and technical milestone may now be savored as it was first intended in the mid-1950s.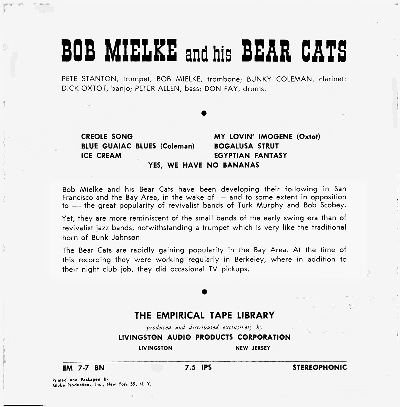 New 2.2014


ARCHIVE MUSIC

Bob Mielke's Bearcats
Empirical EM-108 Master

Creole Song.mp3

Blue Guaiac Blues.mp3

Ice Cream.mp3

My Lovin' Imogene.mp3

Bogalusa Strut.mp3

Egyptian Fantasy.mp3

Yes, We Have No Bananas.mp3



Recorded in Jenny Lind Hall,
Oakland CA, 4/27 & 5/1/55

Ampex 350-2
Microphones: Ch 1 - Stephens, Ch 2 Capps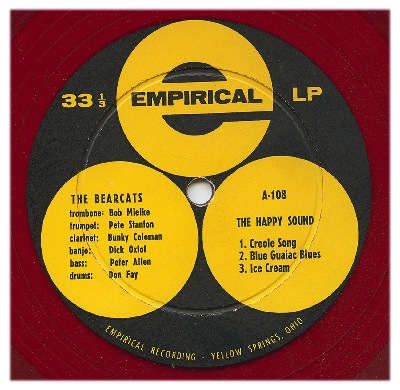 Despite flaws, a few copies of the Empirical 10" albums were pressed on long playing red vinyl.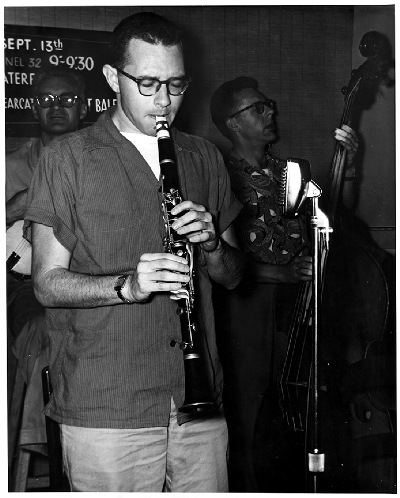 New 3.2015

ARCHIVE MUSIC

Bunky Colman

The stereo recording from the Bearcats early years highlight the lovely clarinet sounds of Bunky Colman. At several exquisite moments, especially the slower numbers, his clarinet rings out nicely.

In Bunky's composition "Blue Guaiac Blues" his spacious lines 'bloom' in the luscious acoustic space of Jenny Lind Hall, yet the fine texture of his instrumental voice is retained, as heard in these related recordings:

Weary Blues.mp3

Blue Guaiac Blues.mp3

Joshua Fit de Battle of Jericho.mp3

Sing On.mp3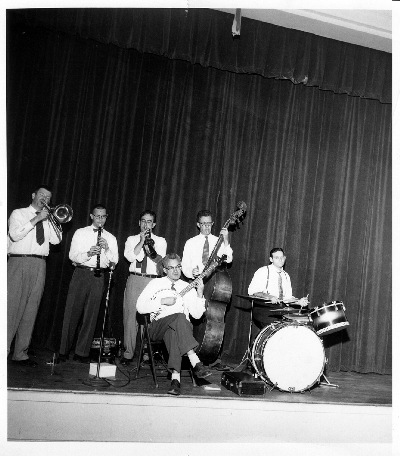 The Early Bearcats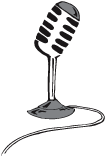 ARCHIVE INTERVIEW

Praise for the Bearcats rhythm section by Earl Scheelar:

"The Bearcats in the mid-'50s was the band as far as I was concerned. And Don Marchant was their drummer.

So when I wanted to record the Funky [New Orleans Jazz Band] I got the Bearcat rhythm section. which is Marchant, Oxtot and Pete Allen. They were just a wonderful rhythm section. [Bearcats] was a New Orleans-style band. Oxtot was a New Orleans style player actually. I mean you don't use a banjo in a swing band.

And Marchant was just a very competent drummer; he came from a Country-Western background. But it's all just competent drumming. And Pete Allen was a jazz player from the very beginning."

Marchant Oxtot Allen Bearcats Funky.mp3




BEARCATS "Demo Album," c. late-1950s

Among Dick Oxtot's tapes is a reel that appears to be the prototype for a Bearcats record album. Like all their issued recordings, it's from live sessions. It may have been a proposed album or merely a curiosity produced by a friend of the band. Perhaps the material didn't meet everyone's expectations or was rejected due to its several musical and technical flaws.

Dates and locations are unknown, but it sounds like the classic Bearcats band c. the mid- to late-1950s. Though monophonic, the sound is full with most of the vocals coming through better than usual.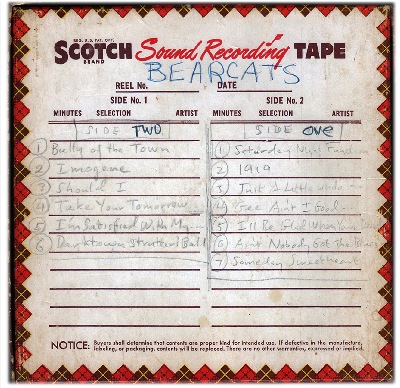 "Saturday Night Function" was among P.T. Stanton's several adaptations from Swing; their rendition owing more to its source, Duke Ellington before 1930, than Traditional Jazz.

Yet "Bugle Boy March" (incorrectly listed as "1919") shows the cats fully capable of an ensemble effort firmly in the traditionalist mode.

Despite weak spots, the simple structure of "Should I Reveal?" offered a flexible vehicle for improvisation, riffing or ensemble polyphony.

A Bearcats favorite, Dick Oxtot imported "Bully of the Town" from the country string bands. It's a clear demonstration of his charisma as an entertainer. His vocal on "Take Your Tomorrows" strikes a bittersweet balance.

"Darktown Strutters Ball" is a rare opportunity to hear P.T. Stanton's jocular vocal stylings.

New 2.2015

ARCHIVE MUSIC
Bearcats Demo Album

The program as originally sequenced:

Side One
Saturday Night Function
Bugle Boy March
Just a Little While to Stay
Gee Baby, Ain't I Good to You, vocal Oxtot
I'll Be Glad When You're Dead (You Rascal You), vocal Bob Mielke
Ain't Nobody Got the Blues Like Me, vocal Dick Oxtot
Someday Sweetheart

Side Two
Bully of the Town, vocal Oxtot
My Lovin' Imogene, vocal Oxtot
Should I Reveal?
Take Your Tomorrows
I'm Satisfied with my Gal, vocal Oxtot and band
Darktown Strutter's Ball, vocal P.T. Stanton


Throughout the 1950s and '60s Mielke's band was at the core of an East Bay/Berkeley contingent in the Frisco revival. Among these treasures are several never previously issued band specialties and rarities.

These and forthcoming tapes capture vital, otherwise lost music, at nearly forgotten venues: Jenny Lind Hall, Lark's Club, Sail 'N and better-known clubs like Pier 23. The majority of these rarities were accessed from the personal collections of Bob Mielke, Dick Oxtot, Dave Greer, Earl Scheelar, Joe Spencer and others, with my gratitude.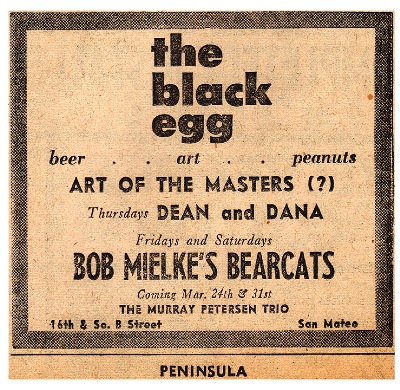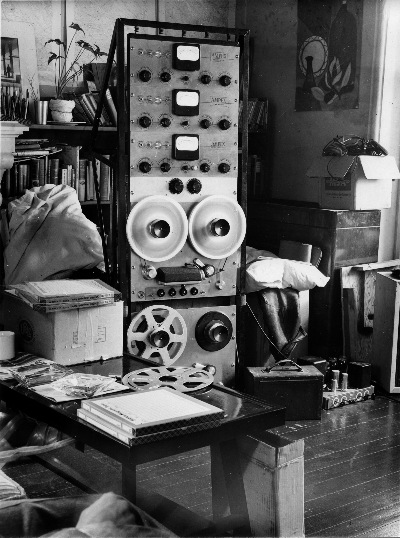 There is no evidence that the music on this page was produced using Stan Page's monster Ampex rig, pictured here on loan to Bob Mielke.

Page was a noted photographer, jazz collector and audio enthusiast who lost everything in the 1991 Oakland Fire.

Mielke collection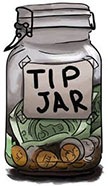 Tip Jar
This site is free. But you can help sustain it, and encourage me with donation to the tip jar. Secure payment through PayPal is anonymous, except that I will see your e-mail address.

Donations are paid securely through PayPal.

Donation $5.00
Donation $10.00
Donation $20.00
Donation $35.00
Donation $50.00
Donation: You decide