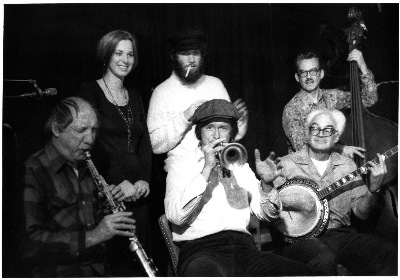 Dick Oxtot's
Golden Age
Jazz Band

"Vintage Music
with Style"

For several decades and four record albums Golden Age Jazz Band was Dick Oxtot's platform for a rotating roster of the Bay Area's best revival jazz talent . . .

. . . And his showcase for several female singers of jazz, blues and scat, often in duet with Oxtot.

This is a growing archive of audio and photos drawn from Oxtot's own collection featuring the fluid lineup of Golden Age and related ensembles.

Special thanks to Darylene Oxtot for generously providing access to Dick's personal archive of sound and images.

Above L to R:
One of the earliest GAJB lineups.
Bob Helm, Diane Holmes, Ray Skjelbred, Jim Goodwin, Jim Cumming, Dick Oxtot
Probably Mandrakes in Berkeley, early 1970s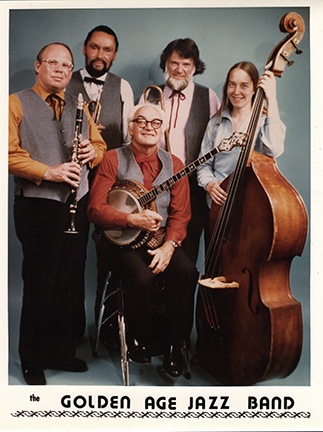 Dick Oxtot originally formed Golden Age for a Friday and Saturday night gig at The Point, in Point Richmond (northeast San Francisco Bay). Other work soon followed, such as Mandrake's in Berkeley.

Golden Age overlapped with Oxtot's various gigs and casuals, and his steady job and rolling jam session at The Ordinary in Oakland, c. 1972-76. In his memoir, Jazz Scrapbook, Dick says it began as, "a mixture of the Swinging A's band and The Ordinary band."


L to R:
Bill Napier, Jack Minger, Oxtot, Bob Mielke, Laurie Lewis
c. late-1970s
Oxtot collection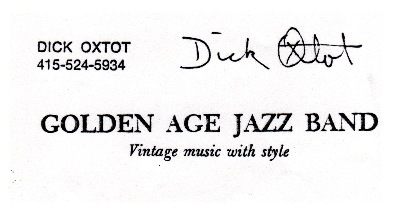 Find much more of Oxtot's music and story at:

Dick Oxtot page
The Ordinary tapes
Bob Mielke Bearcats archive
The Lark's Club tapes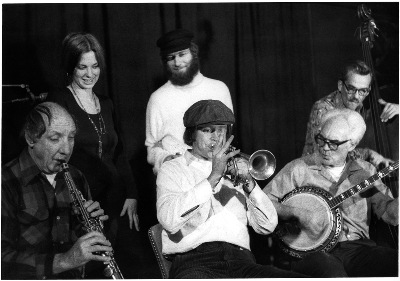 GAJB's stellar lineup in the 1970s featured the cream of Bay Area revival jazz musicians: reed players Bob Helm, Bill Napier, Earl Scheelar and Bill Carter. In later years Dick Hadlock or Jim Rothermel were his go-to reed guys. Early on "the kid" Jim Goodwin played lead horn (c. 1975-77), followed by Bob Neighbor (1978-79), and Jack Minger from around 1978 onward.


L to R above:
Bob Helm, Diane Holmes, Ray Skjelbred, Jim Goodwin, Dick Oxtot, Jim Cumming
Probably at Mandrake's in Berkeley, CA early 1970s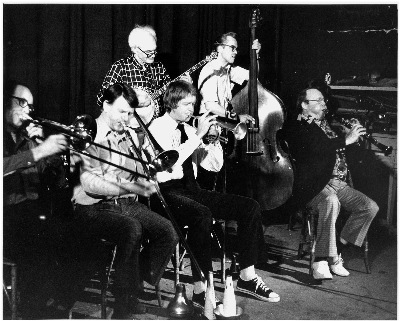 ARCHIVE MUSIC

NOJCNC Sunday session 11/16/69
Dick Oxtot group:

Jim Goodwin (trumpet)
Bill Napier (clarinet)
Bob Mielke (trombone)
Ray Skjelbred (piano)
Dick Oxtot (banjo, vocals, leader)
Don Marchant (drums)

This seems to be a nascent Golden Age Jazz Band, at an early session of the New Orleans Jazz Club of Northern California. Trumpeter "Kid" Goodwin shines on "Wild Man Blues," "Sing On" and "When It's Sleepytime" aided by support from the front line and Ray Skjelbred's tasteful piano. Napier's daring solos backed by riffs, are energized on: "Monday On," "Pontchartrain Blues" or "Once in a While."

It's a shame the jaunty "Walkin' with the King" is largely forgotten as a jazz song;, "Lindberg" was an Oxtot specialty dating back to the days of Mielke's Bearcats. Mielke shines on "Sing On," sharing the spotlight with Goodwin on Oxtot's "My Lovin' Imogene," though an off-mic vocal has been excised. The ensemble comes together for a grand rendition of Ellington's "The Mooche."

Though some songs are incomplete at start or finish, the music is presented for its artistic and historic merit. Actually the restored sound quality of this mono 3.75 i.p.s. tape is quite good for an amateur recording dating back four and a half decades.

Set A
Ice Cream.mp3 6:03
Wild Man Blues.mp3 5:21
From Monday On.mp3 4:49
I'm Still in Love with You.mp3 4:10
Pontchartrain Blues.mp3 6:24
Walkin' with the King.mp3 5:22
Lucky, Lucky, Lindberg, The Eagle of the USA.mp3 5:26

Mielke_Goodwin_Napier_B7_NOJCNC_11.69_Set_A_complete.mp3 37:44

Set B
Sing On.mp3 5:41
The Mooche.mp3 5:52
Limehouse Blues.mp3 4:38
Once in a While.mp3 3:30
It Should Be You.mp3 3:52
My Lovin Imogene.mp3 3:49
Barney Google.mp3 3:58
Bye Bye Blues.mp3 (banjo feature) 4:36
When Its Sleepy Time Down South.mp3 5:14

Mielke_Goodwin Napier NOJCNC_11.69_Set_B_complete.mp 41:29

Bob Mielke collection


The original trombone player was Jerry Butzen when available, but died suddenly in December 1984. Butzen was subbed for, or followed by, Dick Bowman, Bob Mielke, Bill Bardin or at times both Bardin and Mielke.

Oxtot's pianists were Ray Skjelbred, Fay Golden, Barbara Higbie, Jerry Stanton, and on occasion, Dick's son Terry Oxtot. Dick only rarely used drummers, but found Don Marchant, Bill McGinnis, Hal Smith or Henk Wagner acceptable when in need of a drum kit.

Oxtot had a keen talent for finding remarkable female singers, dating back to his legendary sessions with Janis Joplin in the 1960s. Dick was skilled at spotting diamonds-in-the-rough, often destined for success in other genres. Terry Garthwaite with whom he was long associated also co-lead the Rock band Joy of Cooking.

Other Golden Age singers included Rita Black, blues singers Pamela Polland and Barbara Rhoades, and Diane Holmes. Holmes could easily interpret anything from sweet ballads to raunchy Bessie Smith blues.

Numerous female musicians were key players in Oxtot ensembles. A partial list includes piano players Janie McGarrigle, Fay Golden, Melanie Monsour, Linda Wiggins and Barbara Higbie; Laurie Lewis and Piper Heisig (string bass or vocals); Candy Sealy (tuba); and Melissa Levesque (vocal or guitar).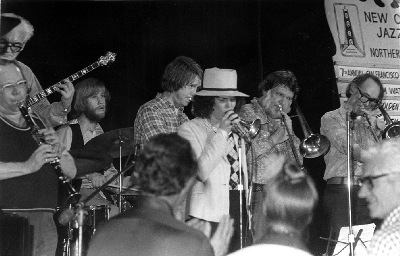 ARCHIVE MUSIC

Oxtot Golden Age Jazz Band
NOJCNC Showcase, 1.16.77

Jim Goodwin (trumpet)
Bob Mielke and
Bill Bardin (trombones)
Bill Napier (clarinet)
Dick Oxtot
(banjo, vocals and leader)
Jim Cumming
(string bass)
probably Walt Yost or John Moore (tuba)
unknown Drums
Terry Garthwaite (vocals)

Photo L to R:
Photo and recording seem to be same date and location.
Oxtot, Napier, unknown, Goodwin, Garthwaite, Mielke, Bardin
NOJCNC Showcase, 1.16.77
Oxtot collection

This was one of Oxtot's finest Golden Age ensembles (pictured here and elsewhere this page). Napier plays hot and the trombone duet of Bob Mielke and Bill Bardin is spectacular on "Honky Tonk Town" and "Savoy Blues." Vocals by Terry Garthwaite and Dick Oxtot are rich and mellow.

Down in Honky Tonky Town.mp3
Savoy Blues.mp3
What's the Matter with Love.mp3 (vocal Garthwaite)
Doin' the New Raccoon.mp3
Dallas Blues.mp3 (vocal Oxtot)
Pilot.mp3 (vocal Garthwaite)

Oxtot Golden Age Jazz Band, 1.16.77 complete.mp3 30:29

Oxtot collection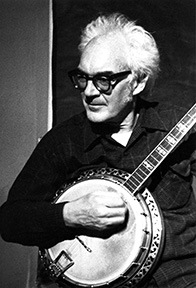 In his memoir Oxtot recalled:
"The Point couldn't pay high wages, so I had an agreement with the regular players that if they had a higher paying job on any Friday or Saturday, to take the job and I would find a replacement. The arrangement worked well, as generally the subs were up to the standard of the regular player. It also made an interesting diversity of styles and tunes.

Jerry Butzen was one of the leading trombonists in the Bay Area, but was not always available because of higher paying gigs. Whenever he paid us a welcome visit at The Point, he was usually with his buddies, Ernie "Fig" Figueroa and Waldo Carter (both could double on trumpet and trombone)."



ARCHIVE MUSIC

Oxtot's Golden Age Jazz Band with vocalist Terry Garthwaite
Early 1970s

This recording was most likely made at the East Bay nightclub Mandrakes in Berkeley.

Set A:
P.T. Stanton (cornet)
Earl Scheelar (soprano saxophone)

Set B:
Jim Goodwin (trumpet)
Bob Helm (clarinet, soprano sax)
Bob Mielke (trombone)
Ray Skjelbred (piano)
Dick Oxtot (banjo and leader)
John Moore (tuba)
Terry Garthwaite vocals

Set A:
Dream Blues.mp3 (P. T. Stanton)
Ain't Nobody Got the Blues Like Me.mp3 (P. T. Stanton)

Set B:
Stand On the Rock.mp3 (Goodwin)
Walkin' Blues.mp3 (Goodwin)
Pilot.mp3 (Goodwin)

Courtesy of Earl Scheelar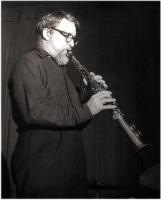 Richard Hadlock (clarinet, soprano sax) recalls working with Oxtot in this era with mixed feelings:

"I met Dick in 1951 (I think), when he was playing cornet with Gene Mayl's Dixieland Rhythm Kings. I was struck by his prematurely gray hair. Next time we met I was in San Francisco, playing with Turk's band. By 1958 or '59 we played gigs together and that went on the rest of Dick's playing life.

His jobs ranged from great. all the way to gigs from Hell. Example of a Hellgig: We went to a trio job on an open-air, broiling-hot wooden platform. It was me, Dick, and a hopelessly inept tuba player. After setting up our chairs we heard Dick moan, "Oh, no! I forgot my banjo!" Finding a 'phone, calling Darylene, waiting for her to bring the banjo and my attempt to play with just a hopeless tuba made this a perfect gig from Hell.

The first Point wasn't too bad but the second and final one was sort of depressing, with dimly lit brick walls and a lot of noise from disinterested bar patrons. What made it worthwhile was the wonderful music of trumpeter Jack Minger, who channeled his naturally modern playing into appropriate phrasing for an Oxtot band. I never heard him sound unsure on any tune or little arrangement. I worked a lot with Minger away from Oxtot, and he was marvelous in every setting. Bardin was another plus, always so musical and smart."



Said trombonist Bill Bardin:
"I understand that the band started at The Point in the first place because the owner wanted to keep motorcycle gangs away from it and he knew that motorcycle riders hated this kind of music. But the band got quite a following there at The Point."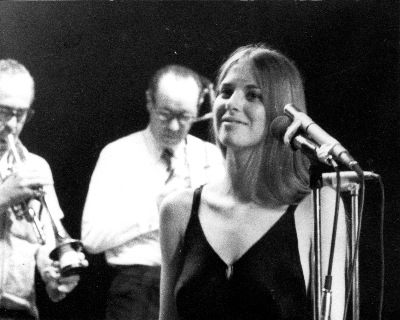 ARCHIVE MUSIC

Golden Age studio session featuring Diane Holmes

San Francisco, date unknown

Diane Holmes was one of Oxtot's best featured singers with a wide range of skills. She was a beautiful and curvaceous woman, a good sketch artist, and vocalist on the 1974 Arhoolie album, and this studio session.



Photo: P.T. Stanton, Bill Bardin, Diane Holmes

Presumably:
Jack Minger (trumpet)
Bill Napier (clarinet)
Dick Oxtot (banjo, vocals, leader)
Jim Cumming (string bass)
Dane Holmes (vocal)

Undecided Now.mp3
You've Changed.mp3
Jazzbo Brown.mp3
Since I Fell.mp3

Oxtot collection



Oxtot Golden Age Jazz Band, Arhoolie 4007
Diane Holmes sang on the first Oxtot album, 1974.

Jim Goodwin (trumpet)
Bob Helm (soprano sax, jug, clarinet)
Ray Skelbred (piano)
Dick Oxtot (banjo, leader)
Jim Cumming (string bass)

Arhoolie House 1.22.74
In the House Blues.mp3
Shreveport Blues.mp3

Mandrake's 11.19.73
add Bob Mielke, Bill McGinnis (drums)

What a Little Moonlight Can Do.mp3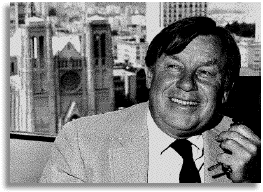 Music critic Phil Elwood wrote the liner notes for the 1980 Golden Age album, Down in Honky Tonk Town:

"Having listened to Dick Oxtot's music for about 30 years, I've come to expect certain qualities in every performance -- and of these, swing is the most evident. This isn't the Benny Goodman orchestral 'swing,' it's the swing of a master rhythmist. Oxtot has always had it, whether playing banjo, string bass, singing -- whatever; and the tune doesn't have to be a driving, flag waving up-tempo display piece either."

"Oxtot has been playing in the San Francisco Bay Area since the days of World War II. He has been a pivot around which an astonishingly large collection of musicians have revolved (swung?) ever since. Oxtot has been playing a few nights a week in little clubs and big ballparks in every conceivable context -- I've heard him playing string bass and singing in a duet, and I've heard him playing banjo with a singing bass player, he's a member of the Oakland A's baseball band . . . and he has been the leader for at least 20 years of various ensembles called, as are those on this LP, 'The Golden Age Jazz Band'."

"Trombonist Bill Bardin. trumpeter Jack Minger, bassist Pete Allen and tuba player Walt Yost have all worked regularly with Oxtot at, among other places, The Point, a dandy jazz saloon in Point Richmond, CA, about 10 minutes drive from Oxtot's Berkeley and Albany home stomping grounds."

"Napier, on clarinet (as he is on every track -- the only bandsman besides Oxtot, to appear on all ten tunes) has never been better displayed than on this LP . . . He is, in every way, the musicial leader of most of the ensembles."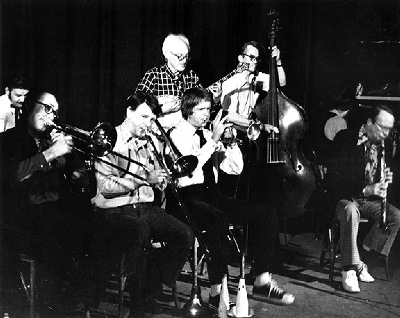 ARCHIVE MUSIC

Dick Oxtot's All Stars - Mandrakes 10.7.70

Jim Goodwin and P.T. Stanton (lead horns)
Bob Helm (soprano sax)
John Smith
(soprano sax)
Bob Meilke (trombone)
Dick Oxtot (banjo, vocals, leader)
Ray Skjelbred (piano)
Jim Cumming
(string bass)
Drums: unknown

Photo L to R:
Don Marchant, Bill Bardin, Bob Mielke, Dick Oxtot, Jim Goodwin, Jim Cumming, Bill Napier
Probably at Mandrakes, Berkeley

There are a lot of players here. I've made an attempt to identify the personnel with the assistance of a knowledgeable listening panel. It's hard to account for the notation "Swedish clarinet?" on the tape box.

Interestingly two renditions of "Mecca Flat Blues" show the contrasting approaches of "Kid" Goodwin and PT Stanton. The latter's rendition morphs from "Pastel Blue" into "Mecca."

This is a rare opportunity to hear soprano saxophonist John Smith, and incientally, in duet with Bob Helm in places. Helm was in fine fettle: pungent, potent and daring throughout.

Set A
Nobody Knows You. mp3 (Goodwin, Helm, Smith)
Shake that Thing.mp3 (Goodwin & PT Stanton, John Smith and Helm reed; vocal duet Helm & Oxtot, tuba)
Pastel Blue/Mecca Flat Blues.mp3 (PT Stanton with reeds, Goodwin out)
Shout 'em Aunt Tillie.mp3 (PT Stanton & soprano)
Bourbon Street Parade.mp3 (PT Stanton, 3 reeds 'trade fours')

Mandrakes_PT_J Smith_Oxtot All Stars_Set A_complete.mp3 30:45

Set B (PT Stanton out)
High Society.mp3 (Goodwin & Helm, 2 reeds?)
Wrap Your Troubles in Dreams (Goodwin featured, Helm soprano, & clarinet?)
It Should Be You.mp3 (Oxtot banjo featured)
Mecca Flat Blues.mp3 (Goodwin & soprano)
[title unknown].mp3 (John Smith soprano, college fight song?)
I Want a Little Girl.mp3 (two sopranos, vocal Oxtot)

Mandrakes_PT_J Smith_Oxtot All Stars_Set B_complete.mp3 32:38

Mielke collection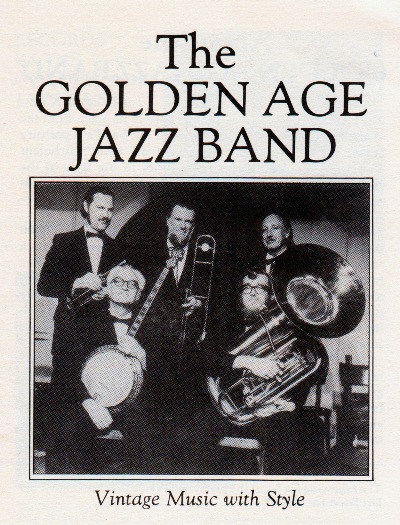 Golden Age Jazz Band publicity
(aka Swingin' A's)
late 1970s


L to R:
Bob Neighbor,
Dick Oxtot,
Bob Mielke,
John Moore,
Bob Helm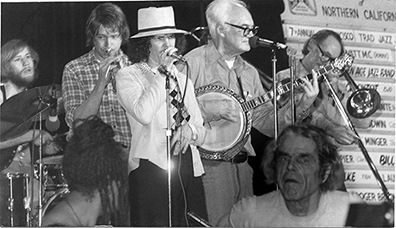 ARCHIVE MUSIC

The Ordinary 3.24.75

At The Ordinary Oxtot drew on a floating reservoir of talent for years. This session is more or less his Golden Age Jazz Band lineup at the time, sans lead trumpet.

Photo L to R:
unknown drummer, Jim Goodwin, Terry Garthwaite, Dick Oxtot, Bill Bardin.
NOJCNC early or mid-1970s, Oxtot collection

Probable personnel:
Bill Napier (clarinet)
Jerry Butzen (trombone)
Fiddle Ray Landsberg (violin in places)
Lisa Polland (tenor sax)
Dick Oxtot
(banjo & vocals)
Walter Yost (tuba)
Terry Garthwaite (vocals, mostly off mic)

Set 1
Ice Cream.mp3 (tape damage)
Why Don't You Do Right.mp3
Don't Get Around Much Any More.mp3
Pilot.mp3 (vocal duet Garthwaite and Oxtot)
Moten Swing.mp3
[Title?].mp3 (add violin; vocal Oxtot)
Weary Blues.mp3
Just a Closer Walk with Thee.mp3 (Napier clarinet intro and coda; add sax)
Dream Blues.mp3 (tape gap)

Set One complete.mp3 47:03

Set 2
Undecided.mp3 (vocal duet Garthwaite and Oxtot)
The World's Jazz Crazy, and So am I.mp3
Please Don't Talk About Me When I'm Gone.mp3
Cakewalkin' Babies.mp3
Since I Fell for You.mp3
I Found a New Baby.mp3 (Fiddle Ray Landsberg, violin)

Set Two complete.mp3 34:44

Oxtot collection




LINKS:

Dick Oxtot
Bearcats Archive
Lark's Club tapes
The Ordinary tapes
Bill Napier
Bob Helm
Bob Mielke
Bill Bardin




Tip Jar

This site is free. But you can help sustain it, and encourage me with donation to the tip jar. Secure payment through PayPal is anonymous, except that I will see your e-mail address.

Donation $5.00
Donation $10.00
Donation $20.00
Donation $35.00
Donation $50.00
Donation: You decide