REMARKABLE WOMEN OF JAZZ
Introducing Women of Early Jazz and Swing:

Blanche Calloway, singer
Ginger Smock, violin
Ethel Waters, singer
International Sweethearts of Rhythm, inter-racial all-women swing orchestra
Ina Rae Hutton and her Melodears, all-female swing orchestra
Lee Morse, singer
Sophie Tucker, singer
Helen Humes, singer
Maxine Sullivan, singer
Mary Lou Williams, pianist, arranger, composer
Albert Hunter, singer



Listen to this five-part Women of Jazz series, here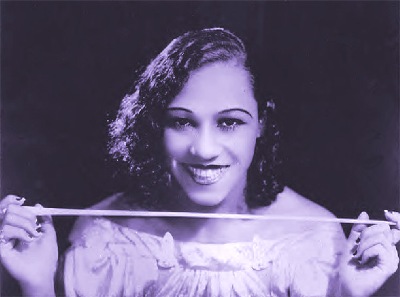 BLANCHE CALLOWAY (1904-1978)
Jazz Pioneer


Singer Blanche Calloway was very much overshadowed by the superstar status of her brother Cab Calloway. She was very successful in the early 1930s when she fronted her own band that consisted mostly of guys from the Andy Kirk band.

Blanche Calloway put together some pretty tight groups which at one time or another included trumpeter, composer, arranger Edgar Battle who worked for Fats Waller, Earl Hines, Count Basie and Jack Teagarden; saxophone great Ben Webster -- and in her last session in 1935 trombonist Vic Dickenson and Prince Robinson on tenor sax.

She was very probably the first woman to lead an all male orchestra and waxed a couple dozen sides. Much later during the 1960s in Miami she was the only black female disc jockey on the air in Florida, and possibly the entire South!










Blanche_CALLOWAY YOU AIN'T BEEN LIVIN' RIGHT (mp3)

Blanche_CALLOWAY LOUISIANA LIZA (mp3)

Blanche_CALLOWAY IT JUST A CRAZY SONG.mp3

Blance_CALLOWAY I NEED LOVIN.mp3



LINKS:

Blanche Calloway - Indepth info and photos
Blanche Calloway at Solid!
Blanche Calloway celebrated
Blanche Calloway at Jass.com
Blanche Calloway at Wikipedia
Blanche Calloway at Big Band Database
Blanche Calloway at AllMusic guide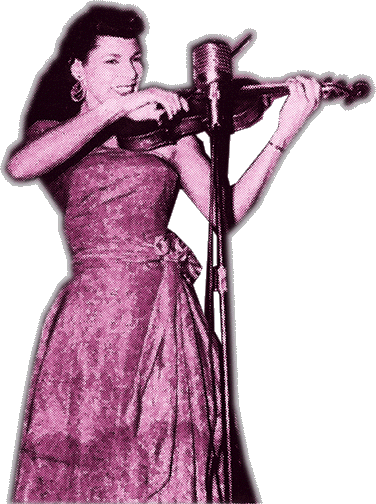 GINGER SMOCK (1920-1995)


Ginger SMOCK, EXACTLY LIKE YOU.mp3

Ginger_SMOCK IN THE MOOD FOR LOVE.mp3



Beautiful and versatile, violinist Ginger Smock was a superb talent who clearly modeled her jazz playing on Stuff Smith. Smock performed with the Los Angeles Symphony; appeared on television in L.A. where she even had her own TV show for a while; recorded with Rhythm and Blues groups; and in the 1960s and '70s was concertmaster for Las Vegas hotels backing the likes of Sammy Davis, Jr.

A stunning beauty Smock was billed variously as 'The Lovely Lady with the Violin,' 'The Bronze Gypsy and her Violin,' and for a while in Hawaii as 'The Sweetheart of the Strings.' She has never received due recognition.

Until recently her only available recordings were from a 1946 session with the Vivien Garry Quintet playing a solid body Rickenbacher electric violin in a very progressive bop style:

A Womans Place Is In The Groove.mp3 Vivien Garry Quintet, 1946

Issued on CD for the first time in 2005 by a small British company called AB Fable are several extremely rare recordings of Ginger Smock:

* "Strange Blues," from an obscure septet of Cecil Count Carter first issued on the equally obscure Federal label in 1953;

* a 1953 appearance on KTLA television;

* two tracks of the Vivien Garry Quintet from the famous 'Girls in Jazz' RCA sessions of 1946 that went unissued for six decades.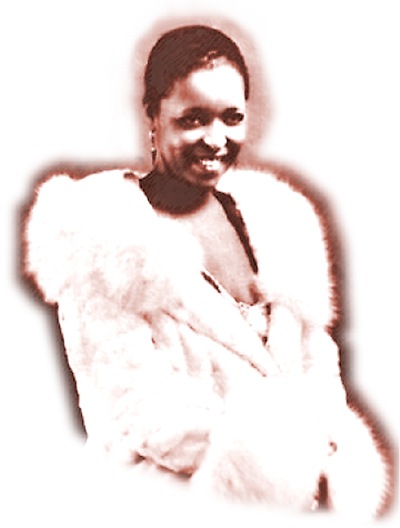 ETHEL WATERS (1900-1977)
"Sweet Mama Stringbean"

Ethel Waters was probably the most popular black female singer of the late 1920s and early '30s. Born 1896 in Philadelphia, Waters began performing in that area with a style steeped in the vaudeville and minstrel sounds of the day.

In New York in the early 1920s she was a superstar in black theatrical revues; and by the early 30's was the most popular, highest paid black woman in show business. Waters was first to break the color line in 1933 appearing on Broadway in the all-white show, "As Thousands Cheer," later moving successfully into film, her best-known being "Cabin in the Sky."

Tall and slim in her youth when she was billed as "Sweet Mama Stringbean," Ethel was often accompanied on record by the era's finest jazz instrumentalists: Coleman Hawkins, Benny Goodman, Ellington, Benny Carter, Fletcher Henderson & James P. Johnson.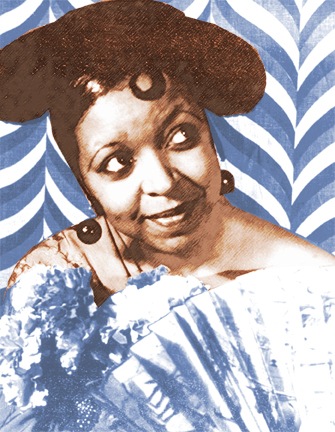 Ethel WATERS I FOUND A NEWBABY (mp3)


LINKS:

Ethel Waters at Red Hot Jazz
Ethel Waters at Jazzeteria
Ethel Waters at Museum of Broadcasting
Ethel Waters - Harlem History
Ethel Waters at Answers.com
Ethel Waters at SONGBIRDS
Ethel Waters at Ken Burns Jazz
Ethel Waters at Afro-American History
Ethel Waters at Wikipedia
Ethel Waters at AllMusic guide








International Sweethearts were excellent musicians capable of playing the toughest arrangements, some of which were written by arranger Eddie Durham from the Count Basie band.

The Basie influence is very strong in the riffing style and driving rhythms of the Sweethearts. In my opinion, the star of this band is a powerful tenor saxophone player deeply influenced by Lester Young, Viola Burnside.


International Sweethearts of Rhythm -_BUGLE CALL RAG (mp3)


International Sweethearts of Rhythm

A racially mixed group averaging around 16 women, the International Sweethearts of Rhythm was a hot Swing band equal to the best -- a powerful Swing band in the Count Basie style featuring a superb Lester Young follower, Viola Burnside blowing some amazing tenor sax.

It originated in the Piney Woods of Mississippi at a school for poor and black children in 1937. As the co-ed band quickly matured it moved to Virginia and began attracting professional musicians to its ranks; among them was Anna Mae Winburn, a singer who had been leading an all-male orchestra. During WW II most of the men in the band were drafted and the band became the all-female International Sweethearts of Rhythm.

They called themselves 'International' to signify their diverse ethnic origins: Hispanic, white and Asian. Beginning around 1940 the very popular Sweethearts performed at the Apollo Theater in New York, all over America (once appearing for an audience of 11,000 in Kansas City) and a tour of European USO clubs in response to overwhelming demand from black GI's after WW II. However, on their frequent trips through the southern United States white girls in the band had to wear dark makeup onstage due to Jim Crow segregation.

Recordings of the International Sweethearts of Rhythm have been exceedingly hard to get for years and sixteen long-unavailable tracks have just been recently issued on CD.



More about International Sweethearts and audio on this site, here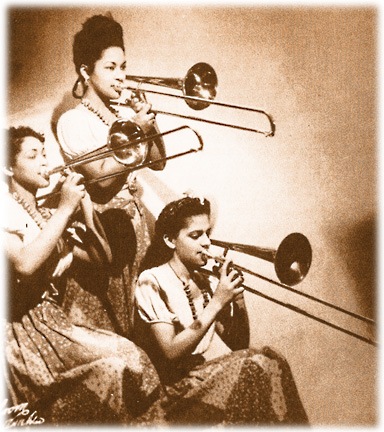 International Sweethearts of Rhythm

Trombone section

LINKS:

International Sweethearts - "Hot Licks" CD
International Sweethearts - Documentary film
International Sweethearts - Documentary film at Amazon.com
International Sweethearts - Book
International Sweethearts at Big Band Database
International Sweethearts at AllMusic Guide
Susan Fleet's International Sweethearts webpage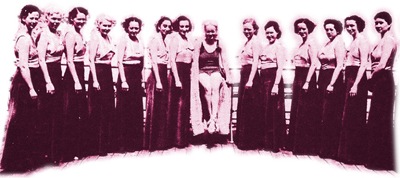 INA RAE HUTTON and her Melodears


Hutton MELODEARS TRUCKIN' (mp3)

Hutton MELODEARS WILD PARTY (mp3)



Singer, and leader of the 14 piece all-female 'Melodears,' Ina Ray began her show business career tap dancing at age 8 or 9. She later appeared in several Broadway shows, the 1934 Ziegfield Follies, movies and television.

A platinum blonde in the Jean Harlow mold, Hutton fronted the Melodears from 1934-39. She went on to lead all-male bands through the late 1940; reorganizing an all-woman band again in in the '50s which appeared on her nationally televised "Ina Ray Hutton Show."

I wouldn't call the Melodears a swing band, but a 'big band,' in that they seem to be playing mostly from the written page: tight playing of good arrangements, but lacking the riffing and spontaneous solos of a great swing orchestra. Though only a half dozen sides were commercially issued, the Melodears appeared in several short films in the mid-1930s.

Incidentally I don't mean to give the impression Melodears were the only all-women band of the 1930s -- just the only to make records. There were several all-female bands playing and touring in the late '30s and early '40s who did not record, such as: Darlings of Rhythm; The Harlem Play-girls; Dixie Rhythm Girls; Eddie Durham's All Star Girl Orchestra and Prairie View Co-eds. One of the best known all-female ensembles was Phil Spitalny's Hour of Charm Orchestra, with harp and strings. Neither a swing, jazz or big band, the very sweet, bland Hour of Charm was the complete opposite of the sassy Melodears fronted by 'Blonde Bombshell" Ina Ray Hutton!


Lee_MORSE_DONT BE LIKE THAT (mp3)



LEE MORSE (1897-1954)

Lee Morse was one of the most peculiar yet distinctive singers of the 1920s. She was an odd vocalist of considerable range from a warbling yodel down to a male-sounding baritone. She may have picked up baritone when she began singing at age three imitating her six older and three younger brothers. Her whole family sang, including her two elder sisters, and her father: a preacher who encouraged his flock in loud, foot-stomping spiritual music.

Born and raised in the Northwest, her career began in vaudeville; by the early 1920s she was touring the Pantages circuit with an act in which she sang three songs in different ranges: soprano, baritone and bass. Five feet tall and 100 lbs. she was billed as "The Small Girl with a Big Voice," or "The Southern Aristocrat of Song" singing Al Jolson-type 'down-south mammy' songs.

By the mid-20s Lee Morse was in New York city recording for the Pathe, perfect and Columbia labels waxing nearly 200 songs before her career waned during the Depression.

LINKS:

Lee Morse.com - The Definitive Lee Morse site
Lee Morse at Red Hot Jazz.com
Lee Morse Collection at Univ of Idaho
Lee Morse - more at Univ of Idaho
Lots more Lee Morse at LeeMorse.net
Lee Morse and her Bluegrass Boys - Info
Lee Morse at AllMusic guide


SOPHIE TUCKER (1884-1966) - The First "Red Hot Mama"

Sophie_TUCKER - HE HADN'T TILL YESTERDAY (mp3)

Sophie Tucker was the original "Red Hot Mama," and first recorded on Edison cylinders in 1910. Her vaudeville debut in 1906 launched a half-century career that moved through cabaret, the Zeigfeld follies, Broadway, movies and eventually, television.

Big bold and brassy, her frankly sexual lyrics shocked Americans and Europeans alike. Rotund and not pretty Tucker had only minor success in films. But her star rose again in the 1950s and '60s when she was popular on television and the Ed Sullivan Show, continuing to perform until shortly before her death in 1966.

LINKS:

Sophie Tucker - Listen to rare cylinder recordings courtesy UCSB
Sophie Tucker - hear at RedHotJazz.com
Sophie Tucker at StayFreeMagazine.org
Sophie Tucker at American Vaudeville Museum
Sophie Tucker at Jewish Women's Archive
Sophie Tucker at Wikipedia


HELEN HUMES (1913-1981)

Helen Humes is best known for her three years singing with the Count Basie Orchestra from 1938-41. Born in Louisville KY in 1913 she was only 14 when she first recorded. Helen was a very good Blues, Ballad and Jazz singer who wrote some of her own most successful material like, "He May Be Your Man," and the Jump-Swing hit, "Be-Baba-Leba."

In the mid-1940's she was on the west coast, appearing in films, on television and making quite a few recordings for small labels like Savoy and Philo.

LINKS:

Helen Humes links at Coolsingers.com
Helen Humes at AllMusic.com
Helen Humes at African-American Registry
Helen Humes bio & discography at BBC
Helen Humes at Answers.com
Helen Humes at Wikipedia















MAXINE SULLIVAN (1911-1987)


Originally from Pennsylvania, Sullivan got her start at the Onyx Club in New York working with pianist-arranger Claude Thornhill. Maxine sang delicately clear and pure with a lilting, softly melodic voice: on-tune and relaxed with considerable charm. Her 1937 "Loch Lomond" -- Thornhill's skillful arrangement of a traditional Scottish song -- sold very well, leading to a contract with Victor Records and high profile film and theatrical roles.

During the '40s Maxine Sullivan worked with Benny Carter and many prestigious residencies; later touring America and Europe. In the '50s she took up valve trombone and flugelhorn and her international career lasted through the mid-1980s.

LINKS:

Maxine Sullivan Bio at SwingMusic.net
Maxine Sullivan Documentary from Jezebel.org
Maxine Sullivan - Bio & CDs at Allmusic.com
















ETTA JONES (1928-2001)


Etta Jones began singing at age three. Hearing Billie Holiday inspired her to a career that lasted over a half century beginning when she entered a talent show at the Apollo Theater in Harlem. Leonard Feather who assisted so many female jazz musicians, expedited her first session in 1944 at age 16.

She worked through the late '40s and very early '50s with the bands of J.C. Heard and Earl 'Fatha' Hines; though times were often very tough and Etta often had to work odd jobs. (By the way she's not to be confused with R & B singer Etta James; nor another Etta Jones of the Dandridge Sisters who recorded with Jimmie Lunceford.)

Jones' 1960 comeback album "Don't Go to Strangers" was a hit that went gold. She subsequently recorded a couple dozen more; two were Grammy nominated. From 1968 on she worked with her husband, tenor sax man Houston Person; performing with renewed energy after a serious brush with cancer in the mid-90s. Etta Jones last album was a Billie Holiday tribute was released the day of her death in 2001.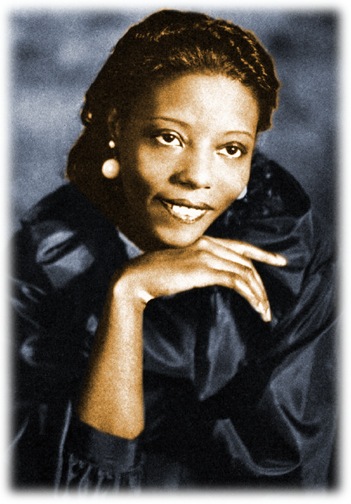 MARY LOU WILLIAMS (1910-1981)


ML WILLIAMS BOOGIE MISTERIOSO (mp3)

Mary Lou Williams is one of the greatest talents of Jazz -- not just a terrific pianist, but a composer and arranger of major stature. She played professionally from an early age; at 15 joining a band led by saxophonist John Williams, whom she married. Their outfit provided the nucleus for what became the Andy Kirk band in 1929. Until 1942 her distinctive arranging and brilliant pianism were major factors in the success of Kirk's Kansas City-based 'Clouds of Joy' touring the Midwestern Jazz and Swing circuit. In 1942 she married trumpeter Shorty Baker who was with her in the Kirk band during 1940-42 and frequently worked with Ellington.

Mary Lou was some kind of musical genius. She was an exceptionally productive, talented arranger, pianist, composer and bandleader.
By the '30s she was arranging for such top-drawer bands as Benny Goodman, Earl Hines & Tommy Dorsey. Her composing and piano style moved through Stride, Boogie & Bop, to Modern, Progressive and beyond.

In the mid 1940s she did some arranging for Duke Ellington and by the late '40s her New York city apartment was a workshop for emerging bop modernists like Thelonious Monk and Dizzy Gillespie. The '50s saw her scoring for Dizzy's big band and living in London for a few years. Despite a brief retirement from music she continued performing, scoring, arranging and performing.

In the 1960s Williams wrote large scale sacred works, 3 masses & a cantata: "Black Christ of the Andes." In the '70s she continued performing, taught master classes at Duke University, received numerous honorary degrees and performed at Carnegie Hall.

LINKS:

Mary Lou Williams at Wikipedia
PBS Documentary on MLW
Mary Lou Williams Tribute
Mary Lou Williams at Answers.com
Mary Lou Williams Foundation
Mary Lou Williams at Ken Burns JAZZ
Mary Lou Williams at AllMusic Guide










More about Ella Fitzgerald, here.


ALBERTA HUNTER (1895-1984)

JAZZ RHYTHM received THE 2001 Golden Reel Award from the National Federation of Community Broadcasters for BEST NATIONAL MUSIC/ENTERTAINMENT SERIES for the program, "Alberta Hunter: Timeless Diva"

Its a portrait and celebration of an international diva of song and her 70 year show business career pioneering Cabaret, Classic Blues, African-American theater, Jazz and Popular Song.

Alberta Hunter 1A.mp3
Alberta Hunter 1B.mp3

Alberta Hunter 2A.mp3
Alberta Hunter 2B.mp3

More about the program and the award -- click here.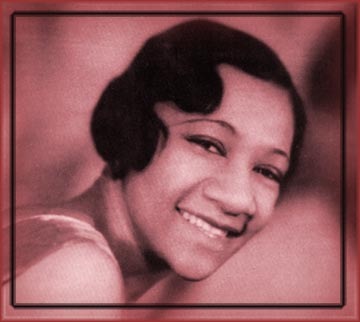 MORE WOMEN OF JAZZ LINKS

Black & Beautiful at Angelfire.com - Stunning images!
Women in Jazz at Ken Burns Jazz
Ladies of Harlem - Rare Photos!
International Women in Jazz - A Nonprofit Organization
Jazz Grrls - Women in Jazz today (with tons of links!)
Janet Klein's delightful homepage
More on women musicians
Women in Jazz South Florida, Inc.
Billie Holiday Blog of Carole Weatherford
The Book: Becoming Billie Holiday, by Carole Weatherford