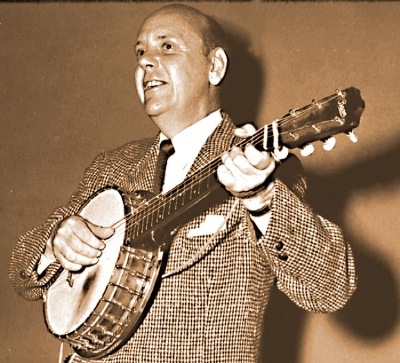 CLANCY HAYES:
San Francisco Minstrel















To hear the full 3 hour series click, here



"SATCHEL OF SONG:
CLANCY HAYES' Private Collection: 1939 - 1972"
Produced by Dave Radlauer
for The San Francisco Traditional Jazz Foundation

Clancy Hayes was a true minstrel: a one-of-a-kind singer, banjo player, composer and all-around entertainer. All of his remarkable talents as singer, drummer, pianist, lyricist, banjo/guitarist, and bandleader shine in this collection; not always true of his other recordings. While his commercial recordings are dear to devoted fans of Clancy there is a more intimate and relaxed side of the man heard in these private tapes that will thrill the true Clancophile and reveal the man's greatness as an entertainer to the uninitiated.

Clancy supported himself his entire life as an entertainer beginning in the 1920's in the Midwest, arriving in San Francisco in 1926 where he was heard on radio from 1928 through the 1950s. He was among the founding creators of the West Coast Traditional Jazz revival with Lu Watters and Turk Murphy. In the 1950s he became nationally known as a member of Bob Scobey's Frisco Jazz Band, joined in the Standard School Broadcasts with Louis Armstrong, Jack Teagarden and Earl Hines, and mentored younger musicians.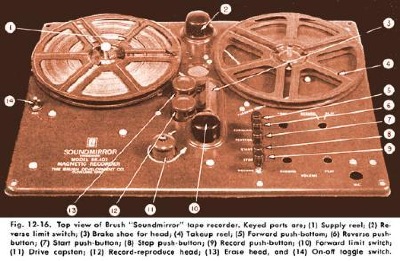 Brush Soundmirror tape recorder similar to Clancy's

Clancy purchased one of the first available tape recorders around 1946 and began recording himself and his friends onto the earliest crude paper-backed magnetic tape with his beloved Brush Soundmirror. Hayes' personal tape library grew, becoming a rich treasure trove of solos, rehearsals, and jam sessions with rarely heard musicians like clarinetist Hotz O'Casey, piano player Burt Bales, brothers Joe and Al Zohn, trombonist Bill Bardin and cornetist Vince Dodson.

Clancy's private collection highlights his greatest strengths as a performer of song and melody: amiability and informality. Clancy is like a good friend sharing yet another of the thousand-and-one tunes from his bottomless satchel of song.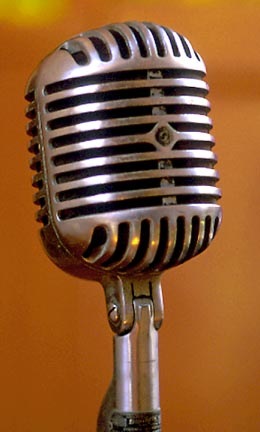 Clancy's personal microphone
used for private recording sessions

After his passing in 1972 these tapes lay quietly unheard for decades, containing the legendary "Tune Termites" broadcasts, live performances, original songs and private moments.

Among the unique rarities and touching moments issued here for the first time are:

* The legendary "Tune Termites: boring from within." Weekly radio broadcasts from the '30s and '40s of campy original material written and narrated in rhyme, sung by Clancy as he played drums with pianist Glen Hurlburt.

* Solo performances of his best original lyrics: "Ten to One It's Tennessee," "George Washington, Abraham Lincoln, Ulysses S. Robert E. Lee," "Travelin' Shoes," "Huggin' and a Chalkin'" and "Hassan, the One Man Caravan."

* Some of his best ever solo efforts accompanying himself on guitar or piano during a pleasant Christmas eve at home entertaining his family.

* Mid-1960s gems documenting Clancy's last decade including a grand "Willie the Weeper."

* Clancy's last moments on tape -- from a reel marked "Clancy - jaw removed" -- apparently from the early '70s after his cancerous jaw had been removed. Spirits undimmed and game to the end Clancy sat calmly at home (sparring with his parrot, here omitted) recording these final piano rags.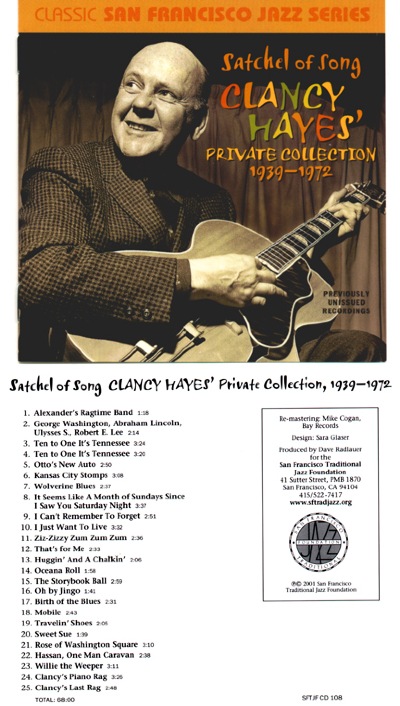 Clancy was a true minstrel surviving his entire life by making familiar music that he had salvaged from long obscurity and by making commonplace pop tunes unforgettable. And he had a knack for making good jazz, bringing together a group of musicians in a cohesive unit. As a performer he didn't compete for the spotlight. But Clarence Leonard Hayes -- this gifted minstrel, man of song and barroom crooner -- shone like no other when the limelight was upon him.



Broadcast excerpts:

CLANCY PARSONS KANSAS BLUES Pt. 1 (mp3)
CLANCY PARSONS KANSAS BLUES Pt. 2 (mp3)


Special note on band personnel:

Please note that for the band tunes the possible personnel listed are only educated guesses made with the assistance of Clancy's old buddies, Bob Helm and Bill Bardin. All recordings were made in or around San Francisco; the band tunes probably at radio station KPO, Ma Watters' at 24 Steiner, or at Pat Patton's flat.

This unique collection is available from:

San Francisco Traditional Jazz Foundation
or contact me at Dradjazz@aol.com
to purchase by PayPal or check