The Saga of JELLY ROLL MORTON


Composer,
recording artist and
musical visionary


These new
programs offer fresh perspectives on Morton and his music
based on the latest research and jazz interpretation.






A FLAMBOYANT JAZZ PIONEER

Among the early creators of Jazz music Jelly Roll Morton may have been the most gifted and original of them all. He's certainly one of the most colorful and his prolific output of excellent music -- piano rolls and sheet music as early as 1915 and Jazz records beginning in 1923 -- places him foremost among the Jazz pioneers of the Twenties. Today, There is a steadily rising estimation of his brilliance as a composer, recording artist and musical visionary.

Morton worked his early teens as a piano player in the famed bordellos of New Orleans' Red Light District. Leaving there around 1906 he travelled the country for nearly two decades. After 1922 he settled down a bit, first in Chicago and later New York, recording and composing prolifically. By the early 1920s Morton had worked out intellectually clear, very firm, practical and theoretical ideas about Jazz music: what it WAS, what it WAS NOT, and how it was played to best effect.

He frequently bragged about his unique accomplishments and disparaged other musicians; on occasions declaring himself the inventor of Jazz; its greatest talent and earliest performer. In retrospect Morton's declarations cannot be called false judged by today's best research and interpretation. His falsehood lay in denying equally significant contributions by others.

On the side Morton was at one time or another a pool shark, gambler, bartender and pimp. A man of outlandish style and affect, he dressed in the sharpest suits, flashed jewelery and a money roll, and sported a half-karat diamond mounted in a gold front tooth.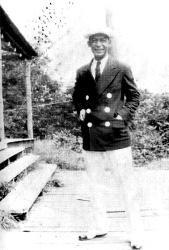 Jelly Roll Morton (2011):

Part 1: Flambouyant Pioneer; Introduction and overview
Overview, New Orleans Roots, Library of Congress transcriptions

JELLY ROLL 1A.mp3
Mint Julep -- Jelly Roll Morton & his Red Hot Peppers, 1929
Black Bottom Stomp -- Jelly Roll Morton's Red Hot Peppers, 1926
Oh! Didn't He Ramble -- Jelly Roll Morton, solo piano & vocal, 1938 Lib. of Congress
Sweet Jazz Music -- Jelly Roll Morton, solo piano & vocal, 1938
Don't You Leave me Here -- Jelly Roll Morton, solo piano & vocal, 1939
Strokin' Away -- The New Jazz Wizards, 1997
Mournful Serenade -- Jelly Roll Morton and his Red Hot Peppers [quartet], 1928
Mournful Serenade -- Vince Giordano's Nighthawks, 1993
Doctor Jazz-- Jelly Roll Morton and his Red Hot Peppers, 1926

JELLY ROLL 1B.mp3
If You Don't Shake [edited excerpt] -- Jelly Roll Morton, 1938 Library of Congress
Mama's Got a Baby -- Silver Leaf Jazz Band, 1994
Can-Can -- Jelly Roll Morton, solo piano & vocal, 1938 Library of Congress
Freakish [excerpt] -- Jim Cullum Jazz Band, 1993
Freakish [excerpt] -- Jelly Roll Morton, solo piano & vocal, 1938
Tank Town Bump -- Jelly Roll Morton and his Orchestra, 1929
Tank Town Bump -- The New Jazz Wizards, 1993
Mint Julep -- The New Jazz Wizards, 1993



Jelly Roll Morton Residences:
Historic Plaques Installed and Proposed



Frank Selman recently initiated and sponsored projects to memorialize the historic residences of Jelly Roll Morton in New Orleans, Harlem and Los Angeles. A Dutchman living in Sihlac, France, Selman is a friend of JAZZ RHYTHM who's made notable contributions of audio (YBJB, South Frisco JB).

Selman visits the States often to hear music and visit friends. Along the way pursuing his fascination with evidence and objects of Classic Jazz history.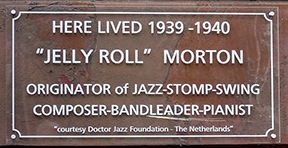 Frank describes this project:

"The address of Jelly Roll Morton in Harlem, NYC, was easily found. You can find his business card on page 66 of "A Pictorial History of Jazz" by Orrin Keepnews and Bill Grauer Jr.

Next to his address, 209 West 131st Street, you find the modest remark: "Originator of Jazz-Stomp-Swing" and the information, "nothing too large- nothing too small, 15 pieces or less." And: "world's greatest hot tune writer."


Jelly planned his comeback in NYC in 1939 after his famous Library of Congress recordings of 1938 in Washington in a great big way. As more often: his outspoken opinion on the start of The Jazz Age was his worst enemy: Swing was King in 1939. Jelly lived in Harlem for two years: 1939-1940. There he wrote his last compositions before leaving for Los Angeles with his Cadillac and Lincoln. Morton died in poverty July 10, 1941. In absence of his diamond front tooth he was buried at the Calvary Cemetery, Los Angeles.

During a visit to the dilapidated brownstone building in Harlem nothing reminded me of Jelly Roll Morton. Contacts with "The Historic Landmark Preservation Centre" and "The William G. Pomeroy Foundation" on the subject of the placement of an historical marker on the building showed no results.

So I decided, courtesy of The Doctor Jazz Foundation of The Netherlands to do it myself on my own account. The owner of the building, Mrs. Jacqueline Mathurin, willingly gave 
her approval."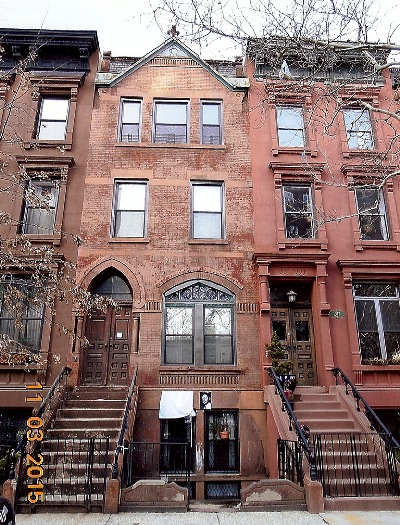 The brownstone building in NYC that was residence to Jelly Roll Morton, 1939-40.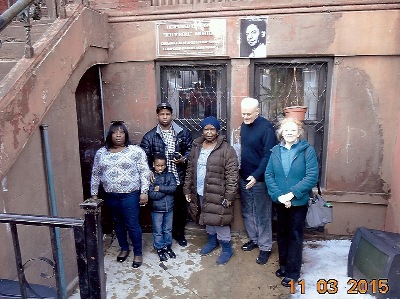 Pianist Terry Waldo with residents of Jelly's former home, 2015.


"Next on my list: where to find a suitable Marker not to disturb the facade of the building? To give this enterprise an even more Dutch accent: a Dutch company came up with a suitable marker and engraved text.

So March 2015 I flew to New York with the Marker and in a snowstorm freezing Harlem I fixed the Marker on the building. By sheer coincidence: the eminent Ragtime Pianist Terry Waldo -- sole pupil of Eubie Blake and a great interpreter of Jelly Roll's music and writer of "This is Ragtime" -- was giving four lectures on the subject of the music and life and times of "Jelly Roll" Morton in march in the Lincoln Jazz Centre in NYC. Who else but Terry Waldo was to unveil the plaque?

Terry gave his approval unhesitatingly and March 11th came the moment. With pleasure I noted the very first beautiful day of spring in NYC after a prolonged severe winter. The residents of the street turned out wondering what we were up to in front of 209 West 131st Street.

A comic note on the side: Some very aged people remarked on the sighting of a blown up portrait of Jelly which I had fixed next to the plaque: "Yes, sure, I remember that man, Louis Armstrong and Duke Ellington did rehearse here."

Terry Waldo unveiled the Marker with residents and some insiders present. Sounds of cameras clicking accompanied with shouts of "Jelly, Jelly." Now for everyone to read is text on the building at 209 West 131st Street in New York, New York [noting Morton's residency].

My next project will be the placement of an historical marker on the house in New Orleans where Jelly Rol" Morton, born Ferdinand Joseph Lamothe lived: 1443 Frenchmen Street."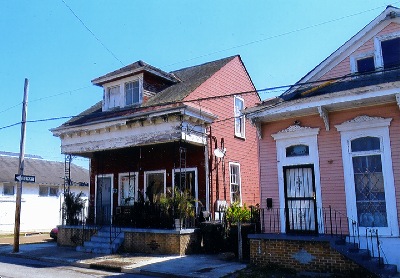 These pictures show Jelly Roll Morton's one-time home in New Orleans, LA, now owned by Jazz Historian Dr. Jack Stewart.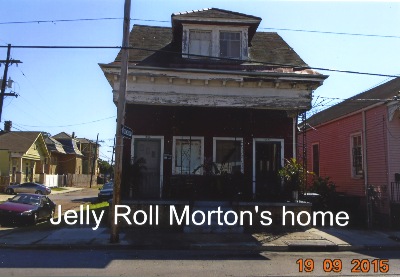 The address is 1443 Frenchmen Street, New Orleans. The background on all this can be found in an article from Off Beat Weekly.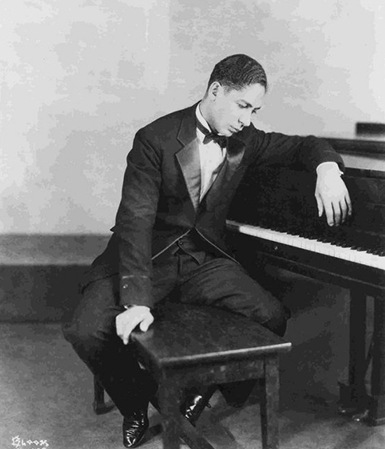 TRANSITION: RAGTIME to JAZZ

Between 1904-15 Morton was working to free himself from the limitations of Rags. His earliest tunes like "King Porter Stomp" emerged from his quest to develop a new musical form, bolder and more dynamic than Ragtime, but more sophisticated than Barrelhouse or Honky Tonk piano. In theory and technique Morton quickly exceeded the limitations of his competitors, conceptualizing techniques more orchestral than pianistic.

During his travels in America Morton freely borrowed or incorporated whatever he encountered: melodies, rhythms, and musical fragments of the culture around him; Opera and Classical music; Vaudeville, popular dance; and the Caribbean and Latin rhythms that so often appear in his tunes. He began introducing the stops, instrumental breaks and unpredictable rhythmic changes that became part of his signature. (Even so, one can frequently hear what I call 'remnant Ragtime DNA' in his music.)

King Porter Stomp (Ragtime to Jazz segment).mp3

"King Porter Stomp" written around 1905 but not published until 1924 may be the first fully composed Jazz tune. Originally a competitive piano showcase it evolved into a fully developed three minute composition: a sophisticated piece with multiple melodic themes. In his solo recordings of "King Porter," he in effect, played all the band parts himself.

Next, because his ideas were overflowing the confines of the keyboard, he did something truly novel and began to write down his ideas in musical notation. By 1914, ahead of anyone else we know of (besides W.C. Handy in the field of Blues) Morton was developing ambitious semi-notated compositions, fusing his written scores with group and solo improvisation. But it was not until the mid-1920s that he found musicians adequate to realizing his vision.

One of his major achievements was harnessing the free-flowing improvised vernacular American music of piano professors, Blues, and New Orleans to the European technology of written musical notation. By fusing the seemingly chaotic improvised music of New Orleans with Western musical notation Morton's works could be published, or performed to his specifications. This enabled him to create bold new music, executed to his design by talented specialists; an achievement only equaled by Duke Ellington and very few others.

By the time the first Jazz records were being made in the early 1920s Morton had already developed a fully mature and distinctive style as pianist and bandleader; and he had an impressive portfolio of tunes, melodies and techniques far in advance of his contemporaries. At the cutting edge of the new form not yet called Jazz, Morton was its most advanced all-around composer, piano player, bandleader and arranger until the late Twenties.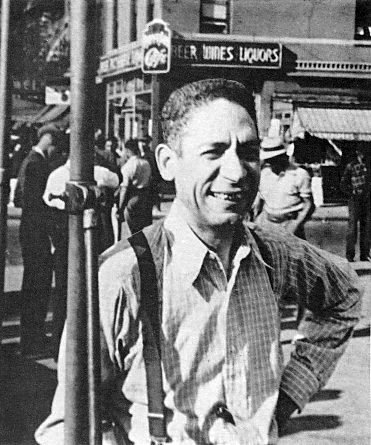 Part 2: The Maddening Maestro
The Red Hot Peppers, Morton's composing, arranging, innovations, travels and travails, historic significance, continuing influence and colorful personality.

JELLY ROLL 2A.mp3
Mr. Joe -- Silver Leaf Jazz Band, 1994
Jersey Joe -- Jelly Roll Morton and his Red Hot Peppers, 1926
Jersey Joe -- The New Jazz Wizards, 1997
New Orleans Bump (Monrovia) -- Jelly Roll Morton & his Red Hot Peppers, 1926
Burning the Iceberg -- Jelly Roll Morton & his Red Hot Peppers, 1929
Burning the Iceberg -- Royal Society Jazz Orchestra, 1995
Grandpa's Spells -- Jelly Roll Morton and his Red Hot Peppers, 1926
Shoe Shiner's Drag -- The New Jazz Wizards, 1997

JELLY ROLL 2B.mp3
Mr. Jelly Lord [excerpt] -- Jelly Roll Morton & his Peppers, 1926
Mr. Jelly Lord [excerpt] -- Jelly Roll Morton piano roll, 1924
Mamanita -- Jelly Roll Morton, solo piano & vocal, Library of Congress, 1938
Mamanita -- James Dapogny's Chicago Jazz Band, 1993
Cannon Ball Blues -- Jelly Roll Morton and his Red Hot Peppers, 1926
Pretty Lil -- The New Jazz Wizards, 1997
Blue Blood Blues -- Jelly Roll Morton and his Red Hot Peppers, 1930
Oil Well -- The New Jazz Wizards, 1997
Georgia Swing -- Jelly Roll Morton and his Red Hot Peppers, 1929



"THE ROLL"

Jelly Roll Morton was a flamboyant character with an outlandish personal demeanor and style aimed to impress. Sometimes insisting on being addressed as "The Roll," he called himself "Mr. Jelly Lord" on record becoming the first of a line of bandleading pianists to dub themselves aristocrats.

Morton made a dramatic impression, flashing a roll of bills and dressing in extravagant suits, of which he owned 150 at one time. He was convinced that his success as a performer -- and sometimes pimp, pool hustler and card shark -- required he be the sharpest dresser in town, what was once called a "dandy," or today, a "player."

Typically, he might wear a tailored burgundy suit jacket over white pants & shoes; pink shirt with detachable collar; silk Dubonnet tie and matching handkerchief; gold watch and fob. He sported other garish ostentations: gold belt buckle and diamond-studded tie clasps. Sometimes he even wore gold coins affixed to the top of the tip of each shoe.

And . . . mounted in a front tooth was a HALF-KARAT DIAMOND. Said diamond was in the pawn shop more than once, but was with him almost to the end.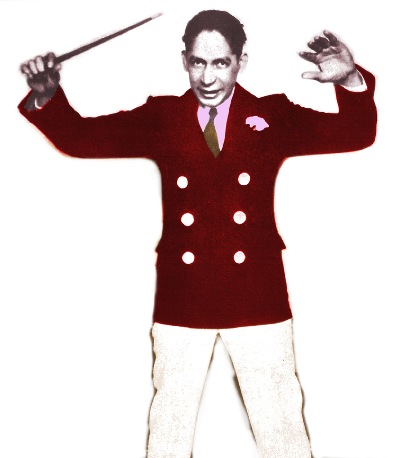 Jelly Roll Morton was the leading pianist, bandleader
and composer of early Jazz.


MASTER of his MEDIUM

On records Morton and his sidemen succeeded consistently and spectacularly. He was a strict band director. Requirements for his sidemen on records were demanding; they had to be competent enough to play his complex and unfamiliar music with little rehearsal, yet play hot, and swing in the New Orleans style . . . all while tolerating his peculiar leadership. (There was generally no overlap between the musicians he hired for out of town gigs and recording dates.)

For the Red Hot Peppers discs Morton hired and rehearsed accomplished musicians able to improvise and collaborate in the loose, New Orleans ensemble style he aimed for. According to drummer Baby Dodds, "he wasn't fussy, but he was positive . . . . He knew what he wanted and he would get the men he knew could produce it."

New Orleans-born, Creole clarinettist Omer Simeon who was on many of the best Morton records saw how brilliant Morton was, respected him, and supplied what he wanted saying that Morton was, "a real fanatic over the music . . . he wanted it played just so." Simeon described him at the sessions as "jolly" but "serious," full of "braggadocio" and "belligerence."

Almost all of Morton's Red Hot Peppers discs were innovative or masterpieces; they stand as classics today.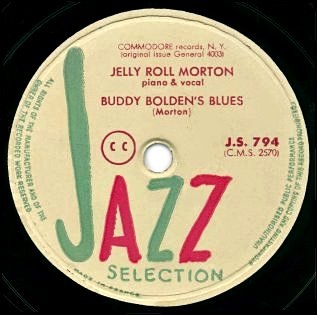 Part 3: Hard Times and Rediscovery
Jelly's declining fortunes in the 1930s: near destruction, rediscovery and barely noticed passing. Alan Lomax Library of Congress recordings and evolving historical studies of Morton.

JELLY ROLL 3A.mp3
Winin' Boy Blues -- Butch Thompson, piano solo, 1989
Ponchartrain -- South Frisco, live performance, 1991
Ponchartrain -- Jelly Roll Morton and his Red Hot Peppers, 1930
London Blues [excerpt] -- New Orleans Rhythm Kings w/ Jelly Roll Morton, piano, 1923
London Blues -- Pam Pamier Trio, 1987
The Crave -- Butch Thompson, piano solo, 1989
The Crave -- Jelly Roll Morton, Library of Congress, 1938
Creepy Feeling -- Butch Thompson, piano solo, 1989

JELLY ROLL 3B.mp3
The Pearls -- Jelly Roll Morton and his Red Hot Peppers, 1927
The Pearls -- Silver Leaf Jazz Band, 1994
Don't You Leave me Here -- Jelly Roll Morton's New Orleans Jazzmen, 1939
Winin' Boy Blues -- Jelly Roll Morton's New Orleans Jazzmen, 1939
Mamie's Blues -- Jelly Roll Morton, solo piano & vocal, 1939
Spanish Sway -- Jelly Roll Morton, Library of Congress, 1938
Oh! Didn't He Ramble -- Jelly Roll Morton's New Orleans Jazzmen, 1939
Original Jelly Roll Blues -- Jelly Roll Morton, Library of Congress, 1938



Jelly Roll Morton's Spats?



Frank Selman purchased these shoes on the small chance they might have once belonged to Jelly Roll when he lived in New Orleans. But I'm skeptical.

When he left New Orleans in 1916 never to return Morton had not yet developed into the successful performer, nor accomplished hustler he became. But the shoes surfaced century later, having escaped the intensive searches of William Russell, who had for decades maniacally chased down every scrap of Mortonalia, information or oblique reference Jelly Roll in and around New Orleans.

So I remain skeptical. That said I'll share Frank Selman's tale with you.



"When I learned from the Dixieland Jazz Mailing List that Jelly Roll Morton's shoes were up for sale on E-bay in 2012 I frowned like anyone in his right state of mind should do. For what is next: "A Buddy Bolden cylinder?" "Louis Armstrong's revolver?" "Kid Ory's stuffed muskrat?"

The ad on E-bay mentioned: "Vintage Men's Spat Button Shoes" said to be owned by Jelly Roll Morton 1900's 9-10". Could Jelly's shoes have survived a century and if so in what state or was this just another hoax? These questions just lingered on in my mind and in the end I could not resist getting in touch with the seller for some additional information on the supposed 
Jelly's spat shoes."

This is what I got back as an answer:
"The spat shoes are said to have belonged to Jelly Roll Morton, a Jazz Piano player in New Orleans. They are stuffed and have been for many years according to my source, an elderly lady, who had got the shoes from her aunt. They were supposedly Jelly Roll Morton's very first pair of "new shoes" purchased from playing piano. He would only wear them on Sundays she said.

She was told he was very fond of the shoes. The shoes were in a house that he roomed at and they were held back for unpaid back bill, because he didn't pay the rent, according the source. He never returned and they were held or kept, later put away and remained in the attic all this time. This elderly ladies aunt and Grandmother who owned the house also was said that one also had a romantic affair.

I acquired the shoes in 2006 right after the hurricane Katrina, I was doing volunteer work to help clean up down in the area, The house was mostly destroyed, but some things were saved in 
the attic, I'm mostly grateful that the lady was saved.

I will say that they are in good condition for shoes 100 years old. Size is 9.5 or 10."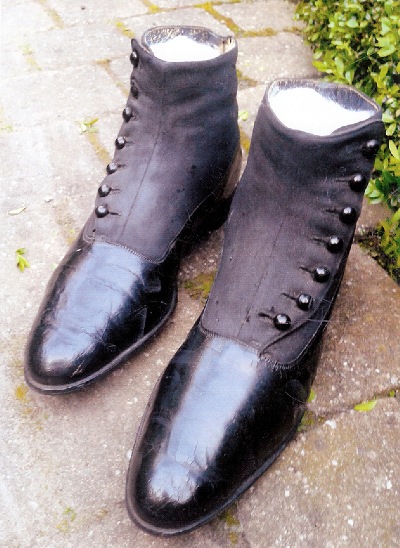 "Some pictures came with this remarkable story. Next thing I did was to compare these pictures with all the known pictures of Jelly Roll Morton. Most can be found in A Pictorial History of Jazz by Orrin Keepnews and Bill Grauer Jr. and in the Jelly Roll Morton iconography library assembled by Ate van Delden to be found at: www.doctorjazz.co. This time with a very close eye on the type of shoes Jelly used to wear. The similarity with the shoes Jelly is wearing with the shoes on offer cannot be denied. Even to the layman in this field.

Spats were very popular in the early days of last century: gangsters and politicians alike used to wear them. Winston Churchill, AI Capone and W.C. Fields wore a pair.

I decided to take a chance, stories like this you don't make up. The asking price was reasonable for a century old pair of spat button shoes. SoI got my wallet out, the shoes were promptly delivered well packed. They are in wonderful shape as you can see on the picture and came with this note:

"Hi Frank,
I hope that you enjoy the shoes, I wish there was more documentation on 
the shoes other than what was told, like pictures or even letters, at any rate 
the shoes were obtained in the Holy Cross Section of the 9th Ward District, 
around Douglas and Tricou.

Thanks, Linda"

Indeed, I enjoy the shoes very much as well as the story that goes with them."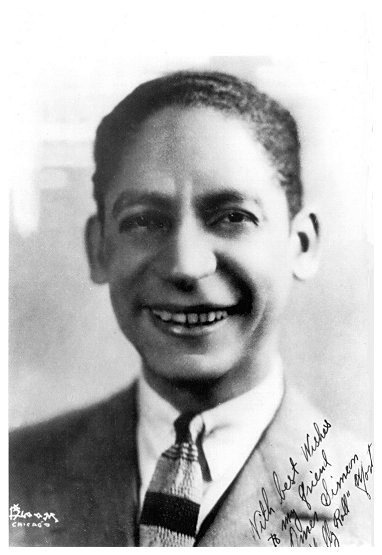 A PIMP & A HUSTLER?

Conventional wisdom has it that music was only one of Morton's pursuits. It's widely accepted that he was also engaged in pimping, gambling, and pool hustling . . . at least in his early days. But I doubt he could have succeeded so decisively, artistically and commercially, had he not left behind petty criminality to focus all his energy on music.

I agree with recent scholarship suggesting that Morton's legendary life on the wrong side of the law was largely over by 1922, when he would have been in his 30s. This theme is suggested and well supported in Phil Pastras' 2001 book, Dead Man Blues: Jelly Roll Morton Way Out West, Univ. of CA, 1997.

http://www.amazon.com/Dead-Man-Blues-Jelly-Morton/dp/0520236874/ref=sr_1_4?s=books&ie=UTF8&qid=1345142139&sr=1-4&keywords=Jelly+Roll+Morton

http://search.barnesandnoble.com/Dead-Man-Blues/Phil-Pastras/e/9780520236875
http://Jazztimes.com/articles/20076-dead-man-blues-Jelly-Roll-Morton-way-out-west-phil-pastras
http://www.ucpress.edu/book.php?isbn=9780520236875

Jelly Roll obviously reveled in his REPUTATION as a tough; I suspect it was USEFUL to him: part of his stage persona and mystique. The thuggish pose was part of his 'brand,' to use a modern term and may also have been DEFENSIVE. It seems he felt himself set-upon: his supremacy and survival threatened at every turn. So perhaps it suited Morton's purposes if he was thought to be a thug by his competitors and associates.

For instance he often carried a pistol. At a 1923 recording session when trombonist Zue Robertson would not follow his instructions, he placed a pistol on top of the piano to impress his point upon the errant trombonist . . . who complied with Jelly's wishes.

He played the superstar role to the hilt, driving the biggest black Lincoln touring car he could find. His band appeared in tuxedos. On stage in the spotlight, resplendent in white pants and shoes, silks, gold & jewelery, and the diamond gleaming in his front tooth directing the band from the piano or out front with baton, Jelly Roll Morton must have been quite a sight.

At his peak in the late Twenties his band earned top dollar, up to $1500 a night, performing in or around New York, upstate New York, and Pennsylvania taking gigs as far away as the Midwest or Maryland.


The RED HOT PEPPERS, 1926-30

Made and issued under his direction, Jelly Roll Morton's Red Hot Peppers were about 100 outstanding jazz recordings that left an indelible mark on the 1920s. Highly original, embodying his innovative composing and arranging techniques, they set the benchmark for their day and are the Crown Jewels of Morton's legacy.

Black Bottom Stomp - Jelly Roll Morton's Red Hot Peppers, 1926.mp3

"Black Bottom Stomp" was in perfect tune with the Charleston-mad 1920s. Yet beneath its patchwork of Ragtimey, dixieland flag-waving was greater care, organization and skill than might at first be obvious. It's an exultant statement of Jelly's take on New Orleans ensemble polyphony utilizing the most advanced musical devices of his day, many of his own invention:

* Using syncopation, changing the rhythm, and tricky stop-time passages or breaks.

* Creating contrasting tonal colors by varying instrumental combinations: blending trumpet and rhythm in one section, clarinet with rhythm in another; a piano solo, a clarinet solo and so on.

The recordings released as Morton's Red Hot Peppers were an unprecedented creative achievement and tour de force. He wrote all the tunes, took full charge of arranging and rehearsing, directing the sessions with a firm hand. Yet his framework left room for spontaneity, soloing, and terrific rhythmic swing. Morton was like Ellington in that the BAND was his true instrument.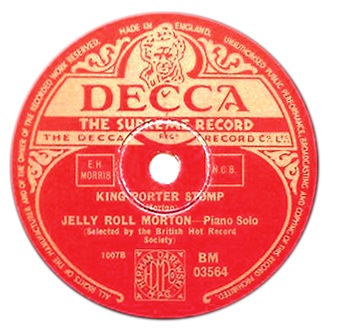 With "King Porter Stomp"
Morton anticipated
the Jazz Era by decades.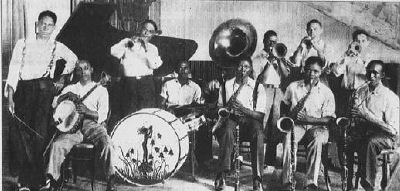 Part 4: From Ragtime to Jazz
More tunes and tales of Morton, notable innovations, and a critical assessment.
"King Porter Stomp" and the transition from Ragtime to Jazz, Library of Congress recordings, and evaluating Morton's Significance

JELLY ROLL 4A.mp3
["King Porter Stomp" medley, excerpts:]
King Porter -- Jelly Roll Morton, piano roll, 1924
King Porter -- Jelly Roll Morton, piano solo, 1926
King Porter -- Joe "King" Oliver & Jelly Roll Morton., 1924
King Porter -- Wynton Marsalis, 1999
King Porter -- Benny Goodman and his Orchestra, 1935
King Porter -- Merrill Moore, piano and vocal, c. 1955
Stomp of King Porter -- The Manhattan Transfer, 1997
Jungle Blues -- South Frisco Jazz Band, San Francisco, CA, 1991
Jungle Blues -- Jelly Roll Morton and his Red Hot Peppers, 1927
[Library of Congress medley excerpts:]
Stars & Stripes Forever -- Jelly Roll Morton, piano and vocal, 1938
Scat Song -- same;
Tiger Rag -- same; 1938;
The Dirty Dozen -- same;
Original Jelly Roll Blues -- same;
Buddy Bolden's Blues -- same
Buddy Bolden's Blues -- Jelly Roll Morton, solo piano & vocal, 1939
State and Madison -- Pam Pamier Trio, 1987

JELLY ROLL 4B.mp3
Turtle Twist -- Jelly Roll Morton Trio 1929
Sweet Peter -- Pam Pamier, Tony Pringle & Butch Thompson, 1986
Pretty Baby -- Jelly Roll Morton, piano and vocal, 1938
Michigan Water Blues -- Jelly Roll Morton, 1938
Someday Sweetheart -- Leon Redbone, 1987
Sweet Substitute -- Jelly Roll Morton's Hot Seven, 1940
King Porter Stomp -- Jelly Roll Morton, solo piano & vocal, 1939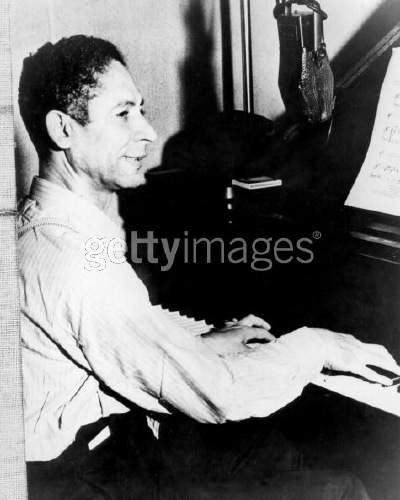 UNPOPULARITY & MISFORTUNE

Morton's notorious bragging and self-promotion frequently aggravated his associates and musicians. Worse, it made him the butt of jokes and ridicule, and must have contributed to the sharp decline of his fortunes after 1930.

One typical story has him auditioning a tune at the office of a music publisher. Another musician walks in and comments the tune is pretty good. "Pretty good, hell," replies Morton, "its perfect." Said another, "Jelly could talk himself into a million dollar proposition and right out of it."

After riding high in the music business through the Twenties Morton's fortunes declined sharply during the Thirties:

* Victor Records abruptly ended his contract in 1930. He didn't appear on record again for nearly a decade.

* Morton's MUSIC went quickly out of fashion as he was eclipsed by rapidly ascending new stars and styles.

* Morton HIMSELF fell out of fashion: his bellicose big talk, criticism of other musicians and generally aggressive manner had alienated others beyond repair.

* And he was double crossed by music business big wheel Walter Melrose who for years had been his publisher and industry liaison. In 1930 he found a pretext to withhold Morton's song royalties robbing him of income. Which stung even worse when "King Porter Stomp" became a Swing era anthem and he still received nothing. This hurt Jelly badly financially, and it must have hurt him emotionally because he loudly complained about it to the end of his days.

Morton gradually slipped into irrelevance and hard times, watching royalties, record sales and choice gigs slipping away from him. Continually declaring himself just around the corner from a big comeback, he pursued many failed ventures . . . and at this time believed himself under a Voodoo curse. Despite some successes on tour in Pennsylvania, upstate New York and around Chicago, Morton slowly declined into obscurity . . . and within a few years, poverty.

As I've suggested, at least part of Morton's pugnacity may have been defensive, stemming from his shoddy treatment by music publishers and promoters. In those days record companies and music publishers paid artists only around $50 for rights to a song or a studio performance that could make them a bundle. Jelly became suspicious of publishers and wouldn't play by their rules; fearing being swindled, many of his best tunes went unpublished in his lifetime.


PREMATURE GRAVE: The Jungle Club

About 1936 as fortune continued to frown on Morton he moved to Washington D.C. following what he hoped was work as fight promoter. Two years later he ended up as partner, pianist, bartender and bouncer in a dive variously known as The Music Box, The Blue Moon Inn or The Jungle Club. His duties included tending bar, barrel opening, master of ceremonies, house pianist and bouncer.

As one magazine writer described it, "He is playing as competently and expressively as anyone. . . . His thumping heel beating out the slow rhythm, his eyes closed, his head thrown back, and the sad notes sprinkling from the keyboard into the low-ceiling, smoky din. Frankly, there are not many that listen."

One night a bar fight broke out and Jelly Roll was stabbed in the head and chest. As a result of the attack and poor medical care his health began a sharp decline. He developed asthma severe enough to hospitalize him for several weeks. And his heart was failing.

Morton was sick and ANGRY: angry at the music business (unions, A.S.C.A.P. and the publishers who all seemed against him) and angry that his heart was letting him down when he had much to do.


REDISCOVERY, 1938-39

In 1938 things began to look up for Morton. He was resurrected from his premature grave at The Jungle Club thanks to a growing national search for musical roots, the nascent New Orleans Jazz revival, and publicity around Morton's transcriptions for Alan Lomax at the Library of Congress.

Jelly Roll Morton at Library of Congress, excerpts, 1938

Rising grandly to the opportunities of 1938-39, despite the frustration, adversity and illness he'd faced, Morton rallied himself for a very public comeback. Though actually quite ill, he summoned the strength to record extensively for the Congressional archive, make some of his best commercial discs and appear on a NBC Radio network broadcast.

Once again he had the resources and publicity of RCA Victor behind him in a session with top-notch sidemen including New Orleans reed masters Sidney Bechet and Albert Nicholas. The results were brilliant, surprising new works from the Maestro.

Don't You Leave Me Here - Jelly Roll Morton's New Orleans Jazzmen, 1939.mp3
Winin' Boy Blues - Jelly Roll Morton's New Orleans Jazzmen, 1939.mp3

Jelly Roll's late recordings of 1938-40 show that he was still a potent force. Body failing, he was nonetheless a walking musical and historical archive who could swing with the best . . . and even as he was dying, was working on new, even more advanced works.

Mamie's Blues - Jelly Roll Morton, vocal and piano solo, 1939.mp3
Buddy Boldens Blues, vocal and piano solo, 1939.mp3

One of my favorites among Jelly Roll's late, unpublished tunes is the dramatic "Spanish Swat." Deeply moving and almost Classical in conception it spotlights his unique ability to blend opposites:
* Complexity with simplicity,
* Directness and delicacy,
* Sophistication with roughness.

Spanish Swat - Jelly Roll Morton, 1938.mp3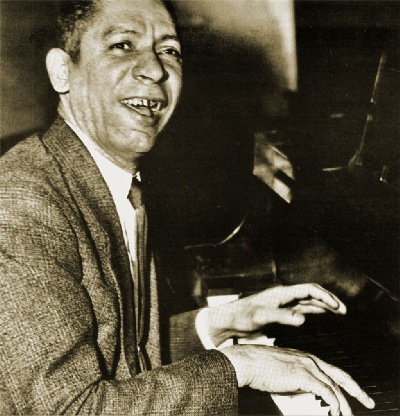 Making a public comeback, 1938-39


LAST CHAPTER and DEATH

Morton's sad final chapter started in 1940 or '41 with a trip, or move, to Los Angeles. His stated motivations had to do with concern for the valuables (diamonds, of course) of a relative; and he hoped the warmer dryer climate would ease his severe asthma.

Covertly the draw of the Coast was a reunion with Anita Gonzales, his former lover, companion and business partner of nearly twenty years earlier. And, I suspect, his return to a region where "The Roll" had once been a major big shot riding high on Easy Street.

But after a harrowing cross country drive, things were no better for Morton. There were no opportunities in L.A. and his health continued downhill until a heart attack ended his life on July 10, 1941. A Catholic Mass, quiet burial and wake, and brief press items noted his passing. Nearest we can tell he was age 54 or 55.


A MADDENING MAESTRO and BRILLIANT MUSICAL VISIONARY

Presenting Morton, one of the most brilliant and significant of the early Jazz musicians, has been fun but challenging. My goal is to profile and explain this complex and deeply flawed man. EXPLAIN but not EXCUSE.

Jelly Roll was an obnoxious braggart and petty criminal. Even if you find him obnoxious and insufferable, it is possible to love his music and not like the man. Being a sometimes pimp meant he was a sexual predator. We cannot ignore or excuse these sordid facts. That said, I've tried to emphasize his accomplishments as a jazz artist which are equal to, or greater than, any before or since.

Though hugely inflating his own importance Morton clearly had a key artistic role among those who collectively invented and shaped Jazz early in the 20th century. From recent decades of research has emerged a clearer portrait of Morton and his music, and a more nuanced interpretation of his life and times essentially validating most of his claims and recollections.

Jelly Roll Morton's innovations, transition from Rags to Jazz, and hundreds of superb recordings place his music among the greatest treasures of American musical culture. Today there's a growing consensus acknowledging his monumental contribution to the development of Jazz and Jazz Piano, and a steadily rising estimation of his brilliance as a composer, recording artist and musical visionary.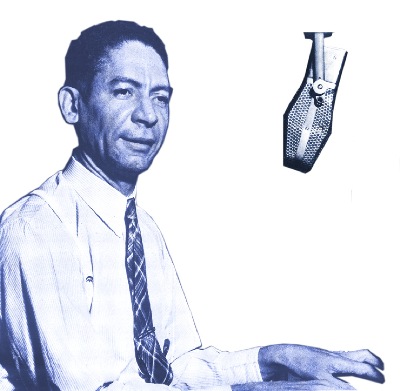 Morton is the missing link between Ragtime -- the music that preceded jazz in the late 19th century -- and Classic Jazz of the 1920s.


LINKS:

The MOST comprehensive and exhaustive website regarding Morton
http://www.doctorjazz.co.uk/page15.html

Morton's Library of Congress Alan Lomax recordings and interview transcripts
http://www.doctorjazz.co.uk/locspeech4.html#reclist

Jelly Roll Morton at the New RedHotJazz.com
https://web.archive.org/web/20190911090459fw_/http://www.redhotjazz.com/jellyroll.html

Jelly Roll Morton profile by Scott Yanow, Profiles of Jazzhttps://syncopatedtimes.com/jelly-roll-morton-profiles-in-jazz/

Jelly Roll Morton -- NPR -- Library of Congress
http://www.npr.org/templates/story/story.php?storyId=5039442

Jelly at WikipediaJelly Roll Morton -- NPR -- Library of Congress
http://www.npr.org/templates/story/story.php?storyId=5039442

Jelly Roll Morton's music available through Amazon.com
http://www.amazon.com/Jelly-Roll-Morton/e/B000APVCHU/ref=ac_dpt_sa_music

Introduction to Morton in text/print:

Jelly at Wikipedia
http://en.wikipedia.org/wiki/Jelly_Roll_Morton

Jelly's Blues: The Life, Music, and Redemption of Jelly Roll Morton, by Howard Reich and William M. Gaines, 2003 Da Capo Press, illustrated, 288 pages

Black Bottom Stomp
In a mere 58 pages the authors provide an admirably concise, and detailed sketch of Jelly's life and times. Highly recommended.

Black Bottom Stomp: Eight Masters of Ragtime and Early Jazz, by David A Jasen and Gene Jones, 2002 Routledge, 254 pages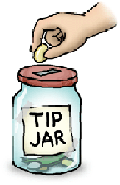 Tip Jar

This site is free. But you can help sustain it, and encourage me with donation to the tip jar. Secure payment through PayPal is anonymous, except that I will see your e-mail address.

Donation $5.00
Donation $10.00
Donation $20.00
Donation $35.00
Donation $50.00
Donation: You decide