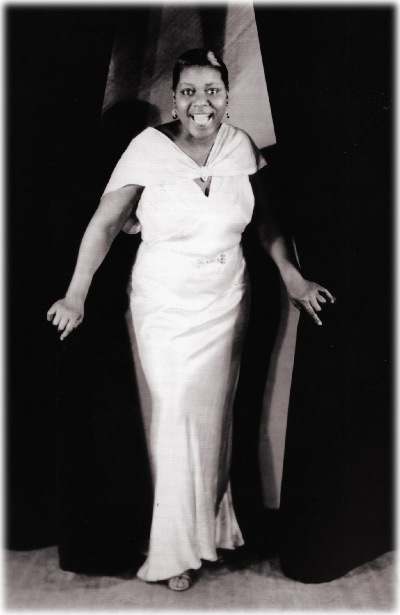 Bessie Smith
Empress of the Blues
(right)

AND

Ma Rainey
Mother of the Blues

Their powerful voices and forceful personalities set the standard for recorded blues and sold well among a southern rural audience familiar with their traveling tent shows and musical revues.

And they captivated a new urban audience with wind-up Victrolas and a hunger for novelty.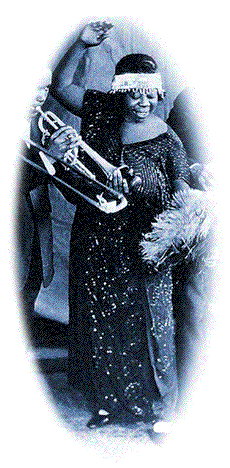 Ma Rainey
Mother of the Blues
(left)

Together with her protégé Bessie Smith, Rainey shaped and introduced classic women's blues before 1920.

Bessie and Ma became huge stars when these first Classic Blues records were introduced in the early 1920s, recording hundreds of titles and selling millions of records.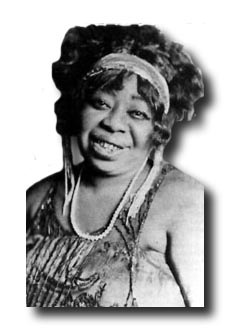 The Classic Blues
Ma Rainey and Bessie Smith were the most captivating and expressive of the female singers who in the 1920s introduced a distinctive art that became known as "Classic Blues." It was a music style shaped early in the 20th century, blending country blues and African roots with a fresh female perspective and newly emerging jazz music. Classic Blues was an infectious raunchy, rowdy, stomping, sobbing, tough-hearted celebration of uncensored emotions and in-your-face sensuality.

Bessie and Rainey were the vanguard of a new music that has transfixed listeners to this day. Each was a commanding presence on or off stage. Both dressed in flamboyant style and managed their own business affairs with traveling tent shows, employing their own troupes of musicians, dancers, entertainers, stagehands and roustabouts. Both had successful recording careers in the mid-1920s which slowly declined due to hundreds of imitators, the changing tastes of record buyers, and declining economic circumstances of their largely black core audience.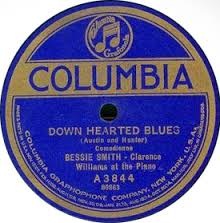 Excerpts and samples:

Bessie:
After You've Gone.mp3
Baby Doll.mp3
Trombone Cholly.mp3
Modern troubadours and Backwater Blues.mp3
Wasted Life Blues.mp3

Ma:
Rainey's Story and Lucky Rock.mp3
Jelly Bean Blues excerpt.mp3


Bessie Smith:
"Empress of the Blues"
Bessie Smith was a rowdy hard drinking, hard-smoking woman known for her toughness; a brawler who could quickly turn mean when drinking. She'd knock you down if you got in her way or shoot a pistol at lover she was angry with, male or female. And she mesmerized her audiences.

Bessie began singing for spare change at the age of nine on the streets of her hometown, Chattanooga, Tennessee. She joined Ma Rainey's travelling tent-show troupe as understudy to the charismatic older singer.

In 1923 Bessie's first record, "Downhearted Blues" was a smashing popular success. Her weekly salary of $2.50 exploded to fees exceeding $2,000/week. Six million of Smith's records were purchased in the next six years.

It was Bessie Smith who perfected and created a personal art of the Classic Blues. It was her music that first spread its popularity beyond the Southern United States and across the world.

Tough and Charismatic
Bessie's intensity in performance and on record spoke powerfully to her listeners. 
Said guitarist Danny Barker, "She dominated a stage. You didn't turn your head . . . You just watched her. She could bring about mass hypnotism."

Smith was tough survivor. On one occasion, some KKK goons were threatening to halt the show and knock down her tent. After her fellows sent to deal with it were intimidated, Bessie took on the thugs herself with such a stream of threats and invective that she set the local bullies running.

Musically Bessie was without peer. She left an indelible mark on jazz and blues -- inspiring Billie Holiday, Louis Armstrong and countless musicians since. Note that while her melody line is restricted to a range less than an octave, her subtle phrasing, bending and sliding of the notes, tone quality, vibrato and rhythm add up to eloquent statements.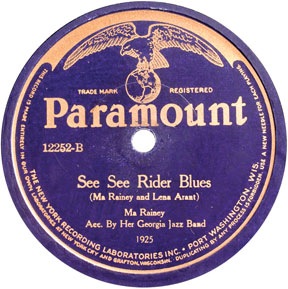 Pt 1 - Ma Rainey and Bessie Smith

MA RAINEY & BESSIE SMITH 1A.mp3
YONDER COMES THE BLUES --
Ma Rainey, 1926
YONDER COMES THE BLUES -- Barbara Dane with Down Home Jazz Band, 1994
YOUNG WOMAN'S BLUES --
Lavay Smith with John Gill's Dixieland Serenaders, 1998
YOUNG WOMAN'S BLUES --
Bessie Smith, and her Blue Boys, 1926
DOWNHEARTED BLUES --
Pat Yankee & her Gentlemen of Jazz, 1995
DIRTY NO GOODERS BLUES --
Pat Yankee & her Gentlemen of Jazz, 1995
DIRTY NO GOODERS BLUES --
Bessie Smith acc. by James P. Johnson piano, 1929


MA RAINEY & BESSIE SMITH 1B.mp3
MA RAINEY'S BLACK BOTTOM -- Wende Harston with the Queen City Jazz Band, 1993
TRAIN MEDLEY -- Pat Yankee & her Gentlemen of Jazz, 1995
GIMMIE A PIGFOOT AND A BOTTLE OF BEER -- Pat Yankee, 1995
PROVE IT ON ME BLUES -- Ma Rainey & her Tub Jug Washboard Band, 1928
HEAR ME TALKIN' TO YOU -- Bob Helm and Carol Leigh's Blues & Jazz Revue, 1998
SOON THIS MORNING -- Bob Helm & Carol Leigh's Blues & Jazz Revue, 1998
JELLYBEAN BLUES -- Chris Norris with the Golden Eagle Jazz Band, 1991
JELLYBEAN BLUES -- Ma Rainey and her Georgia Band, 1924


Modern Troubadours
One of the traditional functions of the blues was to carry news of real events -- much like the troubadours of medieval Europe served as newspaper, gossip sheet and editorial column. The true country blues testify to deep personal emotions and significant events large and small.

For instance Bessie conceived the original lyric of "Backwater Blues" in which she identifies with storm victims. The song depicts her eyewitness account of the floods then plaguing the South, specifically the 1927 Mississippi flood which displaced 200,000 persons. When combined with a superb piano accompaniment by James P. Johnson, "Backwater Blues" is the moving testament of a modern troubadour.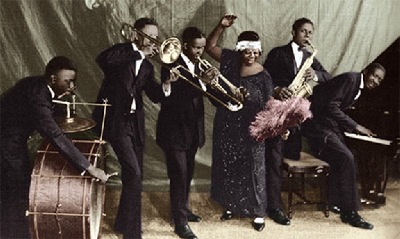 Ma Rainey:
"Mother of the Blues"
Ma Rainey was a vision of walking contradictions, and a sight to behold. She was frequently described as "ugly" yet had an endearing smile, full of gold teeth. She was short and stubby, but dressed in stage gowns covered in beads, bangles and frills. She accessorized with exotic jewelry: necklaces of prized gold coins or fake pearls, real diamond rings on every finger, and on her head was a tiara or glittering beaded headband sporting an ostrich plume.

Ma called everyone "darling," "honey," "babe" or "baby" though herself preferred the title "Madame Rainey." She put on an act of being parsimonious with money but was known as an easy touch for a loan, or more likely a handout.

Ma's music was rough, earthy, bold and bawdy, but profoundly moving. Onstage she would emerge from a large replica of a phonograph. At a time when the silent film The Phantom was popular, her theater act started with someone in the balcony bellowing "the Phantom" as her five piece Georgia Jazz Band assembled.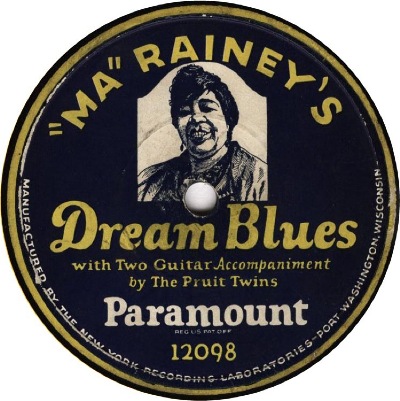 All through the theater the chorus of voices would join in chanting "the Phantom, the Phantom, the Phantom," rising to a crescendo. The curtain lifted, revealing a giant replica of a Victrola, bathed in blue light. From inside the cabinet came Ma's moaning voice. As the enormous door opened there she was resplendent in sequins, feather boa, and shimmering jewelry.

Sometimes as Rainey moaned soulfully and wordlessly the audience joined in. She had a deep, rich contralto voice that could rise to a roar – without a microphone. She sang with her whole body, emphasizing her lines with sweeping gestures, stressing the beat with flourishes of her huge fan of colored ostrich plumes. For a "hot" number she'd lift her skirts and dance with surprising agility.

Rainey's sometimes pianist, Georgia Tom Dorsey who wrote many of her moaning blues and good-time stomps, called her music "low-down blues." Ma was variously billed as "The Songbird of the South," "The Black Nightingale," "The Paramount Wildcat," and most famously "Mother of the Blues."

Her music was down home and country. Her best-selling records for the Paramount label were rich in earthy rural sounds featuring jug bands, kazoos, country blues guitar, gutty horns and gritty blues.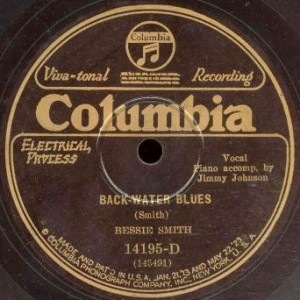 Pt 2 - Ma Rainey and Bessie Smith

MA RAINEY & BESSIE SMITH 2A.mp3
MA RAINEY'S BLACK BOTTOM --
Wende Harston with the Queen City Jazz Band, 1993
MA RAINEY'S BLACK BOTTOM --
Ma Rainey, 1927
OH PAPA BLUES --
Ma Rainey, 1927
DON'T FISH IN MY SEA --
Ma Rainey acc. by Jimmy Bythe, piano, 1926
GONE DADDY BLUES --
Bob Helm and Carol Leigh's Blues & Jazz Revue, 1998
MISERY BLUES -- Barbara Dane with
Down Home Jazz Band, 1994
BARRELHOUSE BLUES --
Bob Helm and Carol Leigh's Blues & Jazz Revue, 1998
LUCKY ROCK BLUES -- Ma Rainey and her Georgia Jazz Band, 1924
BLACK EYE BLUES -- Ma Rainey, 1928
MA RAINEY'S MYSTERY RECORD -- Ma Rainey and her Georgia Jazz Band, 1924

MA RAINEY & BESSIE SMITH 2B.mp3
NEED A LITTLE SUGAR IN MY BOWL -- Bessie Smith, 1931
TROMBONE CHOLLY -- Bessie Smith and her Blue Boys, 1927
BACK WATER BLUES -- Bessie Smith acc. by James P. Johnson, piano, 1927
BABY DOLL -- Bessie Smith, 1926
WASTED LIFE BLUES -- Bessie Smith acc. by James P. Johnson, piano, 1929
AFTER YOU'VE GONE -- Bessie Smith and her Band, 1927
ST. LOUIS GAL -- Wende Harston with Queen City Jazz Band, 1995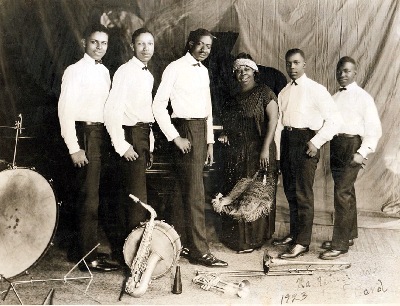 Gertrude
"Ma" Rainey: "Songbird of the South"
Born Gertrude Pritchett in Georgia to a theatrical family in the mid-1880s she began touring young, and married in her teens to Will Rainey an older man. They had an act called "Rainey and Rainey Assassinators of the Blues."

The Raineys were soon managing their own touring company. According to one of her musicians, "Pa Rainey was an old minstrel man. He had a whole outfit, tents and I don't know what all . . . but he was an old man, and that's why they called him 'PA' . . . and she picked up the name 'MA'."

After Pa Rainey died, Madame Rainey ran the show on her own playing in large theaters, converted barns or the large tent she hauled around by rail car or her home-made 'house trailer:' crudely constructed of wood on an automobile chassis. She was tough and independent, and enjoyed having young good-looking men in her band, or in her bed.


Ma was first of the great Classic Blues singers, touring the South from about the turn of the century, first incorporating blues into her act in 1903. Though not an attractive woman, she was a charismatic presence. Like Bessie, Ma dominated a stage, transfixed her audiences with her powerful delivery and had an uncanny understanding of her Southern, rural, African American and often female audience.



The Problem with August Wilson's Play "Ma Rainey's Black Bottom"

New York Times review

I hated this play. It's not about Ma Rainey. It largely ignores her colorful story or challenges as a pioneering black woman struggling to survive and express herself in a racist and male-dominated culture.

Ma is not the center of action. Instead the play focuses on a conflict among the fictional male characters in her band. It becomes a morality play about racial humiliation and frustrated male pride giving the real-life historic title character short shrift.

In the Ashland, Oregon production I saw, Wilson's Rainey was played, not particularly well by a skinny actress. Nor was there a significant music component to the play. Sadly, in this drama Ma is a mere cipher, little more than a prop for the action given us by the otherwise sincere and accomplished Mr. Wilson.





Music of Ma Rainey

Unlike Bessie Smith, Ma Rainey did not drink. She saved and invested her money, was happily married for many years, and quietly helped musicians and others down on their luck. Ma's popularity grew and her reputation spread as a spokesperson and source of pride for her black audiences. Unlike Bessie, Rainey stuck close to rural blues, recording with blues and hokum artists like Georgia Tom Dorsey and Tampa Red.

It is especially beneficial that the music of Ma Rainey is being kept alive in new recordings today because the sonics of her surviving discs -- some 100 recordings -- are very poor. She was working for smaller labels that had inferior recording and pressing technology. That's a shame because besides her powerful voice, Rainey brought a stellar roster of great jazz musicians to the studio, from reed players Coleman Hawkins and Don Redman early in their careers, to expressive cornet player Tommy Ladnier.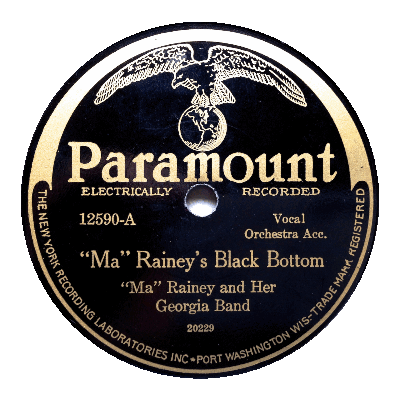 Rainey's "Jelly Bean Blues" is frequently performed today: its soulful melody embodies the intensity and emotion that charged Ma Rainey's vocal interpretations, and her sure sense of timing that propelled songs forward dramatically.

Typically, "Ma Rainey's Black Bottom" was a song about more than a popular dance. The Classic Blues of Bessie, Ma Rainey and other popular blues singers was always full of double entendre or hidden and multiple meanings.

Stellar Accompanists

Thanks to their massive success, both Ma Rainey and Bessie Smith drew upon some of the finest jazz talent of the early and mid-1920s for studio accompaniment. The results were among the best jazz and blues vocal recordings of the 1920s, utilizing remarkable composers, pianists and instrumentalists.

Ma drew heavily on the services of the fine pianist and composer Lovie Austin who helped publish some of her best tunes. Bessie worked with pianists and composers Fletcher Henderson, Clarence Williams and James P. Johnson, trombonist Charlie Green, trumpet players Tommy Ladnier, Joe Smith and a young Louis Armstrong. They created lasting masterpieces that move us nearly a century later.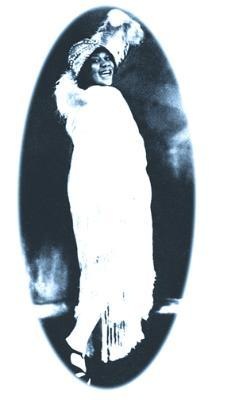 Bessie Smith was the most dramatic of all Classic Blues singers.

Her dynamic voice was an eloquent instrument capable of unlimited emotional expression.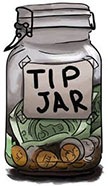 Tip Jar

This site is free.

But you can help sustain it, and encourage me with donation to the tip jar.