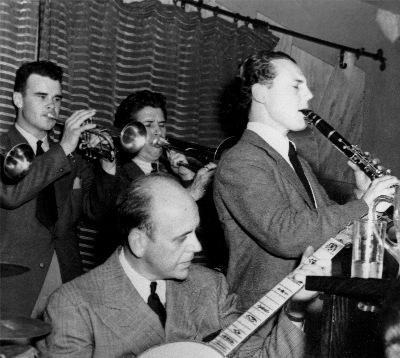 Ellis Horne
Reeds
(1920-95)

San Francisco & Bay Area reed player in Yerba Buena, The Bearcats and other revival jazz bands for more than a half century.

This page is under construction.


Photo: Yerba Buena Jazz Band 1940s, L to R: Lu Watters, Clancy Hayes,
Turk Murphy, Ellis Horne



Ellia Horne developed his own thoughtful and passionate approach to clarinet following the Johnny Dodds tradition onto which he grafted the musical outlook of Lester Young. Quiet and introverted, he played his parts with a rich tone, provided stable support for the ensemble and was always ready with a tasteful solo or chorus of the blues. Integral to the classic Lu Watters bands of the 1940s, Ellis was a noted San Francisco jazz talent for half a century.