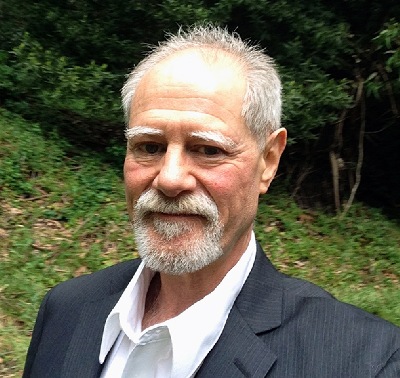 JAZZ RHYTHM
is an exploration of the lore, culture and personalities of early jazz, presenting
Jumping Swing, Classic Blues
and Hot Jazz:
Old and New

Welcome to thousands of unique historic and archival performances, broadcasts, jam sessions, interactive articles and interview clips offered free of charge or advertising.


You'll hear the music and meet the colorful characters who shaped and defined America's most original art form,1900-1950: • turn-of-the-century New Orleans
• Classic Jazz of the Twenties
• Thirties Swing
• the best of the Big Bands
• Traditional and Revival jazz.

Below are the most recently updated JAZZ RHYTHM pages or articles published in third-party publications for your enjoyment.

Dave Radlauer



Recent and updated pages and content: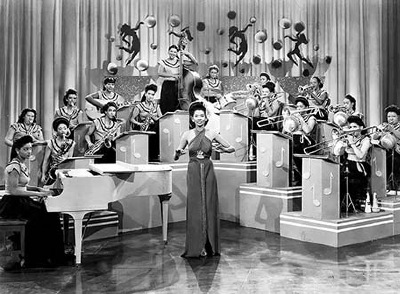 International Sweethearts of Rhythm, 1937-49

The Premier All-Women Orchestra of WWII

Sweethearts - this site

Sweethearts - Syncopated Times online and print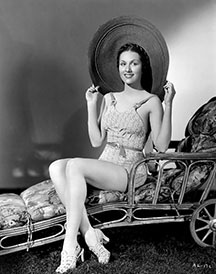 Ada Leonard was a dancer, singer and show business professional.

She led the first all-female Swing orchestra touring Army training camps during WWII filling the sustained demand for Swing music.

Her 16-piece orchestra was the first of about 100 all-female ensembles that toured Army training camps sponsored the USO.

Leonard had been a strip tease dancer. That's what everyone KNEW about Ada, that she was a former "Burlesque Queen."

Recently, keen interest has arisen about these so-called "all-girl" orchestras.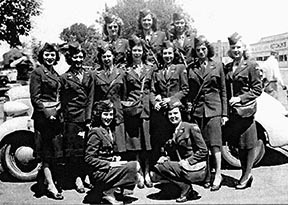 The Sharon Rogers Band, 1940-47

The Sharon Rogers Band were united in their mission to bring hope, solace and an image of femininity to the troops.

They performed for six months in the Philippines, Japanese and Korean war zones in 1945-46 for more than 100,000 troops.

The 12-piece band aimed for a sound roughly equivalent to Glenn Miller or Harry James consisting of four saxes, three trumpets, one trombone, piano, bass, drums and a vocalist.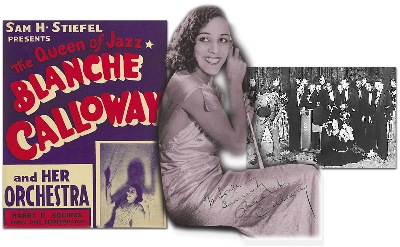 Women of Jazz:
Concealed in the shadows of early Jazz, Blues and Popular music history are dynamic and accomplished women who nurtured, guided and developed the music. Several of the most talented and accomplished are profiled.

Dynamic Women of Early Jazz and Classic Blues, Pt. 1 of 2
Featuring The International Sweethearts of Rhythm, Blanche Calloway, Bessie Smith, Ina Rae Hutton and Her Melodears.

Dynamic Women of Early Jazz and Classic Blues, Pt. 2 of 2
Lil Hardin Armstrong, Ma Rainey, Sophie Tucker and Mary Lou Williams are featured.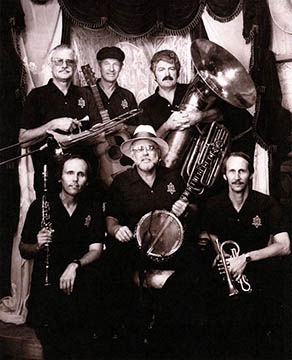 From 1983 to 1991, Black Diamond Jazz Band was a rollicking Classic Jazz band based in the Central Valley of California. It was led by George Knoblauch with a strong tuba and banjo rhythm signature, plus the Ragtime piano of Marty Eggers.


The band was always committed to ensemble-style Classic Jazz from the late 1920s, each musician performing in a style appropriate to the era of stomp-time two-beat music.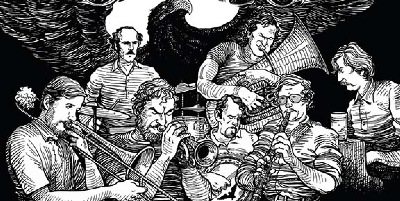 NEW BLACK EAGLE JAZZ BAND

Exclusive Archival Performance in November 1984

South Bay Traditional Jazz Society, Sunnyvale, Calif.

More than four hours of live Traditional Jazz at its finest.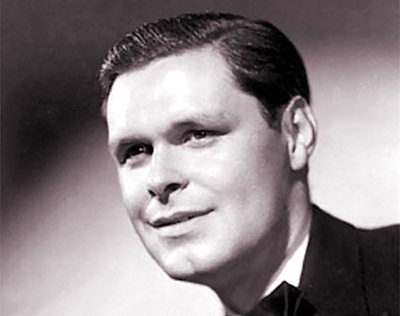 Lyle "Spud" Murphy: Unsung Hero of Swing

New article on Syncopated Times.

Updated tribute page for Spud.






Interactive articles with music and photos at Syncopated Times

The Real Billie Holiday
This profile of Billie Holiday recaps the basic outline of her story in three chapters covering the 1930s, 1940s and 1950s. Holiday is quoted from interviews and her famed autobiography, Lady Sings the Blues. This is also a photo essay presenting her constantly shifting visage.

Pt. 1 1930s
Pt. 2 1940s
Pt. 3 1950s

Buck Clayton's Jazz World
Jazz trumpeter Buck Clayton published a colorful and sincere autobiographical memoir thirty-five years ago. His literary voice is not unlike the mellow and tasteful tones of his horn that graced some of the biggest hits of the Swing era.

Pt. 1 - Youth, West Coast and Shanghai
Pt. 2 - Basie, Billie, Global Icon


Benny Goodman's Kingdom of Swing
Benny Goodman did for clarinet what Louis Armstrong had done for the trumpet, giving it a virtuoso leadership role in the jazz ensemble. He was the most popular dance band of the Swing era, making some 5,000 commercial recordings and selling more than 100 million discs, definitive statements of 20th Century American popular culture.

Pt. 1 - Early Years
Pt. 2 - Small Bands, Classical and Legacy





Interactive articles with music and photos at Syncopated Times


Frank Big Boy Goudie Pt. 3 in San Francisco 1956-64
His New Orleans-style clarinet was welcomed into the thriving San Francisco Jazz Revival.

Frank Big Boy Goudie Pt. 2, South America 1939-46, Europe 1946-56
Living in South America for a half decade Goudie played Samba-swing, Latin dance music and Jazz when he could, encouraging a nascent Jazz movement before he resumed performing and recording in Europe.

Frank Big Boy Goudie Pt 1 in Paris 1924-39
Goudie was at the heart of Harlem-in-Montmartre performing at more than 60 venes, tours, gigs and residencies.

Better Days Will Come Again
This new biography makes it clear that Arthur Briggs witnessed and participated in key developments of early Classic Jazz. For two decades he was a driving force in a Golden Age of Jazz, and the best trumpet player of any kind on the European Continent.

Women of Jazz - Part One
Concealed in the shadows of Jazz and Blues history are dynamic women who nurtured, guided and developed the music. Several of the most talented and accomplished are profiled including Blanche Calloway, the first woman to lead an all-male jazz band; "Empress of the Blues" Bessie Smith; the Basie-style International Sweethearts of Rhythm, the high-water mark of the "all-girl" orchestras; and Ina Rae Hutton, leader of the all-female Melodears Swing orchestra.

Dynamic Women of Jazz and Blues - Part Two
Lil Hardin who was midwife to the birth of Jazz on record; Ma Rainey, the tough and independent "Mother of the Blues;" and supremely talented trumpet player and singer, Valaida Snow. Composer, arranger, bandleader and radical modernist Mary Lou Williams is featured.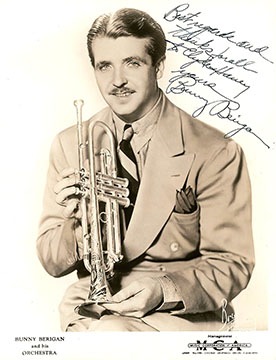 MORE ON DAGOGO:

Soaring with Bunny Berigan

Bunny Berigan was best known for his hit recording of "I Can't Get Started" on which he sang and played trumpet. He was one of the first to play the horn equally well from the top to bottom of its range and successfully fused the extroverted power of Louis Armstrong with the nuanced tonal palette of Bix Beiderbecke.

For a decade of the Swing era, Berigan was one of the most consistently expressive and inspiring talents of his generation.


Updated Bunny Berigan page this site.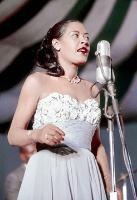 Everybody loves Billie!

Discover The Real Billie Holiday page on this site.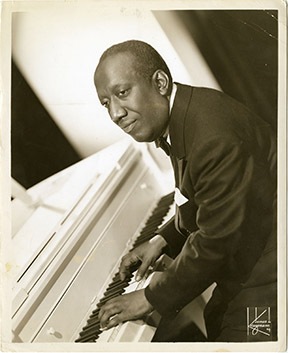 James P. Johnson

A forgotten genius, Johnson created Harlem Stride piano style, dozens of piano rolls, early Black theatrical musicals, hundreds of popular songs, full-scale symphonic works, propelling African American music into the modern era.
His dramatic legacy is re-explored in depth.

In this award-winning production, the life, music and career of early Jazz piano player James P. Johnson are explored with musical examples and audio clips from the radio series, Jazz Rhythm.

Actor Peter Coyote reads from Johnson's recollections and Mark Borowsky expertly traces his career, sharing insights gleaned from a lifetime studying this overlooked American genius.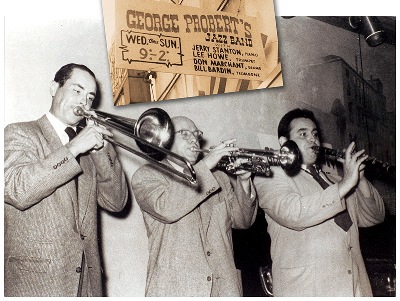 The Trombone Eloquence of Bill Bardin

Jazz trombonist Bill Bardin (1924-2011) played gutty two-beat Stomps, sophisticated four-beat Swing and lowdown Blues for nearly seven decades. His rich tone and powerful instrumental voice made him a stalwart of the San Francisco Traditional Jazz Revival.

Featured are lively interview quotes, rare photos and unique audio.

Bardin Pt. One

The Dawn Club, Turk Murphy, Benny Strickler, Burt Bales, Victor's and Roxie's, Meilke and the Bearcats.

Bardin Pt. Two

Earl Scheelar, Bob Helm, P.T. Stanton, Dick Oxtot, Zenith Jazz and other Scheelar ensembles.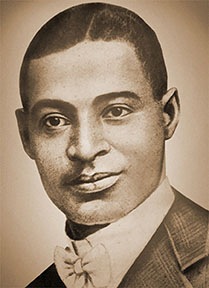 Imagining Buddy Bolden

A documentary special marks the release of the motion picture Bolden, directed by Daniel Pritzker with music by Wynton Marsalis.

Meet the first jazz trumpet player and leader of a jazz band, Buddy Bolden. His gripping rise to fame and his vivid life and times emerge in a lively swirl of music and voices at the birth of Jazz in New Orleans around 1900.

Though Bolden never recorded, by sampling the music of his contemporaries, proteges and followers we can Imagine Buddy Bolden.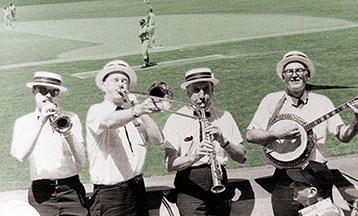 For nearly a quarter century Bob Mielke and the Oakland's Swingin' A's Baseball Band brought vintage jazz to ballpark audiences, casual private parties and Traditional Jazz enthusiasts.

Featured at ballgames they played short sets of tunes "chorus and a half" in length. A solid musical ensemble featuring notable Bay Area reed players: Bob Helm, Bill Napier and Richard Hadlock.

A Syncopated Times article further explores:

Mielke Strolling Dixieland Band, 1969-92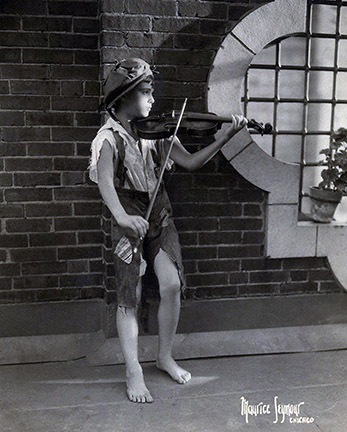 Bobby Bruce

Noting the passing of Bobby Bruce (b. 1925 - d. 2018).

A versatile musician and arranger who still active at age 90, Bruce has one of the longest, most diverse music careers I've encountered. Started in Vaudeville in the 1930s playing jazz modeled on Stuff Smith. In the late 1940s he worked in Western Swing with Leon McAuliffe, Bob Wills, and his brothers. During the early 1950s he had a very successful studio career in Hollywood playing, composing and arranging for television and film

Features exclusive interviews and commentary.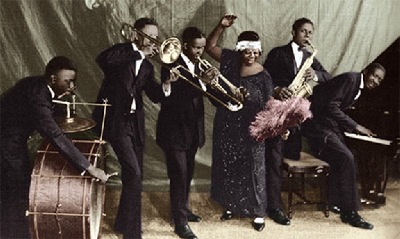 Bessie Smith
and Ma Rainey
Ma Rainey, "Mother of the Blues" and her protégé Bessie Smith, "Empress of the Blues" shaped and introduced the Classic Blues before 1920.

Their powerful voices and forceful personalities set the standard for recorded blues. They captivated a new urban audience with wind-up Victrolas and a hunger for novelty.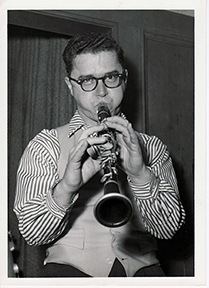 Frank Chace, clarinet (1924-2007)

Frank Chace was admired for his wild, expressive Chicago clarinet style in a lineage from Pee Wee Russell and Frank Teschemacher, with secondary influences of Johnny Dodds and Omer Simeon.

Still under construction, this page is a growing Frank Chace audio archive and photo gallery offering a large number of previously unpublished Chace performances of exceptional quality.

Includes very rare recordings of guitarist Marty Grosz, pianist Don Ewell and others.

Recently posted: the legendary Ristic LP, and Frank with Jabbo Smith.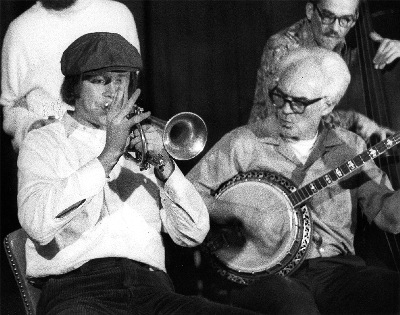 Exciting music and photos of late trumpet and piano player Jim Goodwin.

Goodwin made a strong impression on San Francisco Bay Area listeners and fellow musicians. New and exclusive tapes from his Bay Area decade (late-1960-70s) are featured.

Photos, out-of-print albums, tributes from musicians and unique audio artifacts sketch an appealing profile for a widely loved and singular jazz talent.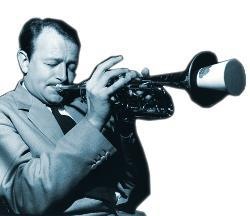 Humphrey Lyttelton
The trumpet and clarinet player, composer and bandleader, author, illustrator and broadcaster who made New Orleans jazz popular in Great Britain.

Includes consideration his partnerships with Buck Clayton and Wally Fawkes.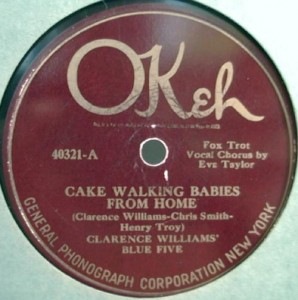 Introducing Clarence Williams
Clarence Williams was an early Classic Jazz pioneers,a talented and driven bandleader, pianist and accompanist, singer and composer who wrote many jazz and blues classics.

Updated with new music, photos and text.

During the 1920-30s he worked for Okeh Records and others directing production of maybe a thousand jazz and blues records by Louis Armstrong, Bessie Smith, King Oliver, Fats Waller, and he composed for early black musical theater.


Meet Williams talented wife, singer and show business pioneer, Eva Taylor.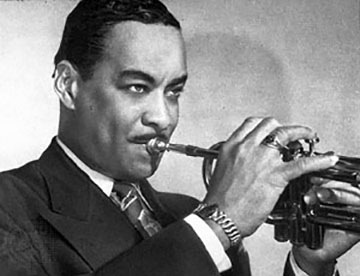 A refurbished Buck Clayton
page features this multi-talented Swing era trumpeter, composer, arranger and well-dressed jazz cat.

Newly posted archival photographs.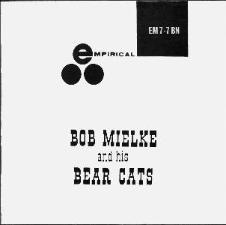 Bob Mielke's Bearcats Audio Archive

A new page featuring unissued rarities from the 1950s starting with a restoration of the ill-fated Empirical LP from stunning stereo master tapes.

Meet the star of their early sessions,
clarinet player Bunky Colman.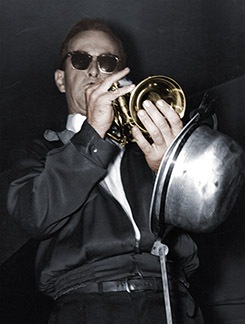 P.T. Stanton
Exciting new audiotapes, stories, recollections and images of this unique and peculiar jazz horn player continue to emerge. This page is fortified with new photos and an interactive article: The Odd Brilliance of P.T. Stanton.

Now in two parts:
P.T. Stanton 1950s-60s: Early years, Lark's Club, Frank Goudie, and recollecitons from Barbara Dane, Bill Bardin, Richard Hadlock and Dave Greer.

P.T. Stanton 1970s: Featuring P.T. Stanton Night, Stone Age Jazz Band and recollections by Bob Mielke, Pete Allen, Barbara Dane, Robin Hodes.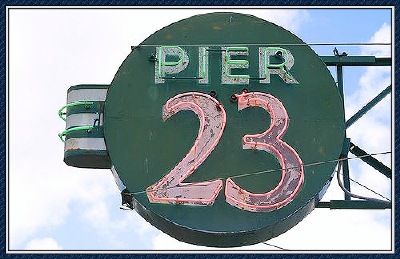 Pier 23 stereo broadcast

Newly restored stereo and mono broadcasts from this legendary San Francisco waterfront dive and jam session bar on the Embarcadero.

Pier 23 tapes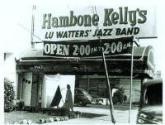 Trad Jazz exclusive!

Yerba Buena Jazz Band A reassessment of the West Coast Traditional Jazz rebellion of the Forties is accompanied by fresh transfers of unissued live performance discs.

YBJB - Phil Elwood His legendary broadcasts of 1957/66 celebrating Yerba Buena.




This site is free. But you can help sustain it, and encourage me with donation to the tip jar.
Secure payment through PayPal is anonymous, except that I will see your e-mail address.


Donations are paid securely through PayPal.

Donation $5.00
Donation $10.00
Donation $20.00
Donation $35.00
Donation $50.00
Donation: You decide



JAZZ RHYTHM / Dave Radlauer
Dradjazz@Gmail.com
510.717.5240
Oakland, CA 94601

New paragraph