The BENNY STRICKLER Story
Bob Wills & Tulsa, 1941-42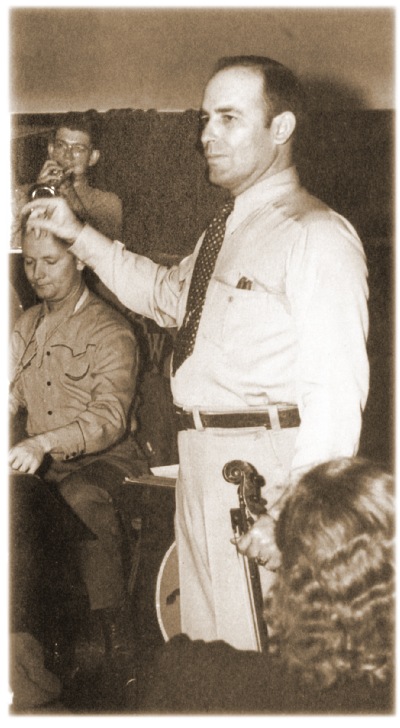 BENNY and the MAESTRO at CAIN's











(Photo from: The King of Western Swing: Bob Wills Remembered, Rosetta Wills, 1998)



Benny Strickler Story 2A.mp3
Benny Strickler Story 2B.mp3

At age 24 Strickler was not only first trumpet but "Straw Boss" (informal band director) in the Bob Wills Texas Playboys large Swing orchestra of 1941-42. His story is told in intimate detail by his friend in the band, third-trumpet player Danny Alguire, later well-known for his more than two decades with Firehouse Five Jazz Band.

Though Benny took no solos on records he was featured in a Bobcats-style Dixieland unit, helped to compose Bob's new theme song, and brought a strong ensemble unity and rhythmic bounce to one of Wills' best outfits . . . as he did with any jazz ensemble. His watchwords were, "play together," "listen to each other" and "make the tune sound good."

Strickler's personality is vividly evoked by Danny Alguire's colorful narrative tracing his 11 months as Strickler's band mate. The delightful behind-the-scenes tales of sex, drugs and rock 'n roll in the Bob Wills band are continued in online podcasts and extended clips.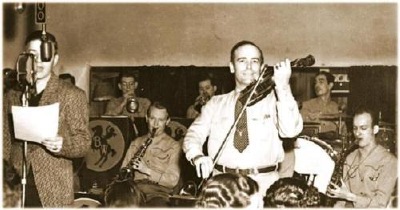 BROADCASTING on KVOO, c 1942
(Unpublished photo from collection of Rosetta Wills)

Benny is the trumpet on the left with mute, Alex Brashear to his left and they're sitting behind Woodie Wood.

During his tenure in Tulsa Benny was broadcasting with the band, five days a week at noon from Cain's Dance Academy, the Wills informal HQ at that time.


The main argument for Strickler's greatness is a half-dozen recordings made with Lu Watters' Yerba Buena Jazz Band at the Dawn Club in San Francisco, but issued only after his death nearly a decade later with little fanfare. That chapter of Strickler's tale is told in another episode.


(The original interview materials herein are open-source and available to broadcasters, researchers or enthusiasts upon request.)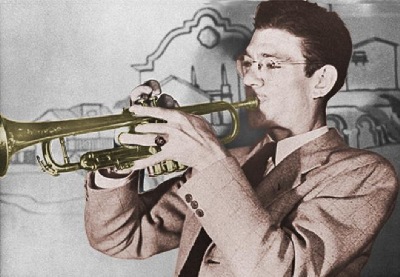 Best-known photograph of Strickler

(from the photo collection of Hal Smith)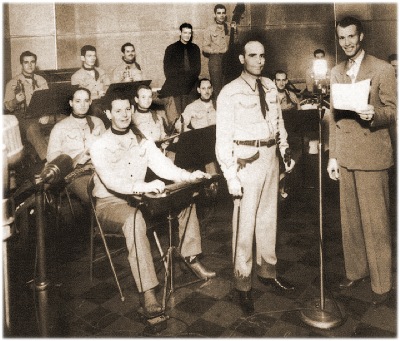 ON the AIR, late 1941

L to R: Danny Alguire, Louie Tierney, Benny Strickler, Leon McAuliff, Alex Brashear, Woodie Wood, Red Agnew (driver/band man), Don Harlan, Darrell Jones, Bob Wills, Wayne Johnson, Gene Tomlins, unidentified announcer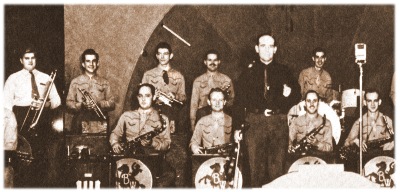 BOB's BRASS, late 1941
Trianon Ballroom, Oklahoma City, 1942

Back row, L to R: Earl Graves, tbn; Danny Alguire, Benny Strickler, Alex Brashear, tpts

Front row, L to R: Louie Tierney, tenor sax; Woodie Wood, clarinet & alto sax; Bob Wills; Don Harlan, alto sax; Wayne Johnson, tenor sax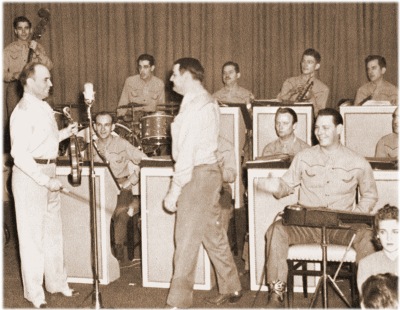 Wills probably introducing singer TOMMY DUNCAN

Back row: L to R: Darrell Jones, bass; Gene Tomlins, drums; Alex Brashear, Benny Strickler, Danny Alguire, trumpets

Middle row L to R: Wayne Johnson and Woodie Wood, reeds

Front row L to R: Bob Wills; singer Tommy Duncan; Leon Mcauliffe, electric steel guitar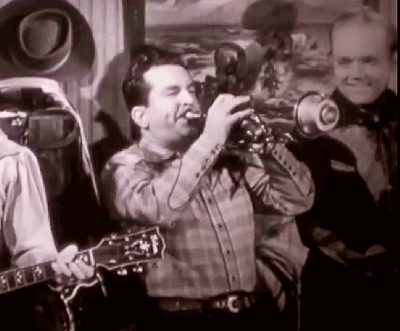 SIDEMAN Sidebar:
DANNY ALGUIRE


Between WWII and 1949 he worked and recorded with Country & Western Swing acts like T. Texas Tyler and Merle Travis, and then for two decades was trumpet in the Firehouse Five Jazz Band.

Alguire, soloing in a music short with Merle Travis

More about Danny: here

Download a .pdf of Danny's personal tribute tribute to Strickler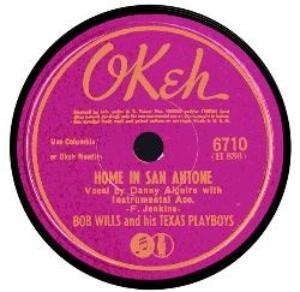 Podcast extras:

Danny Alguire Sings "Home in San Antone" for Bob.mp3

Benny was 'STRAW BOSS' for Tulsa broadcasts & tours.mp3

Bob 'SUPREMELY HAPPY' w/ this band, Cuts a hotel band.mp3

BOB's CIGAR, Bob 'beat the devil,' Benny on Wills.mp3

BENZEDRINE & booze.mp3

Wills BUS left at 2am.mp3

Bob Helm recalls meeting Benny 1935, sittin-in with Wills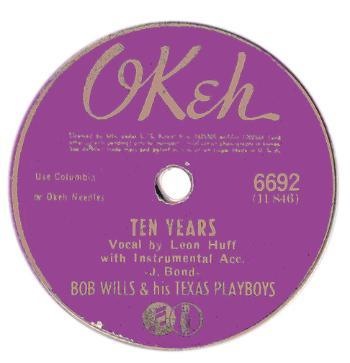 "Ten Years," with a dixieland interlude featuring Benny, was his best Jazz effort with Bob Wills Texas Playboys, July 1942.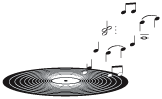 Two unissued gems:

"Ten Years" unissued take

"Honeysuckle Time in the Valley" unissued track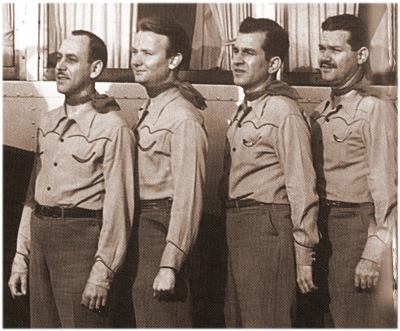 SIDEMEN Sidebar:

L to R: Reed players Don Harlan and Woodie Wood;
trumpet players Danny Alguire & Alex Brashear

Oddly, Danny, Woodie and Alex were all hired the same night at Trianon Ballroom in Oklahoma City. Brashear and Wood were among Wills' all-time best horn soloists.

Woodrow 'Woodie' Wood is a bit of a mystery.
(Incidentally, this is how his name is spelled in discographies and Wills official biography.)

A well-known marijuana smoker Woodie had worked for trumpeter Red Nichols.
Bob gave him plenty of solos and hollers his name often. In most photos Wood is holding a sax but he's best-known as a fine clarinet soloist, and was part of the Bobcats-style Dixieland subunit with Benny and trombonist Cornelius 'Neil' Duer.

William Alex Brasher spent almost a decade playing with Bob and seems to have been one of the trumpet players best suited to the role.


Hal Smith's extensive research into Benny's music, career and background is found in these articles published by the San Francisco Traditional Jazz Foundation, 1998-2002.
Permission Hal Smith & SFTJF.

(Clicking on a .pdf file link below will provide a download of each article.)

Benny Strickler.pdf

The Western Connection.pdf

A Strickler Family Scrapbook.pdf

Strickler Scrapbook Epilogue.pdf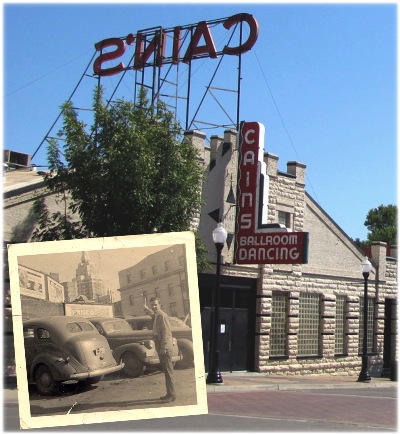 CAIN'S Dance Academy (long story) was where Wills broadcast and based his operations in Tulsa during the early 1940s.


Danny Alguire points to it from the rear from an earlier time.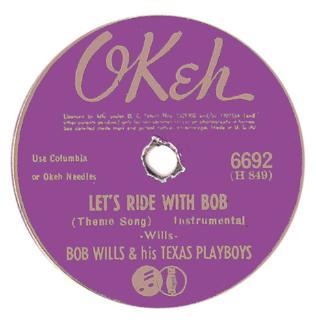 On "Let's Ride with Bob" Benny gave away his usual featured solo to Alex Brashear on a tune that he conceived. Nonetheless, Alex played it closer to Benny's style, open horn and direct.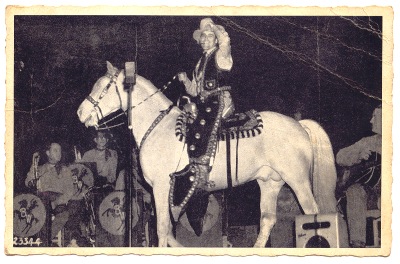 Wow.


Benny and his trumpet are just visible.


Special thanks to Hal Smith for use of his images and text,
and Chris Tyle for use of the Danny Alguire interview.


Sneak peeks:
BENNY STRICKLER in the Bob Wills Band, Tulsa 1941-42

After hearing "Big Beaver" Strickler asks Bob Wills to hire him.mp3
Chris Tyle commentary: Benny's leadership as band "straw boss".mp3
Hal Smith commentary: dixieland elements in "Ten Years".mp3

Clips of Danny Strickler talking about Benny in the Wills band:

Benny's character.mp3
"Benny just played right, came to play".mp3
Some tried Benzedrine but Strickler didn't booze much.mp3
Bob Wills cigar on stage, Ben on Wills.mp3
Bob's Drinking.mp3
Band bus left an hour after the show.mp3
The Band Bus.mp3
Danny's farewell to Benny.mp3
Putting food on the table and quitting a Hotel Band.mp3
Playing a sixth against a G7, Benny never made mistakes.mp3
Benny was never caught napping by Wills, even when tangled up in his chair.mp3
Playing with a split lip.mp3
Wills band draws 16,000 in Santa Monica, 1942.mp3
Wills vs a Hotel band battle.mp3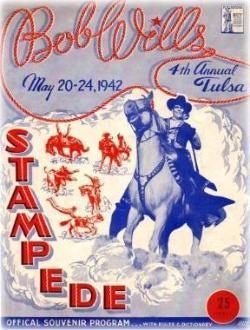 I strongly suspect
this is the event we see above
with Bob's horse on stage



SIDEMEN Sidebar:
L to R: Pianist Al Stricklin, guitarist Eldon Shamblin & Benny Strickler

Alton Meeks 'Al' Stricklin (no relation) played piano for Bob between 1935-42. He wrote an acclaimed memoir about it, My Years With Bob Wills, 1976.

Eldon Shamblin was a fine electric guitar player heard on hundreds of Texas Playboys records, including the famed 200+ Tiffany Transcriptions: one of the best and most representative single collections of Wills music.


More about Bob Wills, Western Swing and Cowboy Jazz on this site


LINKS to Western Swing websites:

http://www.bobwills.com

http://www.texasplayboys.net

http://www.texasplayboys.com/

http://westernswing78.blogspot.com

http://www.churchofwesternswing.net

Panhandle Country Radio

http://www.tiffanytranscriptions.com/wordpress/about

http://westernswing.com

http://www.aridewithbob.com (Asleep at the Wheel theatrical production)

http://www.geocities.com/~jimlowe/western/westdex.html

http://www.texasplayboys.net/books.htm

http://www.cowboysindians.com/Cowboys-Indians/July-2010/Bob-Wills

Other LINKS:

http://en.wikipedia.org/wiki/Bob_Wills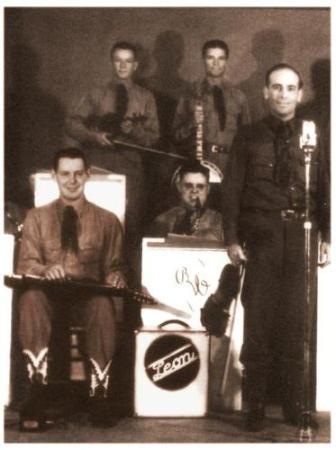 SIDEMAN Sidebar:
Leon McAuliffe
(1939)

Second only to Bob Wills in popularity his amplified steel guitar was part of the band's signature sound. He was a good singer too.

Steel Guitar Rag.mp3

"Take it away Leon!" Bob's famous opening to the band's first big hit "Steel Guitar Rag" (1936) became a household phrase. I remember my father who spent WWII in Texas, saying it in the '50s!

Steel Guitar Rag on YouTube

More about Leon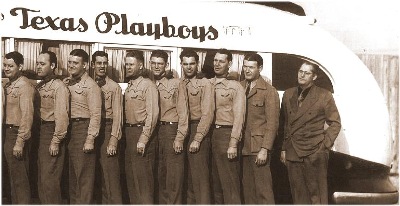 Texas Playboys Bus






L to R: Tommy Duncan, Louie Tierney, Eldon Shamblin, Gene Tomlins, Al Stricklin, Benny Strickler, Darrell Jones, Leon McAuliffe, Red Agnew (bus/band man), O. W. Mayo (band manager)