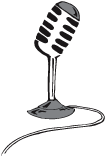 DAVE RADLAUER VOICE-OVER SERVICES

I'm available for voice over jobs, either at your location in Northern California or via internet from my own studio.

I have 30 years experience narrating, engineering and producing award-winning radio and spoken word productions.

Commercial demo (mp3)
Documentary demo (mp3)

EXPERIENCE:

INDEPENDENT RADIO SERIES FOR PUBLIC RADIO, 1982 - current:
My radio series syndicated on non-commercial radio in USA & Australia has won several broadcast awards:
Gabriel Award, 2004; 2009; 2011
NFCB Golden Reel Awards, 2001, 2002, 2003.
Details: www.JAZZHOTBigstep.com

ANTENNA AUDIO TOURS, Sausalito, CA, 1988 - 91:
Many productions for museums and historic sites including the award-winning self-guided audio tour of Alcatraz Island.

KALW-FM, San Francisco, CA, 1984 - 97:
Independent programmer; board operator and staff announcer.

KCSM-FM, San Mateo, CA, 1980 - 85:
Independently produced programming and segments.

PLUS:

I have my own sound booth and editing facility and can deliver via internet.
I have extensive experience directing and editing voice overs.
Additional audio samples, resume or references upon request.

DAVE RADLAUER
email: Dradjazz@aol.com

Phone: 510.235.5343
Cell: 510.717.5240

2720 Wallace St.
Berkeley, CA 94702 USA