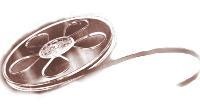 Sound Preservation and Restoration

I do a considerable amount of sound preservation, restoration and enhancement for both individuals and institutions, and for the rare musical materials heard on JAZZ RHYTHM taken from broadcasts, 78 rpm, and LP discs.

Critical in this process is the often overlooked need to physically clean up the fragile disc grooves prior to transfer: crucial for optimum sound retrieval. A dedicated vacuum disc cleaning machine combined with neutral cleaning fluids gently and effectively remove surface grit assuring the best-possible transfer for noise removal.

Many open reel tapes from the 1970s and later need special heat treatment ("baking") to reverse the well-known problem of Sticky Shed Syndrome -- which does not affect most tapes prior to that time.

I usually find that vintage recordings issued commercially on CD benefit from subtle enhancements to equalization and dynamics. Only a very few reissue LPs and CDs sound really great to me. It seems that there are only a handful of re-mastering engineers who get it right. Some go overboard suppressing noise, trying to bring out high frequencies, excessively boosting bass, or attempting stereo effects which were never part of the original sound. Nonetheless, its also true that modern playback systems and digital processing can achieve amazing sound superior to the limitations of the original recording and playback equipment.

Noise Removal and Enhancement Services

So in wringing great sound out of older recordings for 20 years, I've developed some skill in the field. My company, Rhythm Productions, provides such audio services as noise removal, high definition transfer to digital, and enhancing vintage sound recordings.

Whether needed for preservation, professional restoration and reissue, personal enjoyment or documentary or correcting badly impaired audio or video recordings I can accommodate your needs at a reasonable price -- and I will initially provide FREE CONSULTATION on your project.

My services include:
*transfer and clean-up of historic sound from disc and tape;
*clean-up and noise removal from video audio, digital or mp3 tracks;
*preserving family heirlooms and treasured memories on tape, or from home recorded discs;
*legal evidence needing sound enhancement for audibility or transcription;
*audio cassettes.

I can transfer and/or enhance sound from any analog reel tape, cassette or analog disc format up to 16" electrical transcription discs.



CLIENTS

My clients range from sound preservation archives to fine arts institutions:

* Museum of Performance and Design of S.F., 2010

* Performing Arts Library and Museum of S.F., 2004-05

* Try a Little Tenderness: Remembering Val Rosing - The Man Who Sang Teddy Bears Picnic, Radio Rhythms production, 2009-10.
http://www.valrosing.com/gilbertrussell.html

* University of Northern Carolina, Folk Archives for Tape Archival Service (Jim Wheeler), 1998.

* San Francisco Traditional Jazz Foundation -- numerous preservation projects, 1991 - 2008.

COSTS

I offer FREE CONSULTATION to help determine your needs.

I typically charge $60/hr; but depending on your needs and budget I will estimate and bid on a job. Most professional studios charge from $85 to $150/hr. or more for professional services of this kind.

Given sufficient information I may be willing to make a fixed price bid. Or if I cannot provide the services I'll refer you to other professionals.




CONTACT:

JAZZ RHYTHM / Dave Radlauer
email: Dradjazz@Gmail.com
Phone: 510.848.8323
Cell: 510.717.5240