Turk Murphy
(under construction)



"Mr. San Francisco," Murphy's Earthquake McGoon's club was a major tourist attraction for decades."



Turk Murphy on the occasion of his appearance at Carnegie Hall,
Photo by Frank Selman


I would award Turk Murphy the title of "Mr. San Francisco." He probably shook the hands of more tourists than any other San Francisco celebrity. Visitors flocked to his Earthquake McGoon's club to dance, have their favorite Murphy album autographed, or listen to his unique rendition of Traditional Jazz, redolent of Jelly Roll Morton, King Oliver and the Barbary Coast of a half century earlier.

Turk's band was entirely his own creation; it manifested his musical vision in the way Morton's Red Hot Peppers reflected Jelly Roll's. Murphy built a vast and original repertoire: interpreting or rescuing from obscurity hundreds of early jazz or blues tunes, ballads, novelties, Tin Pan Alley, and ragtime compositions. And he wrote quite a few good songs himself.


Murphy had a clear and definite conception of the music he wanted to present and was faithful to that idea for nearly a half century. He had one of the few classic jazz bands on the West Coast that sustained steady work five or more nights a week for decades, though many capable musicians who worked for him later called it "a strange experience."



Earthquake McGoon's at 630 Clay Street,
one of several locations for the nightclub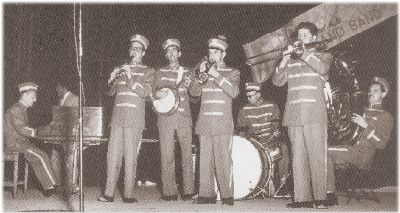 Turk Murphy Jazz Band
Live at Cinegrill, Hollywood-Roosevelt Hotel, 1950

In LA, booked as "Turk Murphy and the Circus Jazz Band" to compete with the popular Firehouse Five, their book heavily featured the "Dixieland Top 40." They broadcast for a while on KABC, the original source of this audio. As you can hear the band was in top form and Murphy tore into rare song verses with gusto.

Subsequent travels took the band on to jobs at the Aragon Ballroom in San Diego, and Las Vegas.

Turk Murphy (trombone)
Don Kinch (trumpet)
Bill Napier (clarinet)
Skippy Anderson (piano)
Pat Patton (banjo)
Stan Ward (drums)

Alexander's_Ragtime Band.mp3
Baby _Won't_You_Please_Come_Home.mp3
Big_Butter_And_Egg Man.mp3
Come_Back_Sweet_Papa.mp3
High_Society.mp3
I_Hate_To_Lose_You.mp3
Just_A_Closer_Walk_With_Thee.mp3
Melancholy_Murphy.mp3
Muskrat_Ramble.mp3
Oh!_Didn't_He_Ramble_Murphy.mp3
Ory's_Creole_Trombone.mp3
St_Louis_Blues.mp3
That's_A-Plenty.mp3
Trombone_Rag.mp3
Trouble_In_Mind.mp3
Way_Down_Yonder_In_New_Orleans.mp3

From Turk Murphy Jazz Band in Hollywood, SFTJF CD 102




LINKS (this site):

Bill Dart
Bob Helm
Burt Bales
Clancy Hayes
Lu Watters
Wally Rose
West Coast Trad Jazz
YBJB



LINKS (external):

Meet Me at McGoon's
by Jim Goggin and Pete Clute

Tribute page of Sandy Macone
Turk Murphy bio at SFMuseum.net
NY Times announce Murphy to perform at Carnegie