Lu Watters
(under construction)




Leader of a Jazz rebellion

Lu Watters wanted to start a musical rebellion in popular music around 1940, and succeeded beyond his wildest dreams. Building a very successful band with a unique style and independent fan base on the West Coast launched the Traditional Jazz revival that spread world wide in the 1940s and '50s.

He launched a world wide revolution in music (or a counter-revolution depending on your perspective). Watters and his compatriots felt the music of the big bands and dance orchestras had become predictable and bland. It was certainly no fun for the musicians to play the same insipid charts nightly. He wanted to bring back the excitement, tunefulness, improvisation and rough edge of early jazz.

The new movement was inspired by, and emulated the music of earlier generations: Joe King Oliver, Jelly Roll Morton, and Ragtime. It required a shift of thinking and reformulation of style, technique and performance.

I suspect that when the revolution succeeded, Lu was surprised to find himself leading a world wide movement reviving early jazz style. But Watters also found himself a target in the bruising "jazz war" between moldy figs and modern jazz partisans. And the entertainment business is a meat grinder he chose to exit before it ground him down. I believe it was those disputes and the persistent headaches of the music business itself, that prompted his retirement from music in the 1950s.

Quite frankly I think Lu was just too savvy, too smart, too interested in the wide and wonderful world to become a cog in the corrupt and maddening music industry. He developed other interests and deep passions: gems, geology and environmental activism He left behind adulation and success to follow his own curiosity and intelligence where it would lead. One can regret or admire his refusal to limit himself to one field.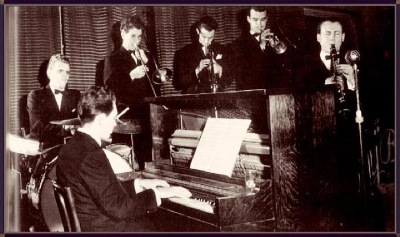 Dawn Club,
San Francisco, c. 1942